Year 3
Our latest Curriculum Leaflets will keep you informed about the Cornerstones projects being studied, including the learning activities that are planned and important day to day information. They will also give information about how you can help your child at home (linked with the taught curriculum) and weekly schedules for activities such as P.E. and home learning.
Click on the links below to download the latest Curriculum Information Leaflet for children in Year 3. Parent Curriculum Leaflets will be added during the year at the start of each creative learning project.

You can download Copley Junior's Recommended Reading List for Year 3 by clicking here.

Our Class News
News from our 'Scrumdiddlyumptious' Creative Learning Project
John Bull Rock Factory Visit
On Friday 9th September Pearl and Opal Classes visited the John Bull Rock Factory in Bridlington to begin their Scrumdiddlyumptious topic work. Whilst there, the children were able to roll a piece of rock with their initial inside and see how the factory makes and packages fudge, biscuits and chocolate. Whilst finding out about the machinery in the factory, the children were able to taste samples of sweets and biscuits. They also made chocolate lollipops before a well-deserved visit to the play area to finish the day.

Click on the first picture below to view a photograph gallery from our visit to the John Bull Rock Factory.
Year 3 have had a really exciting start to the year with their Scrumdiddlyumptious topic. We are very impressed with how well all of the children have settled into life at Copley Junior School and how well they are developing into more independent learners.
In English, the children have worked very hard on their descriptive writing skills, writing all about Glenda the gloriously happy Oompa Loompa and then using those skills to write independently about Mr Twit. They then moved onto writing an explanation text about the journey of a banana, which was then developed into an explanation text of their own, about the journey of their choice of tasty and inventive sweets.
In Maths, we have worked very hard on our understanding of place value, multiplication and division and addition and subtraction. We are now becoming more confident in our reasoning skills, using our in depth understanding to solve tricky challenges.
Our project work has kept us very busy and we have thoroughly enjoyed learning all about the different food groups, tasting a variety of different food, which led to a range of excitable reactions! We have also learned about the life and works of James Lind, ordering the events of his life on a chronological timeline. We have been very creative with our artwork based on the work of Giuseppe Arcimboldo and have a fantastic selection of 'fruit and vegetable faces'!
To conclude our creative learning project, we have been designing our very own smoothies, along with the colourful, eye-catching packaging, ready for our Year 3 Express Event. The Express was a fantastic experience for the children and we would like to thank all parents for your continued support with your children's learning!
Scrumdiddlyumptious Express Event
Click on the first picture below to view a photograph gallery from our enterprise express event.

Please click on the picture link below to view some of our fantastic home learning project work.
To read some of the comments from parents/carers and relatives about our express event, please click here.

National Anti-Bullying Week
All classes in school took part in activities to promote anti-bullying and respecting everyone's differences. We hope you enjoy reading the poem below with our freeze-frame photos!
Opal Class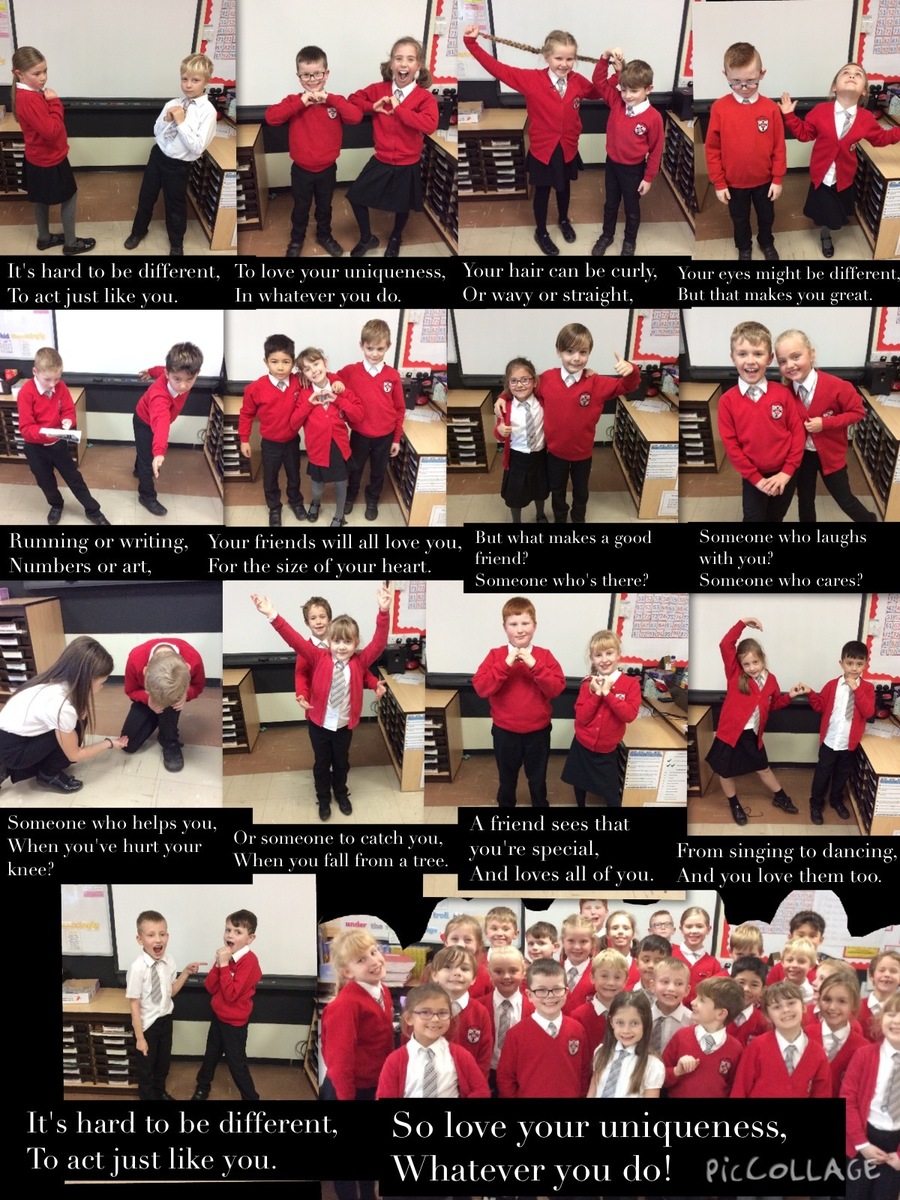 'Experience Christmas' Workshops at St Mary's Church - We are very grateful to members of St Mary's Church for organising a wonderful afternoon workshop session for both Year 3 classes to help them learn more about the Christmas story. Children moved around the different 'stations' meeting the angel Gabriel, finding out more about the journey to Bethlehem, meeting one of the shepherds and a wise man. They took part in activities at each station including craft and dressing up, with time for a drink and biscuit too. The children learned many new things about the Christmas story. Thank you to Reverend Amanda and everyone at St Mary's Church for providing such an enjoyable afternoon of learning!
Click on the first picture below to view a photograph gallery from our 'Christmas Experience' workshops.