Year 4
Our latest Curriculum Leaflets will keep you informed about the Cornerstones projects being studied, including the learning activities that are planned and important day to day information. They will also give information about how you can help your child at home (linked with the taught curriculum) and weekly schedules for activities such as P.E. and home learning.
Click on the links below to download the latest Curriculum Information Leaflet for children in Year 4. Parent Curriculum Leaflets will be added during the year at the start of each creative learning project.

You can download Copley Junior's Recommended Reading List for Year 4 by clicking here.
Our Class News
News from our 'Traders and Raiders' Creative Learning Project
Viking Attack!
On Tuesday 12th September, Year 4 went on an exciting trip to Murton Park, to fully experience what it was like to be a Viking. The children were greeted by a strong Viking woman named Runa, who prepared them for the day ahead. The children dressed as Vikings and, for one day only, the adults dressed as the children's slaves! They then made their way to the Viking village where they met 'My Lord'. Once My Lord had accepted them into his village, it was time to get to work!
Throughout the day the children got to be craftsmen, shaping and decorating their own individual pots, farmers, preparing the land to ensure the crops would grow, they ground the flour for bread-making and collected wood, and they also learnt how to be powerful Viking guards. It was a perfect, fun-filled day that helped kick start our Traders and Raiders topic. The children were wonderfully behaved and thoroughly enjoyed themselves.
Click on the first picture below to view a photograph selection from our visit to Murton Park.

Click on the image below to watch a video clip of a Viking attack!
Project
Year 4 had an exciting start to the school year, with their visit to Murton Park, launching their first Cornerstones topic – 'Traders and Raiders'. In their Cornerstones learning, the children learned about significant Viking events and placed them in chronological order, and discovered where the Vikings came from and exactly where they settled, looking at maps of places that were very close to home! They have been busy undertaking research about different aspects of Viking life and with the information they have gathered, they will be producing fascinating fact files next half term.
English
In English, the children have looked at recounts, using their experiences from Murton Park to write an interesting account of the day's events. They have also developed their descriptive writing skills, practising the different techniques, such as using adjectives, alliteration, similes and metaphors, and much more! Most recently the children have been looking at the features of suspense writing, in preparation for writing a paragraph full of suspense about Grendel emerging from the fen from the Anglo-Saxon story, Beowulf.
Maths
In Mathematics, the children began looking in depth at place value up to 4 digits, identifying, representing and estimating numbers, rounding to the nearest 10, 100 and 1000 and comparing numbers. They then moved onto recalling multiplication tables up to 12x12, counting in multiples of 6, 7, 9, 25 and 1000 and using factor pairs.
Godly Play
The children have also started Godly Play sessions with the 'Godly Play' team at the Methodist Church. The children thoroughly enjoyed visiting the Methodist Church and meeting Reverend Frank. First, they learned all about his different jobs. Then, the children learned about all the different and important features in the church and took part in a quiz! In the second Godly Play session, Godly Play visited the school and taught the children all about the 10 Commandments. The children had fun learning about these and then enjoyed discussing some of the rules that they have to follow.
Click on the first image below to browse through our carousel of photographs.
Knights Fighting
The children took part in role play activities to enact a battle scene and we used this to stimulate our writing 'Who will win?'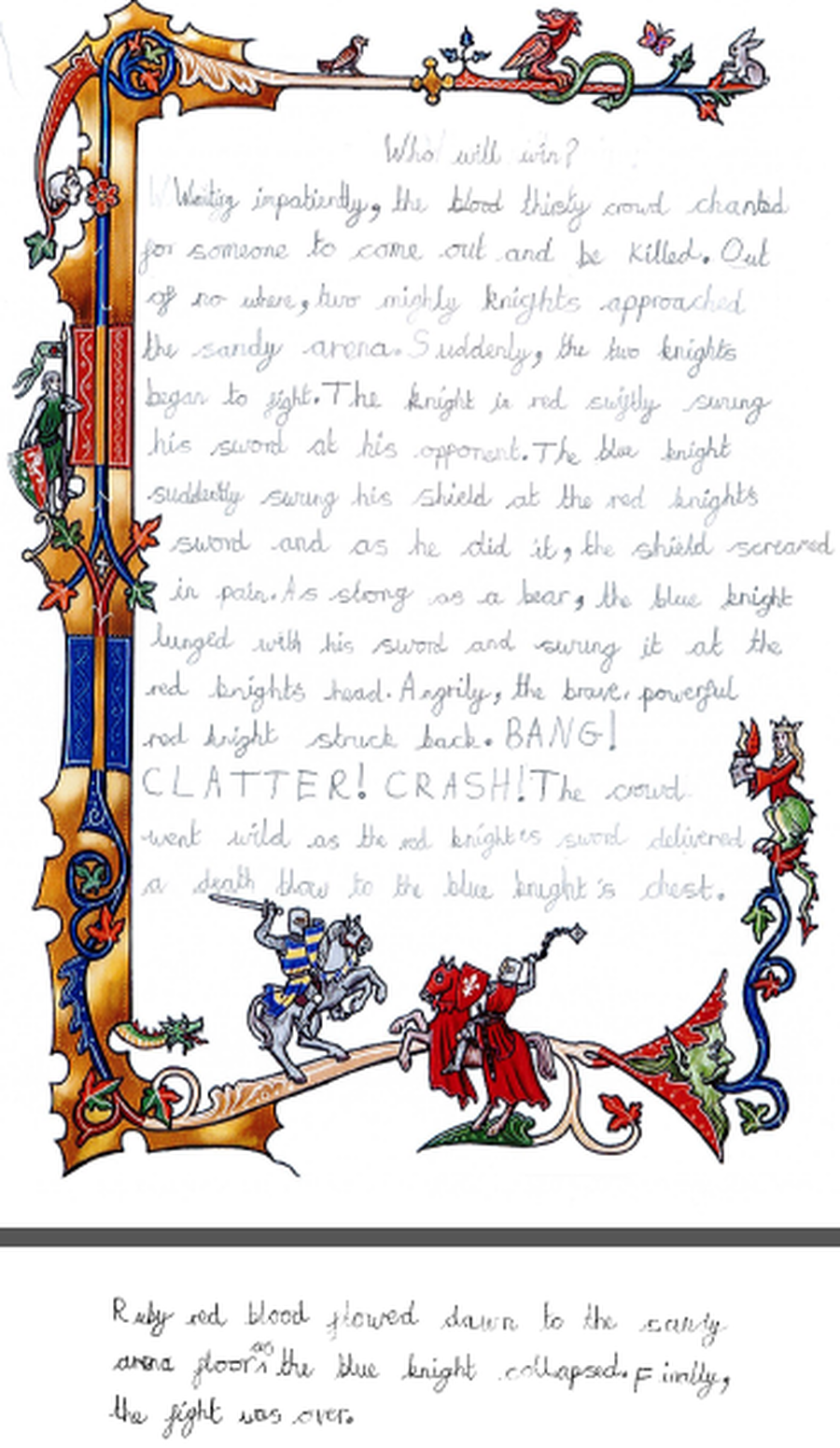 Please click on the picture link below to view some of our fantastic home learning project work.
Year 4 Express Event
It was lovely to welcome so many parents/carers and relatives to Year 4's Viking express event. The children showcased some of their fantastic project work, they demonstrated how to defend a Viking raid and even got the parents to join in!
To read some of the comments from parents/carers and relatives about our express event, please click here.
News from our 'Road Trip USA' Creative Learning Project
Children used their maths and geography skills as they devised programs to move tourists around a map of New York to visit their choice of locations.