Year 5
Our latest Curriculum Leaflets will keep you informed about the Cornerstones projects being studied, including the learning activities that are planned and important day to day information. They will also give information about how you can help your child at home (linked with the taught curriculum) and weekly schedules for activities such as P.E. and home learning.
Click on the links below to download the latest Curriculum Information Leaflet for children in Year 5. Parent Curriculum Leaflets will be added during the year at the start of each creative learning project.

You can download Copley Junior's Recommended Reading List for Year 5 by clicking here.
See the overview of what Year 6 will be learning during 2018-2019 by viewing their long term plan here.
| | | | | |
| --- | --- | --- | --- | --- |
| Stargazers | Pharaohs | Time Traveller | Alchemy Island | Beast Creator |
News from our 'Stargazers' Creative Learning Project
Launch Event - Astronaut Training
To launch their 'Stargazers' project Year 5 took part in a rigorous programme of astronaut training. Life onboard a shuttle cannot be compared to life on Earth. So many simple tasks that we complete on Earth have to be carefully considered before completing without gravity in the confined space of the shuttle. How do you brush your teeth in space? Year 5 know the answer!
During training, children undertook a series of activities designed to enhance their response time, their core strength and prepare them for life aboard the Copley Shuttle.
Speed of Light: Using rulers and stopwatches, pupils put their reflexes to the test and investigated factors which enhanced their performance. Would they be quick enough to dodge a speeding meteor?
Crew Assembly: Living in space for months at a time in such a confined space means that your teamwork skills are really put to the test! Wearing oversized gloves to simulate an astronaut's protective outerwear, pupils worked together to construct and deconstruct vital shuttle components. It was trickier than they expected but they used their communication skills and successfully completed the task.
Spacewalk: Qualified astronauts demonstrated 'bear-crawling' and 'crab-walking' and explained the importance of body strength when in space. The days are long and the equipment is heavy. Without gravity, our muscles begin to waste and our bones become weak. Astronauts must train regularly and maintain optimum fitness to guarantee their safety in space. Pupils practised navigating complex courses using the bear-crawl and crab-walk to strengthen their core and prepare them for their great adventure.
After completing the training programme, pupils designed their own mission badge using Tim Peake's badge for inspiration. They created wonderful designs which they will be able to display on their spacesuits later in the term. Well done Year 5!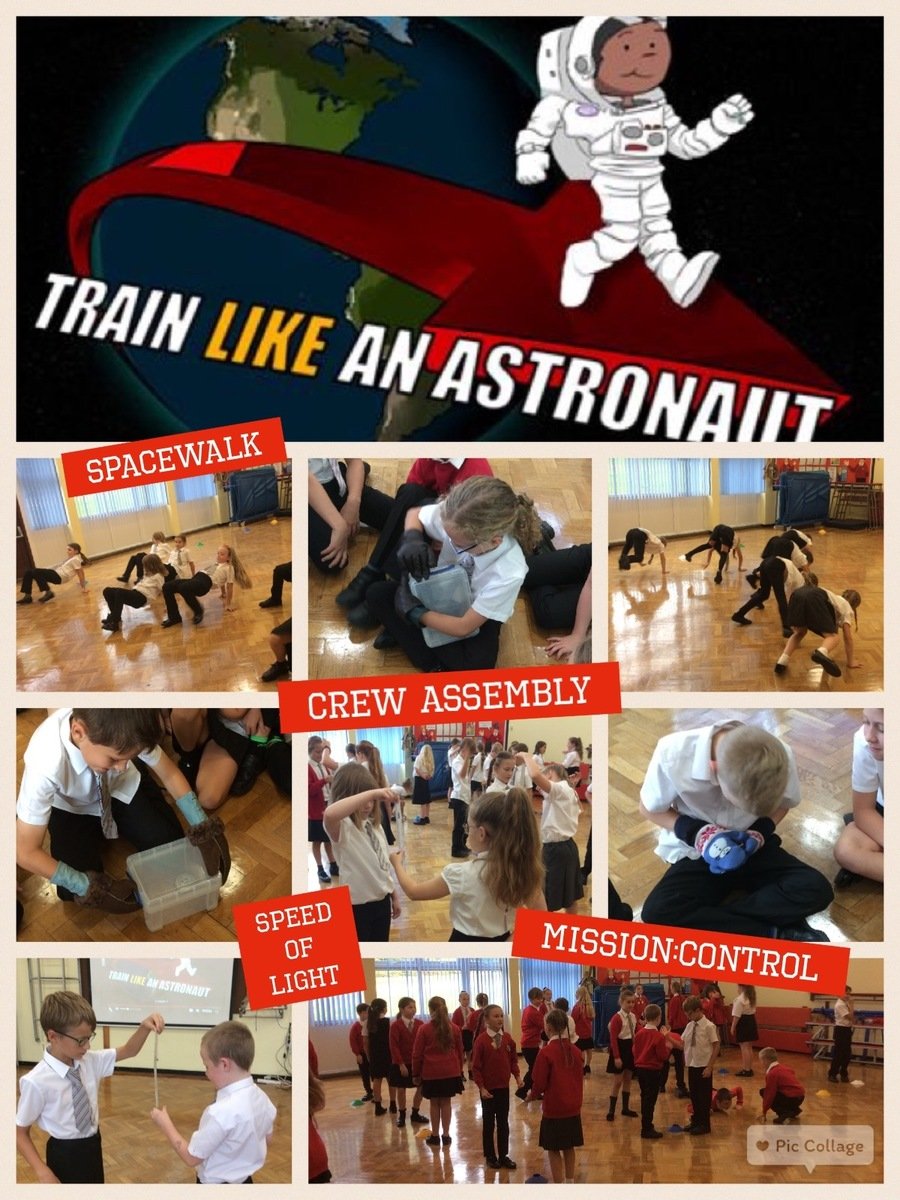 Visit to the National Space Centre

Year 5 made Copley Junior School's latest voyage to the National Space Centre in Leicester to launch the next stage of their 'Stargazers' Science project. What a fantastic venue! The children toured the galleries, which were full of interactive and engaging exhibits, and they also enjoyed a mesmerising planetarium show. The visit really helped to consolidate children's learning about Space, helping them to collect vital information which was used to write our non-chronological reports about the Solar System. The whole day led to extremely engaging conversations in the classroom!

Click on the first picture below to view a photograph selection from the visit.
Times Tables Rock Star Launch 2018-2019
Children and staff looked rocktastic for the launch of our Times Tables Rock Star learning for 2018-2019. Miss Mellor explained how important learning times tables is and that, with lots of practice, children need to aim for instant recall of all times tables and division facts. Miss Mellor explained how the times tables rock stars programme works. To begin with, if you need more than 10 seconds to answer questions correctly, you are a rock 'wannabe'. You will climb up the ladder of rock stardom as you get quicker at answering questions accurately - so 6 seconds or less you will become a 'breakthrough artist' and at 4 seconds or less you will become a 'headliner'. Your aim is to become a 'rock star' - you will achieve this when you can answer times tables questions correctly in 3 seconds or less. If your recall becomes even quicker you can become a 'rock hero' and, finally, a 'rock god'!
Our launch event finished with a teacher challenge - five brave (and very competitive) teachers tackled 100 instant recall questions against the clock. Miss Havercroft was victorious with a time of 1 minute 24 seconds!
You can find out more about 'Times Tables Rock Stars' by clicking here.