Year 6
Our latest Curriculum Leaflets will keep you informed about the Cornerstones projects being studied, including the learning activities that are planned and important day to day information. They will also give information about how you can help your child at home (linked with the taught curriculum) and weekly schedules for activities such as P.E. and home learning.
Click on the links below to download the latest Curriculum Information Leaflet for children in Year 6. Parent Curriculum Leaflets will be added during the year at the start of each creative learning project.

You can download Copley Junior's Recommended Reading List for Year 6 by clicking here.
See the overview of what Year 6 will be learning during 2018-2019 by viewing their long term plan here.
Our Class News
News from our 'A Child's War' Creative Learning Project
Evacuated to Murton Park
On Tuesday 11th and Wednesday 12th of September, Year 6 children from Copley Junior School were evacuated from Doncaster to Murton Park. On arrival, they were met by an evacuation officer who escorted them to the village hall. During their visit, children experienced what life was like for children during World War 11. Activities included: washing and ironing clothes; making farmhouse crunch and butter; blast taping windows; carpet making; air raid drills and most children's favourite - extinguishing a small incendiary bomb!

Click on the first picture below to view a photograph selection from the Amethyst class visit.
Click on the first picture below to view a photograph selection from the Jet class visit.
Times Tables Rock Star Launch 2018-2019
Children and staff looked rocktastic for the launch of our Times Tables Rock Star learning for 2018-2019. Miss Mellor explained how important learning times tables is and that, with lots of practice, children need to aim for instant recall of all times tables and division facts. Miss Mellor explained how the times tables rock stars programme works. To begin with, if you need more than 10 seconds to answer questions correctly, you are a rock 'wannabe'. You will climb up the ladder of rock stardom as you get quicker at answering questions accurately - so 6 seconds or less you will become a 'breakthrough artist' and at 4 seconds or less you will become a 'headliner'. Your aim is to become a 'rock star' - you will achieve this when you can answer times tables questions correctly in 3 seconds or less. If your recall becomes even quicker you can become a 'rock hero' and, finally, a 'rock god'!
Our launch event finished with a teacher challenge - five brave (and very competitive) teachers tackled 100 instant recall questions against the clock. Miss Havercroft was victorious with a time of 1 minute 24 seconds!
You can find out more about 'Times Tables Rock Stars' by clicking here.
Year 6 have had a busy first half term learning all about what life was like for children living through World War Two. They had a great day experiencing what it would be like to be a child being evacuated with our amazing trip to Murton Park, two fun-filled days of painting silhouettes of London during the Blitz and creating large A1 posters. The children also enjoyed using emotive language, which they had been working on in class, to create beautiful poems that included a variety of similes, metaphors and personification. They were also lucky enough to watch a performance of 'Macbeth' by the Young Shakespeare Company which inspired them to write their own playscripts about the unfortunate demise of Lady Macbeth.
Children enjoyed creating silhoutte paintings of London in the Blitz.
As part of our work on 'A Child's War' children worked collaboratively to research and present information about an aspect of World War II e.g. evacuation, the Blitz, rationing etc. Here are some of our posters below:
In our maths work, Year 6 used their investigative maths skills to take on the challenge of solving a World War 2 Transposition Cipher.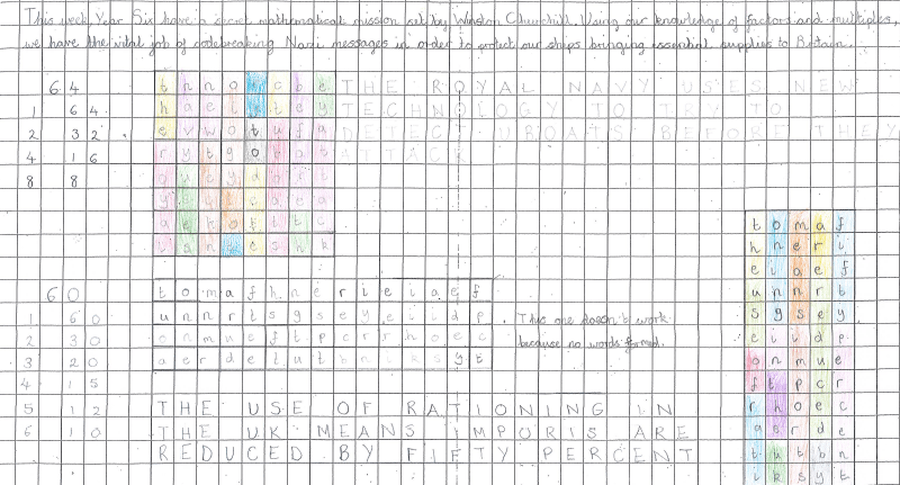 Year 6 learned that during World War 2 propaganda was used to increase support for the war and commitment to an Allied victory. Year 6 researched propaganda posters and then designed posters of their own.
Year 6 children used textbooks and websites to research information about the causes of World War 2 before producing their own written reports.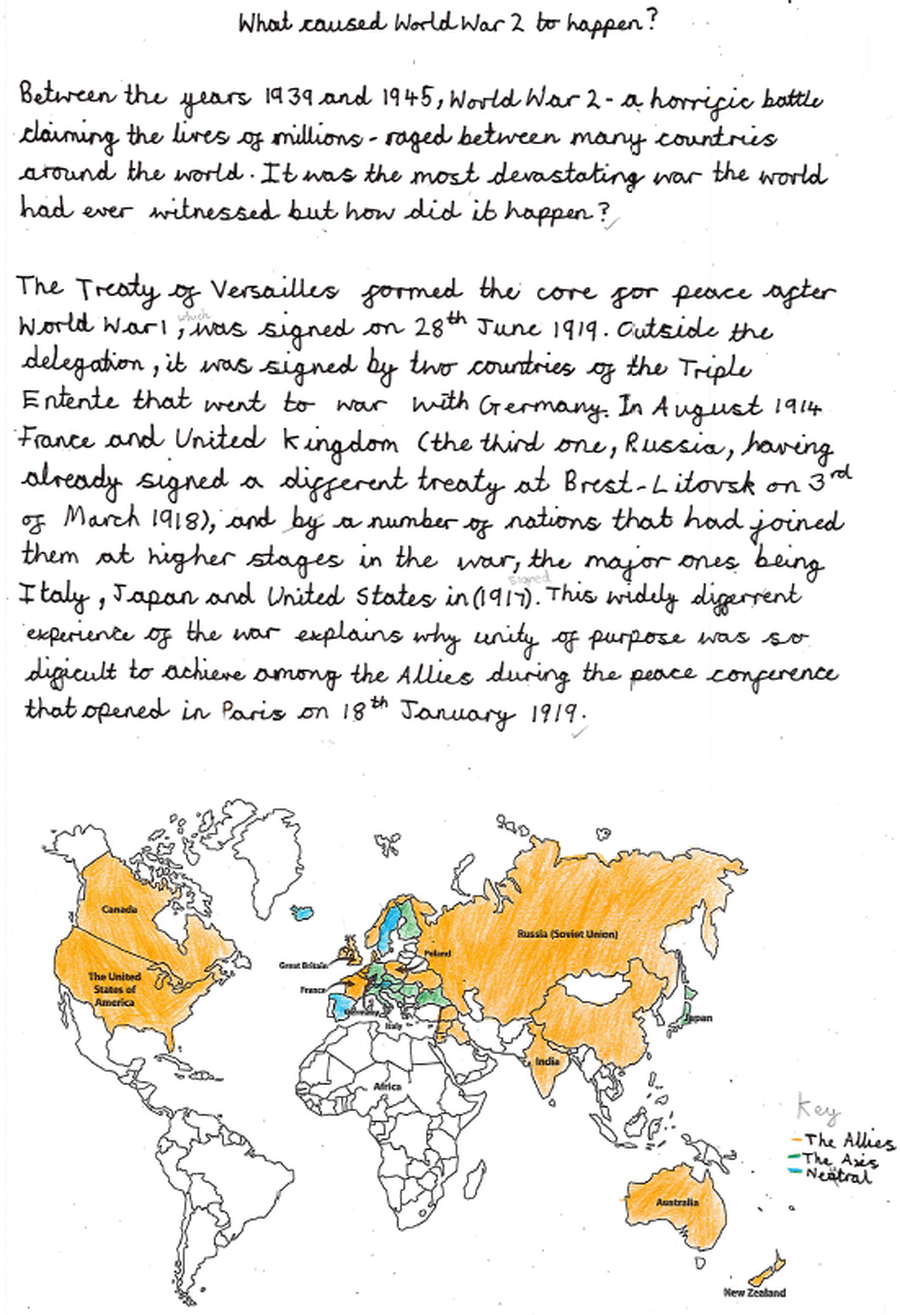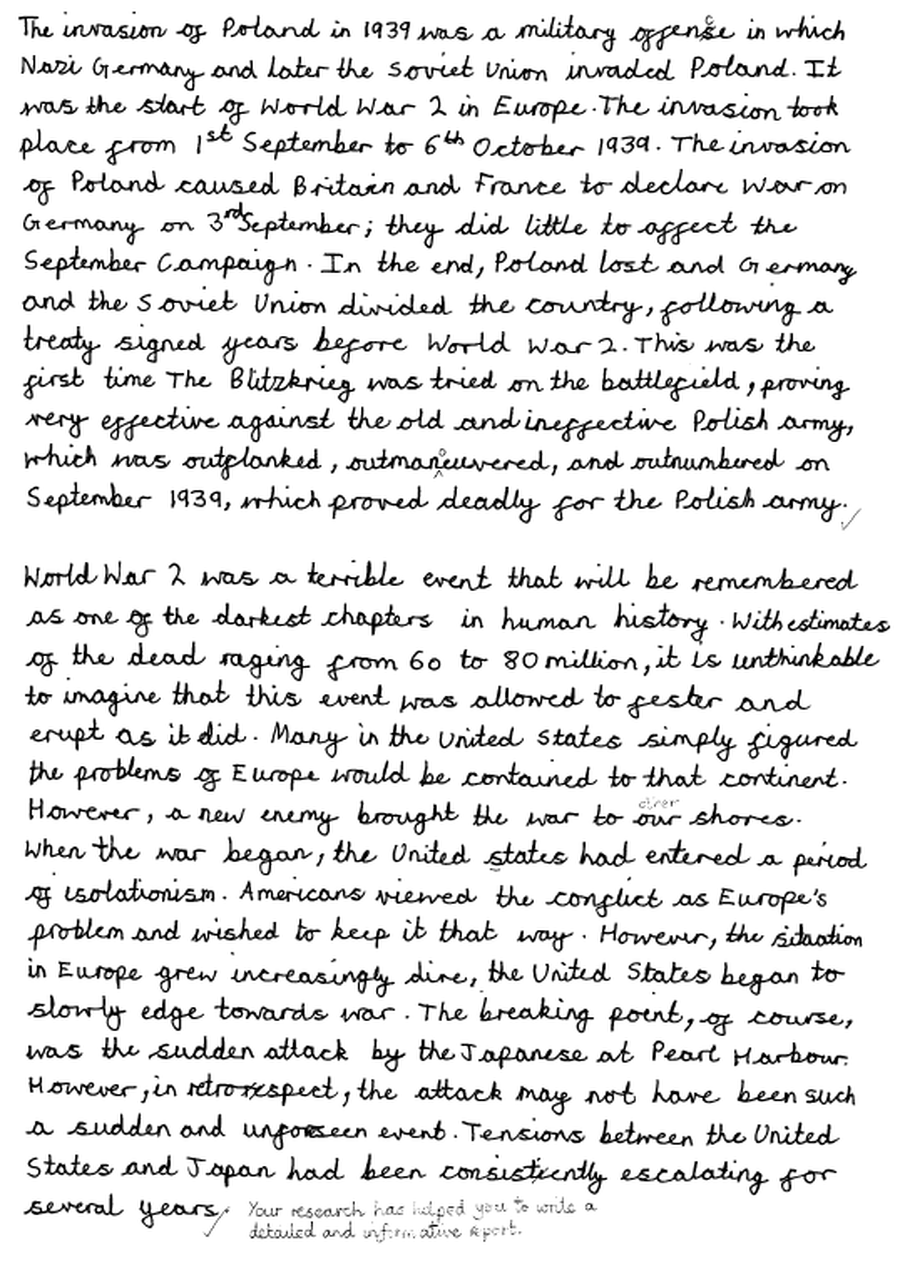 The children worked together to create a class poem on the theme of war and evacuation before creating poems in pairs.

Year 6 Class Poem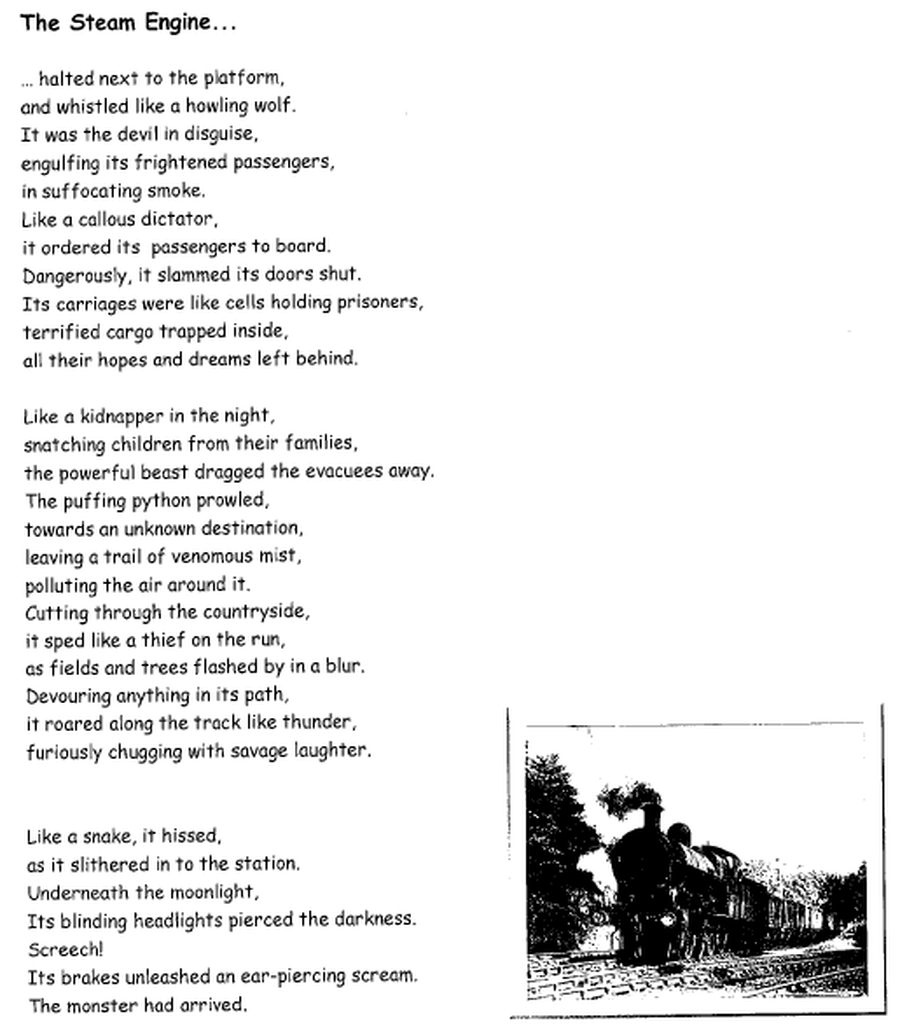 'A Child's War' Parent Express
We were very pleased to welcome so many parents/carers and relatives to our Year 6 express event. The Copley Museum opened and our highly organised Year 6 tour guides led the adults around the different exhibit spaces. This was an entirely pupil-led initiative, with the children deciding how to organise and present their learning. I am sure you will agree that the children have learned an incredible amount about what life was like during World War 2 and it is lovely to see how confident they were to share their learning with the adults. Thank you so much for your support of this event.
Click on the first picture in the gallery below to view a photograph selection from the Year 6 express event.
To read some of the comments from parents/carers and relatives about our express event, please click here.
Young Shakespeare Visit
Each year our children in Year 5 and 6 have the fantastic experience of engaging in 'theatre in the round' with the Young Shakespeare Company. We organise this so that by the time children leave Copley they have had live theatre experience of two Shakespeare plays.
The Young Shakespeare Company visits provide a wonderful first experience of Shakespeare. Their performance of 'Macbeth' was, quite simply, electrifying. At points children were actively involved in the performance and the children were completely absorbed.
'Macbeth' 2018
Please click on the first photograph below to view the gallery of photos.
In mathematics, children have been working hard to improve their knowledge of place value (including decimals), addition, subtraction and multiplication. Challenges and written explanations have been a regular feature of our mathematics lessons, where children are able to apply the knowledge they have gained in the main part of the lesson to investigative and complete problem solving activities.
As part of the home learning for their project 'A Child's War', Year 6 pupils had the choice of many engaging home learning tasks.
Please click on the picture link below to view some of Year 6's fantastic home learning work.
Anti-Bullying Week

For Anti-Bullying Week, every year group took part in an activity to help the children consider positive behaviour, what bullying is and how to report any concerns.
Year 6 took part in a question and discussion session about bullying. The children were given a number of prompt cards, including:
It is not bullying...it is banter, can't you take a laugh?

Is there such a thing as an innocent bystander?

Cyberbullying doesn't involve physical harm, so what's the harm?

What can you do to get online bullying to stop?
The children worked together to match each question card with a corresponding guidance card and then discussed their responses. This session supported children to consider a range of issues around the theme of bullying and how they should respond to these.