Times Tables Rock Stars
When it comes to times tables, speed AND accuracy are important – the more facts your child remembers, the easier it is for them to do harder calculations. Times Table Rock Stars is a fun and challenging programme designed to help pupils master the times tables. To be a Times Table Rock Star you need to answer any multiplication fact up to 12×12 in less than 3 seconds!
The goal is for all participating rockers to be Times Table Rock Stars after 20 weeks!
Parent Handbook
Please find below the Parent Handbook for Times Tables Rock Stars. This contains all the information you need to support your child to become a Times Tables Rock Star. You can also download the free App by visiting your Play Store.

Scatter Tables
To use scatter tables to support your child in learning their times tables, you call out a question from the times table you are focusing on and your child has to point to the answer on the page. For example, if you are concentrating on the 5 times table, then find the Scatter Table for the 5s and call out questions like, "9 times 5" (your child points to 45), "6 times 5" (your child points to 30) or "5 times 12" (your child points to 60). Your child should be trying to get the answers correct each time and not worrying about the speed. The full set of scatter tables is provided in the document below.
Logging into Times Tables Rock Stars
In the short document below is all the information you will need to log into Time Tables Rock Stars. Your child will come home with their user name and unique password written on their paper copy of the document below.
Times Tables Rock Stars in Year 7
If your child in Year 6 is transferring to a secondary school that does not offer Times Tables Rock Stars (TTRS) membership, you may wish to register with TTRS on a family plan (£7.20 a year for up to three children). Once you have registered, your child will leave the school account and will belong to the family group only. You can download the TTRS instructions for this by clicking here.
National Times Tables Rock Star Avatar Competition
The national winner of the Times Tables Rock Star Avatar Competition (Teacher Entries)
Congratulations to Miss Walker, with her winning 'cave girl' avatar!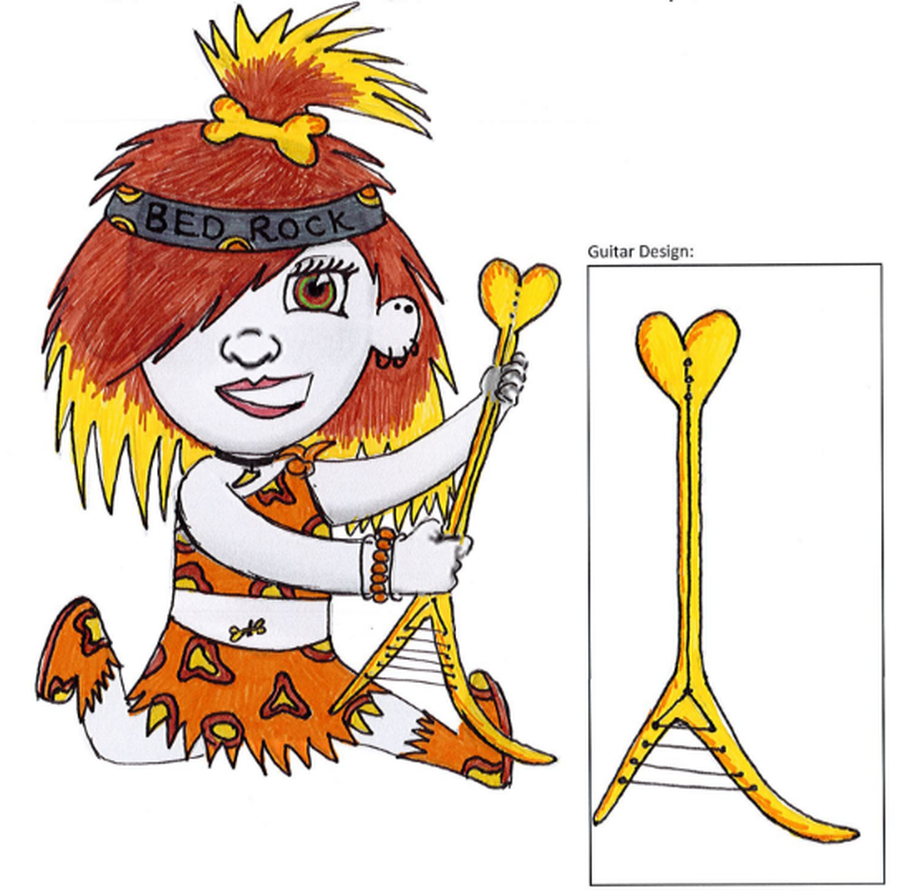 Times Tables Rock Star Launch 2018-2019
Children and staff looked rocktastic for the launch of our Times Tables Rock Star learning for 2018-2019. Miss Mellor explained how important learning times tables is and that, with lots of practice, children need to aim for instant recall of all times tables and division facts. Miss Mellor explained how the times tables rock stars programme works. To begin with, if you need more than 10 seconds to answer questions correctly, you are a rock 'wannabe'. You will climb up the ladder of rock stardom as you get quicker at answering questions accurately - so 6 seconds or less you will become a 'breakthrough artist' and at 4 seconds or less you will become a 'headliner'. Your aim is to become a 'rock star' - you will achieve this when you can answer times tables questions correctly in 3 seconds or less. If your recall becomes even quicker you can become a 'rock hero' and, finally, a 'rock god'!
Our launch event finished with a teacher challenge - five brave (and very competitive) teachers tackled 100 instant recall questions against the clock. Miss Havercroft was victorious with a time of 1 minute 24 seconds!
To view the gallery of photographs please click on the first image below.
After a final few weeks of practising, we hosted our 2018 Times Tables Rock Stars Final in July 2018. Following the final class assessments for the year, the children with the highest results in terms of accuracy and speed in each class went through to our final 'Rock Wrangle' event. This saw five children in each year group take part in a year group times tables competition against the clock, supported by rock music backing tracks and our rock star audience of pupils, all dressed as rock stars for the day. All the year group finalists received a certificate to mark their achievement and the winner of each year group was presented with an engraved gold medal.

We were delighted to present certificates to children in each class who have made the most improvement in times tables results - well done to the children pictured below!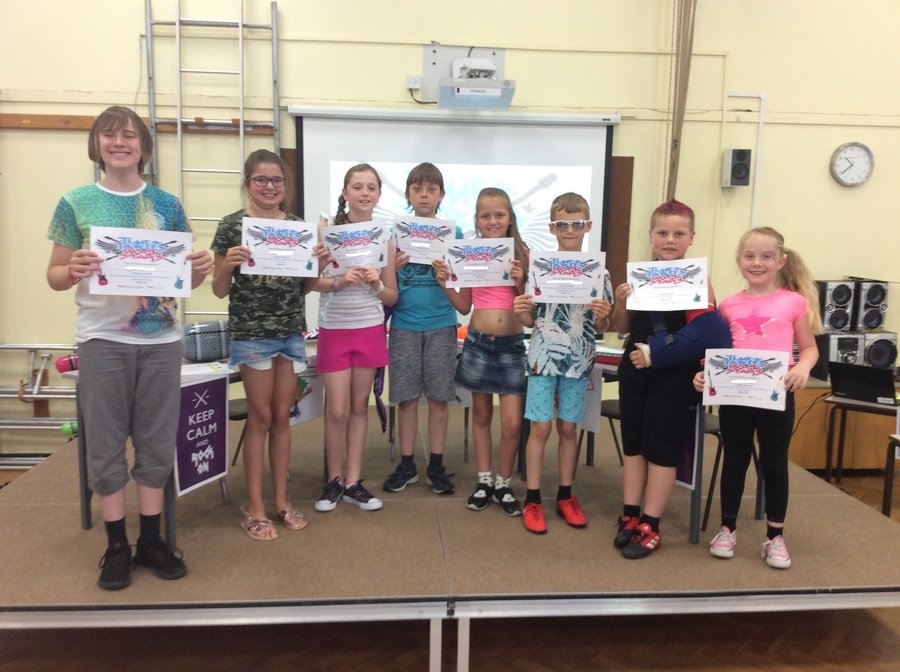 A tense final then took place between the winners of the year group rounds.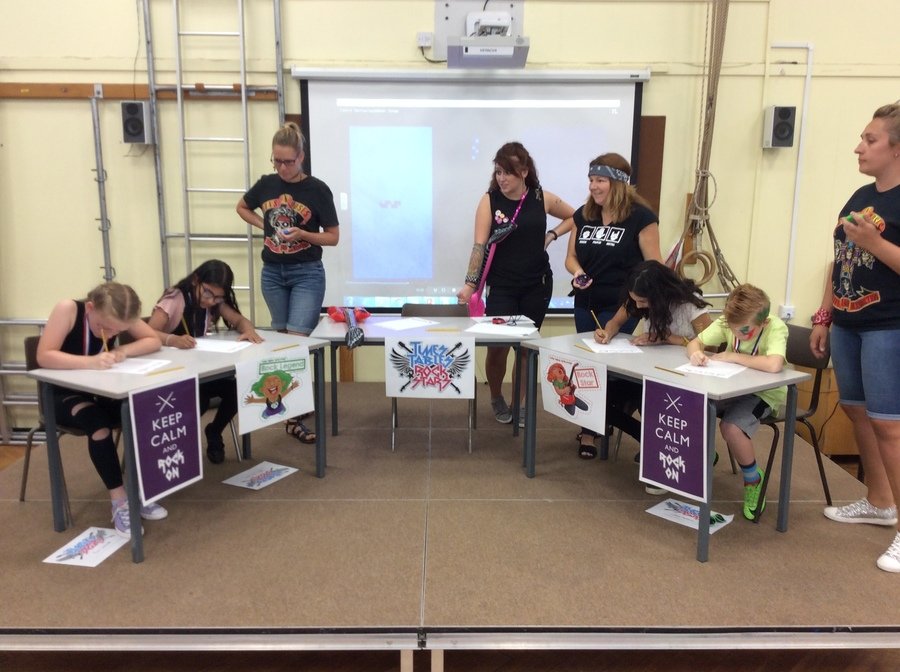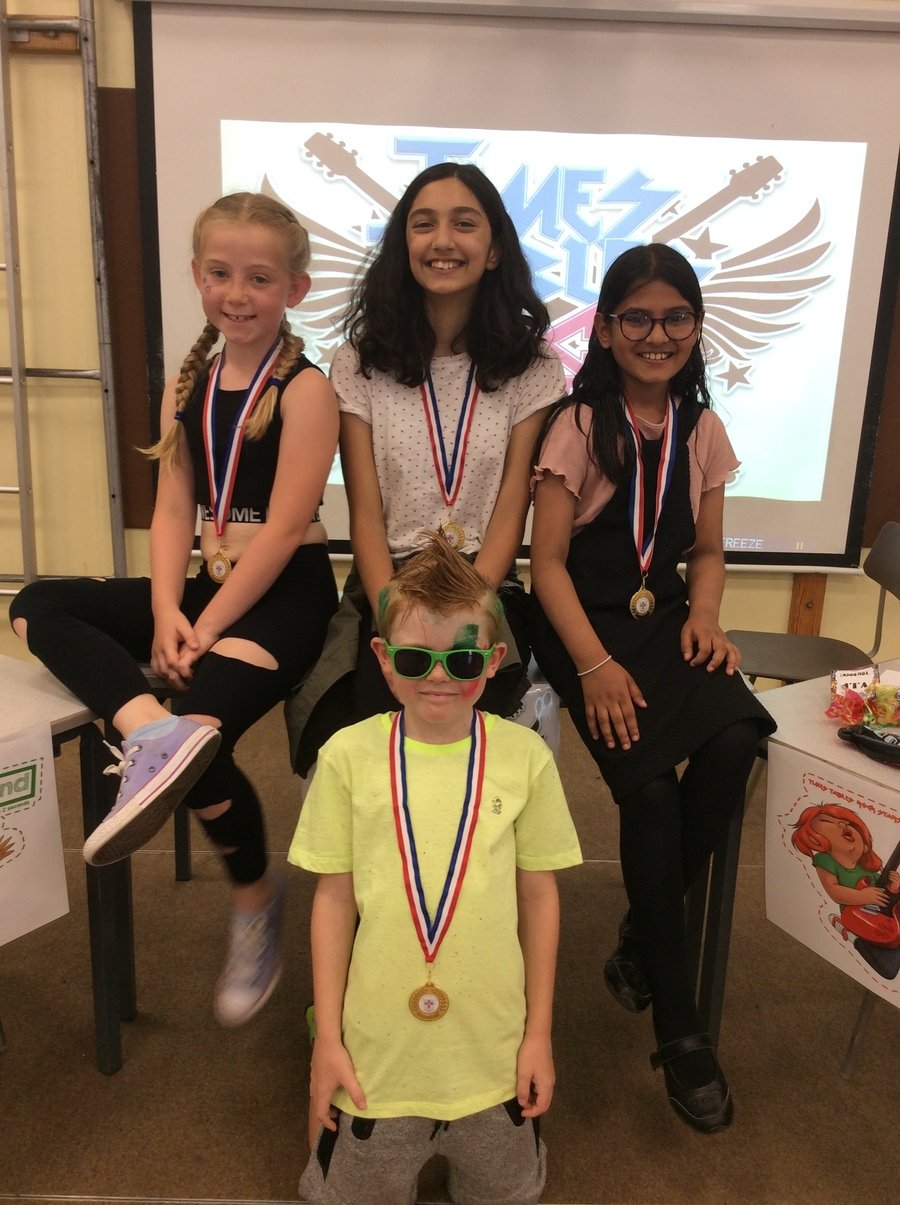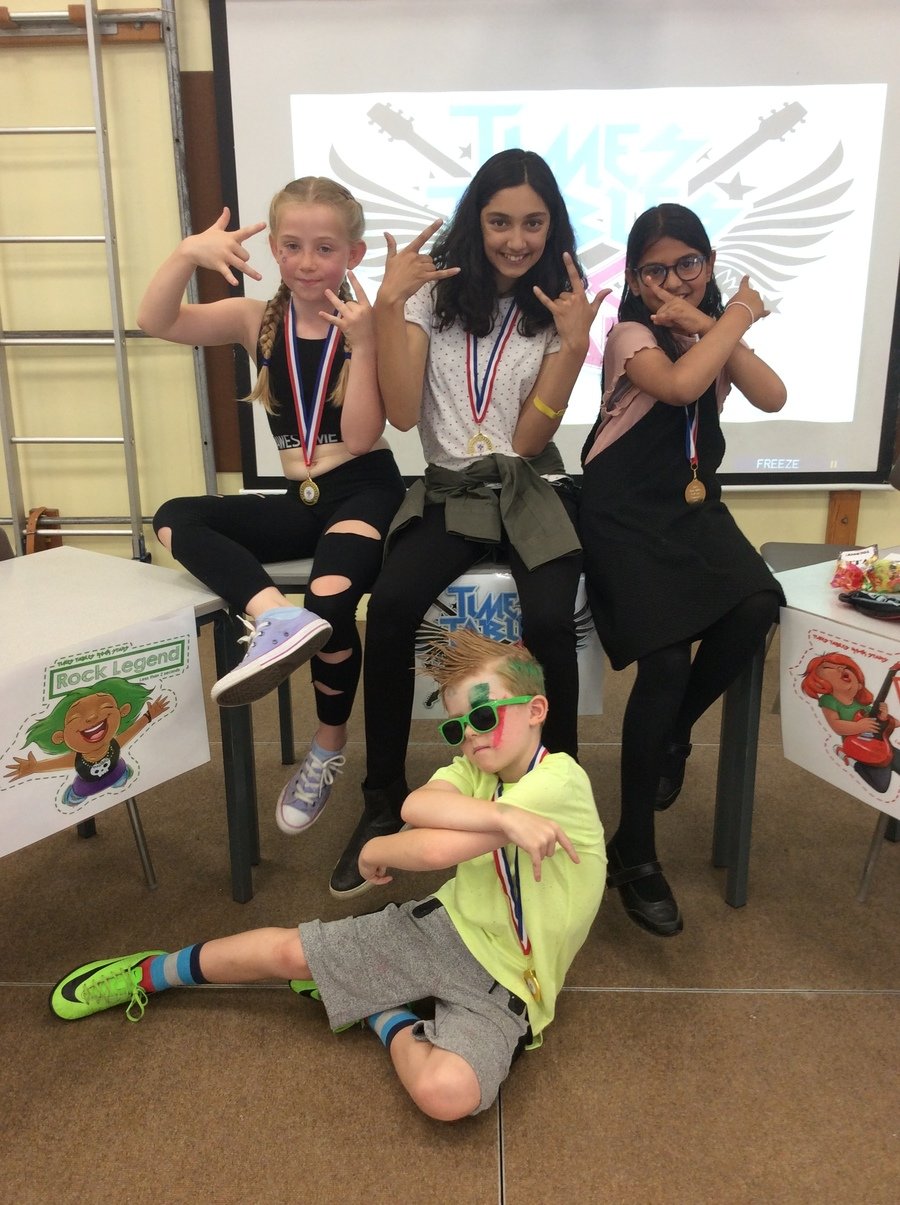 Finally, our Times Tables Rock Star Champion of 2018 was announced and the trophy presented!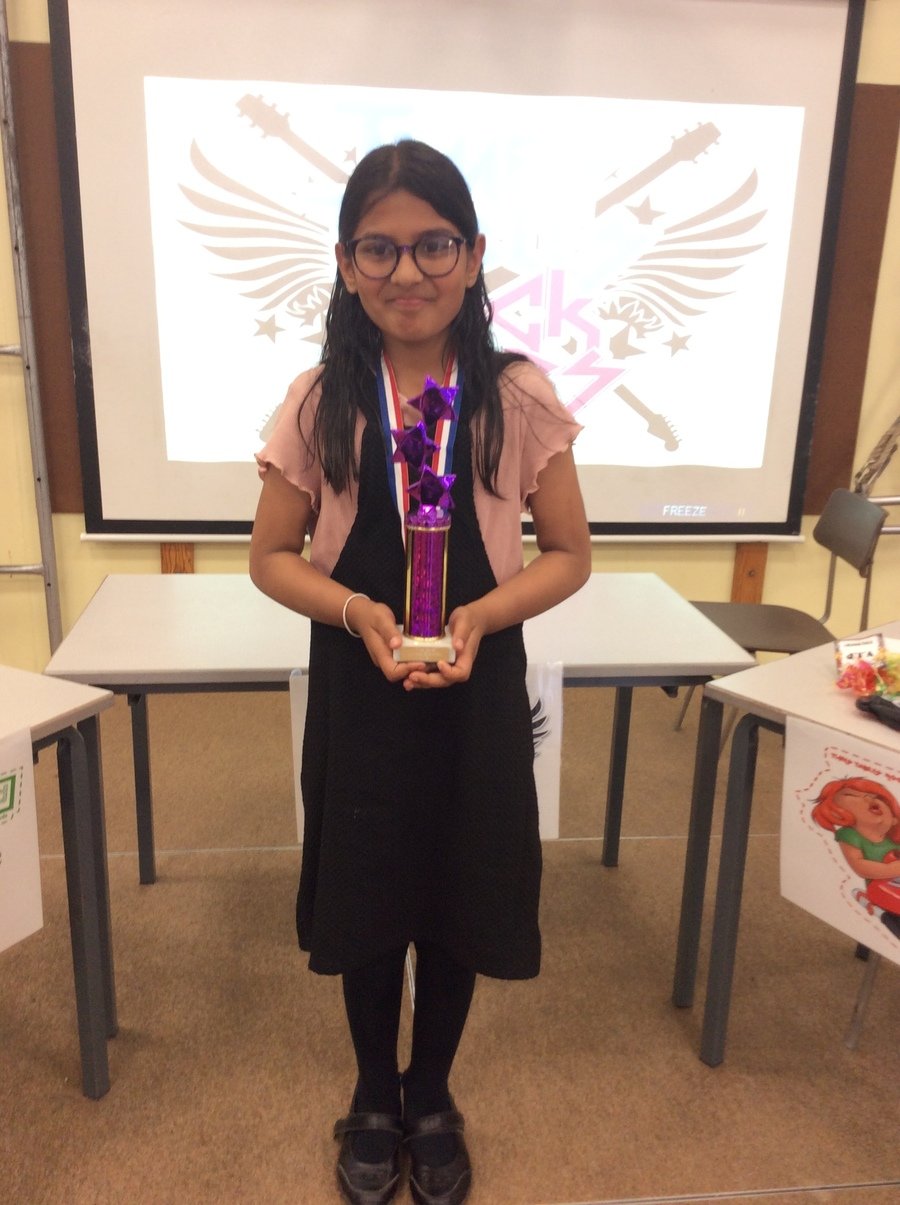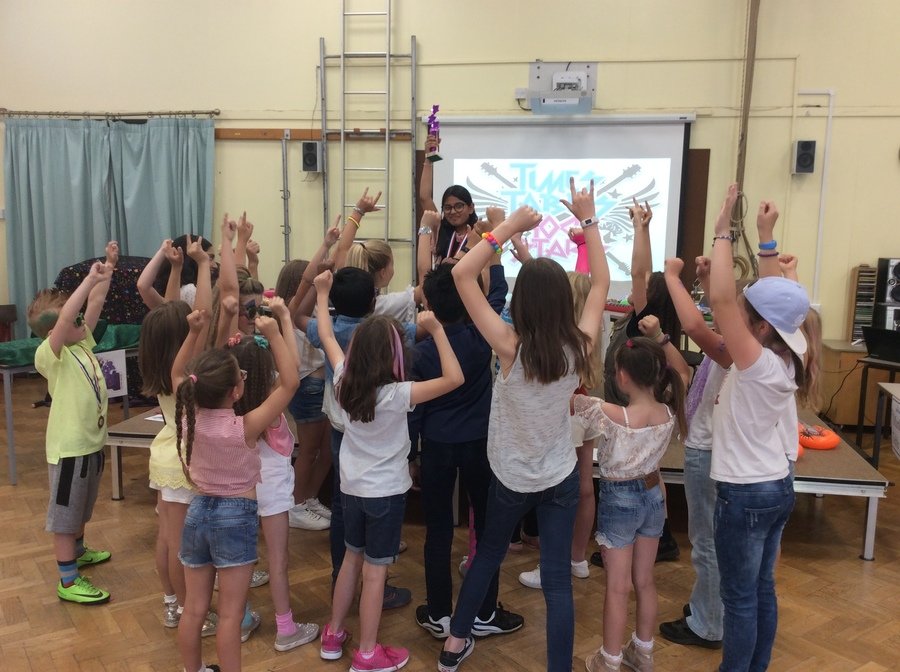 In true rock star style, all our finalists had a rock star VIP lunch on a top table, with additional treats and a goody bag to take home.
To view the full gallery of photographs please click on the first image below.