Music
At Copley Junior, music provision is an important part of our creative approach to curriculum delivery. Many different opportunities are offered to pupils, both as timetabled lessons and extra-curricular activities.
Young Voices 2019
Once again, our enthusiastic Year 5 and 6 choir (of 61 children!) took part in the Young Voices Concert at Sheffield Arena. After months of practising the songs and dances with Miss Havercroft, the children were very excited to attend the afternoon rehearsal, followed by the concert itself. The whole performance with the dancers and vocalists along with the beat box crew was amazing, not to mention of course the incredible 5250 children in the Young Voices choir. We greatly appreciate that so many parents/carers and relatives were able to come in the evening to enjoy the performance. Well done to all the children for putting in so much effort to learn the songs and dance moves. As usual, the children were an absolute credit to the school with their enthusiasm and excellent behaviour.
Please click on the first image below to view our photograph gallery.
Year 3 Vegetable Orchestra
As part of their 'Scrumdiddlyumptious' project Year 3 demonstrated their creativity by making a diverse collection of musical instruments out of vegetables! The children then formed 'vegetable orchestras' and experimented with different rhythm patterns before performing these to the class.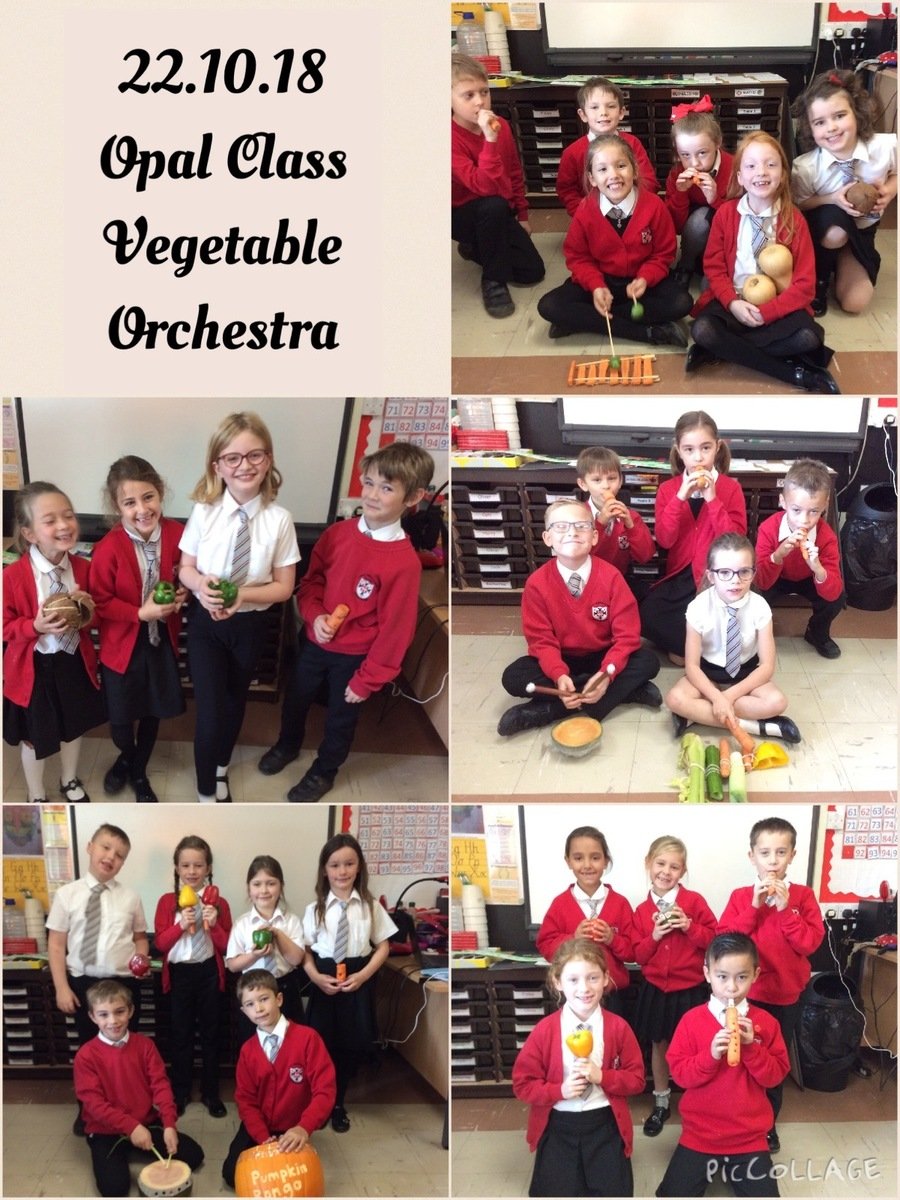 Christmas Lights in Sprotbrough
Each year Miss Havercroft takes members of our school choir to sing carols at the village 'switching on' of the Christmas lights.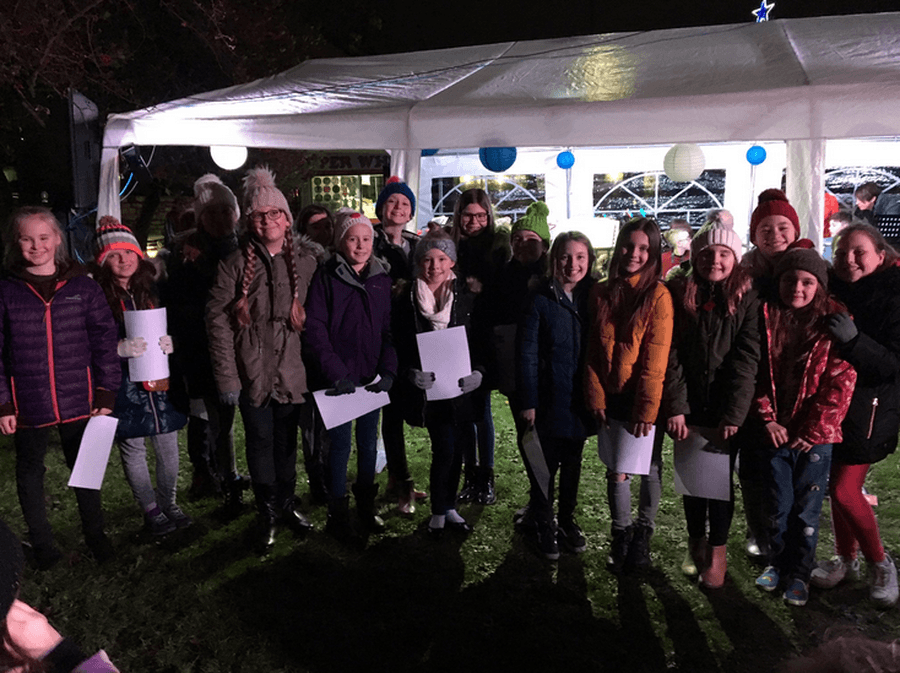 Choir Visit to Doncaster Royal Infirmary
We were very pleased to be invited to visit Doncaster Royal Infirmary with a small group of our choir to bring some festive cheer to the patients in the day room of Ward 1. Our selection of carols and poems was greatly enjoyed by all.
The hospital activities co-ordinator contacted us afterwards:
"On behalf of our entire ward we would like to say a big thank you to you and the children for coming along to sing for us. It was a fantastic afternoon and we all enjoyed it. The children were excellent and very professional, they were great with our patients and staff and I just want to congratulate you on such well-behaved pupils. They should be extremely proud of themselves!"
Year 5 Concert
Our Christmas Concerts are always well attended and give all the children in Years 5 and 6 opportunity to share their acting, dancing and singing skills.
Our Year 5 pupils impressed everyone with their wonderful singing as they presented a lively nativity themed performance, 'The Inn Crowd'. The nativity story was brought to life as seen through the eyes of the animals, who discovered that there was no better place to be than in the stable on the wondrous evening that Jesus was born.
Please click on the first image below to view our photograph gallery.
Please click on the video clip below to watch the children singing 'Spread the Joy'
Please click on the video clip below to watch the children singing 'Bethlehem'
Year 6 Pantomime

The Year 6 performance of 'Jack and the Beanstalk' had something for everyone – fantastic acting, super singing, energetic dance, humour, slapstick comedy, high tension, true love, the triumph of good over evil and, of course, a happy ending!
Please click on the first image below to view our photograph gallery.
Skype Songs with our French Penfriends
Year 5 learned two songs, 'Toc…toc…toc…Père Noël frappe à la porte' in French and 'Santa Claus is coming to town'. We used Skype to perform 'Toc…toc…toc…Père Noël frappe à la porte' and watched our penfriends performing it so we could further improve our pronunciation of the French vocabulary.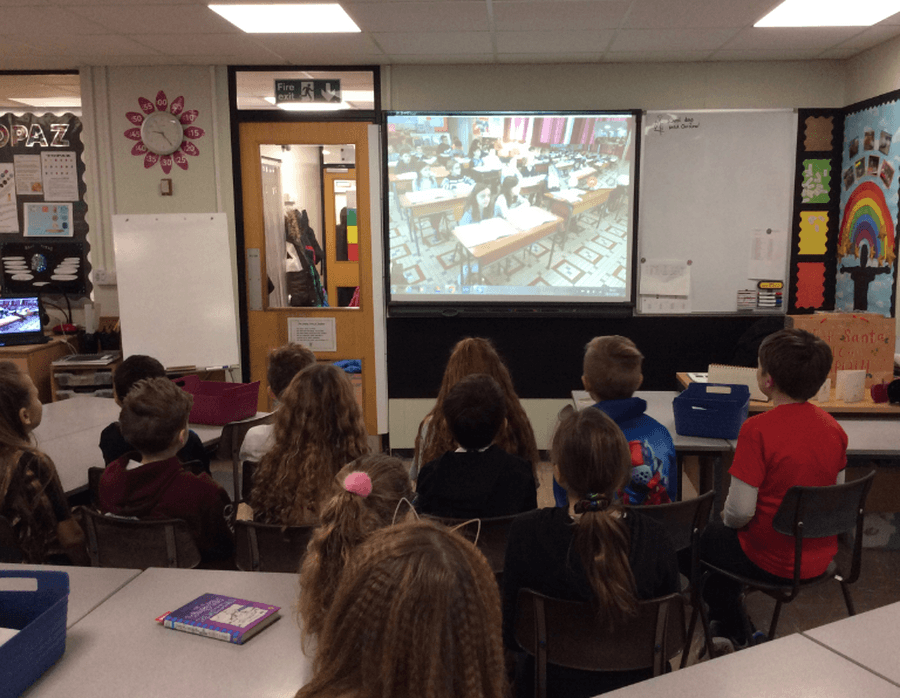 Carols and Readings at St Mary's Church
Our whole school community visits St Mary's Church to celebrate Harvest, Christmas and Easter. At our Christmas Carols and Readings Service, Year 4 children performed two carols led by our peripatetic music teacher Mr West.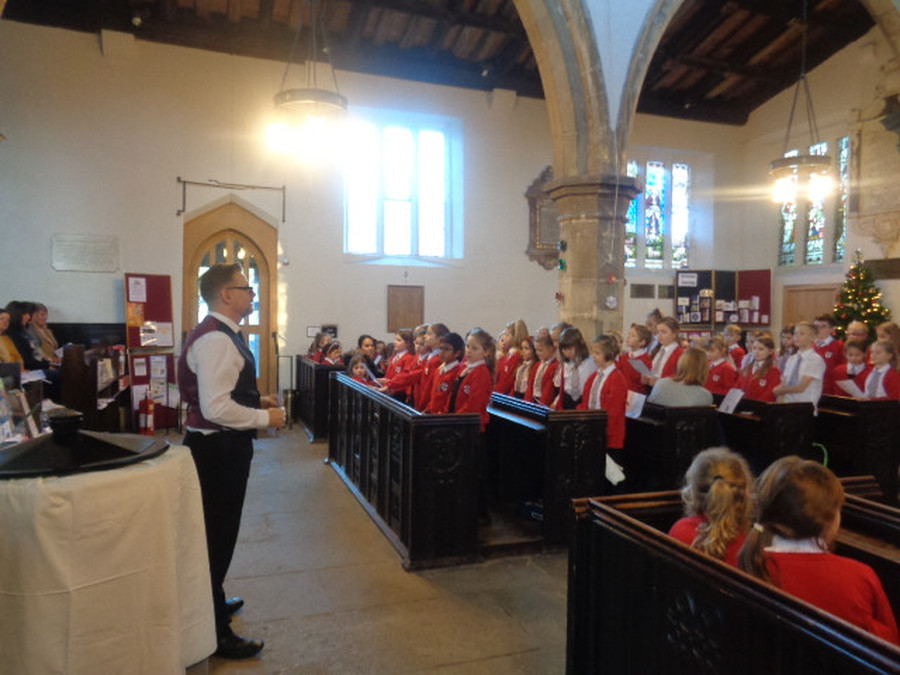 Peripatetic Music
From Year 4, all children have opportunity to play a musical instrument - guitar, clarinet, flute, violin, cello or brass. Many of our instrumentalists attend Saturday Orchestra at the William Appleby Centre and achieve success in external music examinations.
Opus Music Project
Our involvement in Ridgewood's Opus project has provided additional opportunities to learn to play the alto saxophone, trombone, trumpet or baritone. As well as a weekly lesson in school, our Opus instrumentalists travel to Ridgewood each week for Band Practice with children from other pyramid schools and students from Ridgewood. At the end of the year, Opus took part in a fantastic evening of musical performances with Ridgewood's Elite Concert Band, their very own Rock Band and Doncaster's Jazz Stage Band.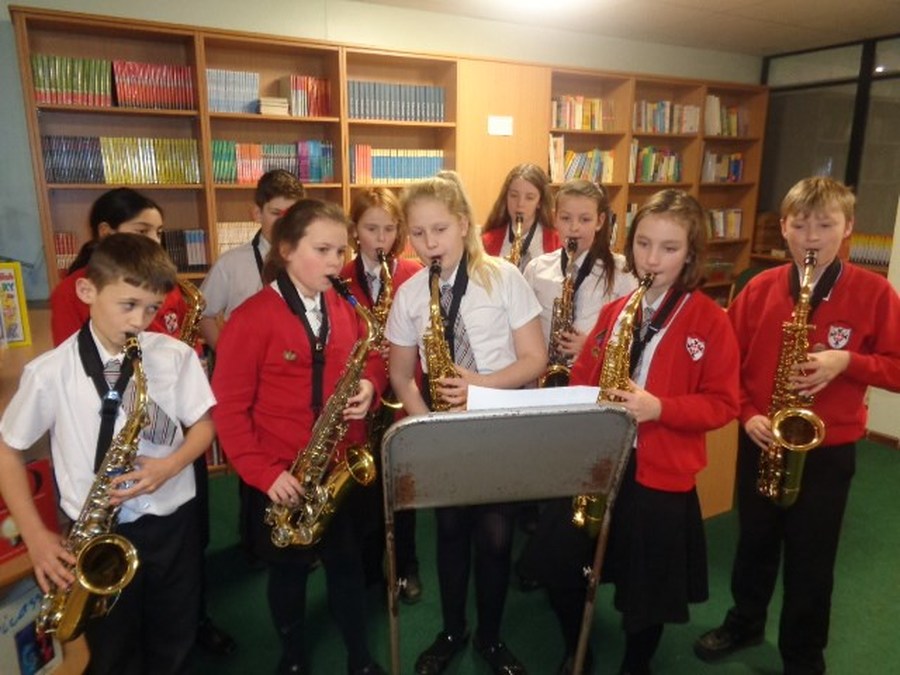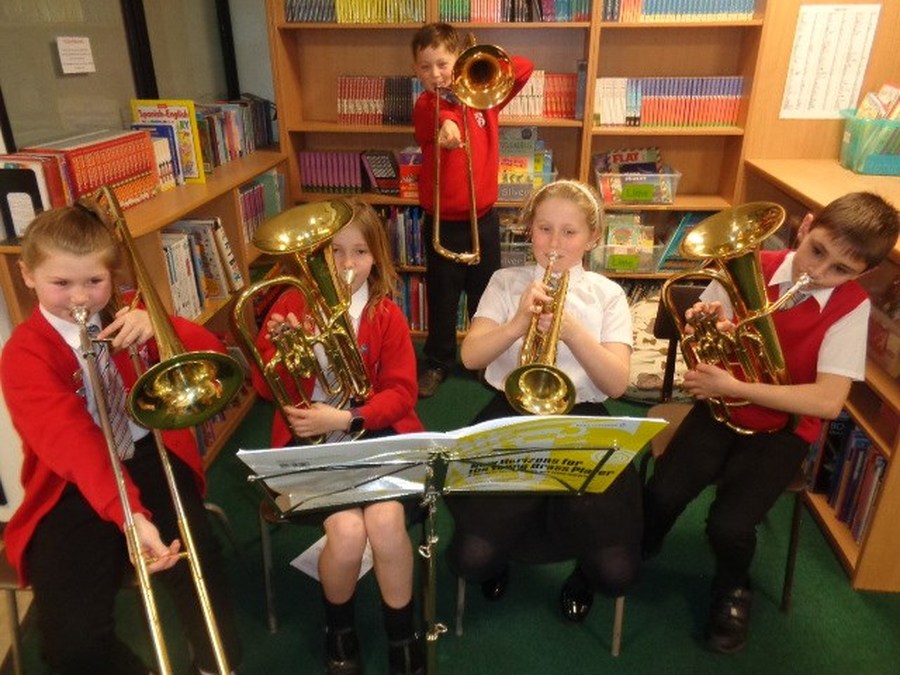 Wider Opportunities Samba
As part of our commitment to Wider Opportunities, we provide weekly Samba lessons for all children in Year 4. Mr West from the Music Service leads our Samba lessons and our enthusiastic children's singing and drumming may well be heard across Sprotbrough!
Please click on the video clips below to watch a Samba lesson in action.
BBC Music Day - Massed Samba Performance
We celebrated BBC Music Day by joining other school Samba groups in Sir Nigel Gresley Square, Doncaster. Together with 300 pupils from other schools, the children enjoyed a massed Samba workshop and entertained the shoppers of Doncaster with their Samba performances.

A fantastic video of the massed Samba performance has been uploaded on the Doncaster Community Arts (Darts) website. Please click here to enjoy viewing this.
'Sing Out' Concert
Each year our Year 3 children take part in the 'Sing Out' Concert. This gives our children opportunity to join a choir, meet children from other schools and perform as part of a large choir of Doncaster schools at the Dome, in front of parents/carers and relatives. We were very proud to receive many compliments about the fantastic singing and dancing of our Year 3 choir and their ability in the two part harmonies.

Every year we are also lucky enough to take part in a school workshop where we work with DARTS to help create a new song for the concert, which we then learn and perform with the other school choirs at the Dome concert.
Please click on the photographs of the 'Sing Out' Concert below.
Video clips of previous 'Sing Out' Concerts
Year 5 Choir Project with Opera North
We have been very fortunate to be given the opportunity to work with professional musicians and vocalists from Opera North once again.

Our choir rehearsals and sessions led by Opera North specialists culminated in a concert at the CAST Theatre, where we joined other school choirs from across Doncaster. The concert opened with Prokofiev's symphonic fairy tale, taking the audience on a tour of the instruments of the orchestra. The children's choir was accompanied by the Opera North Chamber Orchestra as they performed a selection of songs from Stephen Deazley's 'A Little Book of Monsters'. The choir gave a brilliant performance and it was a wonderful opportunity to perform with such a highly acclaimed orchestra. Thank you to Miss Havercroft for organising and leading our participation in this very enjoyable event.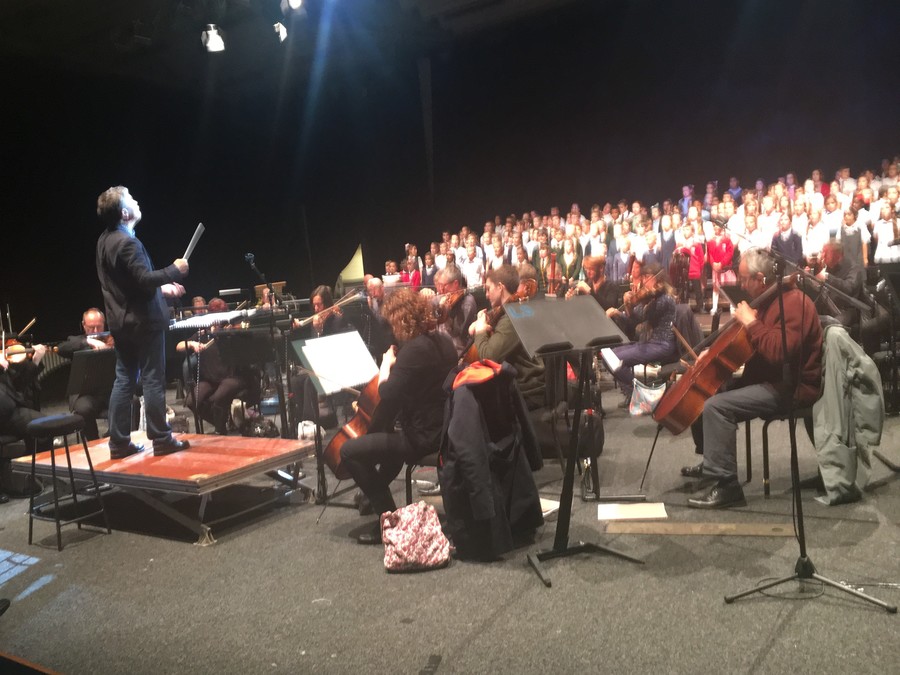 Please click on the photographs of the Opera North Concert below.
Extra-Curricular Opportunities
As well as peripatetic music lessons and Opus Band Practice rehearsals, our extra-curricular music provision includes Choir and Musical Theatre.
Our Musical Theatre club provides children with opportunity to develop their singing, dancing and theatre skills and members enjoy inviting parents to share their final performance. Pictured below is a scene from the musical 'Matilda'.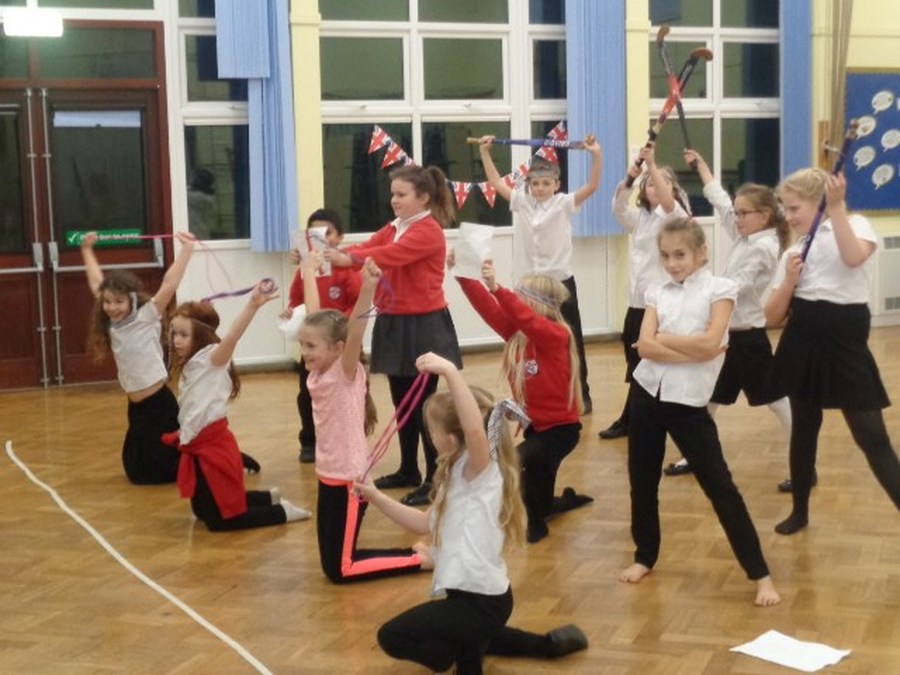 Summer Talent Show
Thank you to everyone who attended our Summer express events and Talent Show. We offer lots of musical opportunities in school, so we saw performances from the two Year 4 classes who have Samba lessons, as well as from the groups of children learning to play guitar, flute, clarinet, alto saxophone, brass and violin. In addition we saw an eclectic range of talents from children in each year group, including science magic, blindfold piano playing, dance, electric guitar solo, piano solo and vocalists.
Please click on the first image below to view photos from our music express and Talent Show.
Link with Sprotbrough Music Society
We have a valued link with Sprotbrough Music Society. This provides our children with the opportunity each year to take part in an interactive concert with professional musicians.
We were pleased to welcome into school Hugh Wiggin, one of the most popular saxophonists of his generation and recent winner of the Gold Medal of the Royal Overseas League Annual Music Competition and Somi Kim, pianist, who has recently graduated from the Royal Academy of Music with an MA (Distinction) and is currently completing her Advanced Diploma. Our concert included music ranging from the baroque, through to Schumann as arranged by Liszt and modern works by Piazzolla, Messiaen and Leonard Bernstein – with a suite from "West Side Story".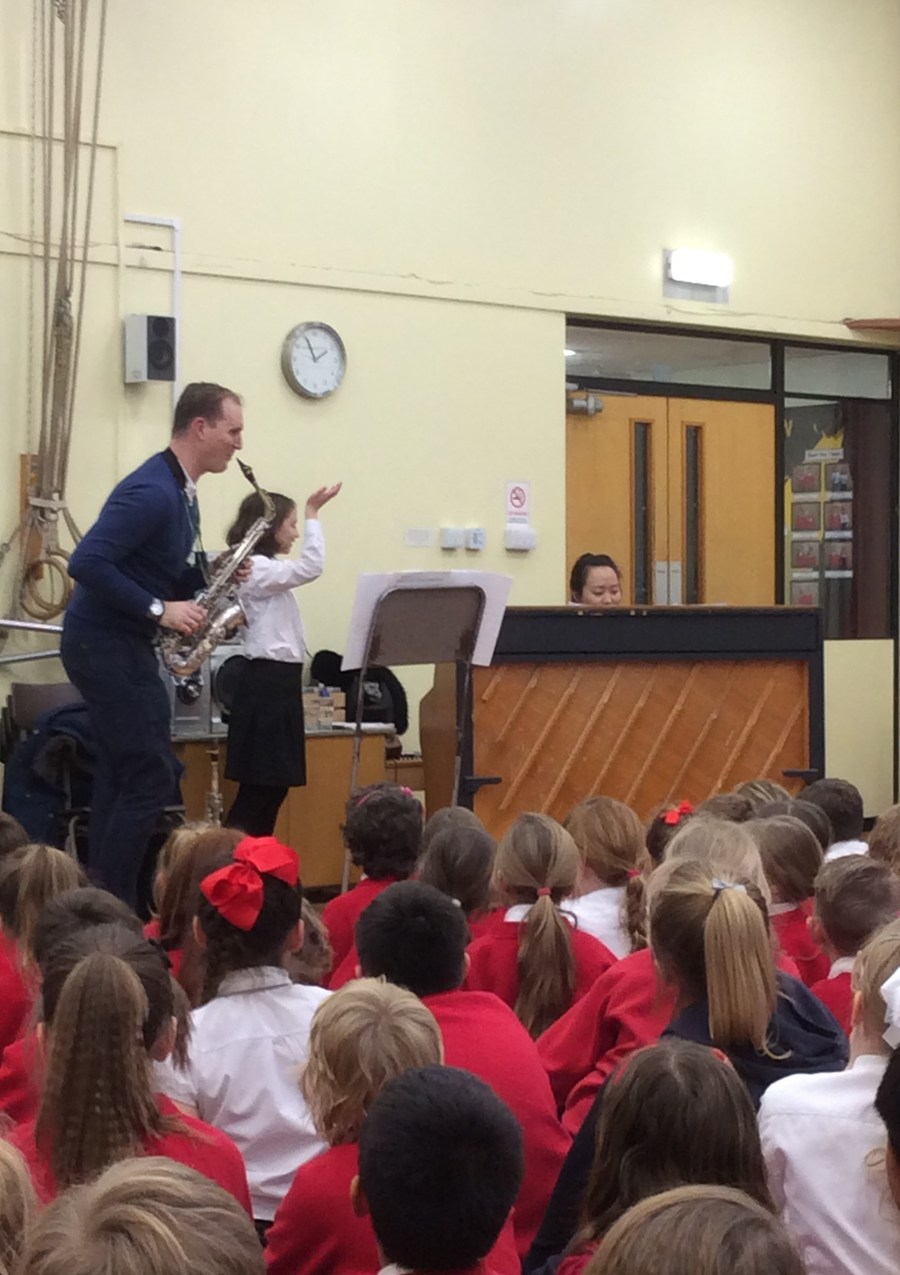 'Travelling by Tuba'
This hugely enjoyable concert spanned 15 000 years of music beginning with the first natural instruments such as the conch shell, through the courts of 14th century Europe with early instruments like the sackbut and cornett. During this concert we listened to music from the 15-19th centuries with such instruments as the ophicleide, much loved by the likes of Berlioz and Mendelssohn before learning about the invention of valves, which gave rise to modern instruments such as the tuba! Guiding us through this programme were Chris and Stewart who performed a stunning innovative recital - not just a tuba concert! Their acknowledged success is due not only to their virtuosity but also their ability to entertain and communicate with an audience.