P.S.H.C.E. Curriculum
At Copley Junior School, we believe in providing the children with exciting, creative and meaningful learning experiences, which build their enthusiasm for learning and help them to grow and develop not only academically but spiritually, socially, emotionally, physically and morally too. Our approach to Personal, Social, Health and Citizenship Education (P.S.H.C.E.) informs not only dedicated teaching sessions but the whole of the curriculum and all aspects of school life as we aim to give our pupils the knowledge, skills and understanding they need to enable them to lead confident, healthy, independent lives and become informed active citizens.
To view our Personal, Social, Health and Citizenship Education (P.S.H.C.E.) Policy, please click here.
Long Term Plan for Personal, Social, Health and Citizenship Education (P.S.H.C.E.)
An overview of coverage for each year group is detailed in our long term plan below.
Learner Values
At Copley Junior School, we believe in developing the 'whole child'. Our Learner Values support our school ethos of helping children to develop important life skills and are embedded throughout our school and our curriculum.

Our seven Copley Junior School Learner Values were chosen by a whole school pupil vote as well as discussions with our teaching team, governors and the Parent Forum.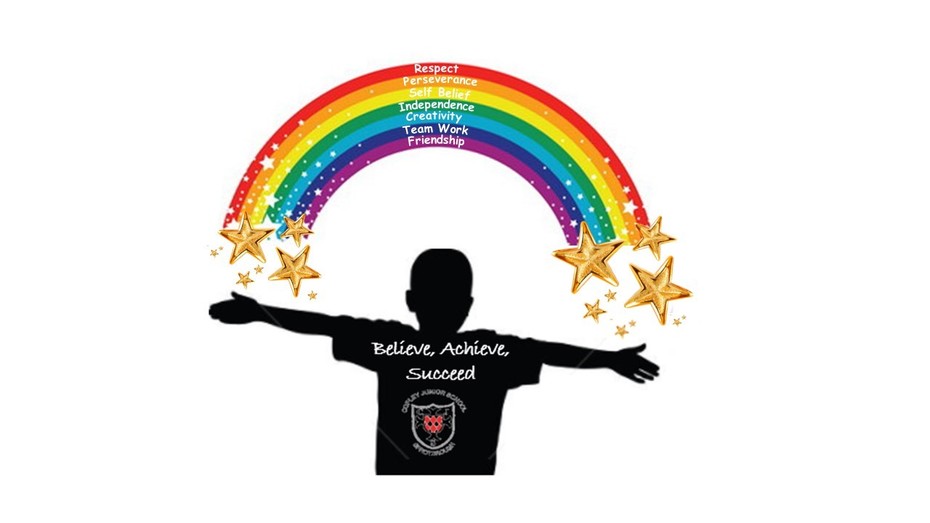 To find out more, please visit our 'Learner Values' page.
R.S.E. Curriculum
Relationships and Sex Education (R.S.E.) is lifelong learning about physical, moral and intellectual development. It is about the understanding of the importance of family life, as well as other stable and loving relationships, based on respect, love and care. It is also about the age appropriate teaching of aspects of sex and sexuality. It involves acquiring information, developing skills and forming positive beliefs, values and attitudes. Copley Junior School is committed to helping children and young people develop the skills, attitudes and knowledge that will enable them to develop strong, healthy personal relationships now and in the future.
To view our R.S.E. Policy, please click here.
An overview of coverage for each year group is detailed in our long term plan below.
Snapshots of our PSHCE Work
In their project 'Scrumdiddlyumptious', children in Year 3 identified that animals, including humans, need the right types and amount of nutrition and they learned about the principles of a healthy diet.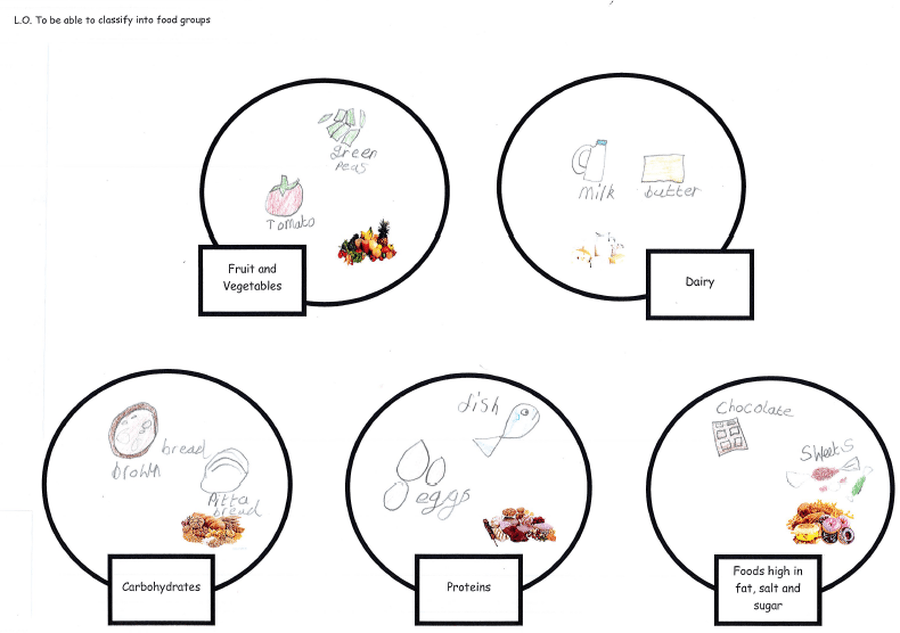 Children designed and created their own healthy fruit smoothies and flatbreads with different flavourings. Children also designed posters and cartons to advertise their fruit smoothies. The Scrumdiddlyumptious cafe was then opened for parents and relatives to purchase and sample the delicious products.
As part of their PSHCE study unit 'Feelings and Relationships' Year 4 discussed 'The Scream' by Edvard Munch. Children considered the emotions of the figure in the foreground and why he might be screaming. This led to discussion of anxiety, fears and phobias and ways in which we can cope with these.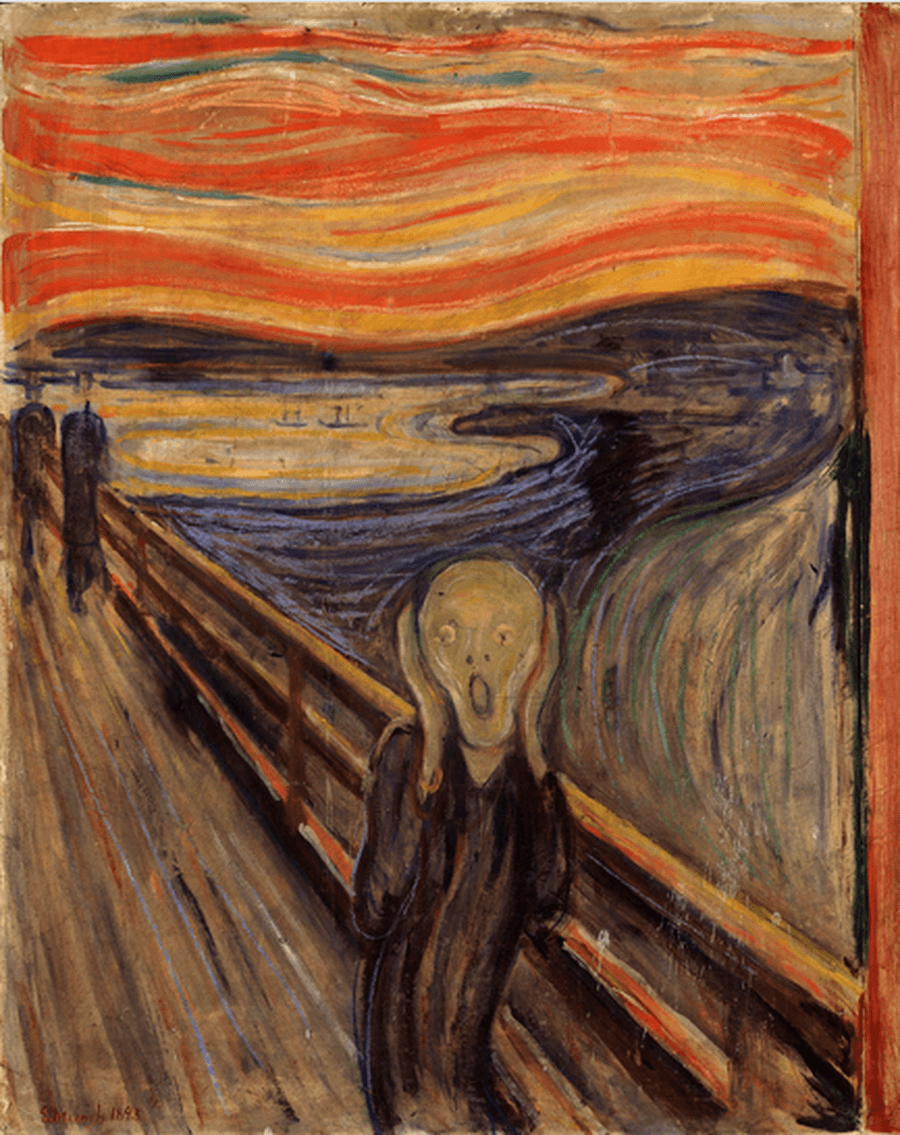 Children in Year 4 have also considered similarities and differences and how we can encourage people to respect differences.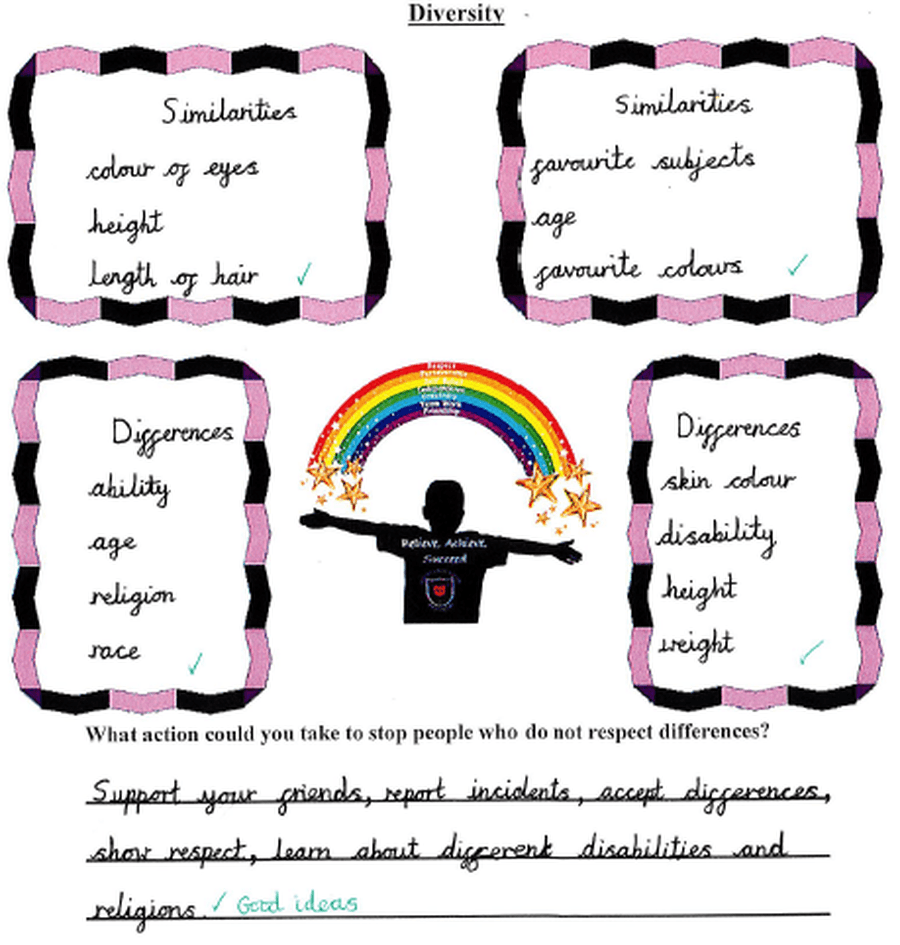 In one of their RSE lessons Year 4 considered gender stereotypes, discussed many types of jobs and considered who might be suitable for different jobs.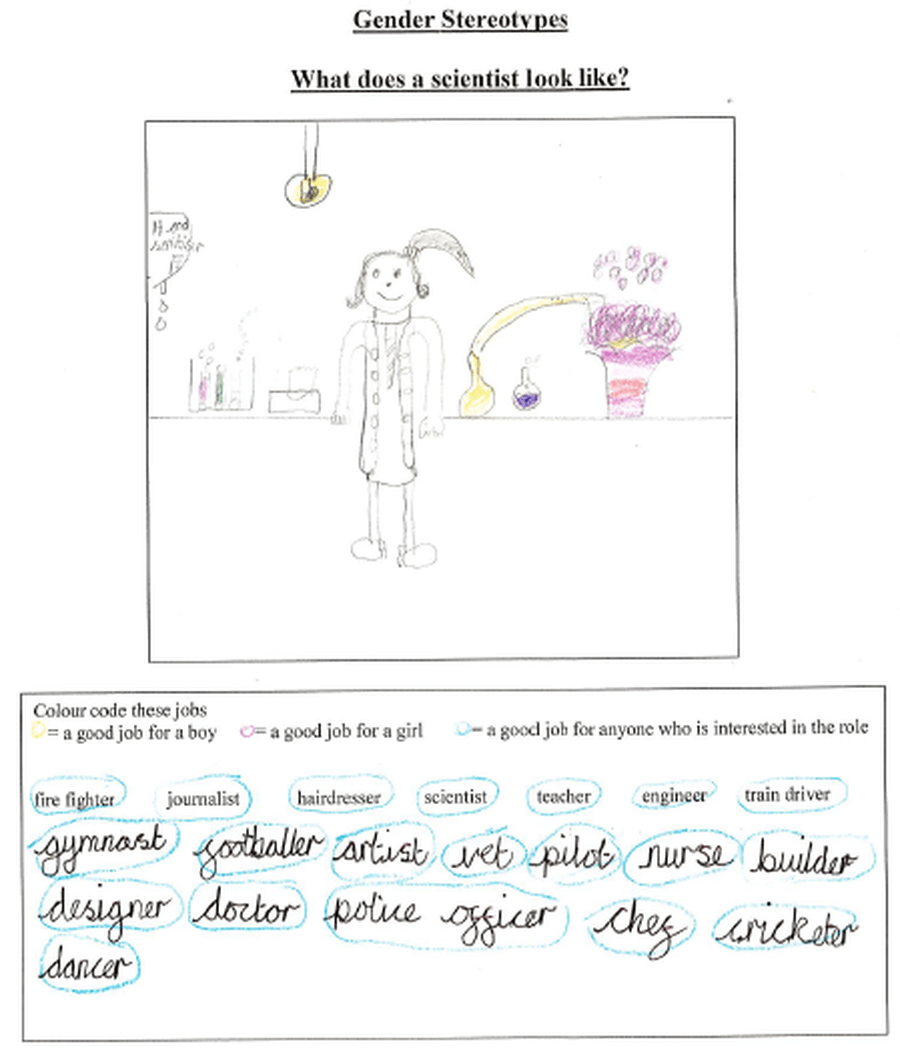 As part of their PSHCE project on 'Mental Health and Emotional Wellbeing' Year 5 considered which substances can be classed as drugs, including legal substances such as caffeine in sugary drinks.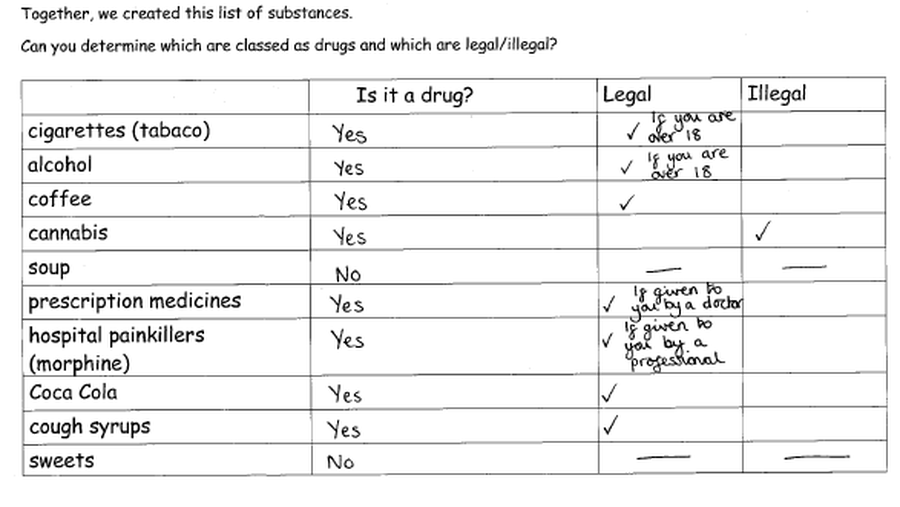 As part of their 'Time Traveller' project, Year 5 described the changes as humans develop to old age. Children researched the stages of gestation in humans using photographs, books and laptops and then presented their information in written reports. They then compared human gestation with that of various animals. Year 5 also designed posters to present information about the importance of hygiene to help keep our bodies healthy.
Achoo! How far can a sneeze travel and how can we prevent others from getting ill? Through this science activity Year 5 and 6 learned more about the spread of microbes and their potential to infect people. Children measured the distance and impact of a sneeze by using water in a spray bottle.
Children drew a person anywhere in the 'sneeze zone' (a 4m long roll of paper). The water was sprayed twice (to represent a sneeze) and children measured how far the water droplets travelled using a ruler from the 'sneeze zone' start line and how many people on the mat were affected by the sneeze. Children checked carefully for water marks and drew a red circle round people and areas affected.
The experiment was repeated with a hand in front of the spray (to represent someone sneezing and putting their hand over the mouth) and then repeated again with a tissue in front of the spray (to represent someone sneezing into a tissue.)
Children then compared their results, discussing the findings and their conclusions.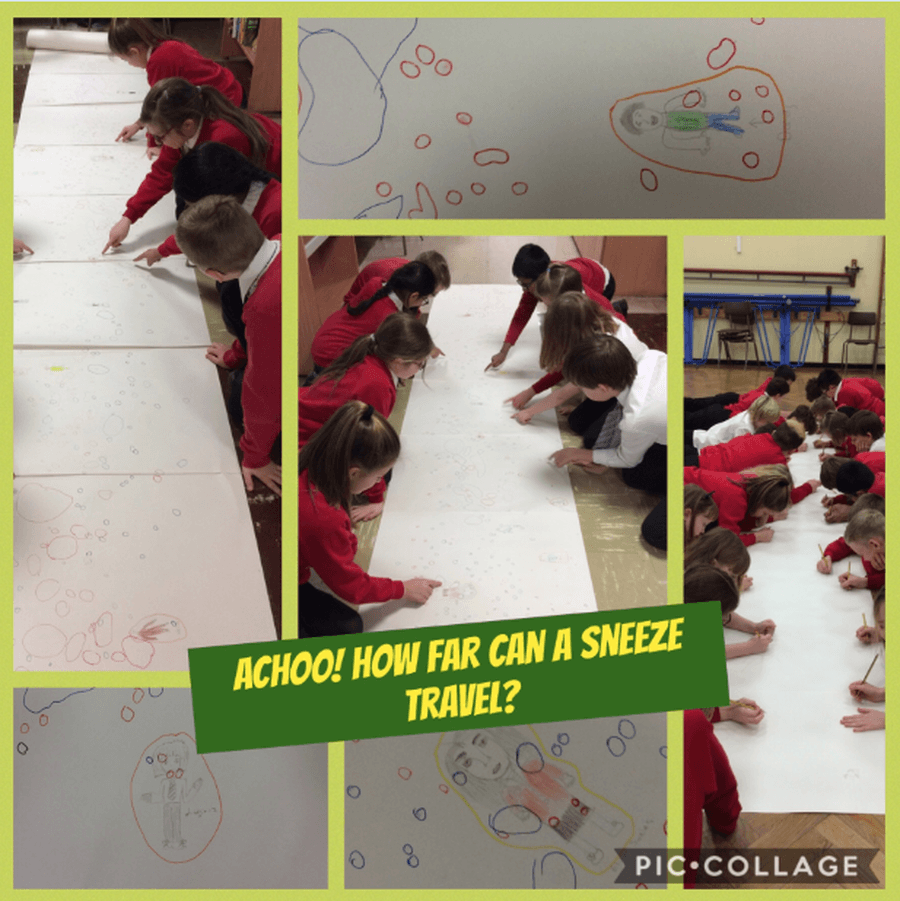 Children decided how they wanted to present their learning. Connie and Afreen decided to prepare a powerpoint and shared this in assembly so we could all think about keeping each other healthy by stopping germs from spreading.
As part of their project on 'Blood Heart' Year 6 researched how unhealthy choices affect the heart and chose how to present their learning.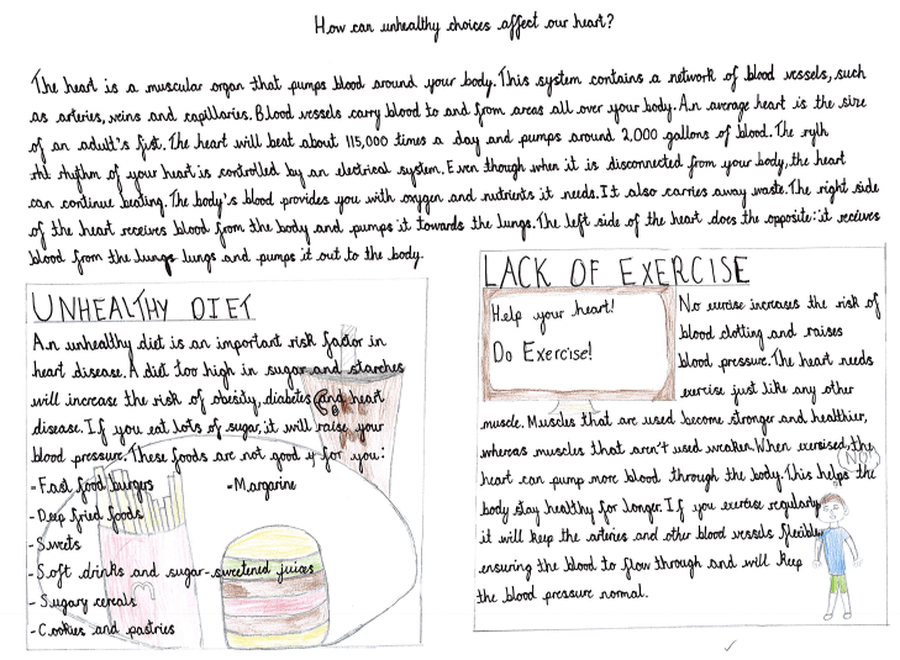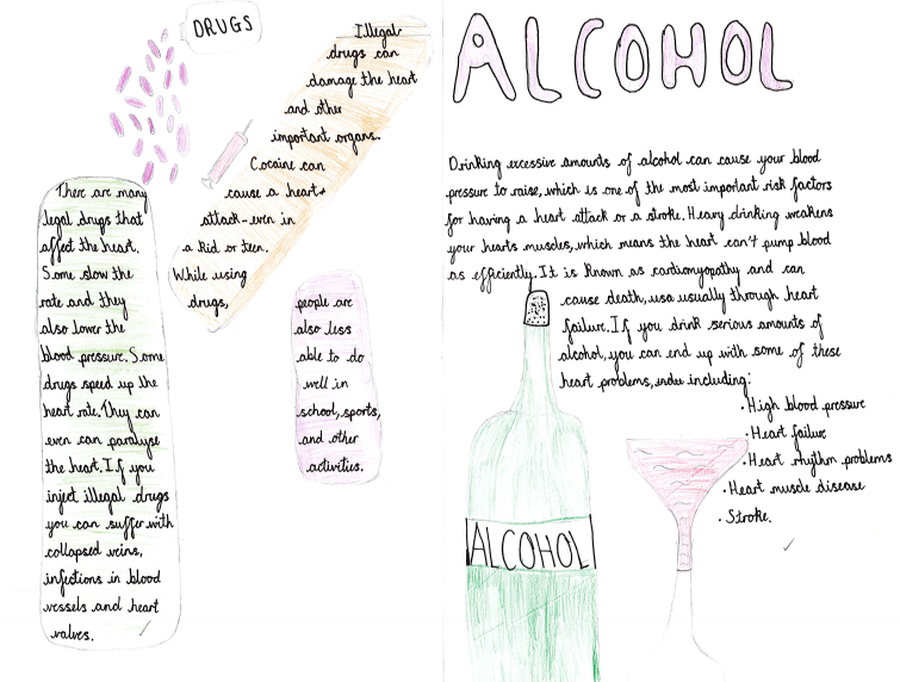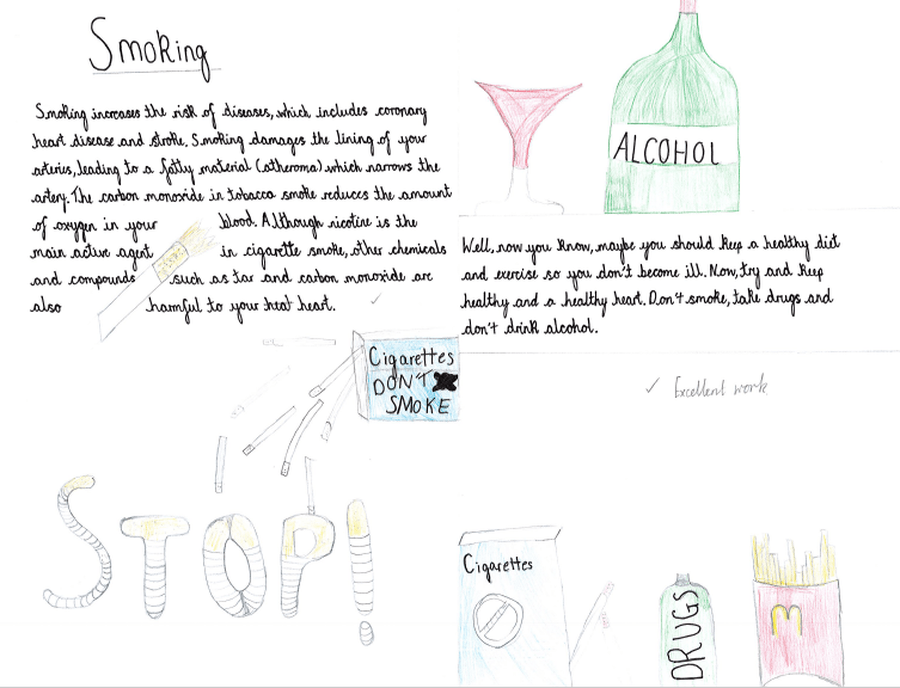 Star Medics First Aid - Our Star Medics First Aid training course is a carefully developed after school programme that is aimed at primary children. It covers such issues as what to do if someone has a sprain, broken a bone, has an asthma attack, heart attack or suffers cuts and grazes. Bandaging patients and practising CPR on dummies is all part of the course. This a great opportunity for children to learn the basics about how to save a life. When children successfully complete the four week course they receive a 'Star Medics First Aid' certificate.
'Crucial Crew' - Our annual Year 6 'Crucial Crew' visit enables our Year 6 pupils to work with South Yorkshire Police to learn more about the rule of law, the rights and responsibilities of people in society and how to keep safe. This includes taking on the roles in a courtroom scenario and visiting a prison cell; learning about the dangers of arson and knife crime; taking part in a workshop about e-safety; safe travel on public transport, crossing the road safely and learning emergency first aid skills.