Eco Council
Our Eco Council call themselves the 'Green Team'. Led with great enthusiasm by Miss Walker, our Eco Council aims to develop environmental awareness across our school community and to care for and develop our local environment.

2018-2019 Green Team
Congratulations to the following children who applied for the role of Eco Council member and, following a class vote, were democratically elected by children in their class:
Leader of the Green Team: Kaylen W
Year 3
Oliver R and Isabelle F

Francesca M and Kobe B
Year 4
Oscar B and Thea R
Annabelle W and Finlay K
Year 5
Olivia T and Esme S
Eric B and Amelia J
Year 6
Jude T and Leah H

Madeleine W and Joshua H
To watch a short video to find out more about what an Eco Council is all about, please click here.
Our Eco Council meets regularly throughout the year. You can read our minutes by clicking on the links below:
Minutes 2018-2019
Eco Council Work 2018-2019
Active Travel - Ten Day Challenge
In October we promoted the 'Ten Day Active Travel Challenge' again as a great way to get fit and healthy and to help protect the environment. This campaign had great impact as you can see from the Eco Council's powerpoint presentation below. Let's keep on walking to school to keep fit and help our environment!
To find out more about our work to promote active travel, please click here to visit our 'Active Travel' page.
Harvest - Finding out about Food Miles
For our Harvest Service at St Mary's Church we shared the poem 'My pizza as big as the sun'. Each class found out fascinating facts about one of the food items on the pizza, including the country of origin and the food miles used to transport the food item to the UK e.g. olives and mozzarella from Italy. Altogether, the food we used to make our pizza would have travelled 13,795 miles so it certainly made us think abut sourcing food locally to help save the environment.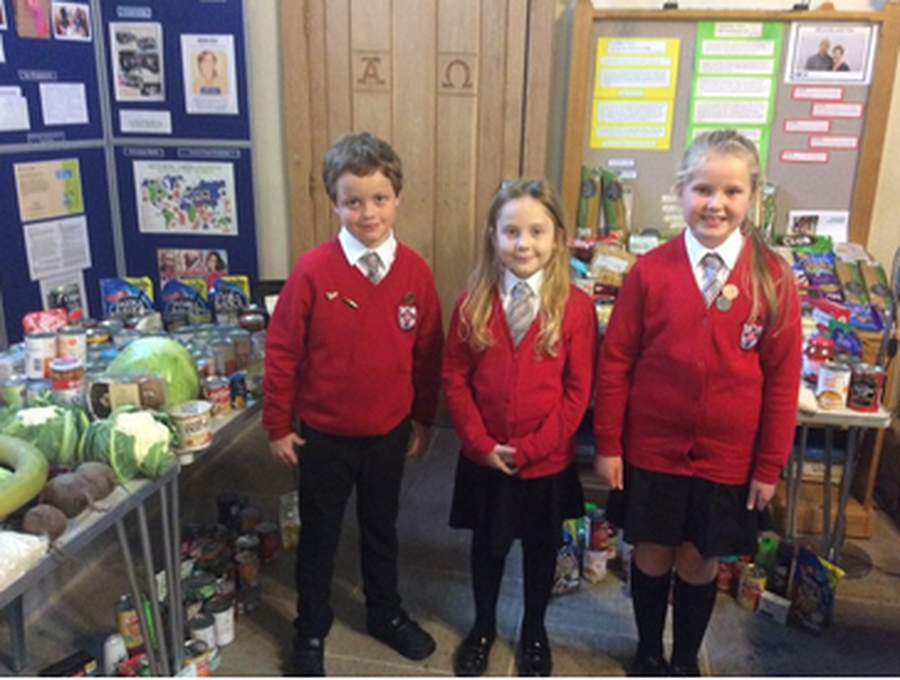 Bulbs4Kids - Eco Council Planting Initiative
We registered to be one of the 800 schools in the UK to receive a free box of 600 flower bulbs (200 tulips, 200 daffodils, 100 crocuses, 100 grape hyacinths) from Bulbs4Kids, an educational programme launched by the organisation that promotes the interests of the Dutch flower bulb sector. Eco Council members were very busy planting the bulbs and we hope for a lovely display in the spring. Thank you to Mrs Gray, our Eco Schools governor, who helped us with the planting.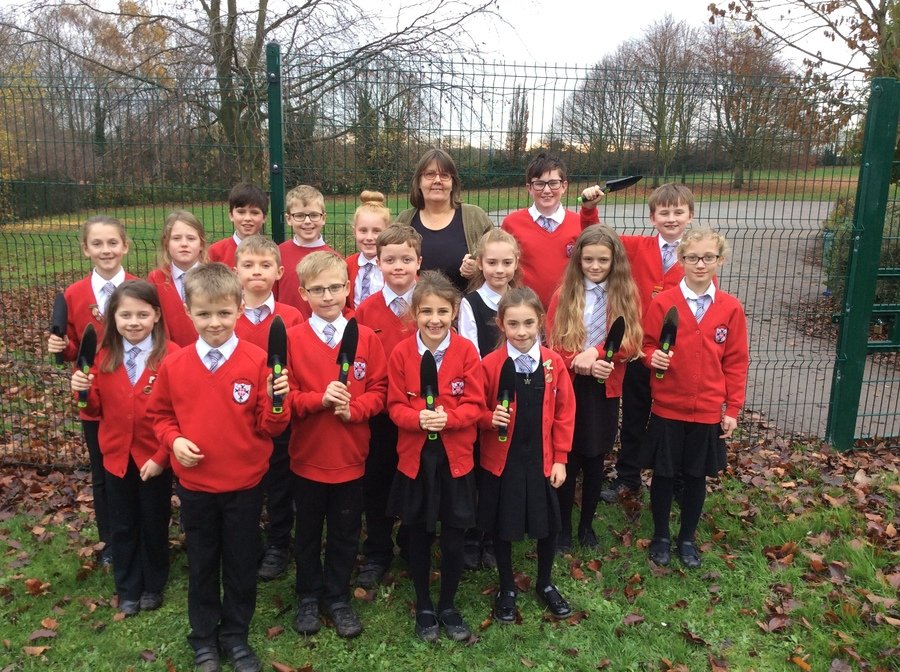 Learning from the Yorkshire Wildlife Trust
We were very pleased to welcome two external specialists from the Yorkshire Wildlife Trust to lead a whole school assembly about the environmental importance of trees and woodlands. We learned a lot about how trees support the environment and different species of wildlife and we learned about different types of trees. We have so many trees in our school grounds and we are delighted that our application was successful so that the Eco Council can plant and see some new trees grow. However, can we all recognise the different types of trees in the school grounds? I think our Eco Council has found themselves another project!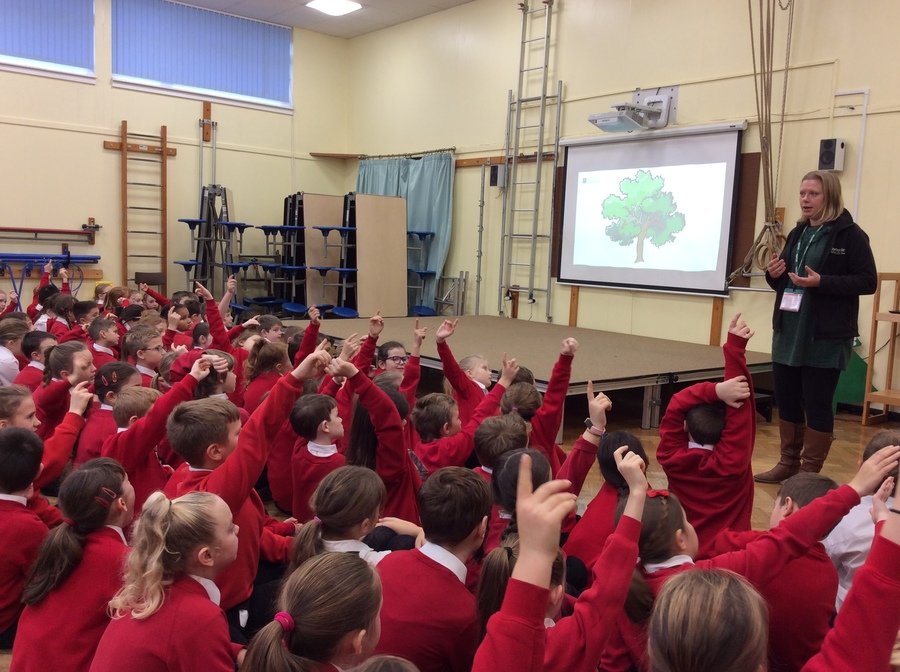 The Christmas Wish Tree
The Eco Council decided to work with our CSA to promote an eco-friendly Christmas Wish Tree. Children were invited to buy a festive cardboard template for £2 and to take this home to decorate and write on their Christmas message to the class, before bringing it back to school to attach to the felt Christmas tree purchased for each class. The Eco Councillors organised setting up the Wish Tree in each classroom. The Eco Council promoted this as an alternative to sending lots of separate cards, to help reduce the use of paper and save the environment and the initiative had great impact. 99 children took part in the Christmas Wish Tree project and the use of paper and card was reduced by 48%.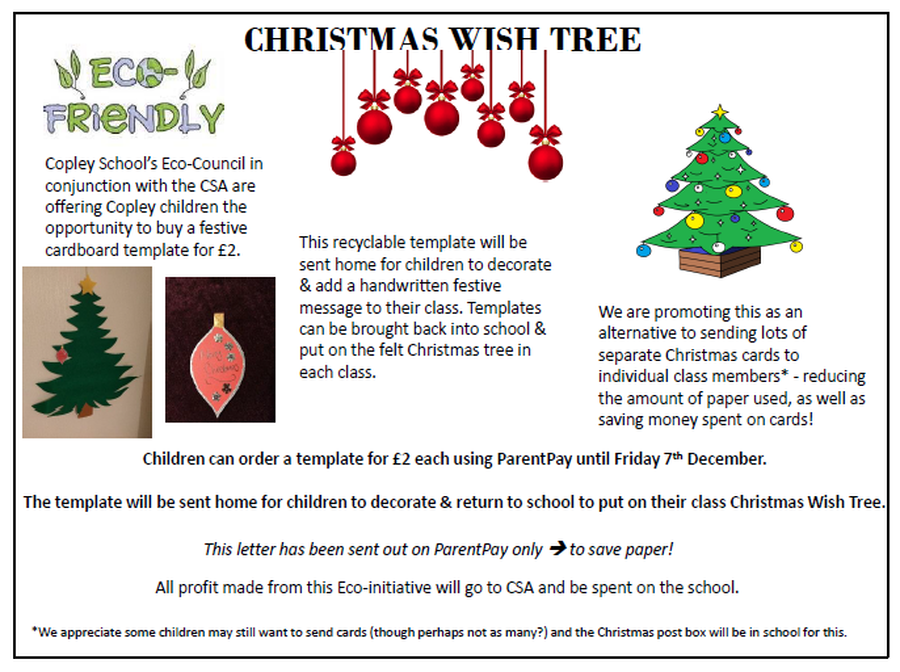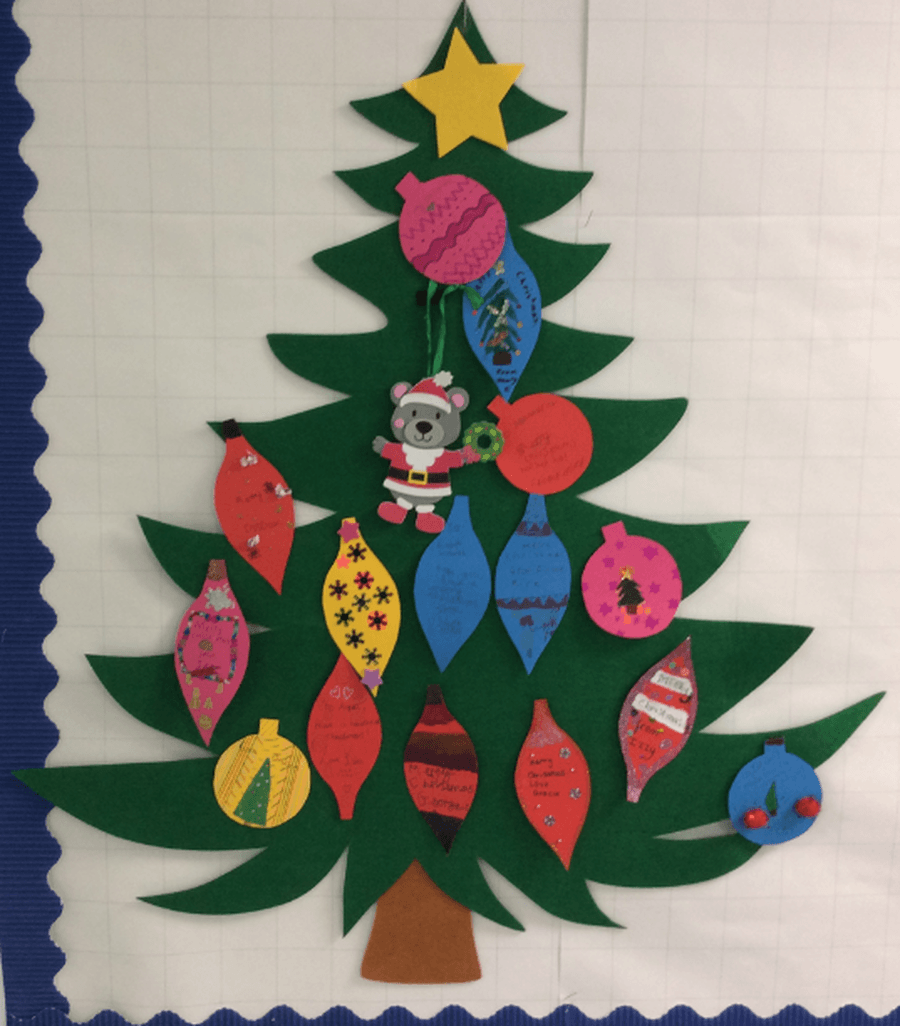 Kaylen, our Y6 leader of the Eco Council, tweeted a message about the CSA Christmas Wish Tree initiative: "I find it wonderful that so many people have used the wish tree, decreasing the use of paper by 48%. Thank you for your support!"
RSPB Big Schools' Birdwatch 2019

Our Eco Council is going
to count the birds in our school grounds, helping to create a 'snapshot' picture of bird numbers in the UK. The RSPB can
then create an overview of which birds are making the most of school grounds across the UK.
As bird populations are a good indication of the health of an ecosystem, our results could highlight problems affecting the wider environment so the RSPB can come up with a plan to help.
Click

here

for a copy of our bird observation recording sheet.
Eco Council Work 2017-2018
Active Travel - Ten Day Challenge
In October we promoted the 'Ten Day Active Travel Challenge' as a great way to get fit and healthy and to help protect the environment. This campaign had great impact as you can see from the results below. Let's keep on walking to school to keep fit and help our environment!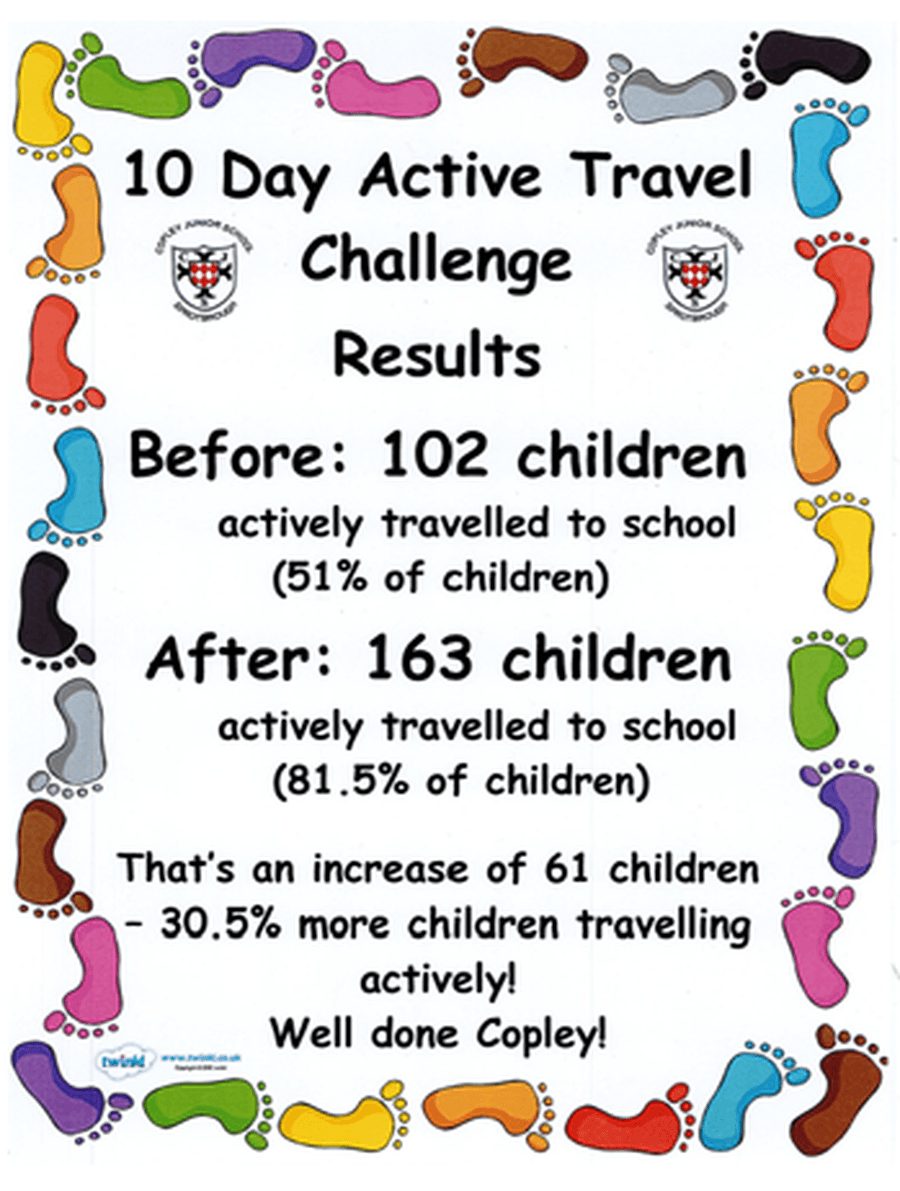 As a result of the high impact of our 'Active Travel' campaign we were rewarded with a theatre visit! The MOMO Theatre Company came to deliver their fun, active and humorous stage play to encourage children to be active and safe on their journey to and from school.
Eco-Schools Silver Award
Well done to our enthusiastic Green Team, led by Miss Walker, as they have achieved the national Eco-Schools Silver Award. The national Eco-Schools scheme empowers children to drive change; it raises children's environmental awareness and helps to improve the school environment. As a result of all the development work led by the Green Team, we have met the criteria for the Silver Eco-Schools Award. Well done children!

To view the criteria for the Eco-Schools Silver Award, please click on the logo below.
The Woodland Trust 'Green Tree School' Award
The Woodland Trust 'Green Tree School' Award rewards schools for completing environmental projects and encouraging outdoor learning. Our projects, including promoting active travel, recycling and reducing our carbon footprint have enabled us to achieve the Bronze Award. We are now working towards the Silver Award!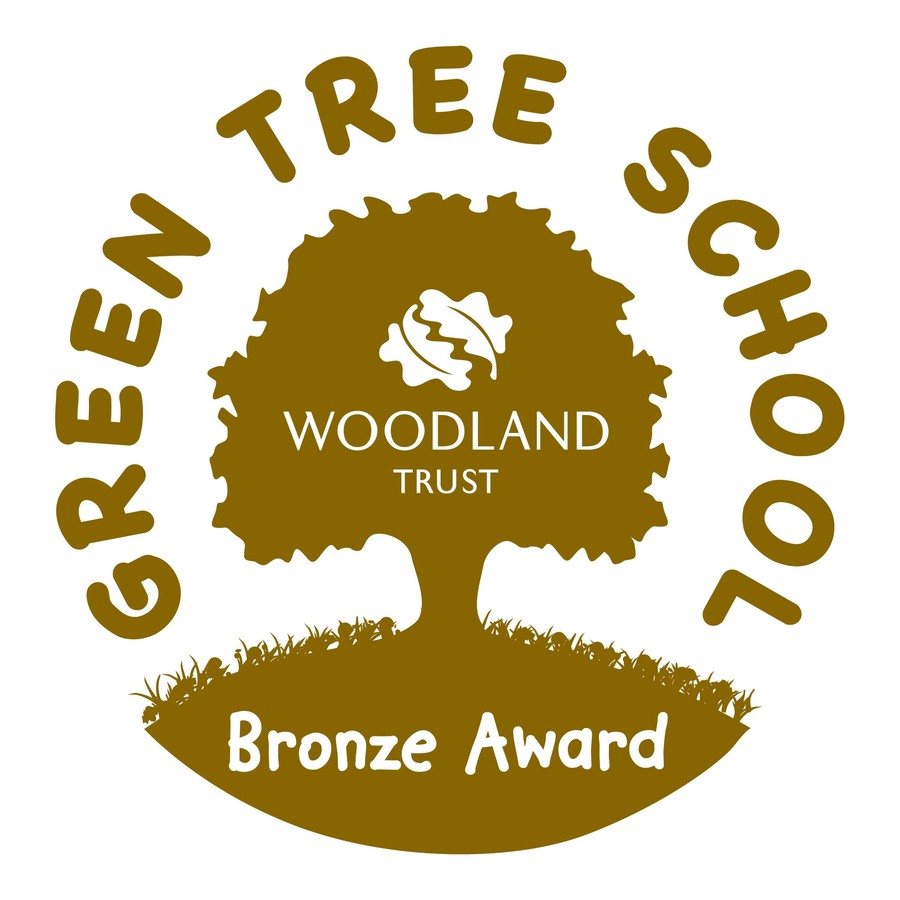 The Green Team Photography Competition - Finding a View
The Green Team organised a photography competition, called 'Finding a View'. As well as taking a great photo, it was a great opportunity to enjoy the world of nature with your family.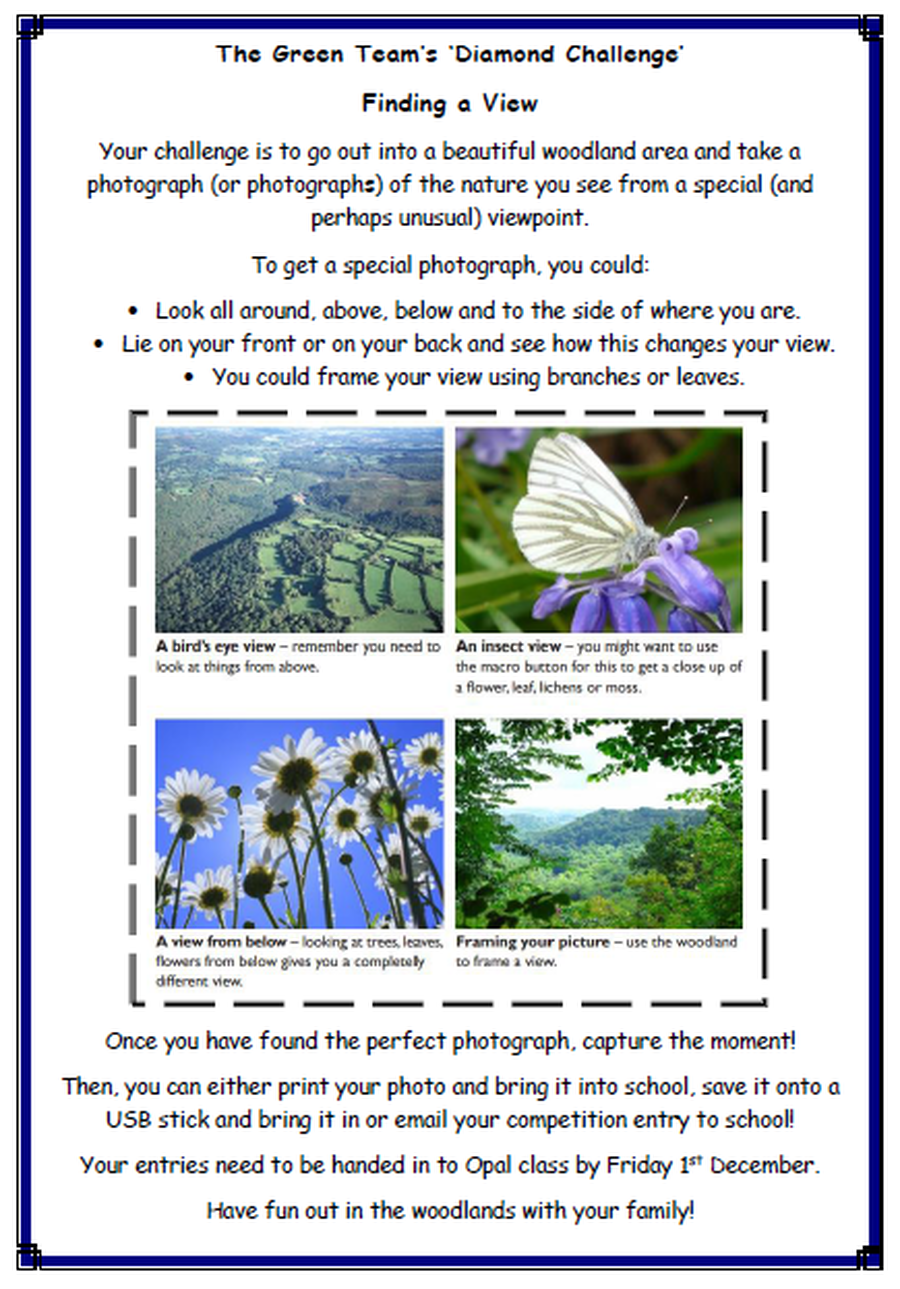 Woodland Photography Winners
Well done to the winners of the Green Team's Woodland Photography Competition. We awarded certificates and prizes and our first prize was a calendar, featuring award winning wildlife photographs. Congratulations to our winners:
Harry A - 'A Bug's Perspective'
Isaac H - 'View of a Squirrel'
Thomas O - 'View down the river'
The winning entries are posted below - click on the main image to view the carousel of winning entries.

We received many creative entries and a selection of these are shared below.
Please click on the first image below to view our gallery of photographs.
Sharing our Successes
We share our Eco Council news through our display board, website page, assemblies and the school newsletter. Our successes also made the front page of the school newspaper! To read the school newspaper, please click here.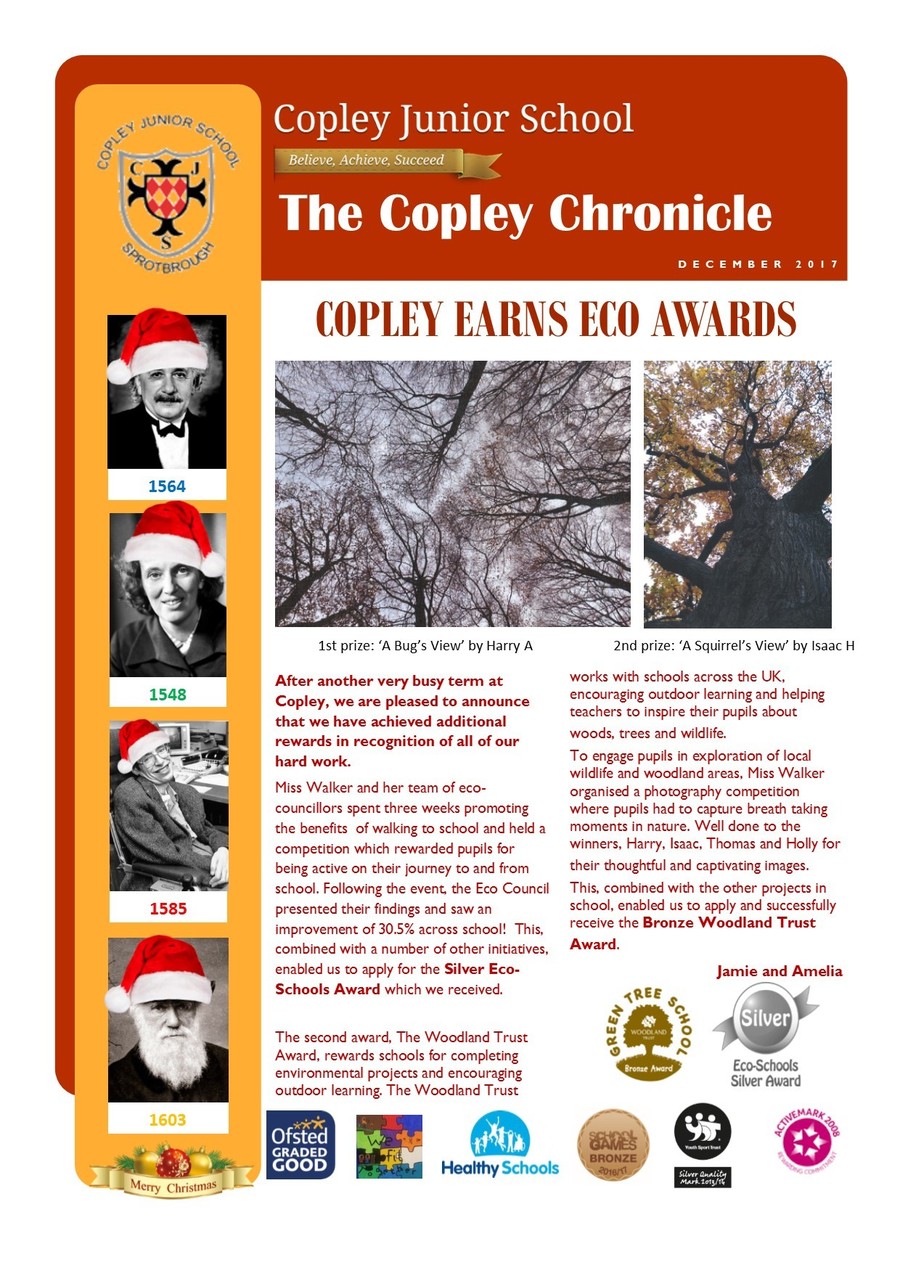 Eco Volunteers
Our Eco Council has certainly inspired the eco-warriors amongst our school community! Mrs Crayton was delighted to receive the following email over the half term holiday.
To Mrs Crayton can you tell the eco council that I want to help the environment and make a nice place to live.
I have been trying to pick up as much rubbish as I could when I have been walking on the beach in Filey.Thank you.
Well done for helping to look after the beautiful beach at Filey!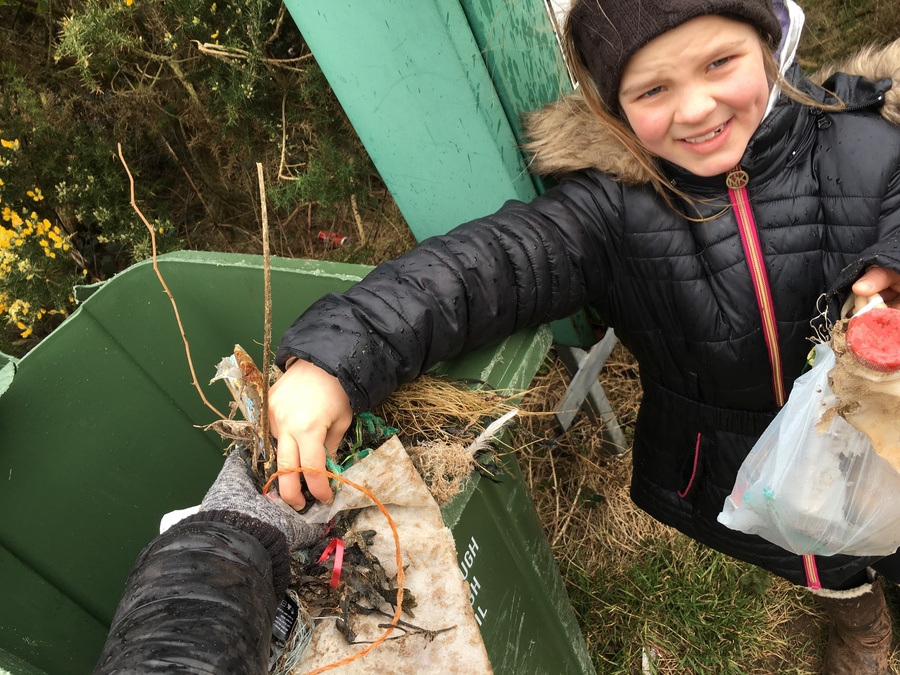 We have a close link with the Don Gorge community group, who work hard to conserve and protect the beautiful area in which we live. We share news of their regular litter picking events with parents/carers and it is great to see our pupils giving their leisure time at the weekend to help look after our local environment.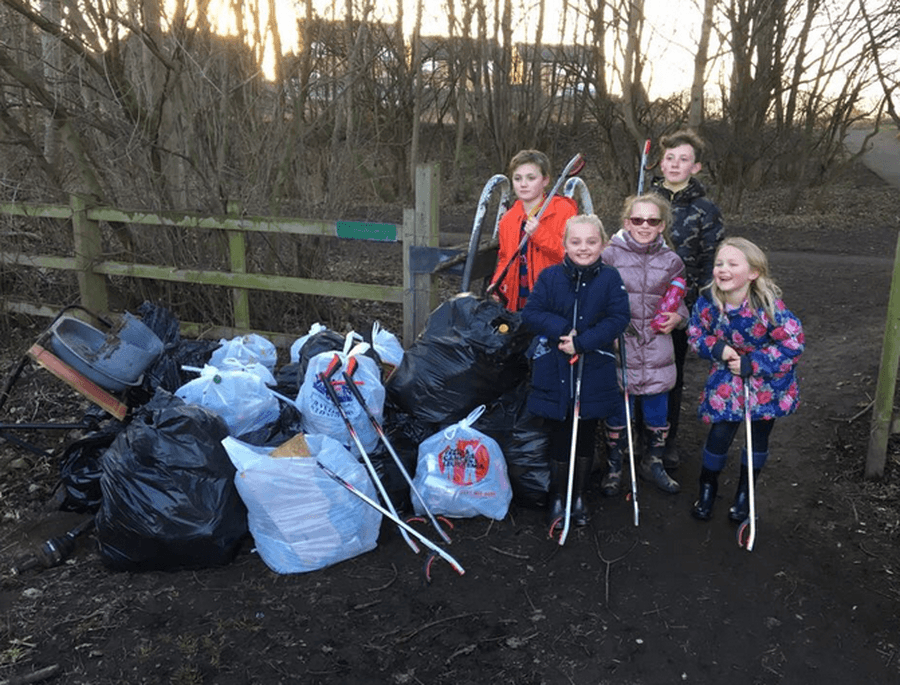 Active Travel - Summer Term Ten Day Challenge
Our Green Team promoted the summer term active walking challenge and afterwards, they prepared the PowerPoint presentation below for our Friday achievement assembly to celebrate that our active fortnight saw a 22.2% increase in active travel.
Malawi - Copley Junior
Our Eco Council has been active in developing a link with a school in Malawi. They consulted with Copley pupils to draw up a list of questions to find out about life and the schools in Malawi and we were delighted to receive the answers back from Mr Barnes who has spent a year supporting schools in Malawi. The Eco Council then prepared a PowerPoint and led an assembly to share the information with everyone. Well done and thank you to the Eco Council and Miss Walker!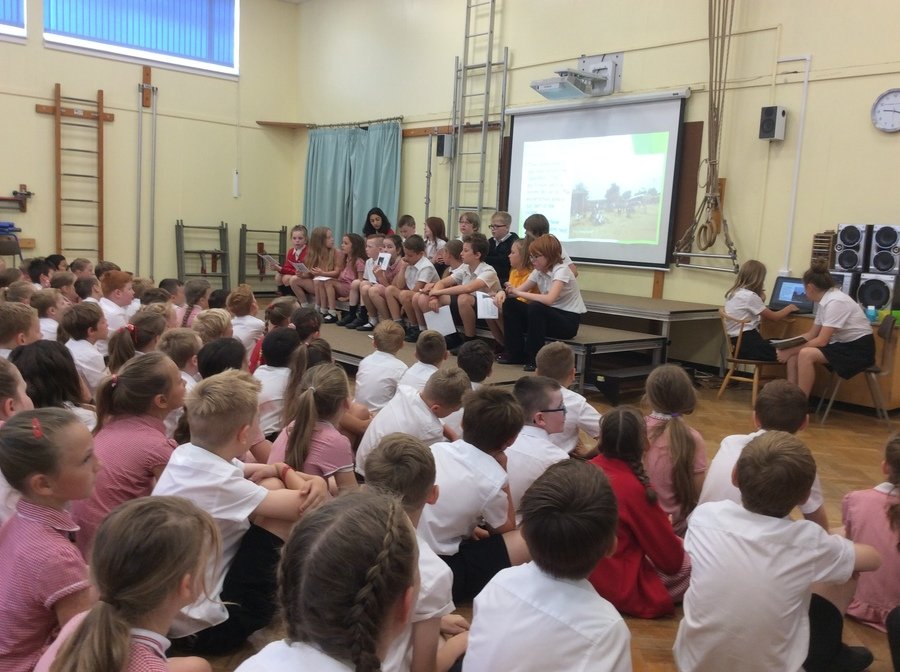 School Garden
The Green Team were given a small budget and the challenge of redesigning and planting a small garden area. The challenge became even greater as we planted our new tender plants in the middle of an extreme heatwave!
Eco Council Work 2016-2017
Harvest Festival
In October we decided that our Harvest Festival was a great chance to promote environmental awareness. Our theme this year was 'Looking after our World's Resources'. Well done to the different year groups for their research and presentations about recycling, wave energy and the importance of saving water, wind energy and sustainability, with Year 6 pupils below telling us about the 'Dig for Victory' campaign and food rationing during World War II. Below you can see just some of the generous donations for our harvest table, which we donated to Doncaster Foodbank and M25 (a local charity that supports people who are homeless).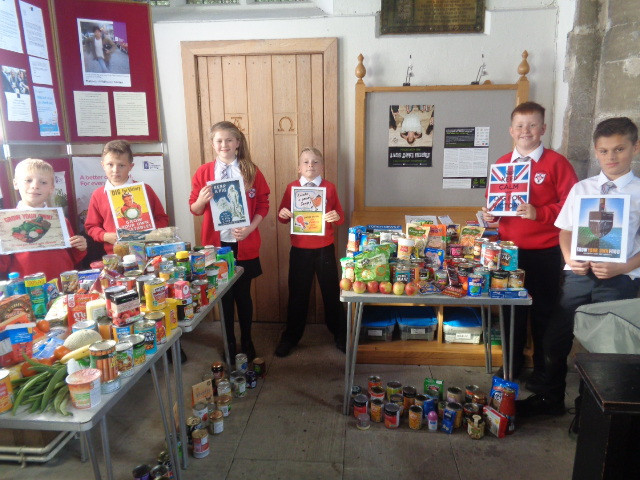 Eco Council Competition
We had over 80 fantastic entries for the Green Team's energy saving competition to mark 'Switch Off Fortnight'. The Green Team met with Miss Walker to judge the entries and it was a very difficult task as so many creative entries were sent in. The children's task was to design an energy saving mascot for Copley Junior School, to help encourage children to look after our planet and save energy.
Well done to our winners in the photograph below who were awarded eco-friendly prizes that included drawing pads made from recycled paper, crayons made from recycled CD cases and pencil cases made out of recycled tyres!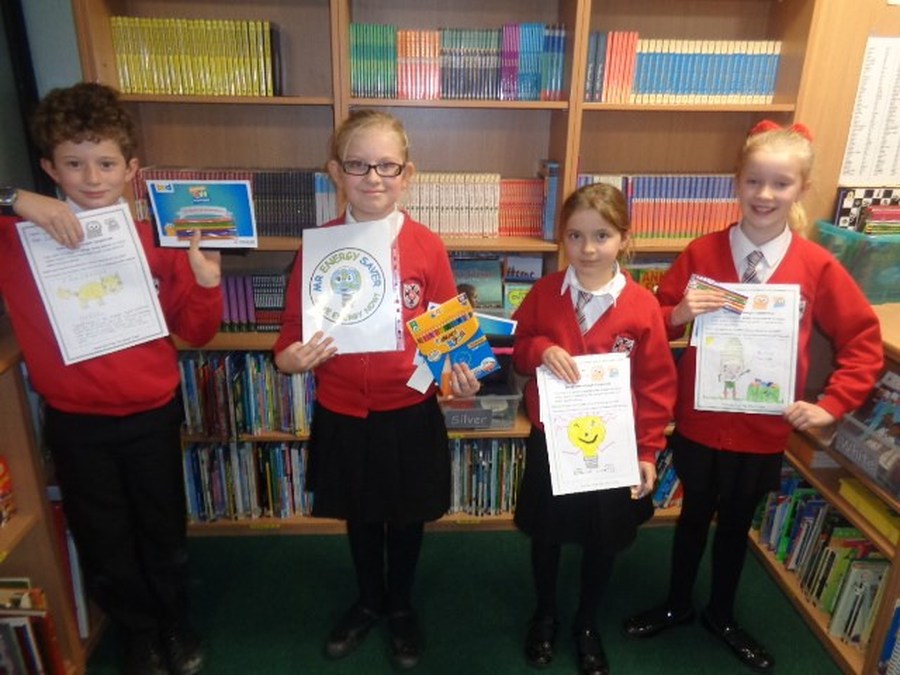 Competition Winner - Copley's Energy Saving Mascot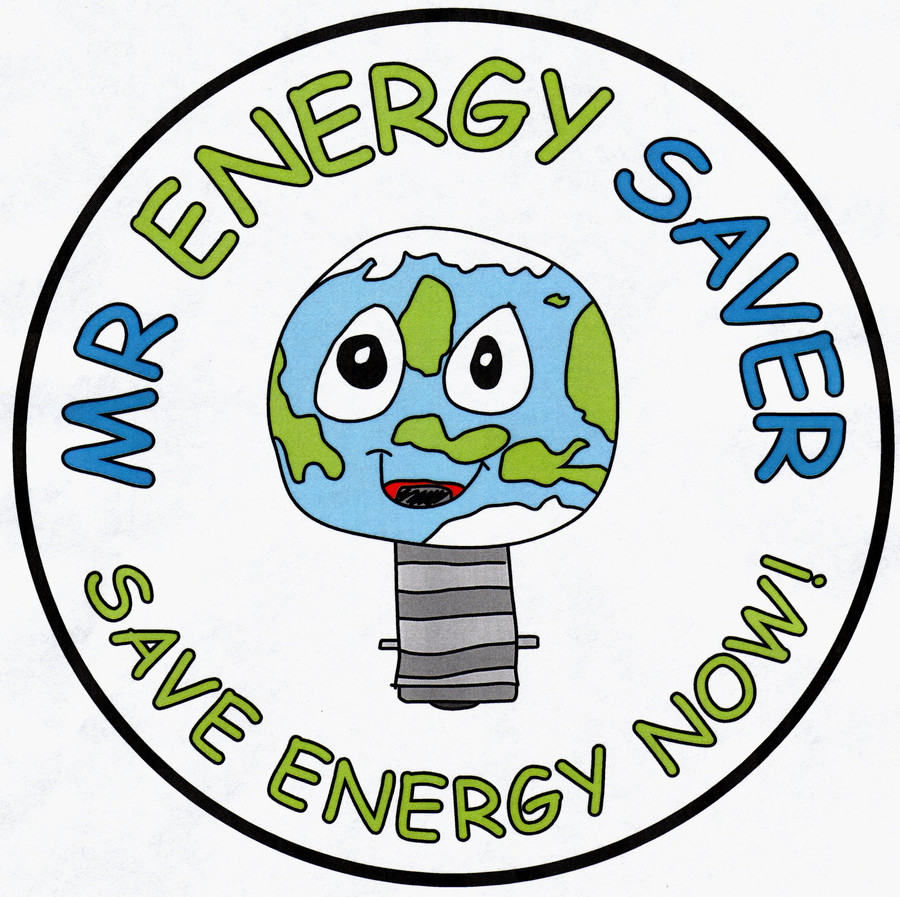 The three designs below were also awarded prizes for their creativity. Click on the first photo below to view the photograph gallery.
Well done and thank you to everyone who entered!
Architecture Competition Winners - Design a New Eco-Friendly Building for Doncaster
We were successful in our application for our Green Team to take part in Doncaster's Architecture Competition led by Doncaster Civic Trust and supported by a group of students studying for their Masters Degree in Architecture at Sheffield University.
The students visited our school and met with the Eco-Council to help the children develop their creative design for a new eco-friendly building in Doncaster. The students inspired the children greatly and the Eco-Council enjoyed developing their plans and their own creative design skills.
We were very excited to learn that out of all the schools in Doncaster we had won 1st prize and that our prize was £500! We received feedback that the judges "were very impressed with the quality of the proposed design. They thought that the Children's Museum was well-designed and if built would be a wonderful architectural complement to the Council Office and Cast Theatre. The model was well-constructed and helped the judges gain a useful impression of how the real building might look. In addition, the judges noted that a particular strength of the entry was the thoughtful pre-design work carried out to develop ideas for the building."
We intend to spend our prize money on resources to support the children in producing more fantastic design work and also to fund an individual eco-friendly themed prize for each of the Green Team members. Many thanks to Miss Passant and Miss Walker for organising and supporting our entry in the competition with such enthusiasm.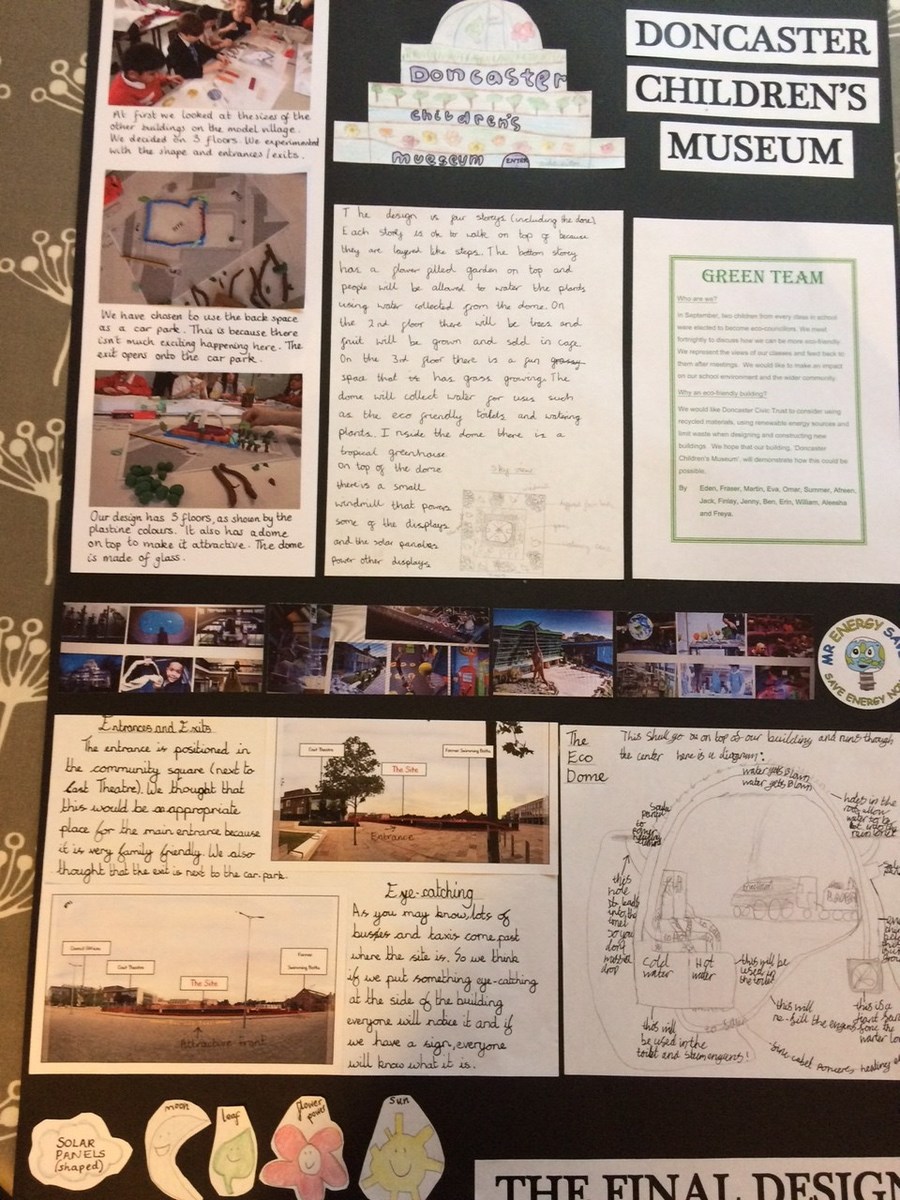 Green Team Display Board
Members keep the Green Team display board up to date with photographs and details of our current projects, minutes of our meetings and our action plan. There is even space for children to share their suggestions and ideas with the Green Team so that we keep everyone involved!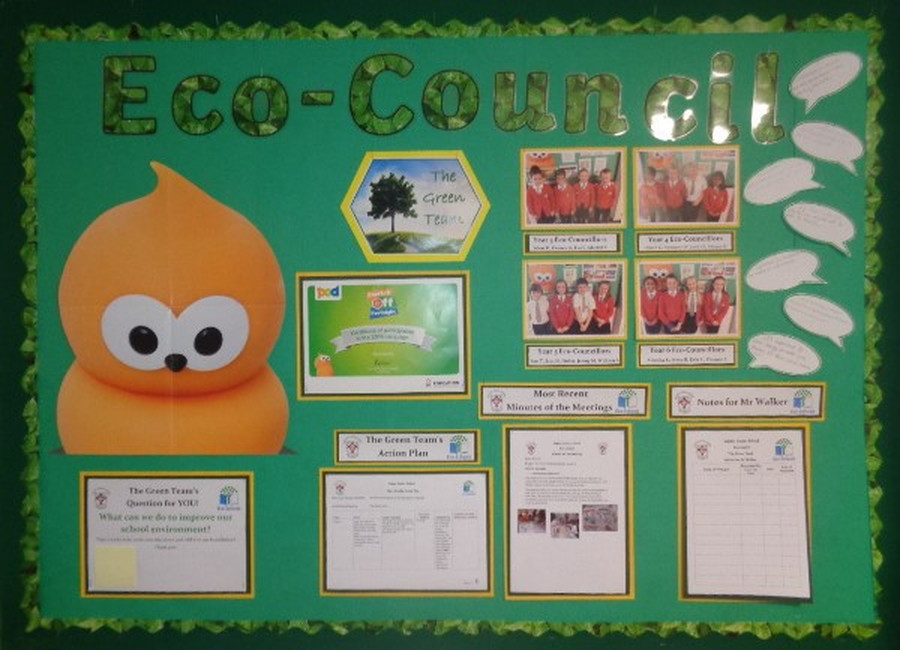 Eco-Schools Bronze Award
Congratulations to our enthusiastic Green Team, led by Miss Walker, as they have achieved the national Eco-Schools Bronze Award. The national Eco-Schools Scheme empowers children to drive change; it raises children's environmental awareness and helps to improve the school environment. As a result of the development work above, we have met the criteria for the Bronze Eco-Schools Award. Well done to everyone in the Green Team!
To view the criteria for the Eco-Schools Bronze Award, please click on the logo below.
Green Team Eco-Code
Our Green Team researched eco-codes from different schools and then decided to devise their own. The children decided they would like to make our Eco-Code eye-catching by writing it as an acrostic poem! The Eco-Code has been shared with all the classes and is displayed on our Eco Council notice board.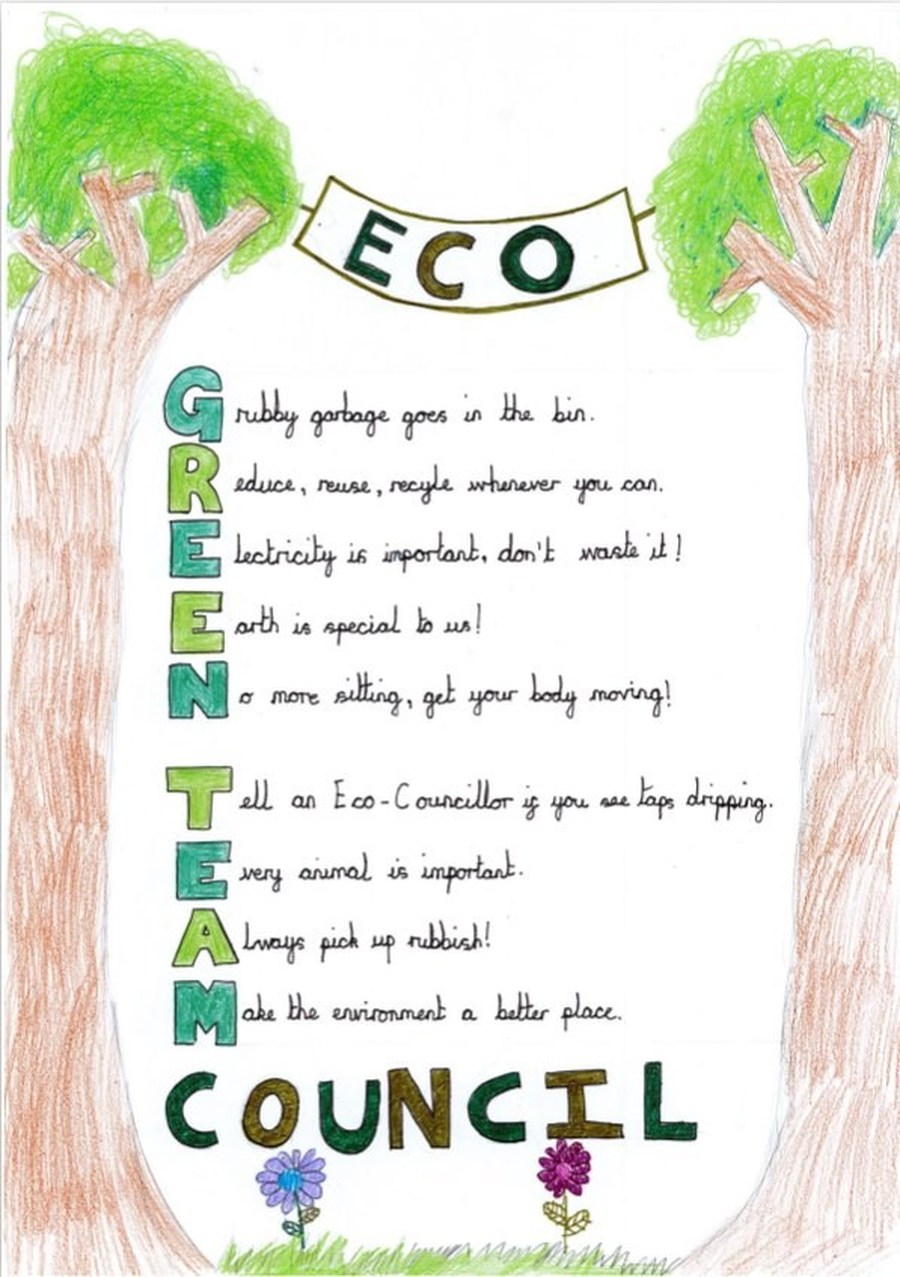 Sharing our Eco News with the Local Community
Each month we share our school news with the local community in articles for the parish magazine and the 'Arrow' local community magazine. Click here to read our parish magazine article about our eco work.
Architecture Visit
On 27th June 2017, the Green Team were invited to attend an Architecture Workshop at the University of Sheffield as part of their prize for winning the architecture competition earlier in the year. We had a brilliant day, learning all about what it means to be an architect. We had the opportunity to see some of the amazing work that University of Sheffield students had produced for their degrees, Masters and PhDs. It is safe to say we were amazed by how impressive their work was! After lunch, we were split into groups and given the architectural challenge of designing a school that would be suitable for different environments. The Year 3 Eco-Councillors had to design a school that would be functional in the polar regions; the Year 4 team were tasked with the desert; the Year 5 team had to design a school that could function on the ocean; the Year 6 team had to design a school located in a tropical rainforest! It was a fantastic day and we would like to thank the staff from the University of Sheffield for having us.
Are You Interested in Joining the Green Team?
Thinking about applying for the role of Eco Council member next year? Have a look at the application form below so that you can be well prepared!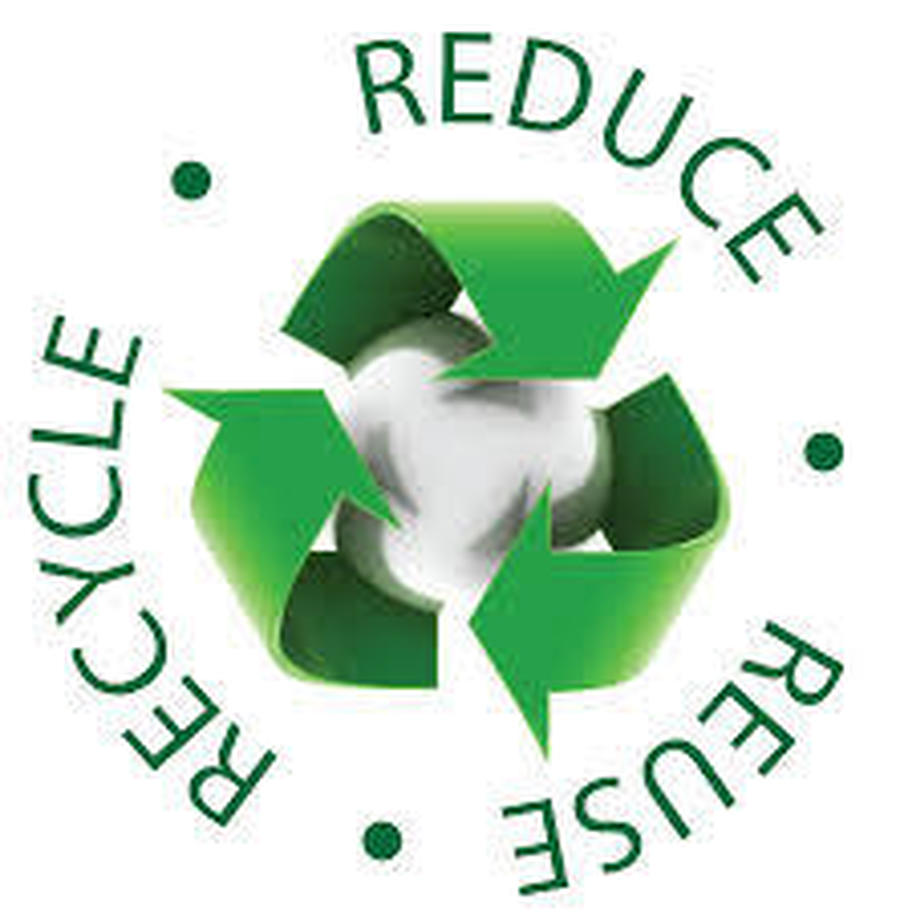 Weekly Recycling
We have recycling boxes around school for waste paper, cardboard etc. Each week we sort though the recycling and make sure it is sorted correctly ready for collection. At Christmas time we collect the mountains of envelopes from Christmas cards and we make sure we recycle these too.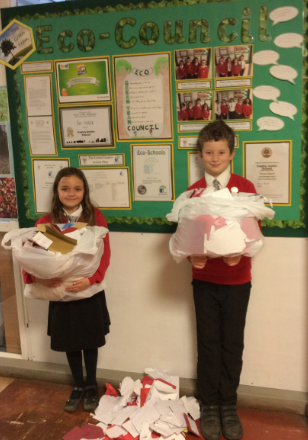 Bags2School
Three times a year we organise a 'Bags2School' collection. This promotes recycling, is good for the environment and it also raises funds for the CSA to spend on the pupils at Copley Junior. We promote recycling and Bags2School collections through assemblies, newsletters and posters. Our last recycling collection prevented the equivalent of 43.63 tonnes of carbon from being released into our atmosphere.