We Can Help
Copley Junior School Values and British Values
At Copley Junior we encourage children to develop a positive, caring attitude towards other people. As part of this we support many charities each year.
Our Charity Fundraising 2017-2018
Harvest Festival 2017
It was lovely to see so many parents and relatives at our Harvest Festival. Each class contributed to the theme of 'Colours of the Rainbow' with fascinating facts, poetry, singing and signing as well as drama contributions. We filled St Mary's with enthusiastic singing, especially for our 'Harvest Samba' song!
We are very grateful for the huge number of donations given on both days, which were displayed on every table and ledge all around St Mary's. All our donations were taken to Doncaster Foodbank, where they will make a big difference to many local families. I know helpers at the Foodbank are very grateful for our support.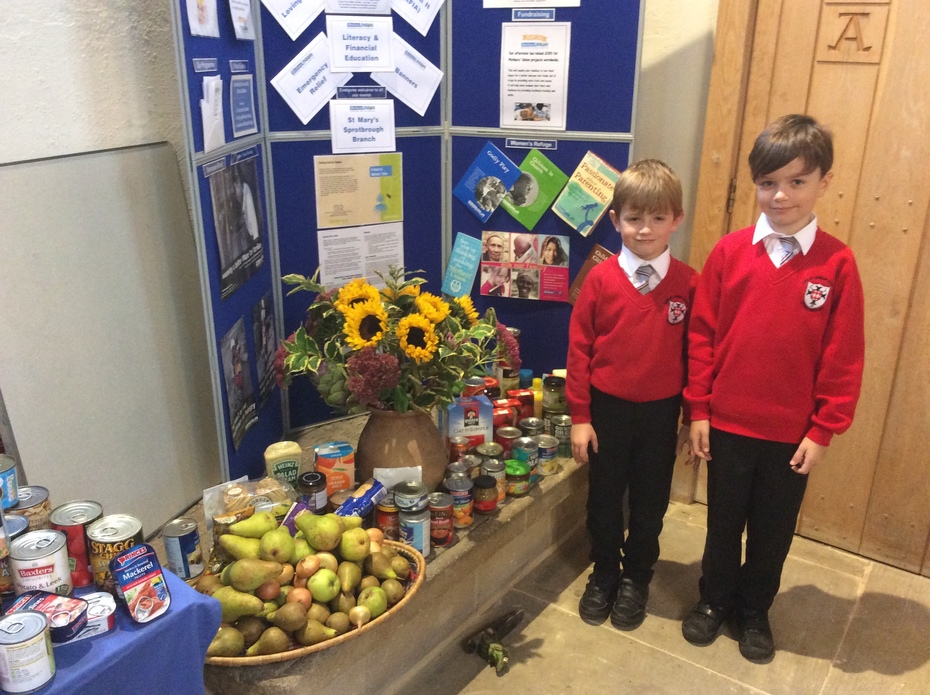 Children in Need 2017
In November 2017 our School Council organised a fun day to help raise funds for Children in Need. We enjoyed coming to school in our pyjamas, onesie or casual clothes. Our teddies enjoyed coming to school for the day and were very well behaved. At break time we had a cookie and bun sale, children could guess the name of the teddy and have a go at guessing how many sweets were in the jar. We announced the results of the two competitions in our Friday Achievement Assembly. Well done to William S, who made the closest guess for how many sweets were in the jar and to Charlie R, who won the teddy by guessing the correct name - which was Charles!
Thank you to all the children who brought donations on the day, and to parents/carers who were so generous in sending donations for the bake sale. Well done to all the children in the School Council for organising such a successful day. We raised an amazing £421 to thank you to everyone for your generous support!

Charity Fundraising 2016-2017

Roald Dahl Day - September 2016
We celebrated Roald Dahl Day by dressing as our favourite Roald Dahl characters. We raised £130, with 50% going to Roald Dahl's Marvellous Children's Charity and 50% was spent on new Roald Dahl titles.
Harvest Festival - October 2016
Our theme this year was 'Looking after our World's Resources'. Well done to the different year groups for their research and presentations about recycling, wave energy and the importance of saving water, wind energy and sustainability, with Year 6 pupils featured in the photograph telling us about the 'Dig for Victory' campaign and the rigours of food rationing during World War II. Pictured below is just a small selection of the fresh produce, tinned/packaged goods and toiletries donated. These were shared between two local charities, Doncaster Food Bank and M25, which supports homeless people in Doncaster.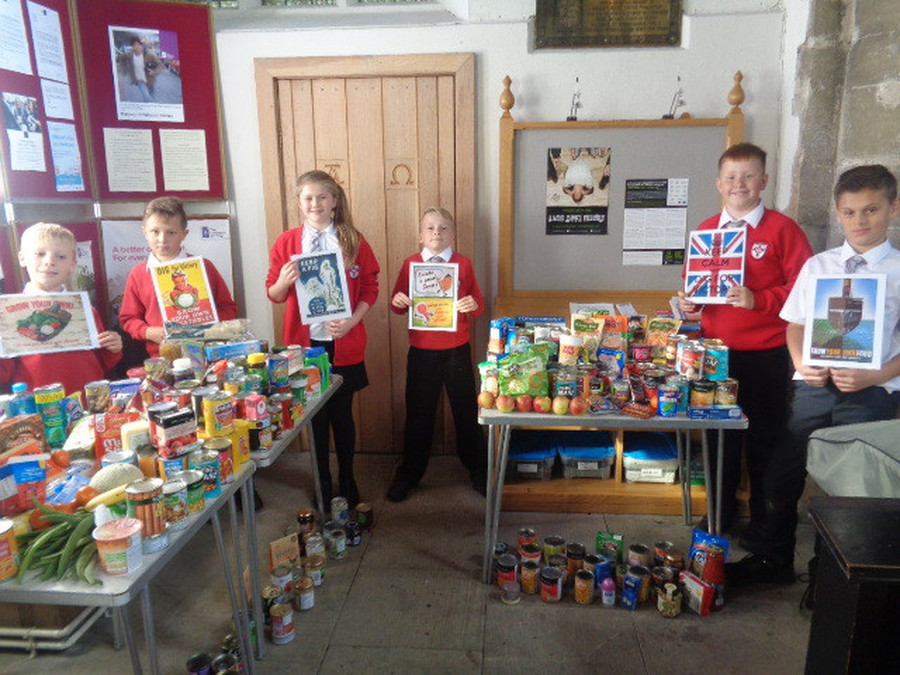 Children in Need - November 2016
Our School Council organised a fun day to help raise funds for Children in Need. We dressed as rock stars to fit in with our Times Tables Rock Stars initiative.Thank you to all the children who brought a donation on the day, helping us to raise over £180 for this fantastic charity.
The Royal British Legion - November 2016
At the eleventh hour on the eleventh day of the eleventh month…
Every year we observe the two minute silence on Armistice Day, the day which marks the end of the First World War.
Our Year 6 pupils sell poppies to wear in school. This year we raised £92.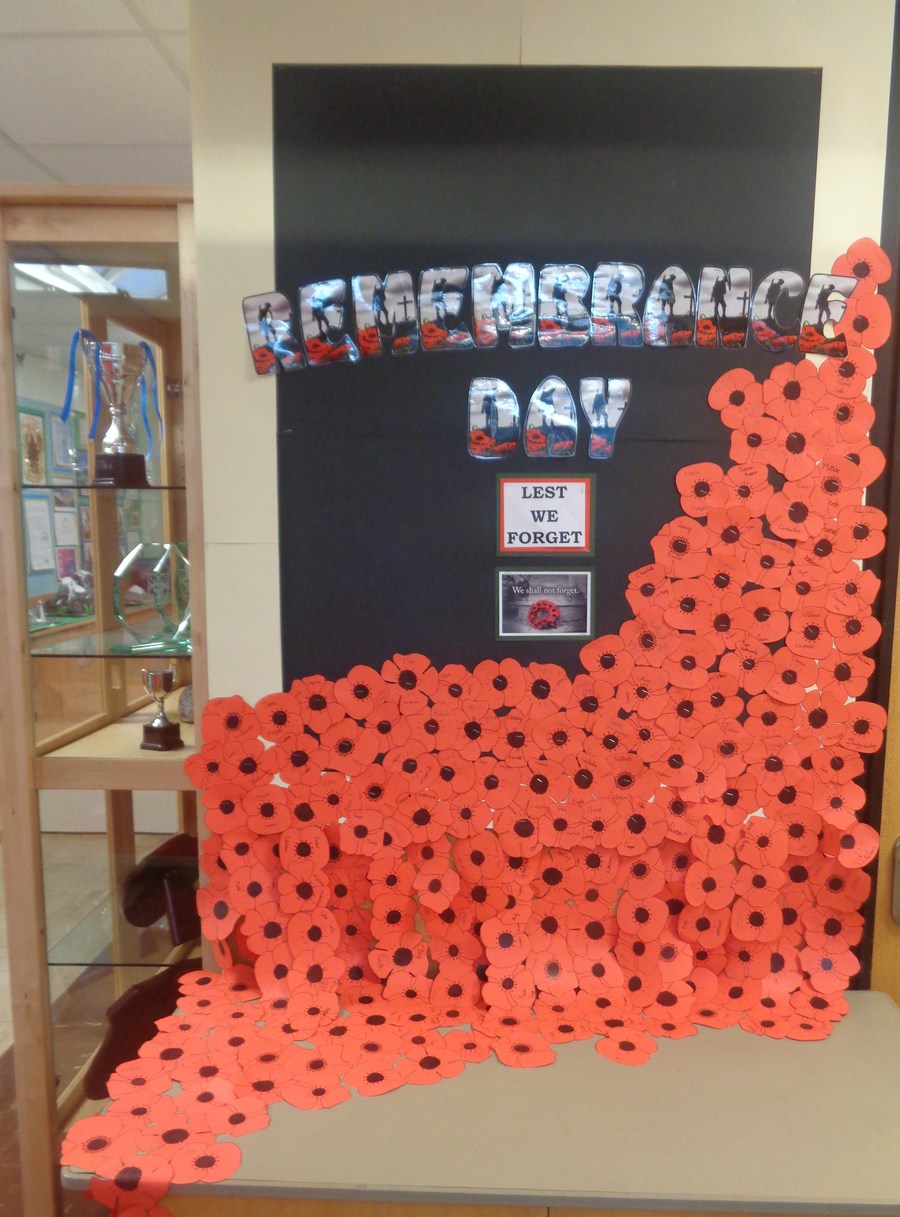 Christmas Jumper Day for Save the Children - December 2016
We enjoyed wearing our Christmas jumpers for our Christmas Lunch and raised £117 for Save the Children.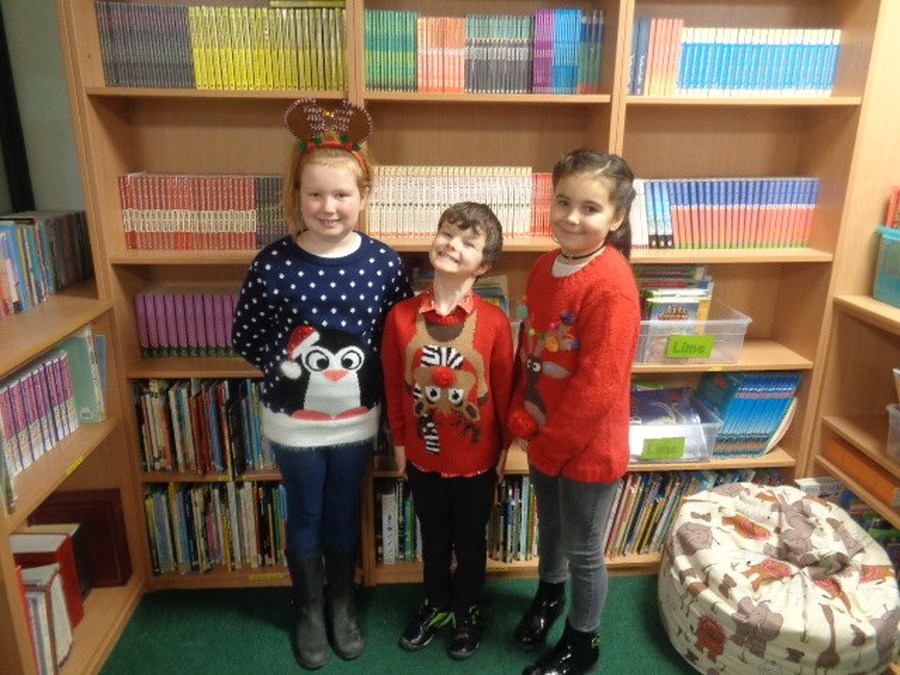 Christingle Boxes: The Children's Society - December 2016
Every year we fill Christingle boxes to raise funds for The Children's Society and present these at our Carols and Readings Service at St Mary's Church. This year we raised an amazing £271.40.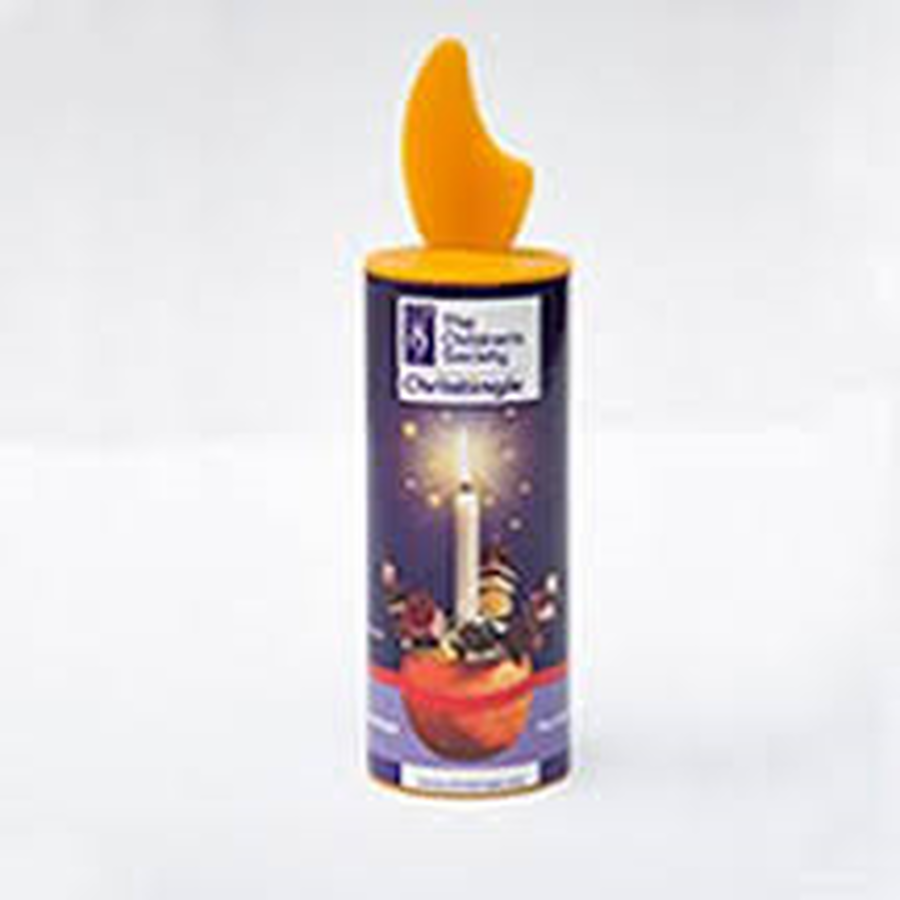 Comic Relief 2017

Thank you to children and parents/carers for making Comic Relief Day 2017 such a success. Altogether we raised an amazing £400.50!
Each House Leader team took on responsibility for organising a different aspect of the day's events:
Our Hawking House Leaders organised the non uniform aspect of the day, as you can see from the colourful outfits below!
Our Darwin House Leaders devised an adult challenge to add to the fun of the day. This included adults dressing in school uniform, telling jokes in assembly, performing a poem and wearing face paint etc. Thank you to the staff at Copley!
Our Hodgkin House Leaders organised our themed school lunch and also the bake sale. We are incredibly grateful for your generosity in sending in such a lovely range of biscuits, buns and cakes. The home baking was so impressive! We raised an incredible £250 from the bake sale alone.
Our Einstein House Leaders organised a red-themed raffle. The Year 6 children demonstrated great enterprise skills, working out the cost of prizes and raffle ticket prices to ensure a good profit for the Comic Relief charity.
Click on the first photograph below to view the gallery of the House Leader events on Red Nose Day.
Please find below a gallery of photos from Comic Relief Day 2017. Click on the first photo to enlarge and begin browsing.
Eve Merton Trust
In the week of Sports Relief, we organised a sporty week. Our aim was to provide some additional sporting experiences for the children in order to promote enjoyment and participation in sport.
The following activity sessions were held for each class:
Street Dance
Skipping
Martial Arts
Cadet Club Day
Sponsored One Mile Walk
Our Sporty Week was also held in remembrance of Mr Siddall, our sports higher level teaching assistant, who did so much to encourage the children's enjoyment of and engagement in P.E. and Games. The money raised from our sponsored walk raised an amazing £1200 for the Eve Merton Trust, a local charity that grants wishes for people living with cancer.
NSPCC
Every two years, the NSPCC visit school to deliver a 'Speak Up, Stay Safe' whole school assembly and they lead workshop sessions for children in Years 5 and 6. As well as promoting key messages about staying safe to help safeguard our pupils, we take the opportunity to raise funds for the NSPCC. In June 2016 we raised an amazing £931.40 for the charity.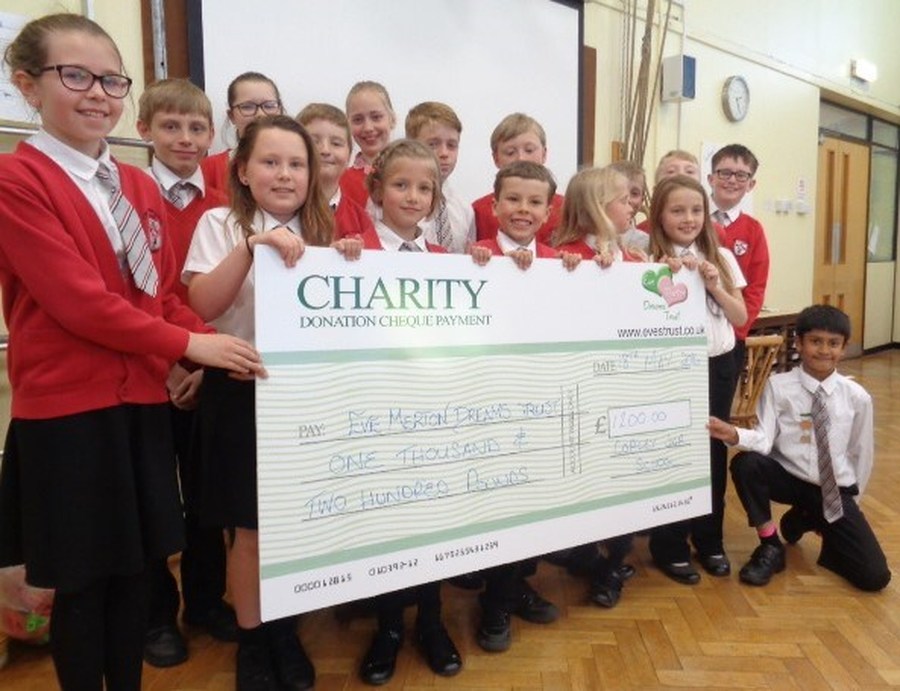 Fund Raising for the Eve Merton Trust
Following our balloon release in memory of Mr Siddall, we raised an amazing £516 for the Eve Merton Trust. The Eve Merton Trust is a very worthwhile charity that grants wishes to people with cancer in the local area.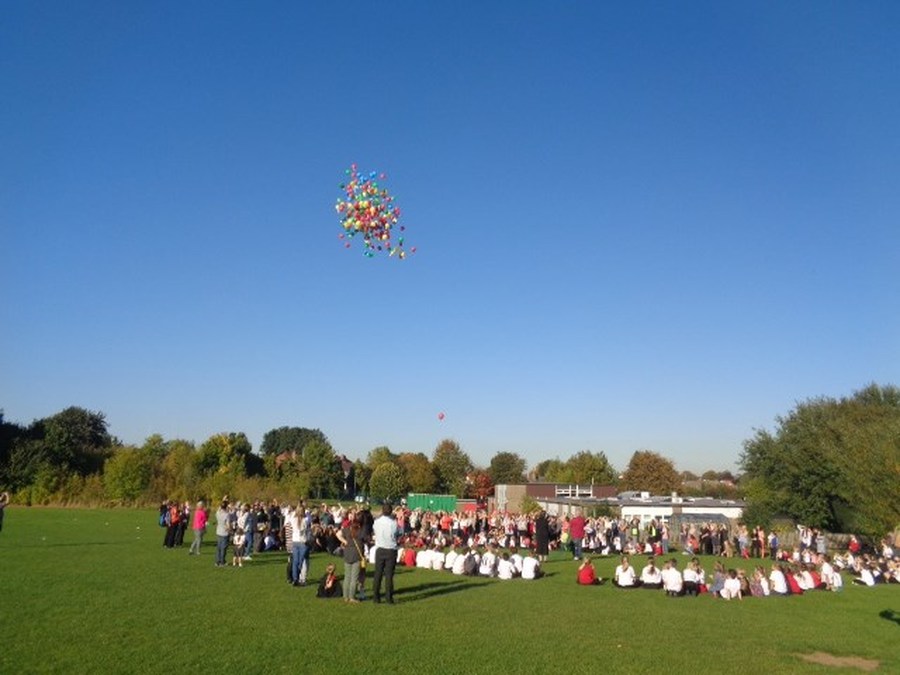 Pupil Led Fund Raising
We are very proud that some of our thoughtful pupils decide to organise their own fund raising events for charities that are special to them.
'Young Heart Hero' Award - British Heart Foundation
Jemma decided to raise funds for the British Heart Foundation in memory of her father. Jemma created a PowerPoint, led an assembly for all the pupils in school to raise awareness of the charity's work and arranged for the British Heart Foundation's mascot to make a special guest appearance. She wrote a letter to all families inviting children to 'wear something red' and to bring a donation for the charity on the day if they would like to. Children thoroughly enjoyed presenting their clothes on the cat walk to disco music. Jemma raised an amazing £720!
As a result, Jemma was invited to the British Heart Foundation's Awards Ceremony and was presented with the 'Young Heart Hero' Award. Jemma has demonstrated great courage, thoughtfulness and organisational ability and we are very proud of her.
Fund Raising for Cancer Research UK
We are very proud of Billy J, who decided he would like to raise money for Cancer Research UK. Billy organised a number of events to raise funds including a teddy tombola at school and garage and bake sales at home. He also took part in the 6km Sprotbrough fun run. Billy shared in our Friday assembly that altogether he raised the impressive sum of £295! It is lovely to share that we have such thoughtful and proactive pupils in school. Well done Billy!
Fund Raising for the Yorkshire Air Ambulance
We are very proud of Joshua L, who decided he would like to support the work of the Yorkshire Air Ambulance. Joshua bought a jar full of sweets to school and he invited children (and adults!) to bring in a £1 and have a go at guessing how many sweets were in the jar. Joshua and his mum sent all the proceeds to the Yorkshire Air Ambulance and well done to Mrs Henfield, who made the closest guess and then kindly shared her prize with all the children who had taken part.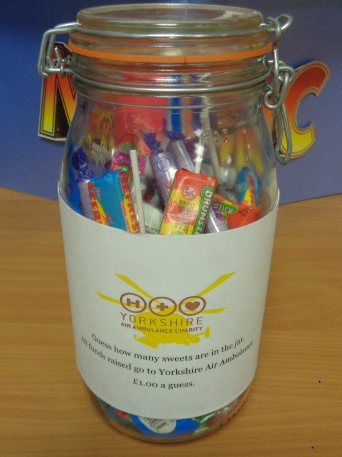 Diabetes Awareness and Fund Raising – Alistair leads the day!
Alistair decided he would organise a Diabetes Day in school, to raise awareness and raise funds for research into the condition. With his friends, he prepared a PowerPoint presentation about diabetes and a dress up day in the charity colours. Altogether he raised an amazing £337.44!
Fay's Fun Run in support of the Yorkshire Air Ambulance
Well done also to Fay and her management team of pupils who organised a fun run at Cusworth Hall Park in support of the Yorkshire Air Ambulance, planning every detail on their own.
Fay and her team organised medals for all participants, prizes for the best dressed runner (well done to Kaden, who must have got very hot running around Cusworth Hall Park dressed as Harry Potter!) and most helpful donation. A fund raiser from the Yorkshire Air Ambulance joined our Monday assembly to tell the children about the life saving work of the charity and Fay presented a cheque for £639!
Well done to all our pupils who have both led and supported the fund raising activities. We are very proud of you!