The National Curriculum for Geography aims to ensure that all pupils:
develop contextual knowledge of the location of globally significant places – both terrestrial and marine – including their defining physical and human characteristics and how these provide a geographical context for understanding the actions of processes

understand the processes that give rise to key physical and human geographical features of the world, how these are interdependent and how they bring about spatial variation and change over time

are competent in the geographical skills needed to:

collect, analyse and communicate with a range of data gathered through experiences of fieldwork that deepen their understanding of geographical processes

interpret a range of sources of geographical information, including maps, diagrams, globes, aerial photographs and Geographical Information Systems (GIS)

communicate geographical information in a variety of ways, including through maps, numerical and quantitative skills and writing at length
To read our Curriculum Intent, Implementation and Impact Statement for Geography, please click here.
Year 3
As part of their 'Scrumdiddlyumptious' creative learning project Year 3 found out about how far food has to travel to reach our plate. They used maps to locate different countries and created a key to indicate the location and distance travelled.
Year 3 also researched some of the most famous dishes from across the globe and their country of origin. They used a world map to record the food and the country where it originated.
Year 3 reflected on the importance of food and the impact of food waste on the environment. They used the skills developed in their English lessons to create persuasive posters to promote the reduction of food waste.
During their 'Predators' project Year 3 used atlases and globes to identify the continents where different animals live. Pupils explored locations and habitats using their skills to label world maps and create colour-coded keys.

As part of their project 'Gods and Mortals' about life in Ancient Greece, Year 3 used maps to identify and locate countries, seas, mountains and cities to help inform their history work.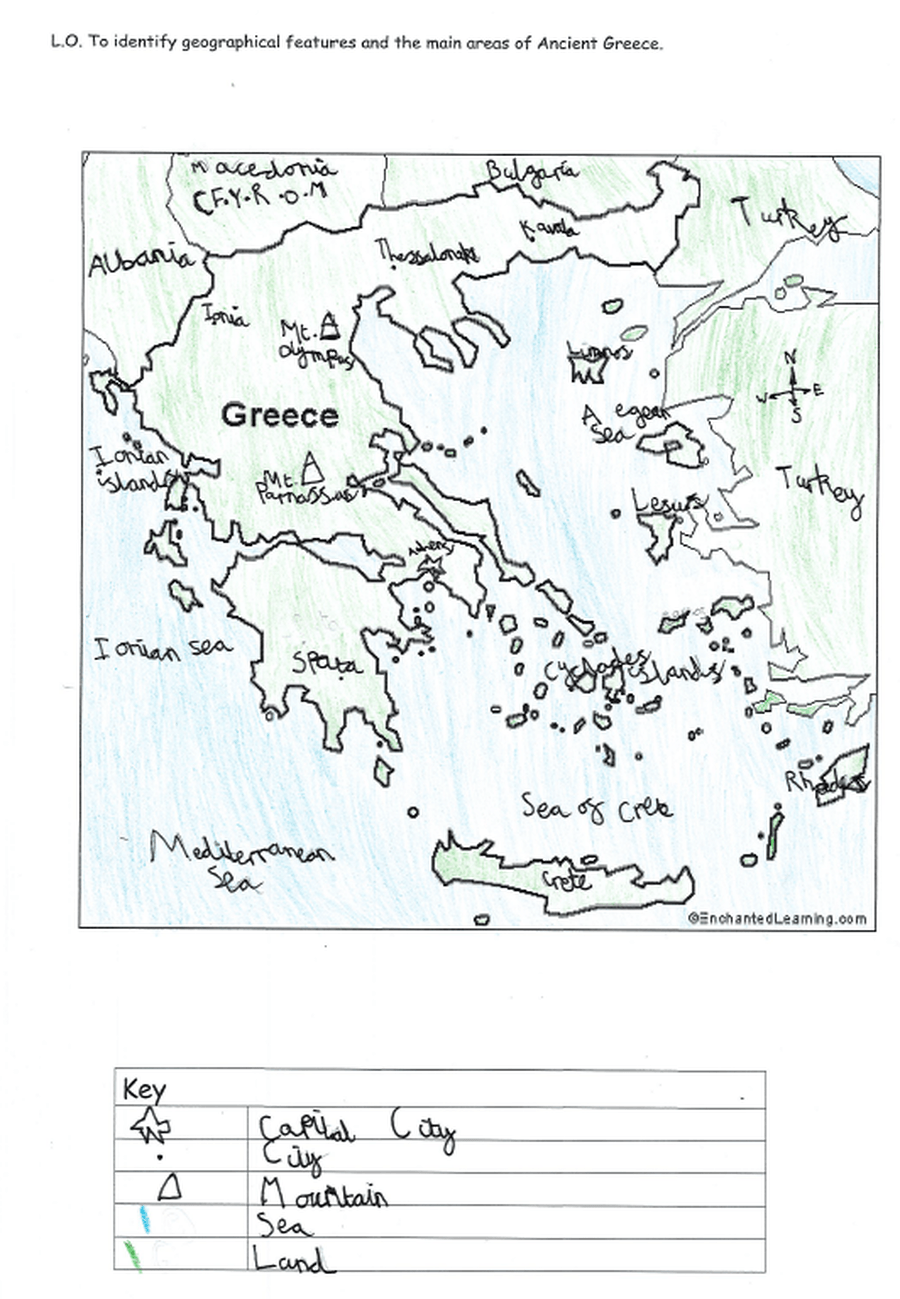 Year 3 used a variety of maps to identify differences and similarities between ancient Greece and the country today before learning about some of the places Greece is famous for. What great work!
Year 3 used library books and the internet to research lots of facts about the history and famous monuments of ancient Greece, the climate and food to find out why modern Greece is such a popular holiday destination.
During their creative learning project on 'Flow', Year 3 learned about the parts of a river.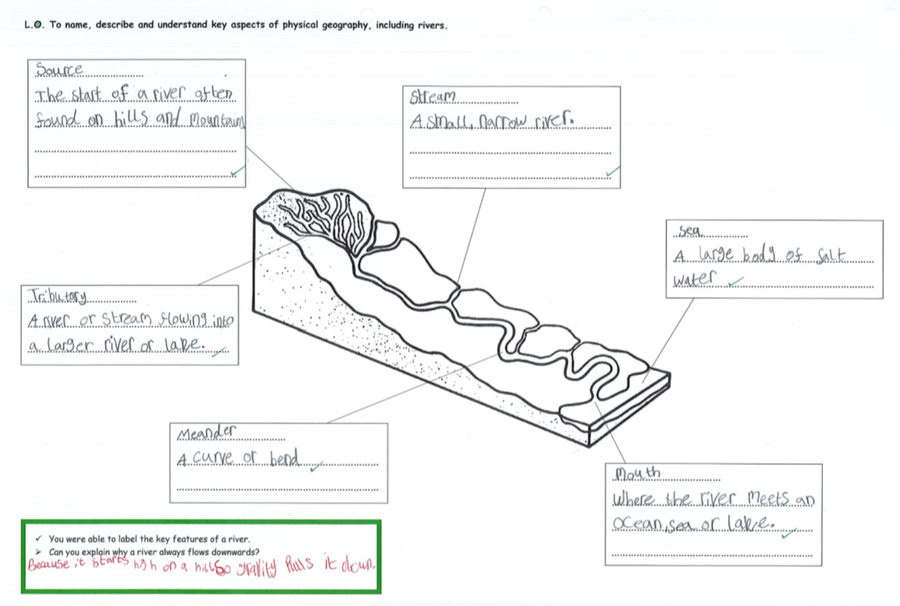 Year 3 identified the stages of the water cycle.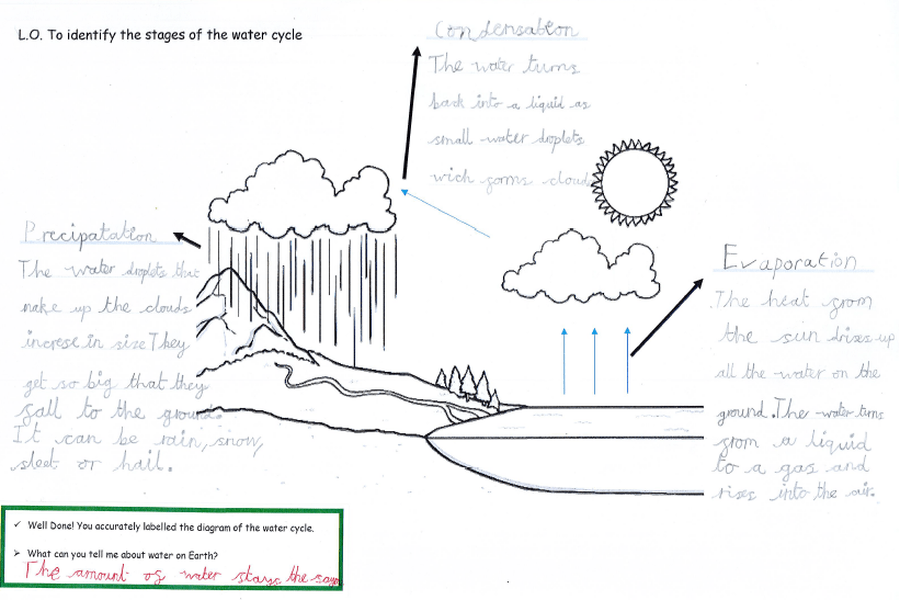 In their computing lessons, Year 3 practised copying and pasting images from the Internet into a Powerpoint presentation, presenting text in text boxes and learned how to use animations to create an effective presentation about the water cycle. They enjoyed sharing their finished presentations with the rest of the class. Please click on 'play' on the PowerPoint below to view an example of their work.
Children also chose how to present their learning about the water cycle using writing and diagrams. Super work!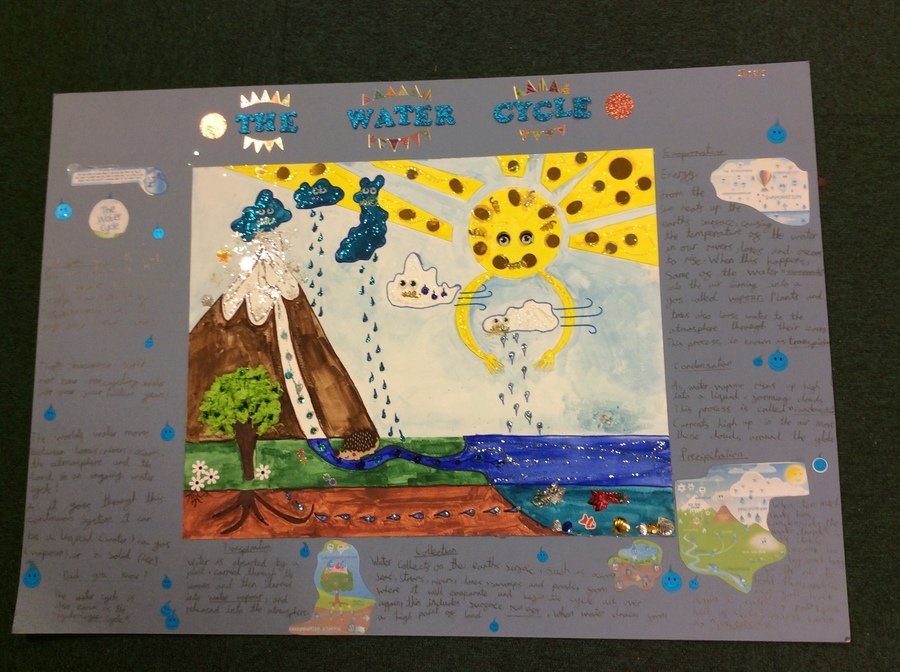 Children then explored creating PowerPoints to explain the water cycle and present their research into rivers of the world.
Year 3 used atlases to locate counties, cities and geographical regions of the United Kingdom.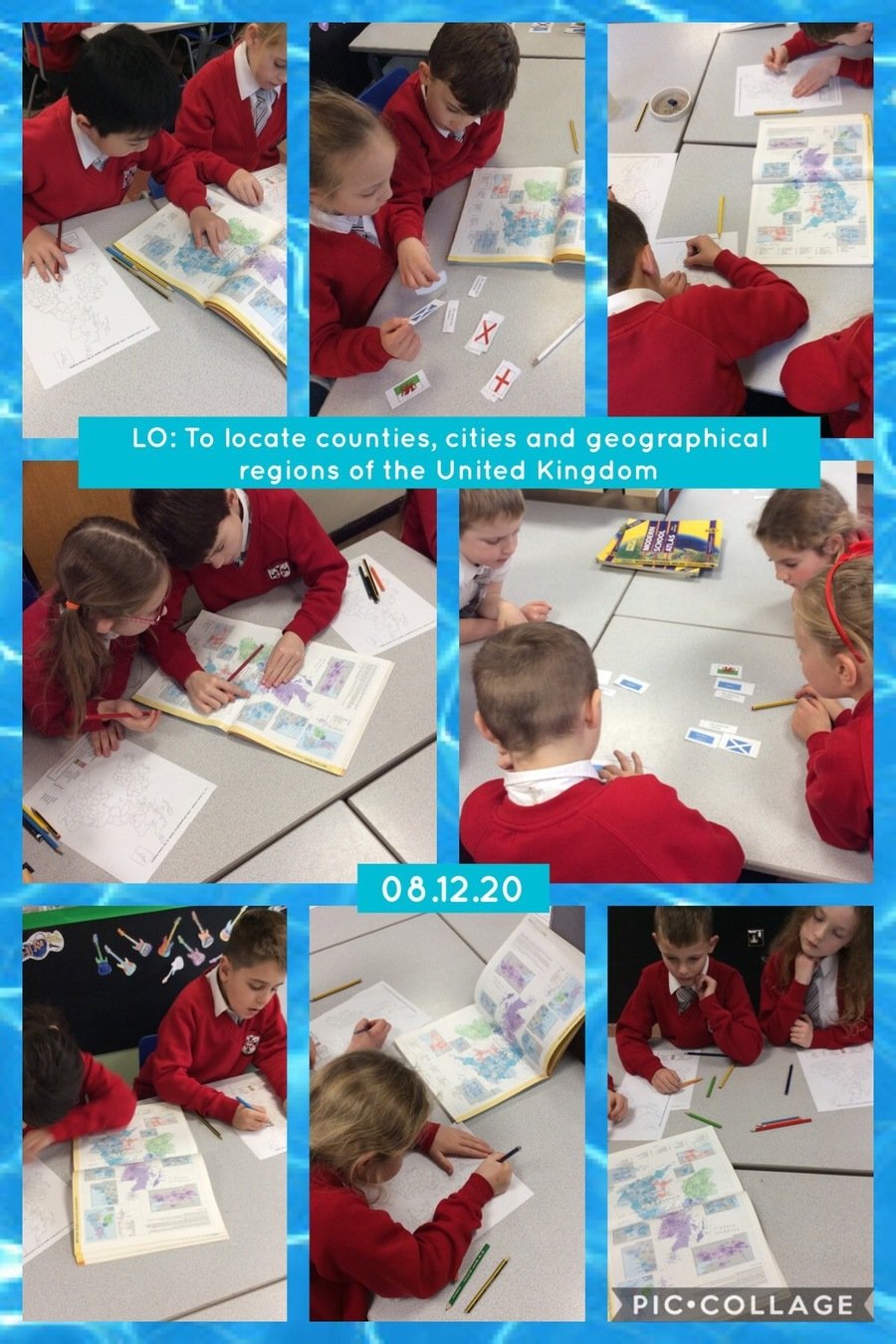 Year 3 identified the position and significance of longitude, latitude and the Equator.
Year 3 used their geography skills to locate countries of the world and illustrate the percentage of people with access to clean water. The children found this very interesting and were able to discuss the reasons as to why some countries have a higher percentage of access to clean water compared to others.
Hearing that water in the River Don might not be as clean as we would wish it to be, Year 3 conducted fieldwork to investigate further. Children set up a simple enquiry to find out which water sample out of a range was the cleanest; they observed carefully, used dataloggers and an opalometer to take accurate measurements, recorded data in a table and used their results to draw a conclusion.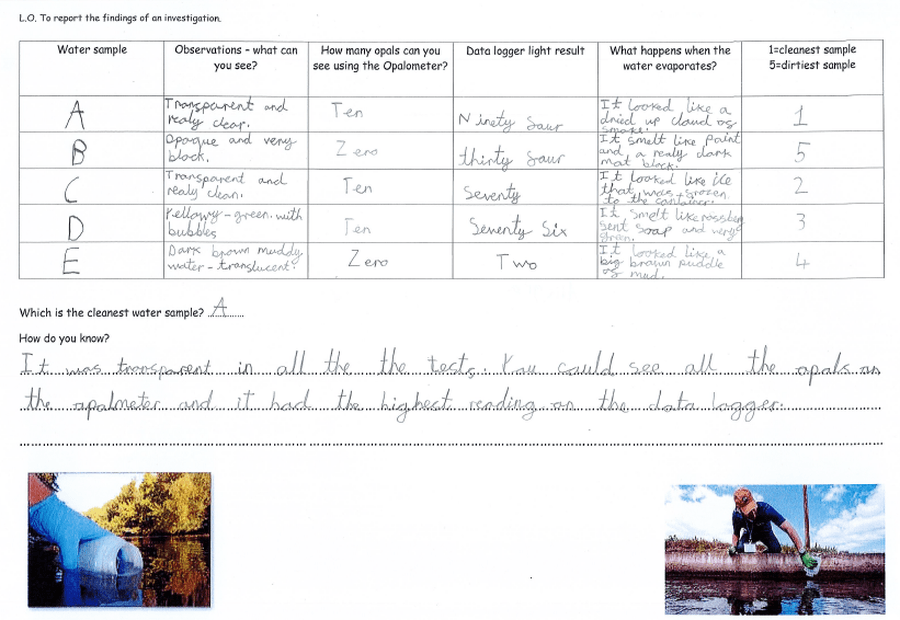 In their geography work, children used fieldwork to observe, measure, record and present physical features of our local school environment. Over the course of five days, we investigated how much rainfall we had at our school.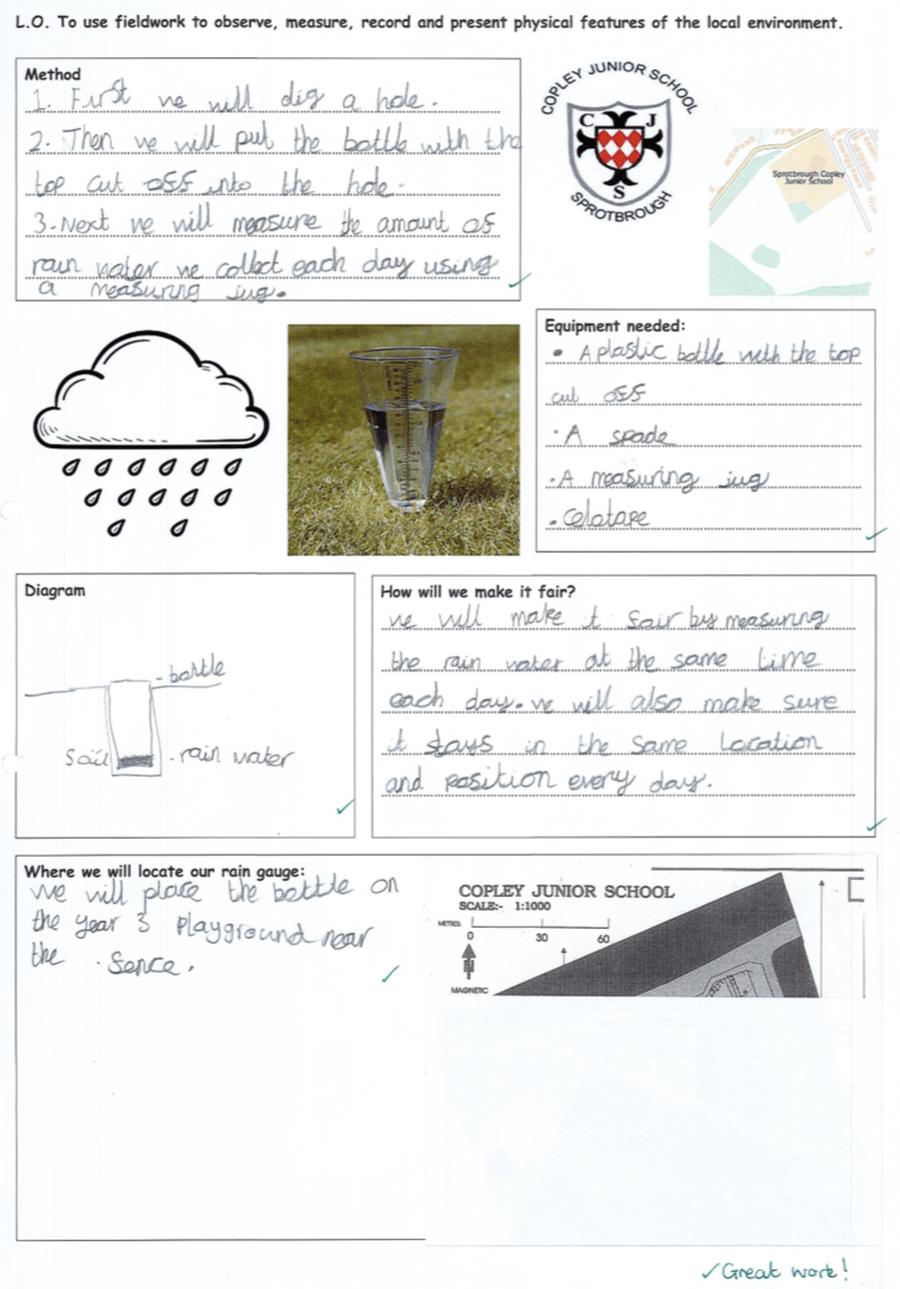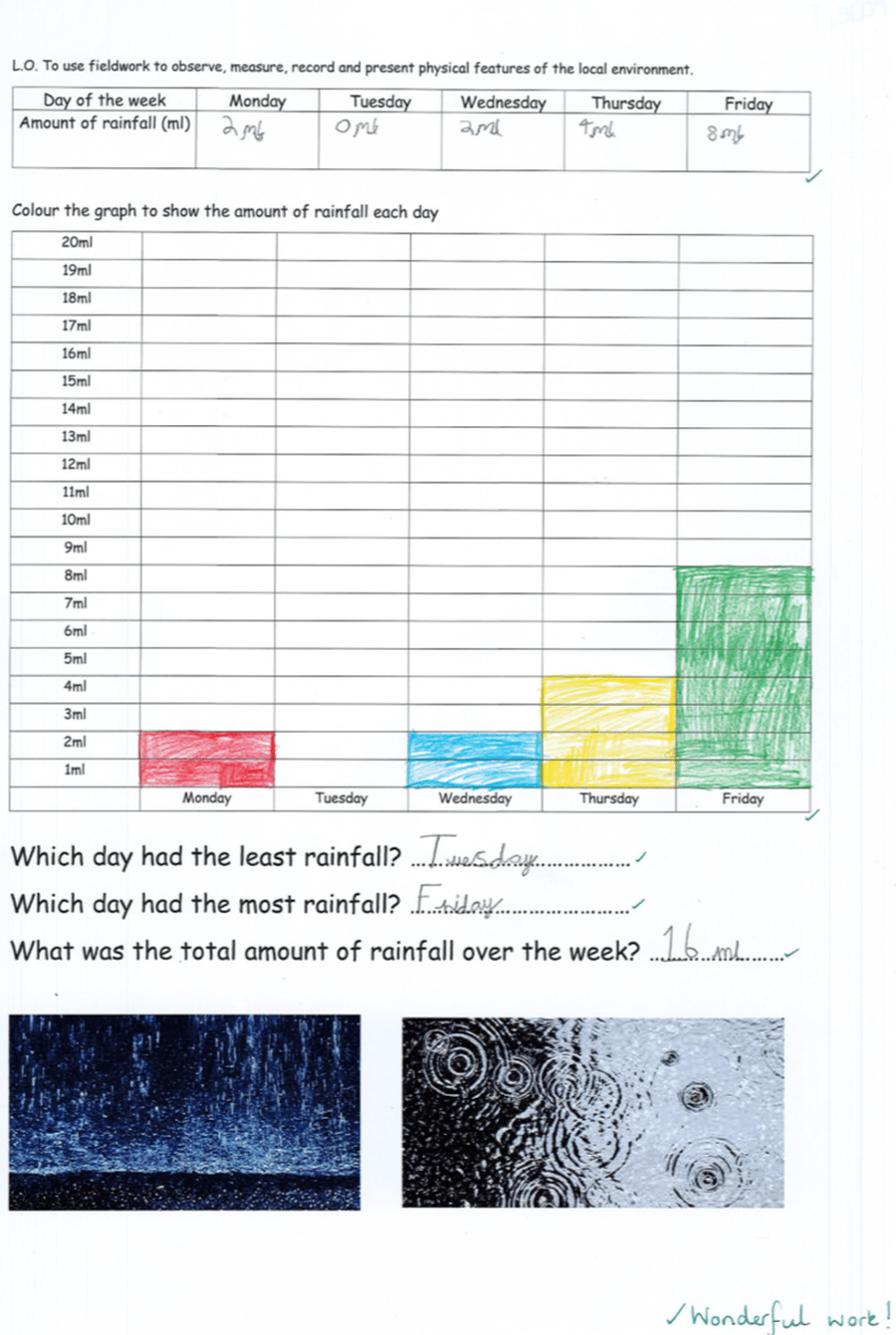 As part of their project, 'Tribal Tales', Year 3 used their prior learning about Britain's geography to locate some of the key Stone Age settlements. They used Google maps to make virtual visits and explored the historical sites. During discussion, they used their knowledge of the Stone Age periods and climate change to explain why there are no settlements from the Palaeolithic period in the North of Britain.
During their project 'Raiders and Traders' Year 4 identified the different continents of the world and created a key.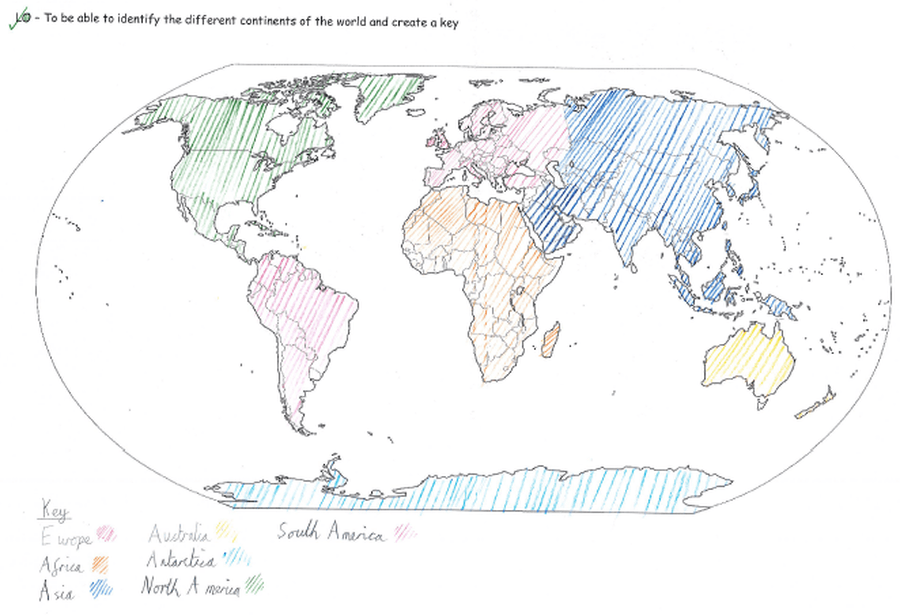 Year 4 then used maps of Europe to identify the countries that the Viking raiders came from. The children located the world's countries, using maps and atlases to focus on Europe, including the location of Russia.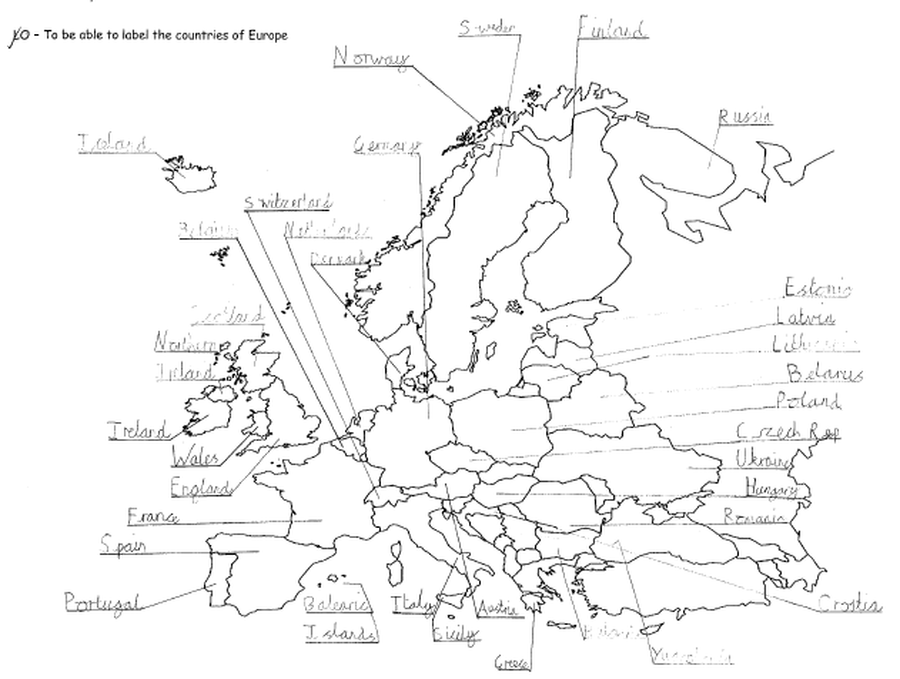 Children annotated maps to find out where the Vikings came from and where they settled.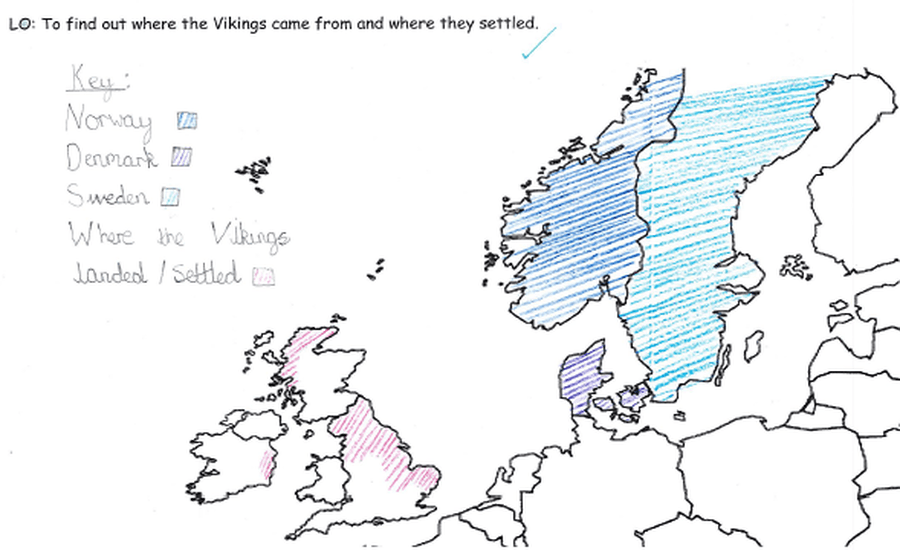 As Year 4 learned about where the Vikings settled, they looked in more detail at a map of our local area. Viking words can be found in many English place names and indicate the key feature of the local area where the Vikings settled e.g. -ton=hedge or fence, later a farm (Branton); -by=farmhouse/dwelling (Cadeby); -thorpe=hamlet/village (Armthorpe). Children looked at a map of our local area, produced a colour key and identified place names of Viking origin, locating these on a local map and recording their findings in a table.
Year 4 also used Ordnance Survey maps of the South West of England to locate sites of historical importance e.g. Cadbury Castle, Glastonbury Tor, Tintagel in Cornwall and Slaughterbridge.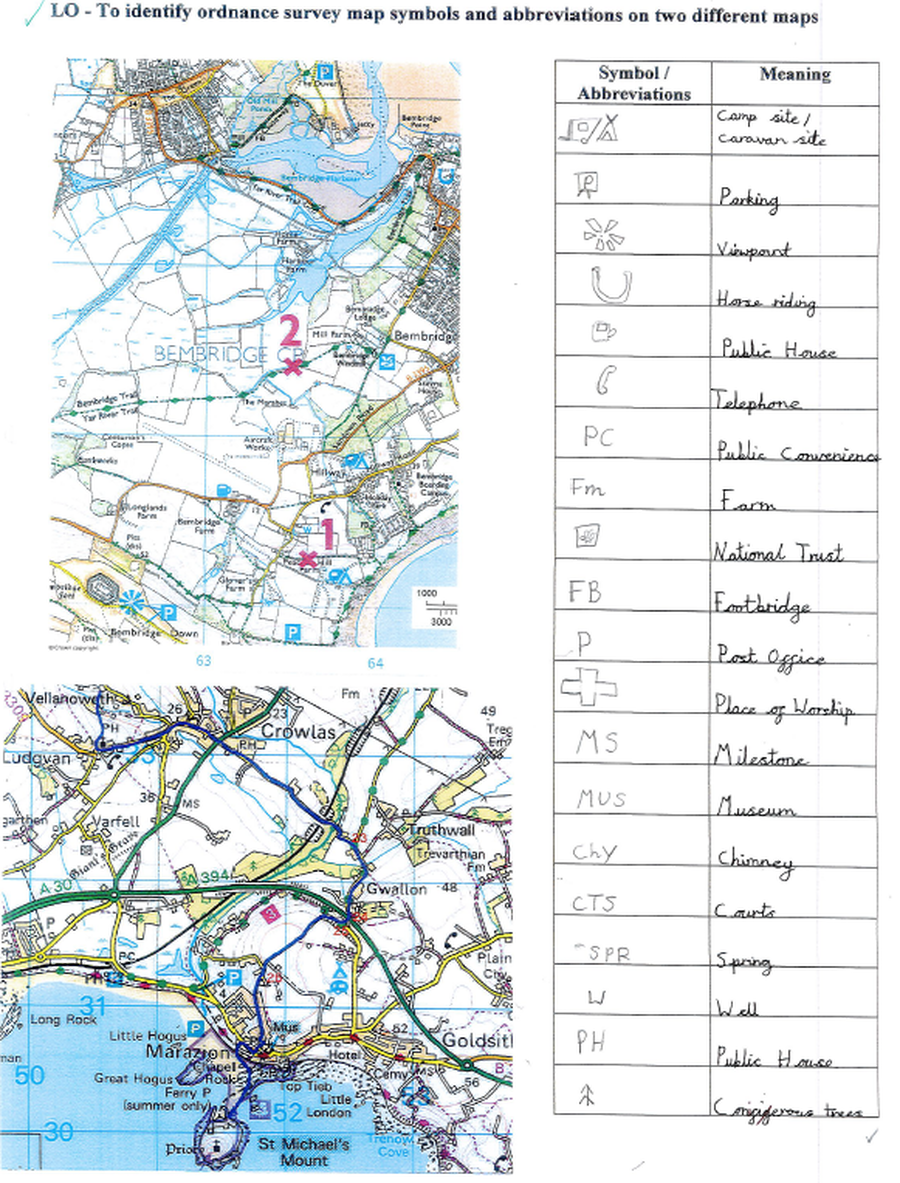 Year 4 children launched their 'Road Trip USA' creative learning project by using their geography and map reading skills to navigate their way to locate famous American landmarks.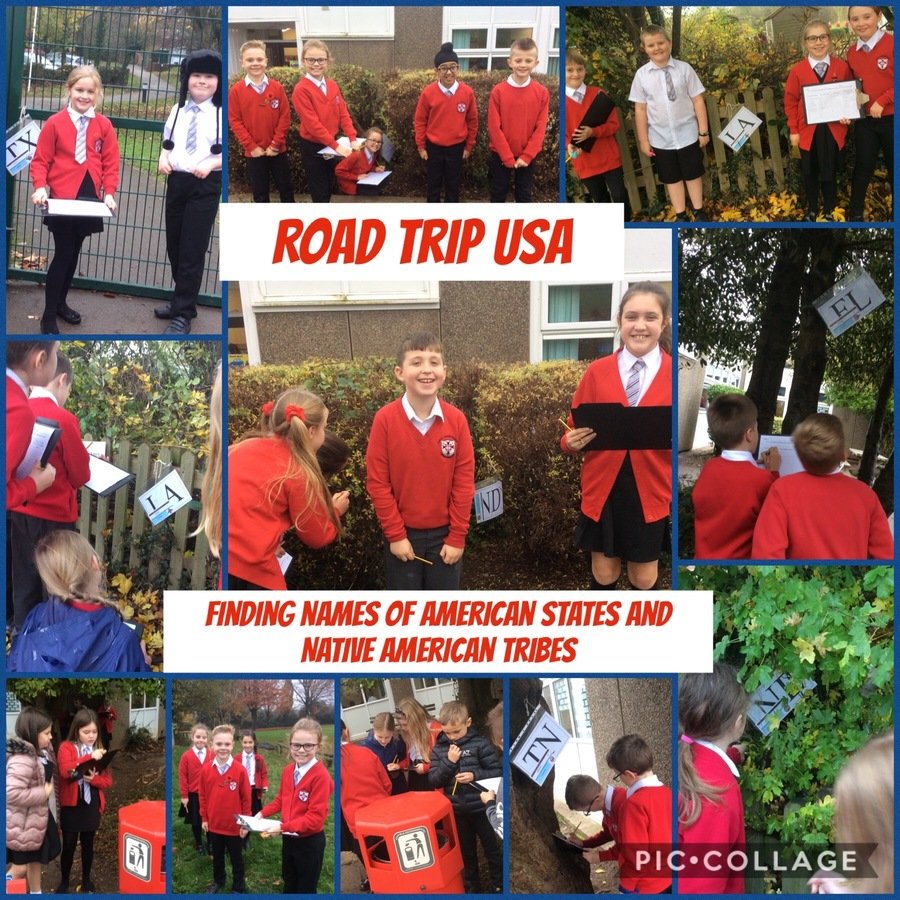 Year 4 found out the name, location and state capital for each of the 50 states in the USA, using a range of sources.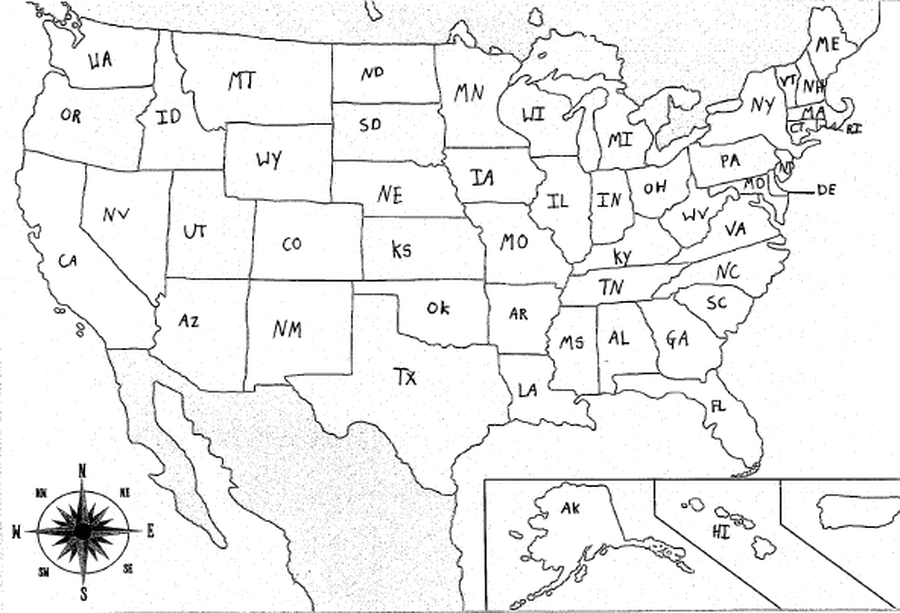 Children used a range of resources to find out the names and capitals of the 14 states where Native Americans settled and used maps and atlases to locate these.
As part of their 'I am Warrior' project on the Romans, Year 4 found out about ancient Celtic hill forts, drew a sketch map of one of these, explained how the Celts chose to build their forts where the geography of the area gave them the best defence position and considered the geographical features of Britain that hampered the Romans as they invaded.
To launch their geography project on 'Misty Mountain Sierra', Year 4 entered the Mountain Explorer Academy for an action packed day of learning and activities. Delivered by an experienced mountaineer and expedition leader, the workshop was a mixture of short, interactive presentations (full of photos, videos and stories from recent mountaineering expeditions) and hands-on activities in small teams (e.g. mapping exercises, mountain-themed problem solving challenges, a quiz on the hazards of mountain travel, a wildlife identification competition etc). What a fantastic day of learning and exploration!

The children learned about green-screen technology to bring their adventures in the mountains to life!
During their project, Year 4 found out where in the world the most impressive mountains are located using an atlas and its index. The children located mighty mountains such as K2, Ben Nevis, Mount Olympus, Ararat, Everest, Kilimanjaro, Kenya, Kosciuszko and Aconcagua and ranges such as the Himalayas, Alps, Andes, Rockies, Karakoram and the Pyrenees and labelled these on maps.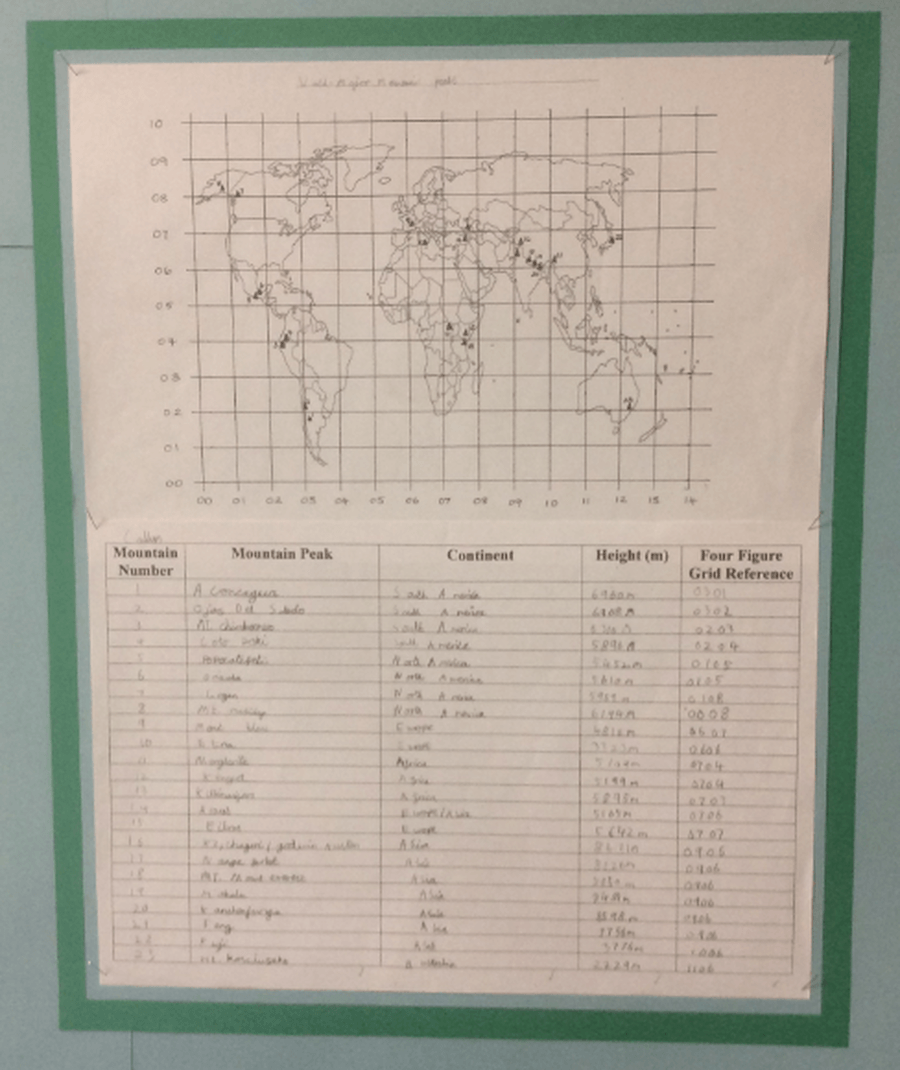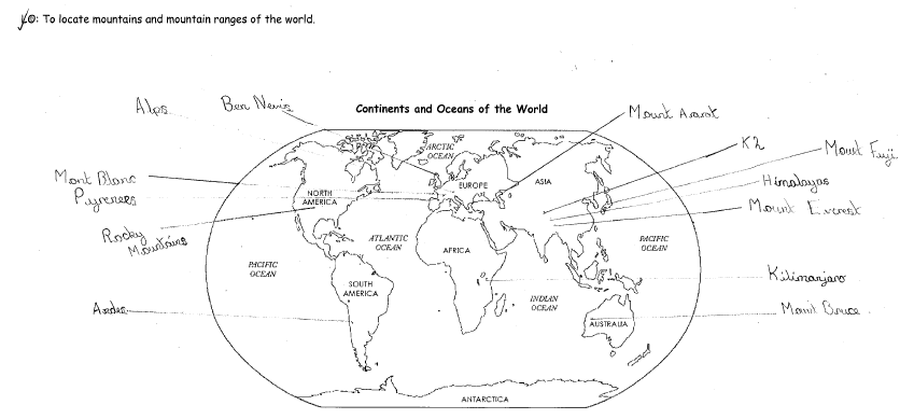 Year 4 pupils found out facts about mountains, used Google Maps to choose images and snipped these to create their fact files.
Following their research about mountains, children then designed and created models of their own mountains.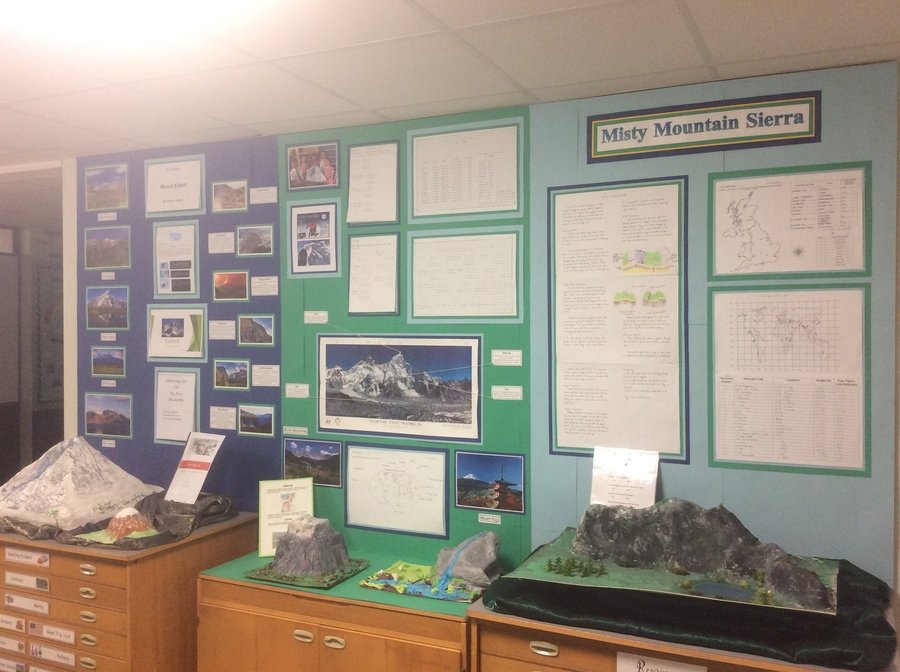 Year 4 children used the sixteen points of the compass, maps and globes to describe the location of significant UK hills and mountains in relation to Doncaster, including examples such as Dartmoor, Exmoor, the South Downs, the Cotswolds, the Mendips, Grampians, the Scottish Highlands, the Lake District and Snowdonia.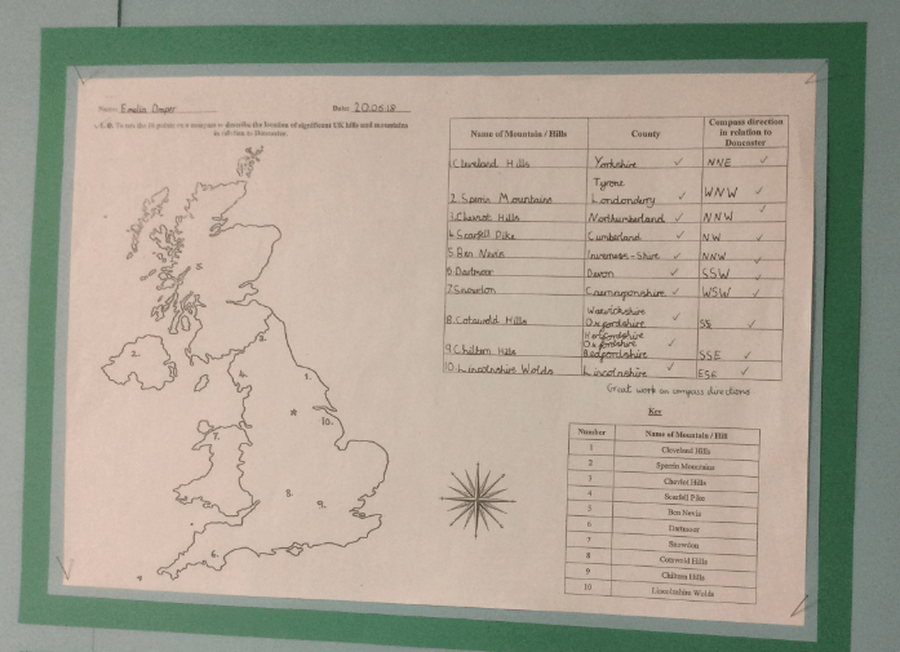 The children watched animations and documentaries that explain how mountains are formed, noting down the key words and technical language used to describe the process.The children then looked at a range of diagrams to learn about the five main mountain types (fold mountains, fault block mountains, volcanic, dome and plateau mountains), adding labels and captions to explain them clearly before producing their own extended pieces of non chronological writing.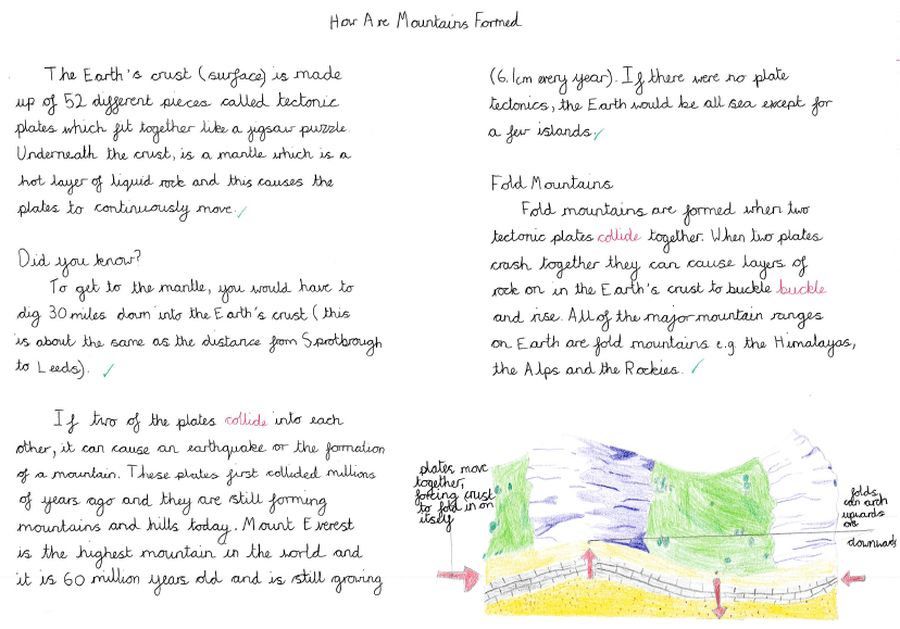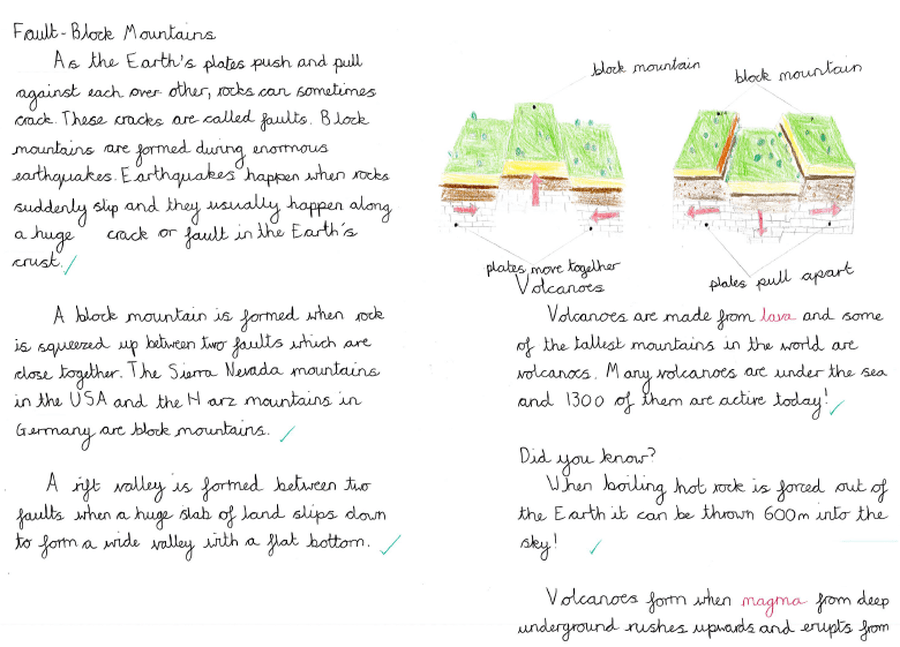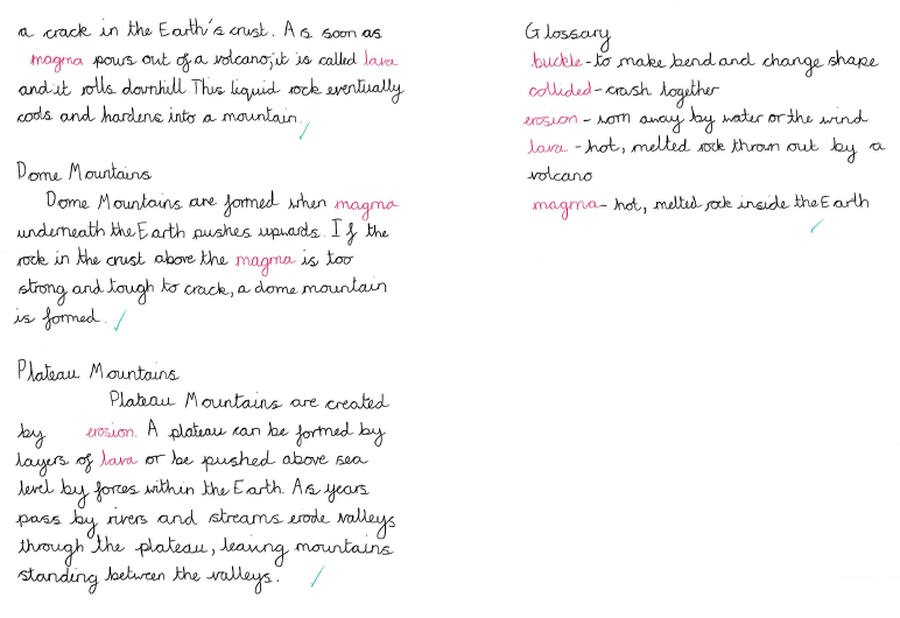 Year 5
To start their creative learning project on 'Pharaohs' Year 5 used atlases to identify continents, oceans and countries.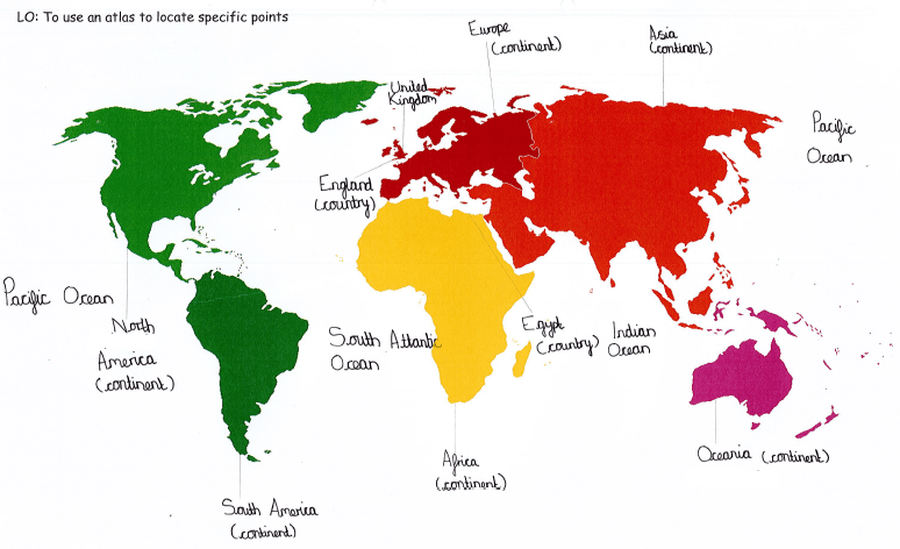 Year 5 then used maps to find and label key locations in Egypt.

As part of their geography work Year 5 learned about the importance of the River Nile to the Ancient Egyptian people.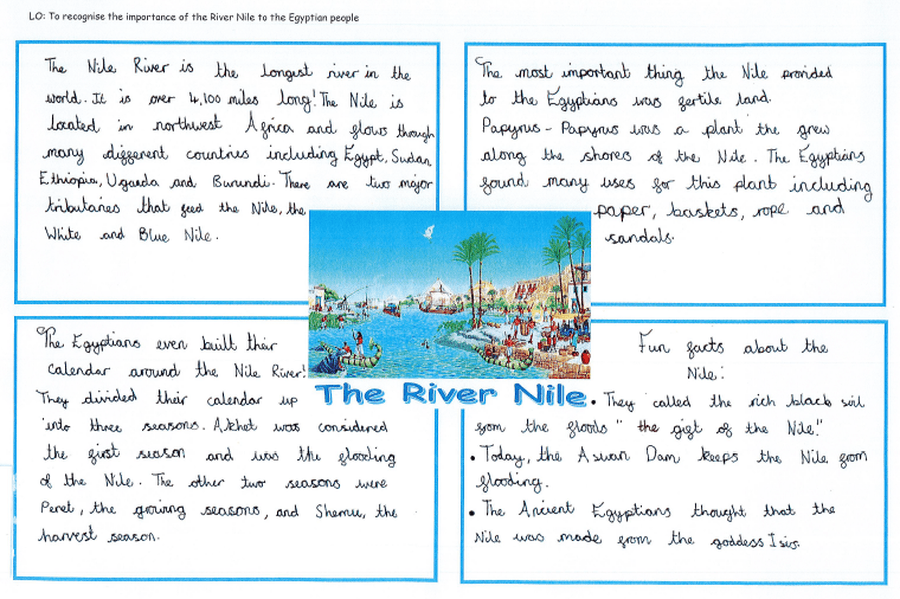 During their 'Local Study' geography project, Year 5 started their work by undertaking a walk to identify key geographical features of the local environment.
Year 5 used primary sources, maps and knowledge from their local walk, to produce their own sketch map of the local area.
Year 5 studied local maps of Sprotbrough to support their work with Modeshift Stars. Children used their local map and fieldwork to work out the best location to set up five and ten minute 'park and stride' zones and worked with our Modeshift Stars Officer to locate some temporary signs around the village as a visual reminder of the zones. The children promoted this with our parent community by creating an 'active travel' leaflet and parent 'Parking Pledge', which has been signed by over 80 parents/carers.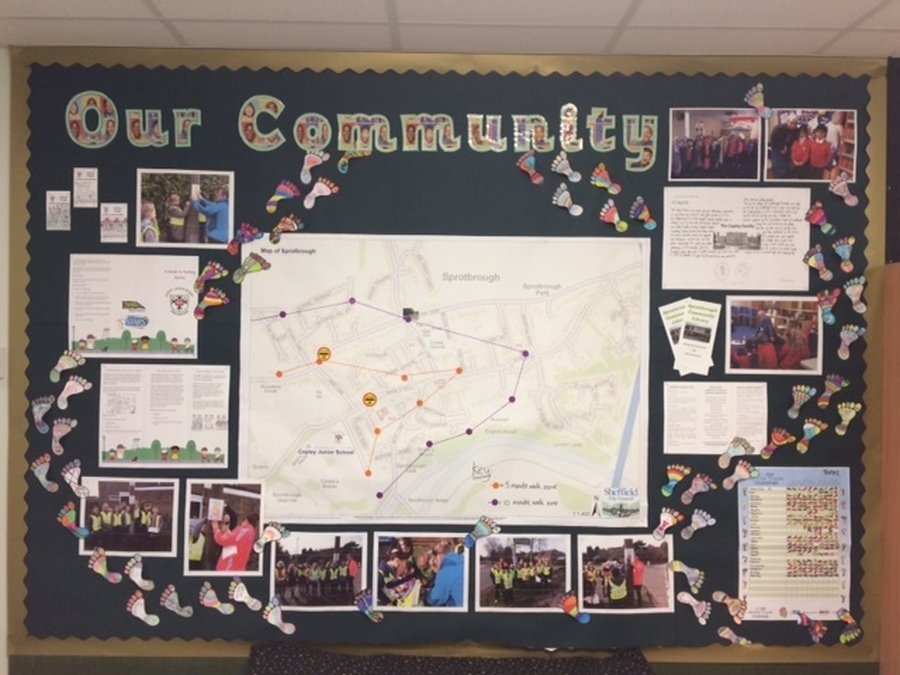 During their 'Beast Creator' project Year 5 had opportunity to independently research the dangerous mini-beasts that can be found in their chosen continent.
Year 6
During their 'A Child's War' project Year 6 children used textbooks and websites to research information about the causes of World War 2 before producing their own written reports, including annotating maps to show the countries involved.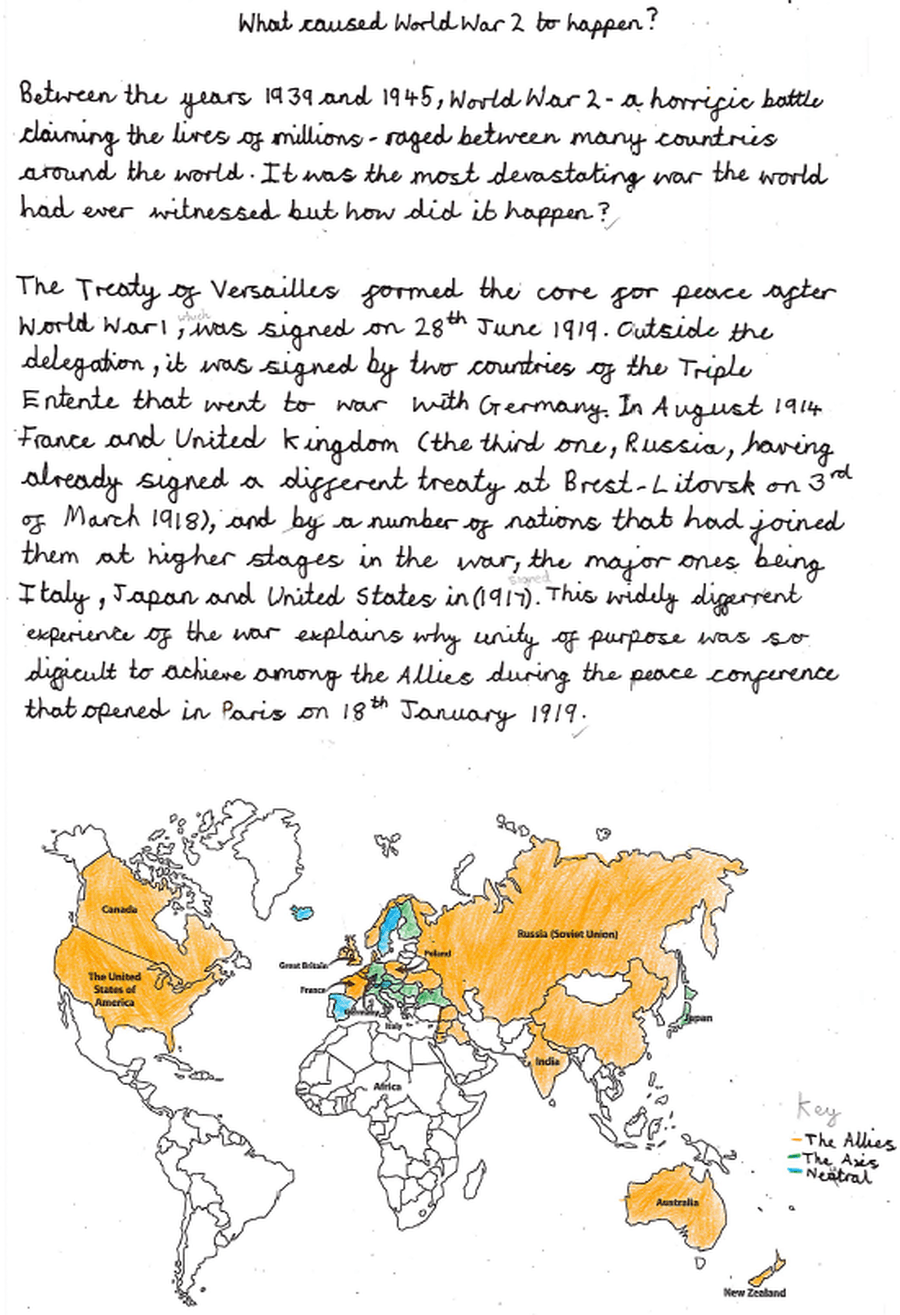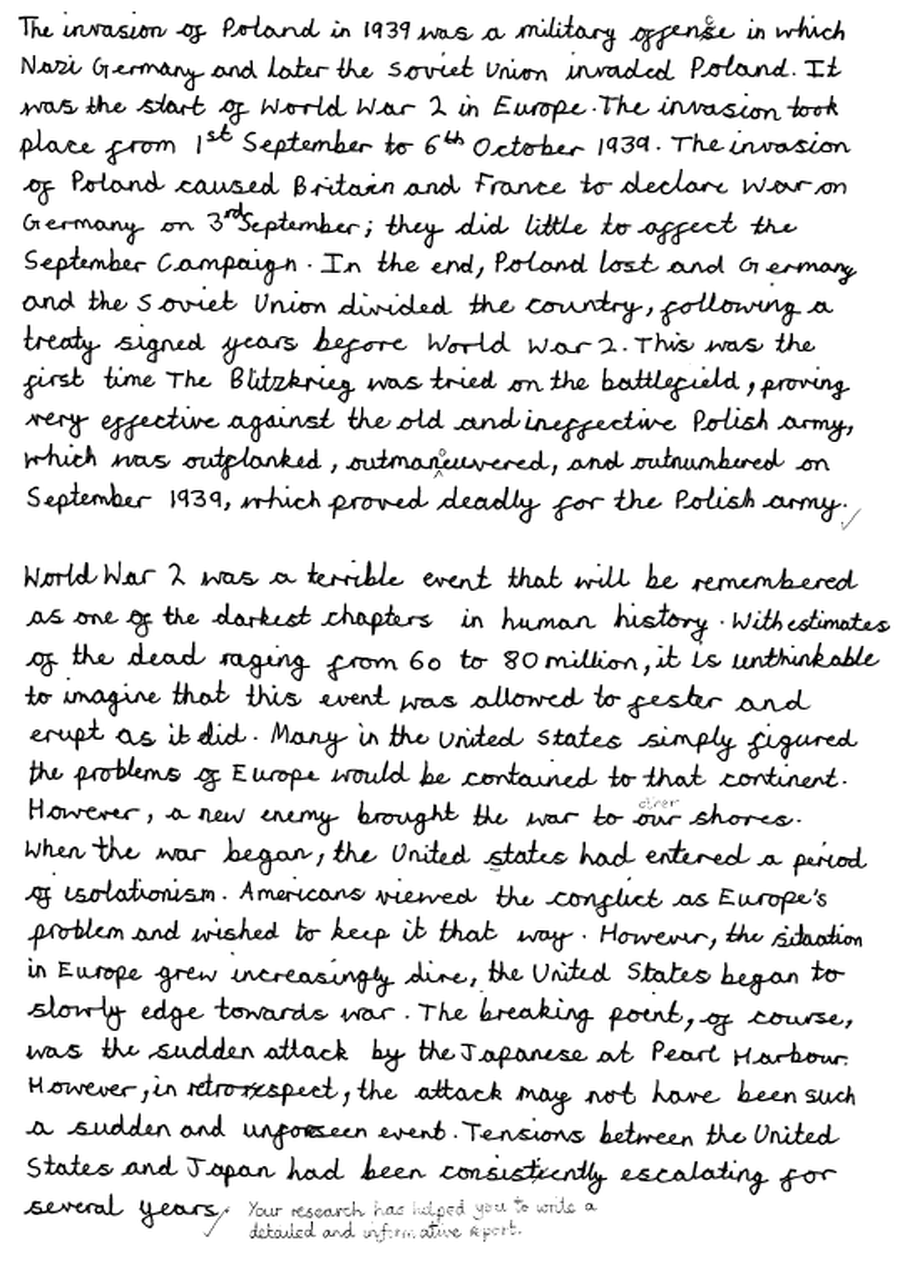 In their geography work, children used maps and atlases to locate the UK ports and cities that were bombed in the Blitz and considered why these were targeted. The children then recorded and labelled the locations on their own map of the UK.
Year 6 launched their creative learning project on 'Frozen Kingdom' by visiting the Yorkshire Wildlife Park to meet the polar bears and took part in workshops to learn more about how species have adapted to their environment.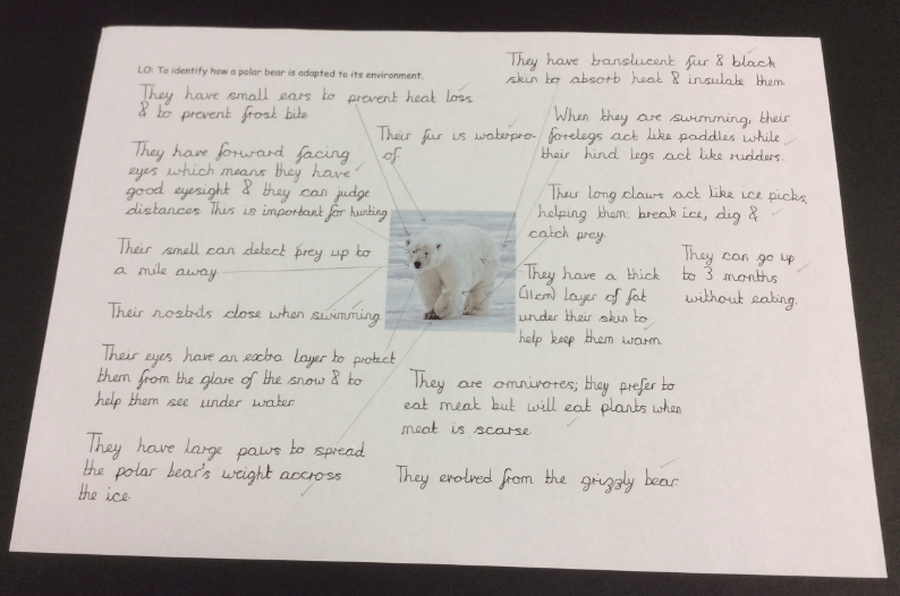 Back in the classroom children used globes, maps, reference books and the Internet to learn about the two Polar regions of Antarctica and the Arctic, and the animals and plants that inhabit these frozen kingdoms, before producing detailed written accounts and art work to share their learning.

The Ends of our Earth
Children also researched and then presented information about the Northern Lights.
We shared Year 6's lovely work on our 'Frozen Kingdom' display.
Polar and STEM Ambassador Visit
We were delighted to welcome Polar and STEM Ambassador Ricky Munday into school to lead an inspirational session on Antarctic research and operations and his successful ascent of Everest. Ricky's motivational talk captivated the children as he shared the many perils of his expedition, shared photographs and brought along a selection of polar and high altitude mountaineering clothing and equipment. The children were inspired by the key themes of perseverance, resilience, goal-setting and overcoming adversity. The children's interest and enthusiasm was incredible, and they had so many questions to ask afterwards!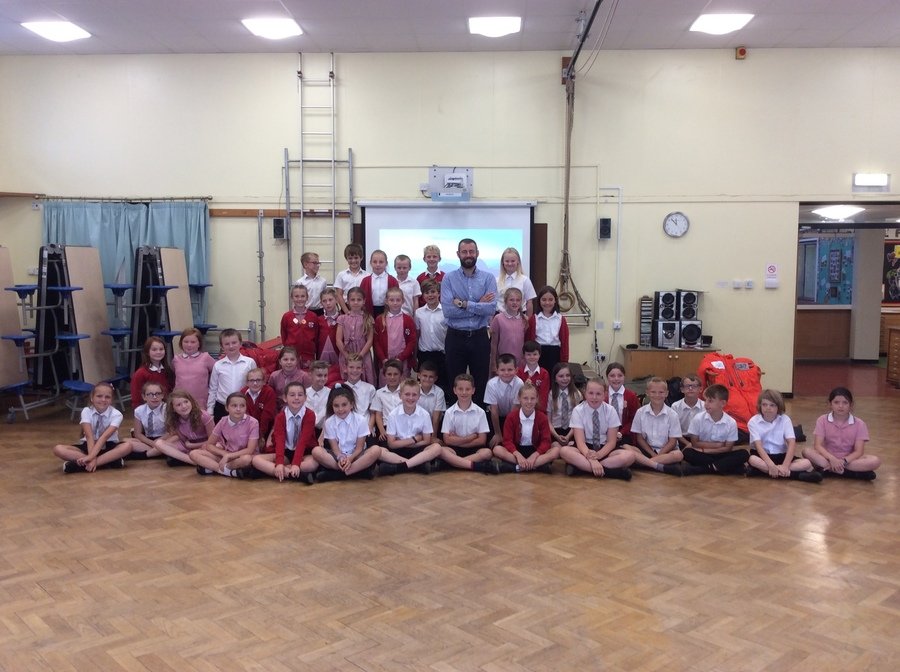 CSA Village Treasure Hunt
Our wonderful CSA members have worked very hard to prepare a family Treasure Hunt, with the aim of encouraging families to explore our beautiful village. Using the map below, families were challenged to follow the clues to find different locations, to observe their surroundings carefully to answer questions and then unjumble a final answer to achieve the task! What a great half term family activity!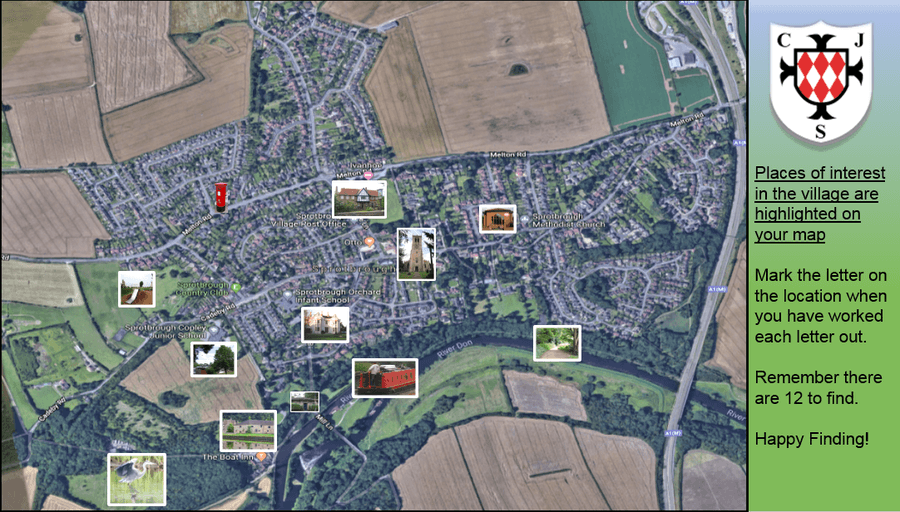 Over 60 families took part in this half term activity and it was great fun discovering new things about our beautiful village!
Here are some photos sent in by families from the Treasure Hunt.
Our Global Community
In order to learn more about the diversity within our school community, we set children across school the challenge of finding out more about their family tree. We hoped to make the children aware of their identity within our local community, the national community and the wider world around us. We asked children to find out about their family background including finding out if anyone from their family was born in another part of the UK or another country, and if they had lived anywhere else but the Doncaster area. The quality of work produced by the children is wonderful! Children shared their work in class and located the counties and countries involved. The children's fantastic work will be celebrated in a new central display in school to allow us all to learn more about each other and celebrate the diversity in our identities.
We found that, within our school community, we have many links to the wider world. Our families have links to many countries, including: Mauritius, Lithuania, the Ukraine, Scotland, Bhusawal in India, Canada, Lushun Province in China, Guyana, the Philippines, Kerala in India, Ireland, Thailand, Hyderabad in India, California, Karachi in Pakistan, Vietnam, Belgium, Wales, Iran, Australia, Budapest in Hungary, New Zealand, Germany, Bosnia, the Falklands Islands and Spain!
Please click on the first image below to view the photo gallery of our global community work.
Children's names were entered in the year group draw for a geography prize to reward their efforts. Well done to our winners pictured below who were presented with a 'Planet Earth Encyclopedia' so they can find out even more about the diversity of planet Earth.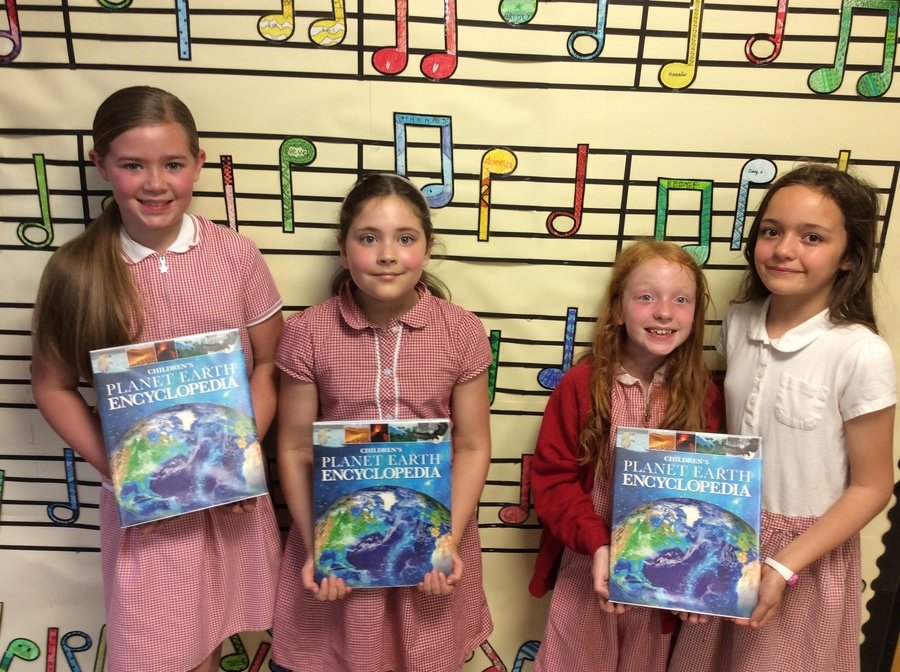 What Our Pupils Say
Here are some of the children's most recent reflections on their learning:
"I am proud of my achievements this year, especially the work I completed during our 'Local Study' project." Eve

"The map of Alchemy Island is the best piece of work that I have done this year, I am really proud of it." Luke


"My favourite project in Year 5 has been 'Local Study' because I enjoyed the walk around the community, looking at the maps and drawing my own sketch map." Nate

"I am proud of the 'Flow' geography topic work I did because it was amazing fun." Jack

"My favourite topic has been 'Local Study' because I learned a lot exploring Sprotbrough on our river walk and about how to make pollution better." Luke


"I have enjoyed all the different topics we have done but my favourite was the 'Frozen Kingdom' because it was fascinating learning about the Arctic and Antarctica." Sienna

"I loved our project on Mountains as we learned how mountains are formed and we used Google maps to look at mountains across the world." Ava

"I have enjoyed Local Study because I got to learn a lot of information about my new village and home. I had a lot of fun on our walk by the side of the river learning about Sprotbrough Flash nature reserve and the uses of the River Don." Noah

"The work I am proudest of is my Alchemy Island map because it is very detailed." Chloe

"My favourite topics have been 'Road Trip USA' and 'Misty Mountain Sierra' as both topics have a lot of geography work in them. I like geography as I like looking at maps and finding out about new places." Harry A