Copley School Association
The Copley School Association (CSA) is a group of parents and teachers who volunteer their time to support the school by raising funds to pay for extras for the children.

All parents/carers of children at Copley are automatically members of CSA, and are warmly invited to attend meetings or support at events to help raise as much money as possible to support children in school. Don't panic though – there's no obligation to take part, it's just that it's always easier to run events and raise vital funds if more people are able to give their time to help. Many hands make light work!

To read the Treasurer's Report for 2020-2021, which details how much was raised and how this has been spent on the children in school, please click here.
Whilst our established events work well and raise us money, we're always looking out for new events so if you have any ideas, please do share them with us. We try to offer a range of events – some large like our Fairs, and smaller events too like the Beetle Drive and Bingo Evening.

It's great to be able to support the school in this way and provide the children with resources that they might otherwise not have access to. It's hard work though and we can only do it with your support.

SO: do see if you can help us with any of the following:

1) Do you have any ideas we can use to fundraise?
2) Can you attend meetings and support the development of our fundraising programme?
3) Can you help by donating raffle prizes?
4) Can you help at events by 'manning' a stall?

We are all busy people and there's every chance that you might not be able to help us at all. If you can support us by helping at events but can't get to meetings, that's fine. If you can attend meetings but can't help at events – no worries. We're grateful for any input you are able to give us.

So go on – take the plunge and help us to raise even more money to make our children's learning experiences at this young age even more exciting, helping them to create treasured memories that will last a lifetime.

Contact: School Office on 01302 856445 or email us at: admin@copleyschool.co.uk
Matchfunding
Do you know a company that would be willing to matchfund our Christmas or Summer Fair? Many companies and organisations are interested in charitable giving through matchfunding - do you work for one that could help us?
A letter about matchfunding and a list of businesses who support this is available by clicking here.
To see a great summary of the events and successes of the CSA during 2018-2019, please view their PowerPoint presentation below.
CSA News and Events 2021 - 2022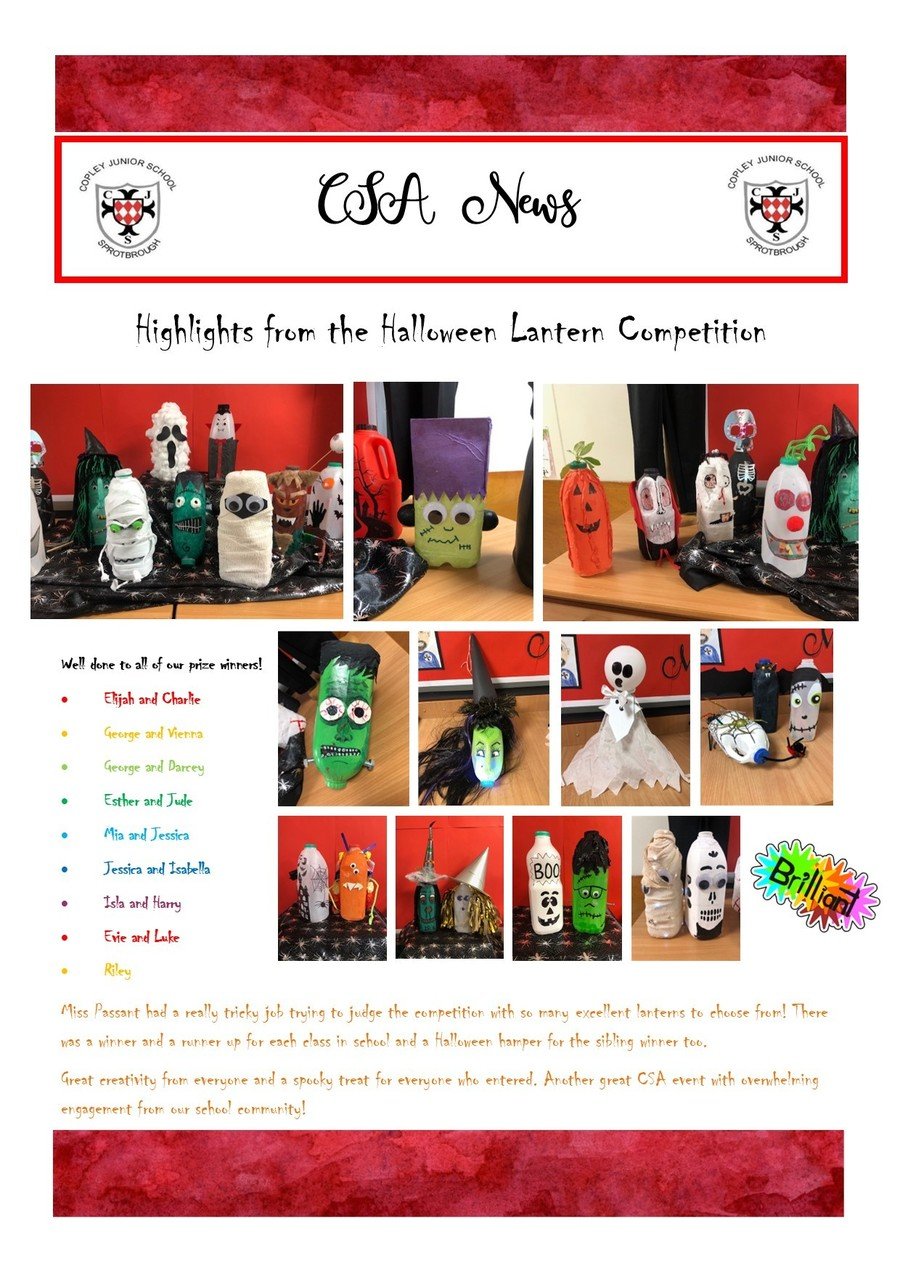 During the Autumn Term, the CSA organised for Christmas card designs to become gift tags, tea towels, wrapping paper, jute bags and so much more! We also enjoyed the annual Santa Dash and Christmas Raffle hampers. There was even a visit from Santa and a Christmas Gift for every child at the end of term. Highlights from all of the events are available on Twitter and shared in the school newsletters.
The CSA also contributed to the cost of the Young Shakespeare Company visit for Years 5 and 6 and provided a 'giant screen' for use in the hall and across school to support teaching and learning.
CSA News and Events 2020-2021
Card, Gift Tag, Mug and Eco Bag Designs
Many thanks to CSA members who supported our initiative to enable children to complete a design for this CSA project. The designs will be made into a proof card for parents to then decide if they wish to purchase gift cards, cards, a cloth eco bag or mug with their child's design. The children have produced some very creative designs!
Young Shakespeare Company
Thank you to the CSA for helping to part fund the cost of the Young Shakespeare Company visit. This gives our pupils in Years 5 and 6 the opportunity every year to get involved in an immersive performance of a Shakespeare play.
Children in Year 5 and 6 enjoyed class workshop sessions on 'Macbeth' led by the Young Shakespeare Company. This provided children with a very engaging experience of Shakespeare. Thank you to the CSA!
Spooky Spoon Competition
The CSA organised a Spooky Spoon Competition for the children to take part in over half term.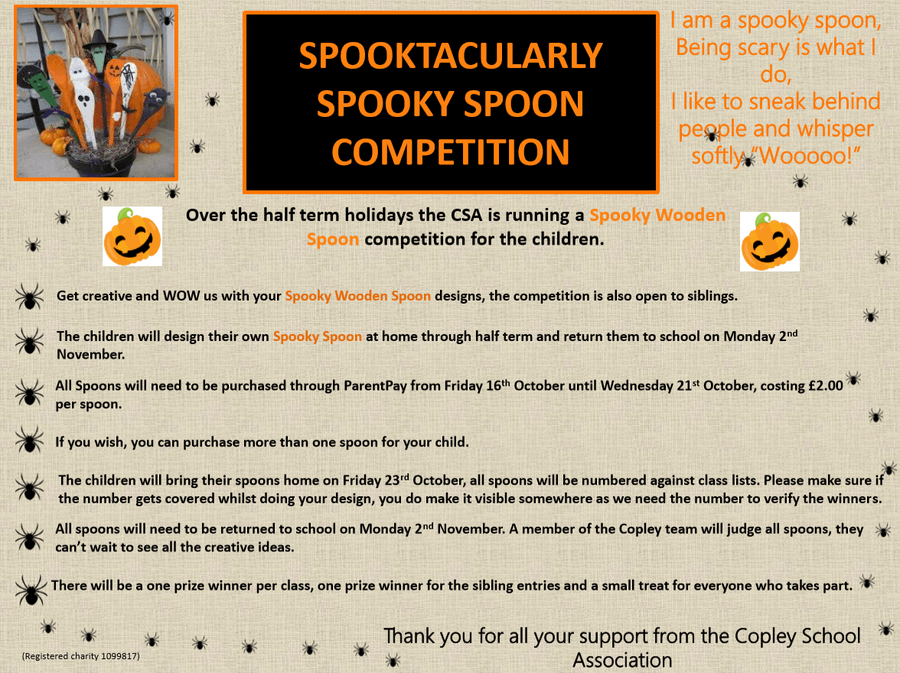 Thank you to the CSA, as they created some lovely prize tubs to be awarded to the winner of each class and also to the winner of the sibling entries.
The children demonstrated amazing creativity with their 'Spooky Spoon' creations! Well done to everyone who entered. We displayed the entries in the hall so that each class could enjoy looking at everyone's creative work. Very well done everyone!
Santa Dash
During the first week of December, thanks to our CSA group, the children enjoyed taking part in Copley's first ever Santa Dash.
All children took part in a run in their year group bubbles within the school grounds as part of their timetabled P.E. lessons. The Santa Dash events looked very festive, with children wearing their Christmas jumper/t-shirt or a colourful top and a Santa hat.
To make the event even more fun, the CSA placed many festive decorations within the school grounds. There were so many hidden surprises to spot, it was very fortunate that our Santa Dash involved two laps of the course!
Following the Santa Dash year group events, the CSA kindly organised for children to be presented with chocolate gold coins and a certificate of achievement. Well done everyone and thank you to the CSA (and also Santa, who completed eight laps of the course as he led each Santa Dash!).
Please click on the first photo of each gallery to browse through the gallery.
To make the event even more fun, the CSA created and placed many festive decorations within the school grounds. There were so many hidden surprises for children to spot, it was very fortunate that our Santa Dash involved two laps of the course!
Christmas Hamper Raffle
We greatly appreciated the generosity of parents, staff and relatives in donating gifts for our Christmas hampers; we had 77 fabulous prizes for the draw.
Our raffle was drawn via a Teams assembly so that we could make sure all prizes were collected by the end of term.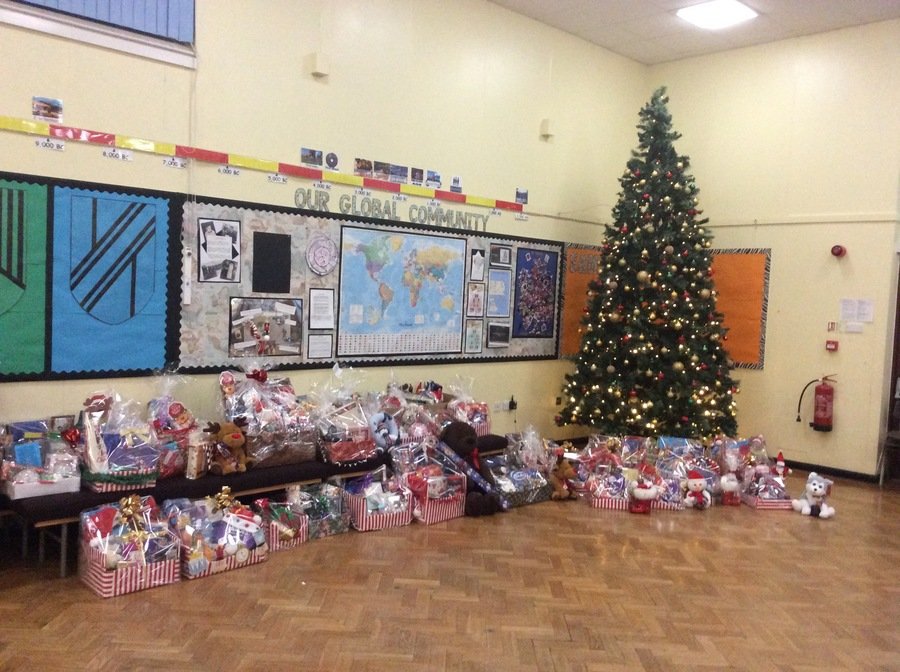 Christmas Gift Stalls
The CSA organised year group gift stalls, with lots of small gifts to purchase. We also organised a 'Guess the Name of the Elf' competition. Our lucky winner of the magnificent elf chose the lucky winning name - of Lucky!
Father Christmas Visits Copley
We had a most fantastic surprise when our Teams reading reward assembly was interrupted by a special visitor, Father Christmas!
Father Christmas arrived in his vintage sports car, his elves had transformed our P.E. container into a magical grotto and in his sacks, Father Christmas had a present for every child. It even snowed on this special occasion! This was a truly memorable experience for children and the excitement and joy on children's faces was wonderful to see.
Thank you to parents/carers for your support for this event and to our amazing CSA team for all their work to make this such a fabulous occasion.
Year 3
Christmas Wish Tree
The Eco Council worked with our CSA to promote an eco-friendly Christmas Wish Tree. Children were invited to buy festive cardboard template for £2 and to take this home to decorate and write on their Christmas message to the class, before bringing it back to school to attach to the felt Christmas tree purchased for each class. The Eco Councillors organised setting up the Wish Tree in each classroom. The Eco Council and CSA promoted this as an alternative to sending lots of separate cards, to help reduce the use of paper and save the environment and the initiative had great impact. 133 children took part in the Christmas Wish Tree project and the use of paper and card was reduced by 64%!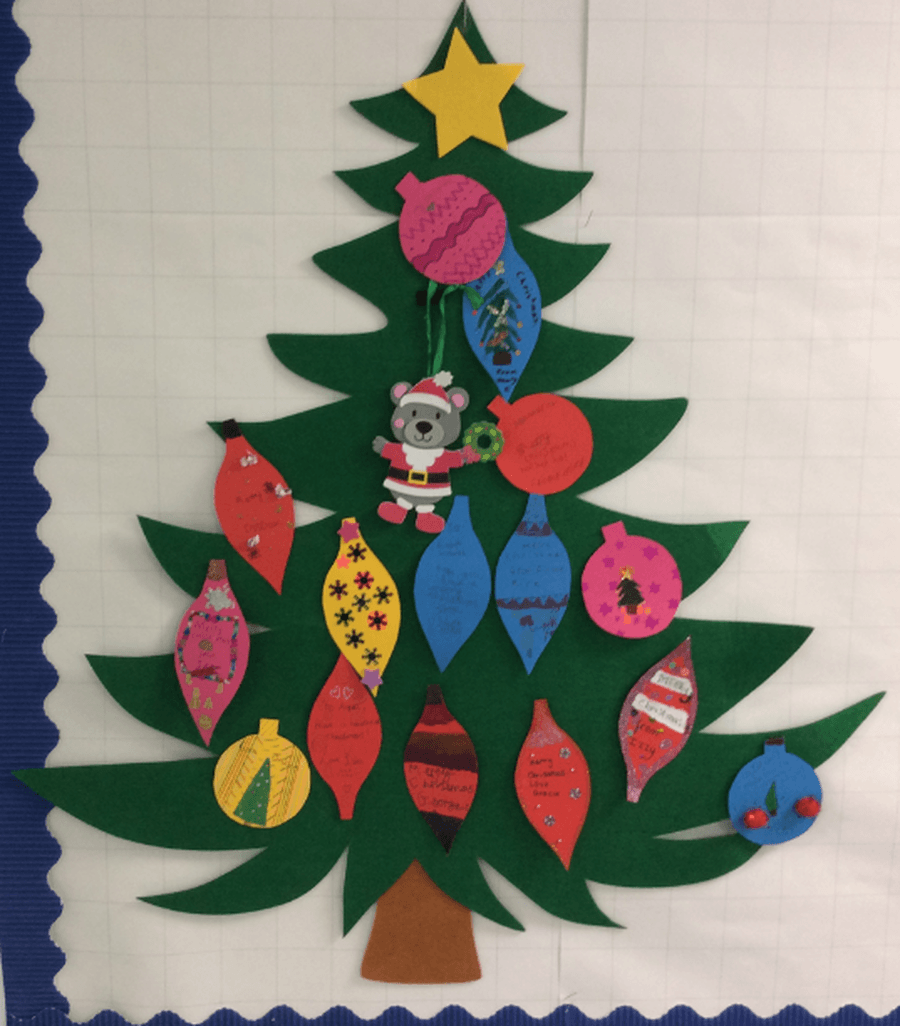 'Polar Express' Extravaganza
Our final Friday together of the autumn term was one of the most magical school days that could ever be imagined! Without doubt, we have the most amazing CSA team in the World, as their time, dedication, creativity and imagination in bringing the 'Polar Express' experience to the children was exceptional. After weeks of preparation, a very long evening and an early morning start, the preparations were completed to give children a truly memorable experience.