Lunchtimes
At Copley Junior School we use Doncaster School Meals Service. Our school meals are cooked on site by our school cook
Mrs Hemstock and her team. The school had a Food Standards Agency Inspection in November 2015, in November 2016 and November 2018 and we have received the top score of 5 'Very Good' on all three occasions. Congratulations to Mrs Hemstock and her lunchtime team!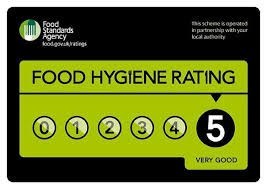 Doncaster School Meals Service menus continue to comply with the standards of Silver accreditation by the Soil Association. Part of the criteria is the spend on ethical and environmentally friendly food, taking into account locally sourced ingredients, including the use of Organic, Fairtrade and Freedom Foods.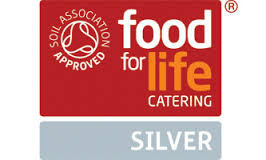 Our school meal menu runs on a three week cycle.
The following list provides the date for each menu being followed, so that you can view the meals for the week ahead. The three menus are posted below:
The new summer menu will be published here before the Easter holiday.

If your child has any particular dietary needs, you are most welcome to contact school and to meet with our school cook to discuss your child's menu. All our menus are nut free.

Lunchtime Wristbands
Following consultation with governors, pupils and members of the Parent Forum we introduced a lunchtime wristband system to ensure that all children are able to choose their main meal choice every day.
A simplified menu is displayed in the classrooms each week. Every morning when teachers complete the electronic register, children's menu choices are recorded and numbers submitted to the school kitchen. This means our school cook Mrs Hemstock is able to prepare the number of each meal option required and this ensures children all receive their meal of choice.
Just before lunchtime each day teachers can refer to the electronic dinner register and children put on their coloured wristband as appropriate:
Red=main meal, meat choice
Green=vegetarian choice
Yellow=jacket potato with a choice of two fillings
Blue=variety of sandwiches
Children wear their wristbands as they go into lunch so kitchen staff know which option to serve to each child. Wristbands are collected after each child has eaten so that we are ready for the next day. Wristbands are sterilised each week.
Salad Bar
Our salad bar is available each day and children are encouraged to eat as much salad as they want.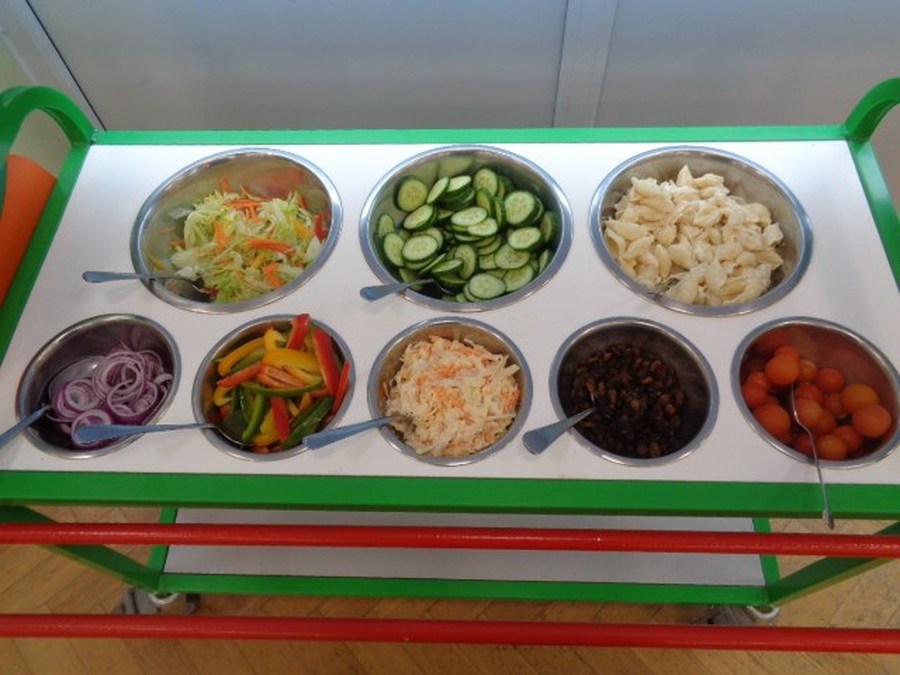 Parent/Carer Invitations to join us for School Lunch
Every year we offer opportunities for parents/carers and relatives to join us for a school lunch. The children always enjoy their adults coming to join them for a meal and it enables parents to see the organisation, choice and quality of our school meals.
Please find below comments from parents/carers and relatives following visits to join us for school lunch.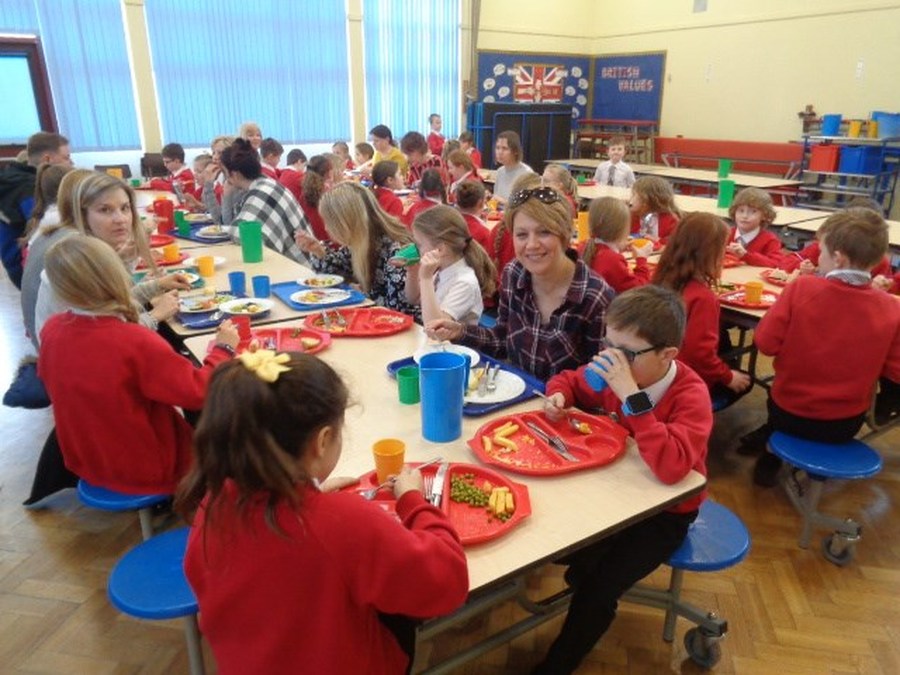 Themed Events
For Red Nose Day, our Hodgkin Year 6 House Leaders met with our school cook Mrs Hemstock to design a suitably comic school lunch. Menu items included smily ice cream, frivolous fruit salad, a hilariously healthy salad bar, iced biscuits with red noses etc. Thank you to our kitchen team for cooking a special lunch and also joining in with the fun costume requirements for the day!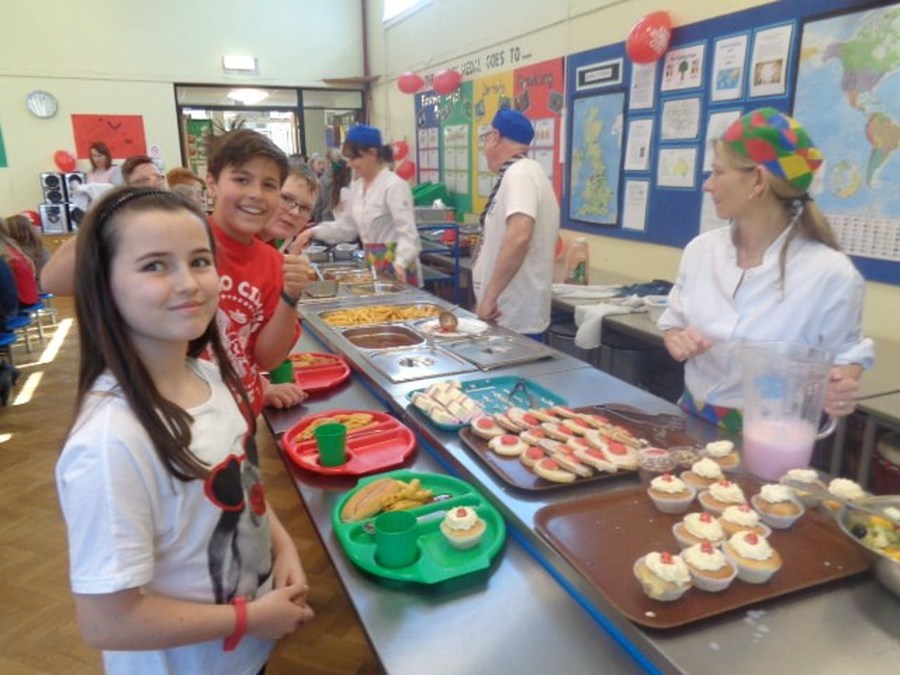 School Catering Oscar Awards - Congratulations to our Kitchen Team!
Doncaster School Meals Service organises an annual 'Oscars' event to recognise catering staff for their work. The event is fully sponsored by suppliers and takes place annually at the Doncaster Hub with awards presented by the Mayor. Our school cook Jane H and our kitchen team of Julie B, Julie C and Ken L attended the event and enjoyed having a rest whilst a lovely meal was cooked for them by students studying for their catering qualifications.
We are delighted to share that our Copley kitchen team won a Catering Oscar for their cheerful and caring service, tasty meals and for supporting school events e.g. catering for our Summer and Christmas Fairs, themed Comic Relief lunch with the menu selected by Year 6 House Leaders etc.
A smart trophy is now in pride of place in our trophy cabinet and each of our kitchen team received a voucher funded by the suppliers also.
Well done and congratulations to our Copley kitchen team who are simply the best!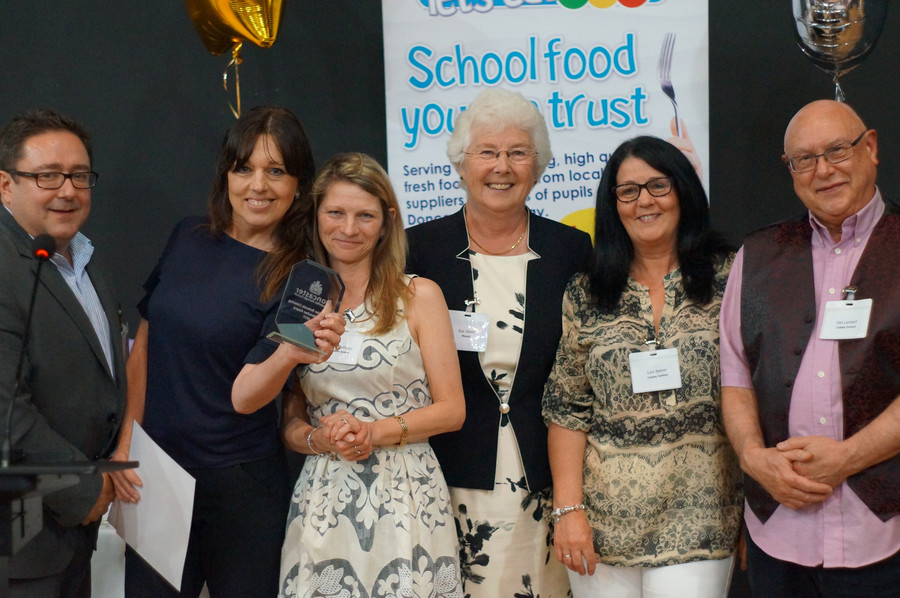 Our winning lunchtime team with their Catering Oscar, pictured with a representative from the suppliers Brakes (far left) and the Mayor of Doncaster (third from the right)