Year 5: 2019-2020
Our latest Curriculum Leaflets will keep you informed about the Cornerstones projects being studied, including the learning activities that are planned and important day to day information. They will also give information about how you can help your child at home (linked with the taught curriculum) and weekly schedules for activities such as P.E. and home learning.
Click on the links below to download the latest Curriculum Information Leaflet for children in Year 5. Parent Curriculum Leaflets will be added during the year at the start of each creative learning project.
Click on the links below to download the 'Knowledge Mat' for each project. Knowledge mats are used in class to help your child remember some of the key facts taught during the project. Knowledge mats will be added during the year at the start of each creative learning project.
You can download Copley Junior's Recommended Reading List for Year 5 by clicking here.

See the overview of what Year 5 will be learning during 2019-2020 by viewing their long term plan here.
Our Class News
News from our 'Stargazers' Creative Learning Project
Launch Event - Astronaut Training
To launch their 'Stargazers' project Year 5 took part in a rigorous programme of astronaut training. Life onboard a shuttle cannot be compared to life on Earth. So many simple tasks that we complete on Earth have to be carefully considered before completing without gravity in the confined space of the shuttle. How do you brush your teeth in space? Year 5 know the answer!
During training, children undertook a series of activities designed to enhance their response time, their core strength and prepare them for life aboard the Copley Shuttle.
Speed of Light: Using rulers and stopwatches, pupils put their reflexes to the test and investigated factors which enhanced their performance. Would they be quick enough to dodge a speeding meteor?
Crew Assembly: Living in space for months at a time in such a confined space means that your teamwork skills are really put to the test! Wearing oversized gloves to simulate an astronaut's protective outerwear, pupils worked together to construct and deconstruct vital shuttle components. It was trickier than they expected but they used their communication skills and successfully completed the task.
Spacewalk: Qualified astronauts demonstrated 'bear-crawling' and 'crab-walking' and explained the importance of body strength when in space. The days are long and the equipment is heavy. Without gravity, our muscles begin to waste and our bones become weak. Astronauts must train regularly and maintain optimum fitness to guarantee their safety in space. Pupils practised navigating complex courses using the bear-crawl and crab-walk to strengthen their core and prepare them for their great adventure.
After completing the training programme, pupils designed their own mission badge using Tim Peake's badge for inspiration. They created wonderful designs which they will be able to display on their spacesuits later in the term. Well done Year 5!
Visit to the National Space Centre

Year 5 made Copley Junior School's latest voyage to the National Space Centre in Leicester to launch the next stage of their 'Stargazers' Science project. What a fantastic venue! The children toured the galleries, which were full of interactive and engaging exhibits, and they also enjoyed a mesmerising planetarium show. The visit really helped to introduce children's learning about Space, helping them to collect vital information which will be used to write our non-chronological reports about the Solar System. The whole day will lead to extremely engaging conversations in the classroom!

Click on the first picture below to view a photograph selection from the visit.
Times Tables Rock Star Launch 2019-2020
Children and staff looked rocktastic for the launch of our Times Tables Rock Star learning for 2019-2020. Miss Mellor explained how important learning times tables is and that, with lots of practice, children need to aim for instant recall of all times tables and division facts. Miss Mellor explained how the times tables rock stars programme works. To begin with, if you need more than 10 seconds to answer questions correctly, you are a rock 'wannabe'. You will climb up the ladder of rock stardom as you get quicker at answering questions accurately - so 6 seconds or less you will become a 'breakthrough artist' and at 4 seconds or less you will become a 'headliner'. Your aim is to become a 'rock star' - you will achieve this when you can answer times tables questions correctly in 3 seconds or less. If your recall becomes even quicker you can become a 'rock hero' and, finally, a 'rock god'!
Our launch event finished with a teacher challenge - five brave (and very competitive) teachers tackled 100 instant recall questions against the clock. Miss Havercroft was victorious with a time of 1 minute 24 seconds!
You can find out more about 'Times Tables Rock Stars' by clicking here.
From our exciting visit to the National Space Centre to intriguing experiments trying to determine the most appropriate material to make space suits, this half term has been extremely busy in Year 5. I am sure you would agree that the children have had lots of amazing learning experiences! In our topic work we have explored Space and beyond, which has led us into some amazing research and science work. Indeed, the children have produced some amazing home learning projects that are creative and enriching. Our English work has allowed us to continue to develop our writing and reading as well as having our first experience of Shakespeare with an enthralling performance of 'Romeo and Juliet'. Most recently, Year 5 have been investigating alien sightings and reporting the unusual events to the shocked readers of their newspaper reports.
In maths we have continued to develop our skill set alongside more difficult 'mastery' challenges. We have most definitely needed our growth mind-set and learner values when working on the more in-depth challenges. It has been challenging but at the same time very rewarding for all. Science has involved continuing to develop our inquiry skills as well as creating our own group fact files about the Milky Way and beyond. We have also had the opportunity to look in detail at the phases of the Moon, the mechanics behind our eyes and how they work, night and day and all of the planets in our amazing Solar System.
In their science work children described the movement of Earth, and other planets, relative to the Sun in the solar system. They described the movement of the Moon relative to the Earth and that the Sun, Earth and Moon are approximately spherical bodies.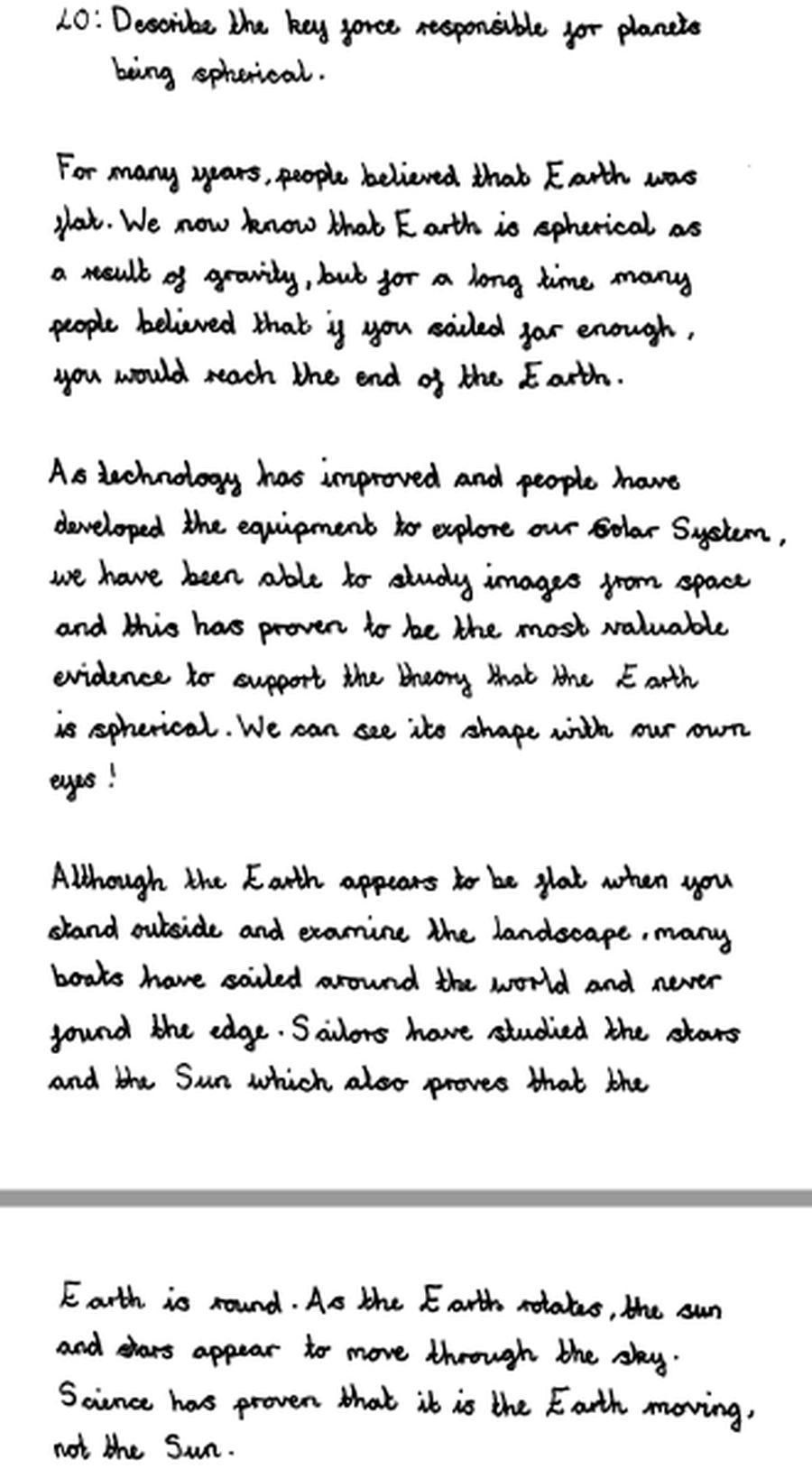 Children used their maths skills to work out the scale of our solar system in order to produce these to scale diagrams below!
Young Shakespeare Visit
Each year our children in Year 5 and 6 have the fantastic experience of engaging in 'theatre in the round' with the Young Shakespeare Company. We organise this so that by the time children leave Copley they have had live theatre experience of two Shakespeare plays.
The Young Shakespeare Company visits provide a wonderful first experience of Shakespeare. Their performance of 'Romeo and Juliet' on 30th September was, quite simply, electrifying and the children were completely absorbed.
At points children were actively involved in the performance and afterwards there was opportunity to ask the very talented actors questions about the plot and the motivation of characters etc.
'Romeo and Juliet'
Please click on the first image below to view our gallery of photographs.
Children used the idea of the Earth's rotation to explain day and night and the apparent movement of the sun across the sky.
In their study of forces, children explained that unsupported objects fall towards the Earth because of the forces of gravity acting between the Earth and the falling object and identified the effects of air resistance, water resistance and friction that act between moving surfaces.
Children love independent learning at Copley! The children thoroughly enjoyed working in groups to research and present their learning about space in their own way. Great work Year 5!
Children also carried out their own research to find out the answer to the question 'What is a moon?'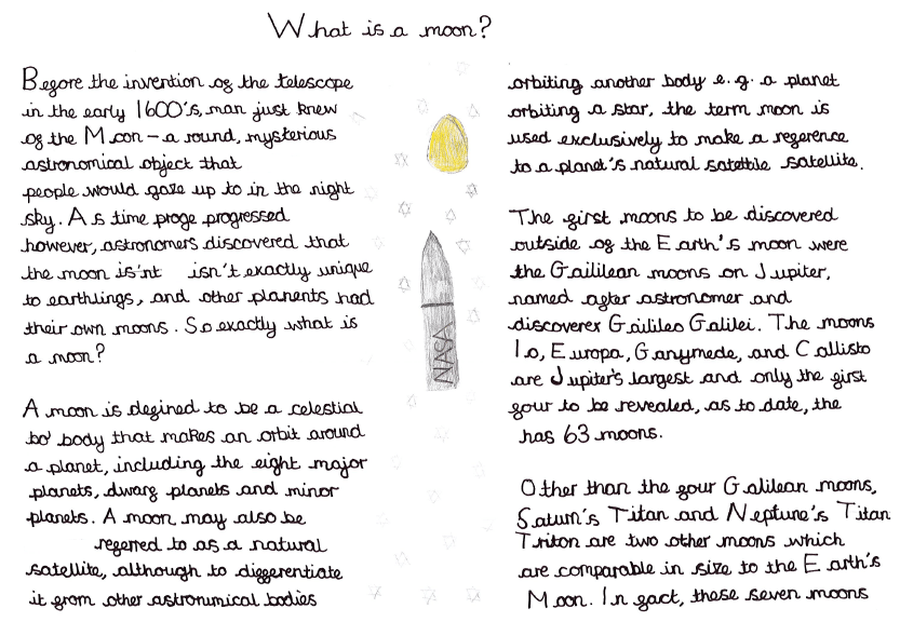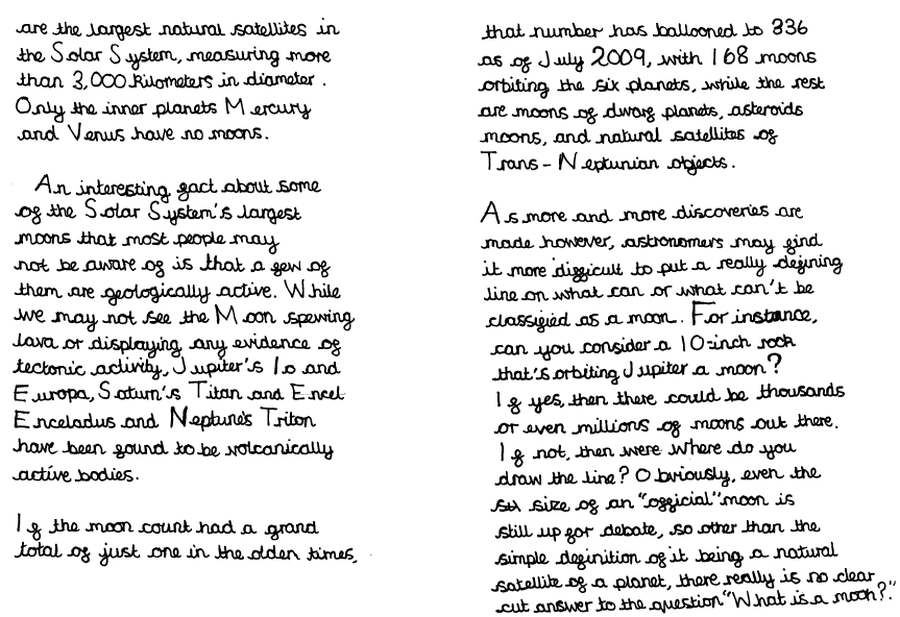 In their scientific study of forces, Year 5 used newton meters to measure forces. Children investigated that the bigger the force applied, the longer the spring stretches and the higher the reading is.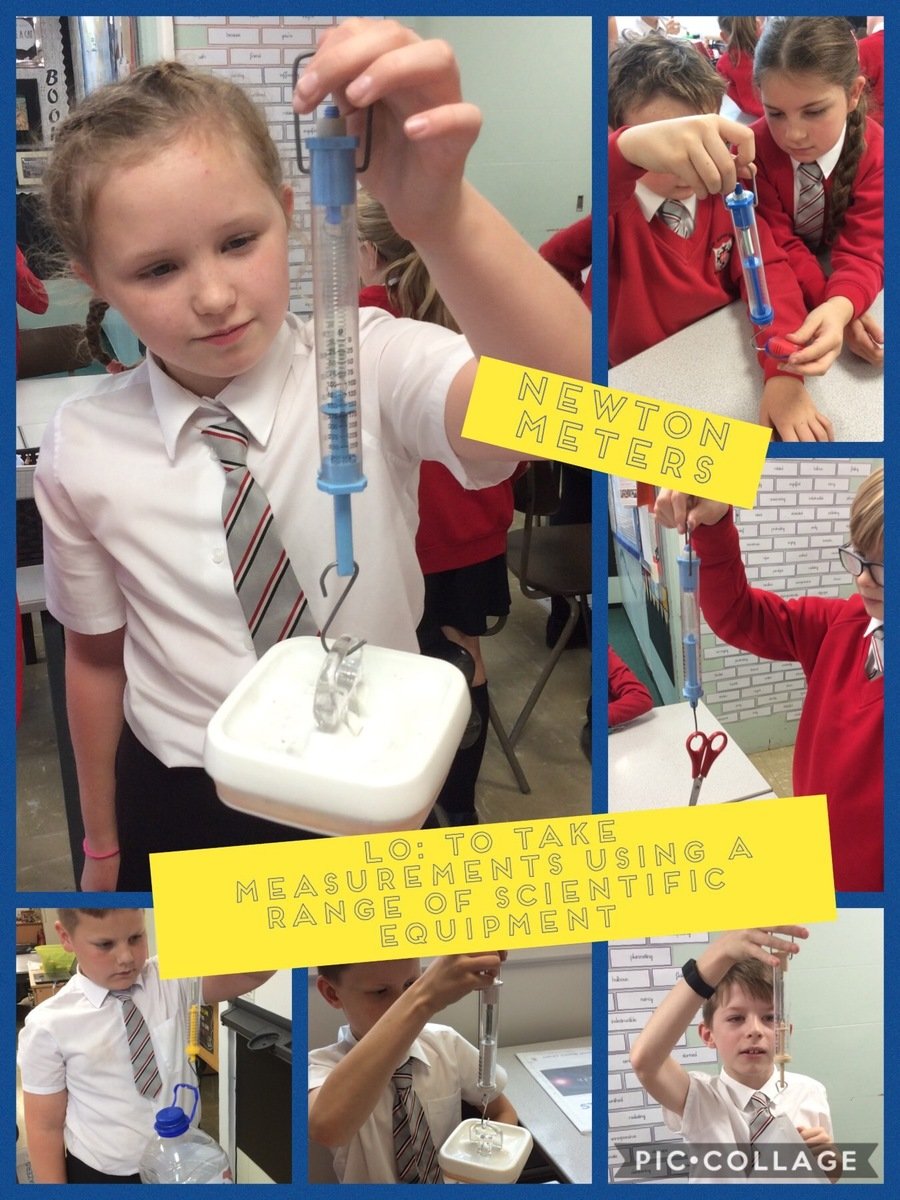 In the science investigation below, Year 5 investigated which material would be the most effective for creating an astronaut's space suit.
As part of our English work, Year 5 wrote newspaper articles to report the shocking news of an alien landing in Sprotbrough!
Please click on the picture link below to view some of Year 5's fantastic 'Stargazers' home learning work.
Thank you to parents/carers and relatives who joined us for the Year 5 express event. This was a very active and competitive event that challenged children's problem solving skills as they made rockets using limited materials in a limited timescale.
To read some of the comments from parents/carers and relatives about our express event, please click here.
Year 5 'Stargazers' Display
Our Link with Pupils at St Joseph, Carquefou
Pupils across Year 5 were excited to receive their first replies from their French pen friends. We are looking forward to exploring our link with Saint Joseph School again this year.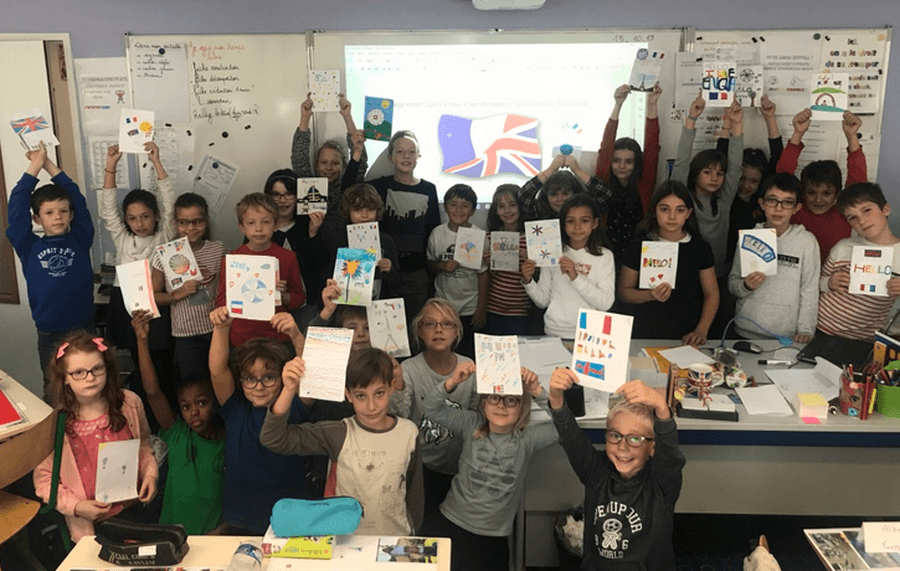 News from our 'Pharaohs' Creative Learning Project
Kicking off their learning project on Ancient Egypt with a trip to Weston Park, Year 5 explored the exhibitions in the museum before undertaking the task of mummification. Extracting brains through the nostrils and placing vital organs in Canopic jars were just a few of the tasks they undertook before making their own 'shabti' to be buried alongside 'Dead Fred'.
Did you know that the Egyptians used to bury their slaves alive alongside their mummified bodies so that they would have a slave in the afterlife? This didn't last long because the slaves would run away every time someone in the family fell ill. This is why they began making a 'shabti' (a small model of a slave) to be buried alongside their mummified remains. All of the children decided that making a 'shabti' was much kinder than being buried alive!
Touring the Museum
Click on the first picture below to view a photograph selection from our visit to Weston Park.
Click on the first picture below to view a photograph selection from our workshop session at Weston Park.