Year 4: 2019-2020
Our latest Curriculum Leaflets will keep you informed about the Cornerstones projects being studied, including the learning activities that are planned and important day to day information. They will also give information about how you can help your child at home (linked with the taught curriculum) and weekly schedules for activities such as P.E. and home learning.
Click on the links below to download the latest Curriculum Information Leaflet for children in Year 4. Parent Curriculum Leaflets will be added during the year at the start of each creative learning project.
Click on the links below to download the 'Knowledge Mat' for each project. Knowledge mats are used in class to help your child remember some of the key facts taught during the project. Knowledge mats will be added during the year at the start of each creative learning project.
You can download Copley Junior's Recommended Reading List for Year 4 by clicking here.

See the overview of what Year 4 will be learning during 2019-2020 by viewing their long term plan here.
Our Class News
News from our 'Raiders and Traders' Creative Learning Project
Viking Attack!
On Thursday 12th September, Year 4 went on an exciting trip to Murton Park, to fully experience what it was like to be a Viking. The children were greeted by a strong Viking woman named Runa, who prepared them for the day ahead. The children dressed as Vikings and, for one day only, the adults dressed as the children's slaves! They then made their way to the Viking village where they met 'My Lord'. Once My Lord had accepted them into his village, it was time to get to work!
Throughout the day the children got to be craftsmen, shaping and decorating their own individual pots, farmers, preparing the land to ensure the crops would grow, they ground the flour for bread-making and collected wood, and they also learned how to be powerful Viking guards. It was a perfect, fun-filled day that helped kick start our Traders and Raiders topic. The children were wonderfully behaved and thoroughly enjoyed themselves.
Click on the first picture below to view a photograph selection from our visit to Murton Park.
Vikings Attack!
Please click on the video clips to see our fierce Vikings in action!
In their history lessons, Year 4 learned about significant Viking events and historical figures, such as King Alfred and Eric Bloodaxe, and placed these in chronological order on a timeline using dates. Children used dates and terms to describe events, including BC, AD, century, decade, after, before and during.
During their project 'Raiders and Traders' Year 4 used maps of Europe to identify the countries that the Viking raiders came from. The children started by locating the world's countries, using maps and atlases to focus on Europe, including the location of Russia.
The children then identified the different continents of the world and created a key.
Children then annotated maps to find out where the Vikings came from and where they settled.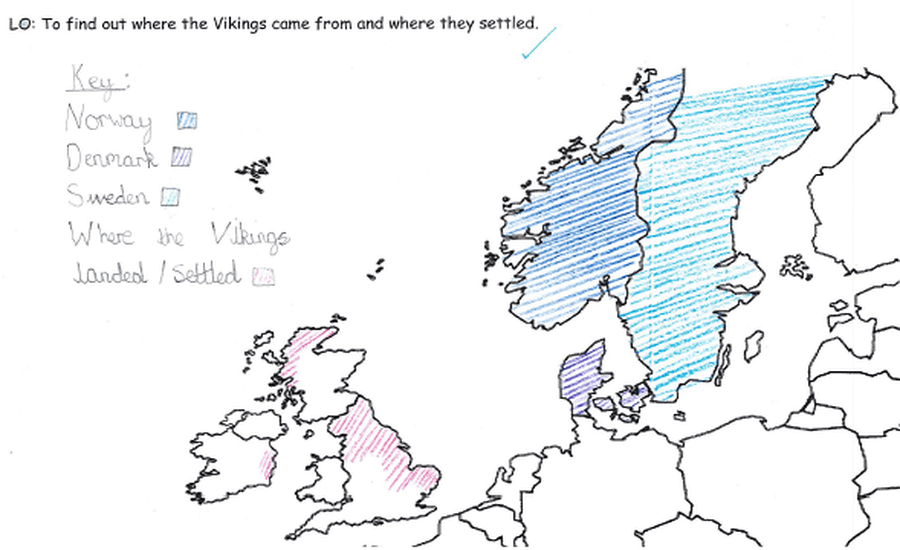 As Year 4 learned about where the Vikings settled, they looked in more detail at a map of our local area. Viking words can be found in many English place names and indicate the key feature of the local area where the Vikings settled e.g. -ton=hedge or fence, later a farm (Branton); -by=farmhouse/dwelling (Cadeby); -thorpe=hamlet/village (Armthorpe). Children looked at a map of our local area, produced a colour key and identified place names of Viking origin, locating these on a local map and recording their findings in a table.
We also learned about Viking runes and wrote messages for our friends to decode.
We delved into an Anglo Saxon world of danger and suspense through the story of 'Beowulf' which inspired the children to write a description full of suspense.
As part of our history work Year 4 were given the choice of finding out about an aspect of Viking life they wanted to know more about. The children used library books, primary internet websites and information gained from their visit to Murton Park to research information and make notes. The children then chose how to present their learning.
Year 4 Express
It was lovely to welcome so many parents/carers and relatives to Year 4's Viking express event. The children showcased some of their fantastic project work, they demonstrated how to defend a Viking raid and even invited the parents to join in!
Year 4 demonstrated to the parents and relatives how the Vikings would defend themselves.
Then, very much to the children's delight, it was time for some of the parents to have a go!
There was high drama and excitement when the Vikings were surprised by a couple of Saxon intruders!
To read some of the comments from parents/carers and relatives about our express event, please click here.
Please click on the picture link below to view some of Year 4's fantastic home learning work.
Times Tables Rock Star Launch 2019-2020
Children and staff looked rocktastic for the launch of our Times Tables Rock Star learning for 2019-2020. Miss Mellor explained how important learning times tables is and that, with lots of practice, children need to aim for instant recall of all times tables and division facts. Miss Mellor explained how the times tables rock stars programme works. To begin with, if you need more than 10 seconds to answer questions correctly, you are a rock 'wannabe'. You will climb up the ladder of rock stardom as you get quicker at answering questions accurately - so 6 seconds or less you will become a 'breakthrough artist' and at 4 seconds or less you will become a 'headliner'. Your aim is to become a 'rock star' - you will achieve this when you can answer times tables questions correctly in 3 seconds or less. If your recall becomes even quicker you can become a 'rock hero' and, finally, a 'rock god'!
Our launch event finished with a teacher challenge - five brave (and very competitive) teachers tackled 100 instant recall questions against the clock. Miss Havercroft was victorious with a time of 1 minute 24 seconds!
You can find out more about 'Times Tables Rock Stars' by clicking here.
'Godly Play' at the Methodist Church
Members of the Methodist Church work closely with Year 4 pupils each year. The 'Godly Play' sessions include visits to the Methodist Church and workshop sessions in school. The sessions are very lively and engaging and encourage children to explore their values and beliefs. Below are some of the photographs from a 'Godly Play' session at the Methodist Church, when children found out about all the different jobs undertaken there. Then, the children learned about all the different and important features in the church and took part in a quiz! In the second Godly Play session, Godly Play visited the school and taught the children all about the 10 Commandments. The children had fun learning about these and then enjoyed discussing some of the rules that they have to follow.
Click on the first image below to browse through our gallery of photographs.