Year 5 2021-2022
Welcome to the Year 5 class page. Here you will find news and photos about the learning in Year 5 during 2021-2022.
Year 5 Curriculum Leaflets
Our Curriculum Leaflets will keep you informed about the Cornerstones projects being studied, including the learning activities that are planned and important day to day information. They will also give information about how you can help your child at home (linked with the taught curriculum) and weekly schedules for activities such as P.E. and home learning. Curriculum leaflets are emailed to parents via our ParentPay system.

Click on the links below to download the Curriculum Information Leaflets for children in Year 5.
Year 5 Knowledge Mats
Please click on the project titles below to see the 'knowledge mat' for each project. Your child has their own personal copy of the knowledge mat for each project and these are used in class to help your child remember some of the key facts being taught. Knowledge mats are also posted in children's Seesaw accounts and are emailed to parents via our ParentPay system.
You can download Copley Junior's Recommended Reading List for Year 5 by clicking here.

See the overview of what Year 5 will be learning during 2021-2022 by viewing their long term plan here.
Our 'Quick Links' page provides quick links to a wide range of school information, including links to school routines, links to information about our delivery of different curriculum areas etc.
Home Learning in Year 5

All our home learning tasks are shared via our Seesaw app. At the beginning of each half term, the home learning challenges grid will be uploaded to Seesaw. The grid contains a range of activities and specifies the number of each type of activity (maths, writing and creativity) to be completed. Children may complete the tasks at any time but must have completed the specified number by the end of the half term. All completed work (or work in progress pictures!) can be shared via Seesaw so achievements can be celebrated. At times, teachers may ask children to bring their work in to school. The learning challenge grid for each project is shared below, as well as some examples of the fantastic work completed by the children. The 'hall of fame' gallery is updated at the end of each project to celebrate the children's achievements.
To view the Year 5 Home Learning page and see our home learning grids and examples of some of the children's fantastic work, please click here.
Year 5 Visit to the National Space Centre
To infinity and beyond!
Year 5 explored the galaxy learning amazing facts about our universe. Science, Design and Technology and Maths were all incorporated into a fantastic, interactive learning experience which the children thoroughly enjoyed. This great engagement activity has certainly enthused the children for the work that is to come throughout our Stargazers project.
Below is a gallery of exploration and excitement - enjoy!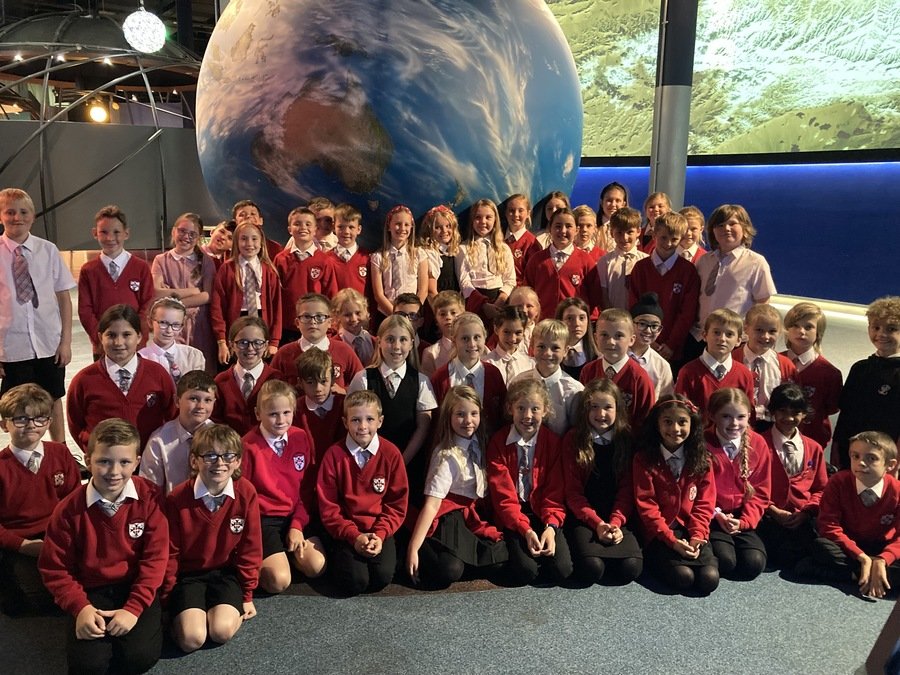 Our day was fascinating! In the planetarium we were transported to the International Space Station (ISS) and saw the working conditions of astronauts through their own eyes. You certainly needed a strong stomach for all of that weightlessness!
Did you know that the main purpose of an astronaut's space suit is to protect them from the extreme temperatures of space? We tried one on for size.