Year 5 2021-2022
Welcome to the Year 5 class page. Here you will find news and photos about the learning in Year 5 during 2021-2022.
Year 5 Curriculum Leaflets
Our Curriculum Leaflets will keep you informed about the Cornerstones projects being studied, including the learning activities that are planned and important day to day information. They will also give information about how you can help your child at home (linked with the taught curriculum) and weekly schedules for activities such as P.E. and home learning. Curriculum leaflets are emailed to parents via our ParentPay system.

Click on the links below to download the Curriculum Information Leaflets for children in Year 5.
Year 5 Knowledge Mats
Please click on the project titles below to see the 'knowledge mat' for each project. Your child has their own personal copy of the knowledge mat for each project and these are used in class to help your child remember some of the key facts being taught. Knowledge mats are also posted in children's Seesaw accounts and are emailed to parents via our ParentPay system.
You can download Copley Junior's Recommended Reading List for Year 5 by clicking here.

See the overview of what Year 5 will be learning during 2021-2022 by viewing their long term plan here.
Our 'Quick Links' page provides quick links to a wide range of school information, including links to school routines, links to information about our delivery of different curriculum areas etc.
Home Learning in Year 5

All our home learning tasks are shared via our Seesaw app. At the beginning of each half term, the home learning challenges grid will be uploaded to Seesaw. The grid contains a range of activities and specifies the number of each type of activity (maths, writing and creativity) to be completed. Children may complete the tasks at any time but must have completed the specified number by the end of the half term. All completed work (or work in progress pictures!) can be shared via Seesaw so achievements can be celebrated. At times, teachers may ask children to bring their work in to school. The learning challenge grid for each project is shared below, as well as some examples of the fantastic work completed by the children. The 'hall of fame' gallery is updated at the end of each project to celebrate the children's achievements.
To view the Year 5 Home Learning page and see our home learning grids and examples of some of the children's fantastic work, please click here.
Year 5 Visit to the National Space Centre
To infinity and beyond!
Year 5 explored the galaxy learning amazing facts about our universe. Science, Design and Technology and Maths were all incorporated into a fantastic, interactive learning experience which the children thoroughly enjoyed. This great engagement activity has certainly enthused the children for the work that is to come throughout our Stargazers project.
Below is a gallery of exploration and excitement - enjoy!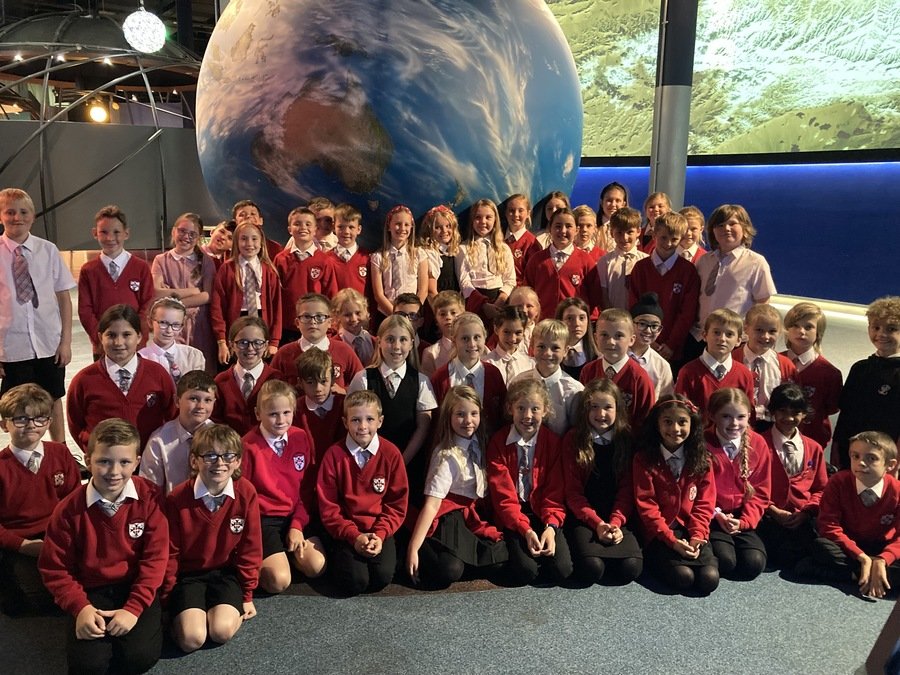 Our day was fascinating! In the planetarium we were transported to the International Space Station (ISS) and saw the working conditions of astronauts through their own eyes. You certainly needed a strong stomach for all of that weightlessness!
Did you know that the main purpose of an astronaut's space suit is to protect them from the extreme temperatures of space? We tried one on for size.
Launch Event - Astronaut Training
To launch their 'Stargazers' project Year 5 took part in a rigorous programme of astronaut training. Life onboard a shuttle cannot be compared to life on Earth. So many simple tasks that we complete on Earth have to be carefully considered before completing without gravity in the confined space of the shuttle. How do you brush your teeth in space? Year 5 know the answer!
During training, children undertook a series of activities designed to enhance their response time, their core strength and prepare them for life aboard the Copley Shuttle.
Speed of Light: Using rulers and stopwatches, pupils put their reflexes to the test and investigated factors which enhanced their performance. Would they be quick enough to dodge a speeding meteor?
Crew Meal: Living in space for months at a time astronauts need food that can last for long periods of time. Freeze-dried and vacuum-packed foods are a popular choice as the moisture is removed prolonging the length of time that the food can last in space. Pupils tried a variety of healthy dried foods and identified what each one was. Some of them were very tricky as they looked and smelled nothing like their original state!
Spacewalk: Qualified astronauts demonstrated 'bear-crawling' and 'crab-walking' and explained the importance of body strength when in space. The days are long and the equipment is heavy. Without gravity, our muscles begin to waste and our bones become weak. Astronauts must train regularly and maintain optimum fitness to guarantee their safety in space. Pupils practised navigating complex courses using the bear-crawl and crab-walk to strengthen their core and prepare them for their great adventure.
Well done to all Year 5 pupils who successfully completed their astronaut training programme.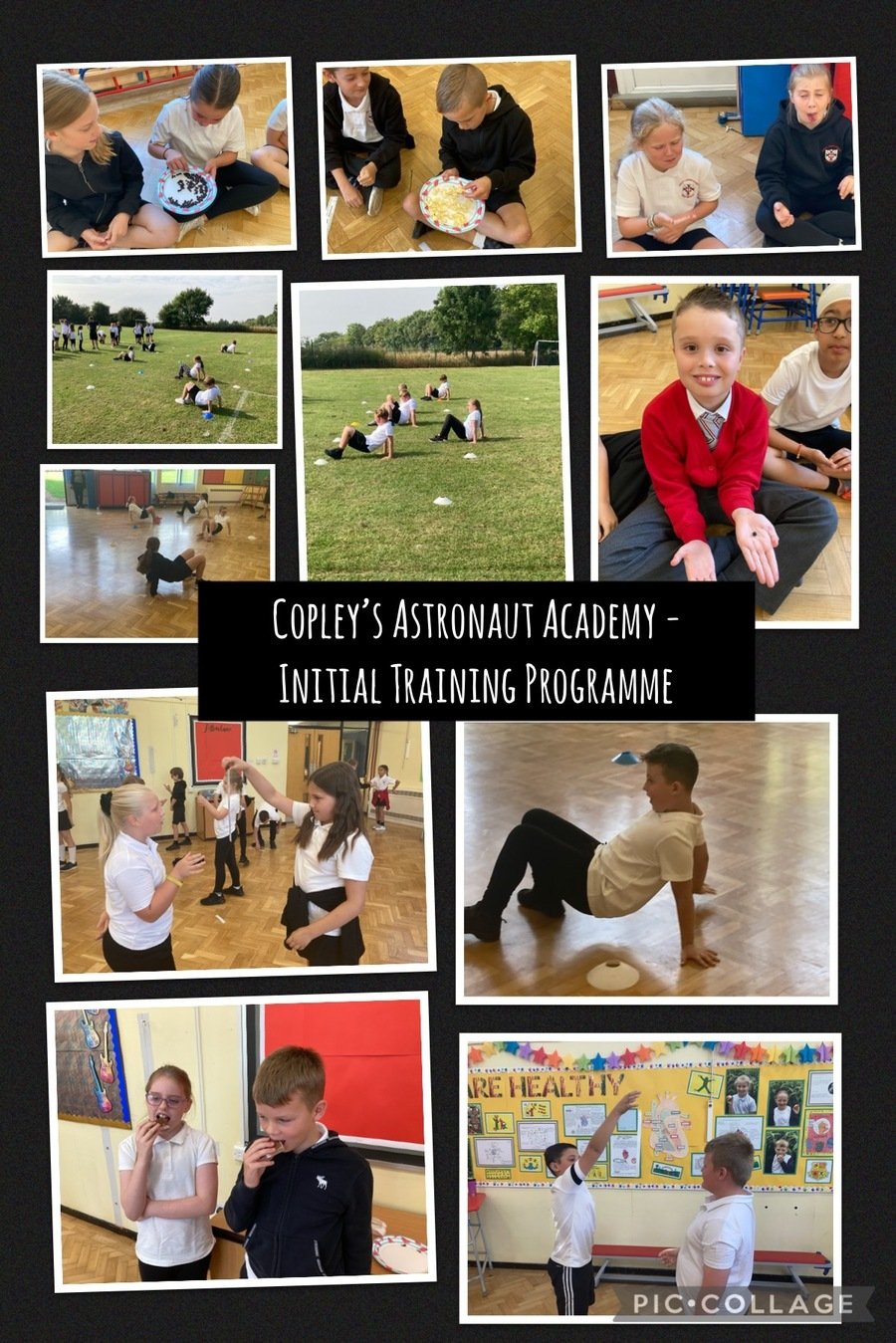 As part of our astronaut training we designed mission badges to be worn on our space suits. We thought carefully about things that represented us and our future space missions!
Children enjoyed undertaking their own research and choosing what they wanted to find out more about.
In their science project 'Stargazers' children described the movement of Earth, and other planets, relative to the Sun in the solar system. They described the movement of the Moon relative to the Earth and that the Sun, Earth and Moon are approximately spherical bodies.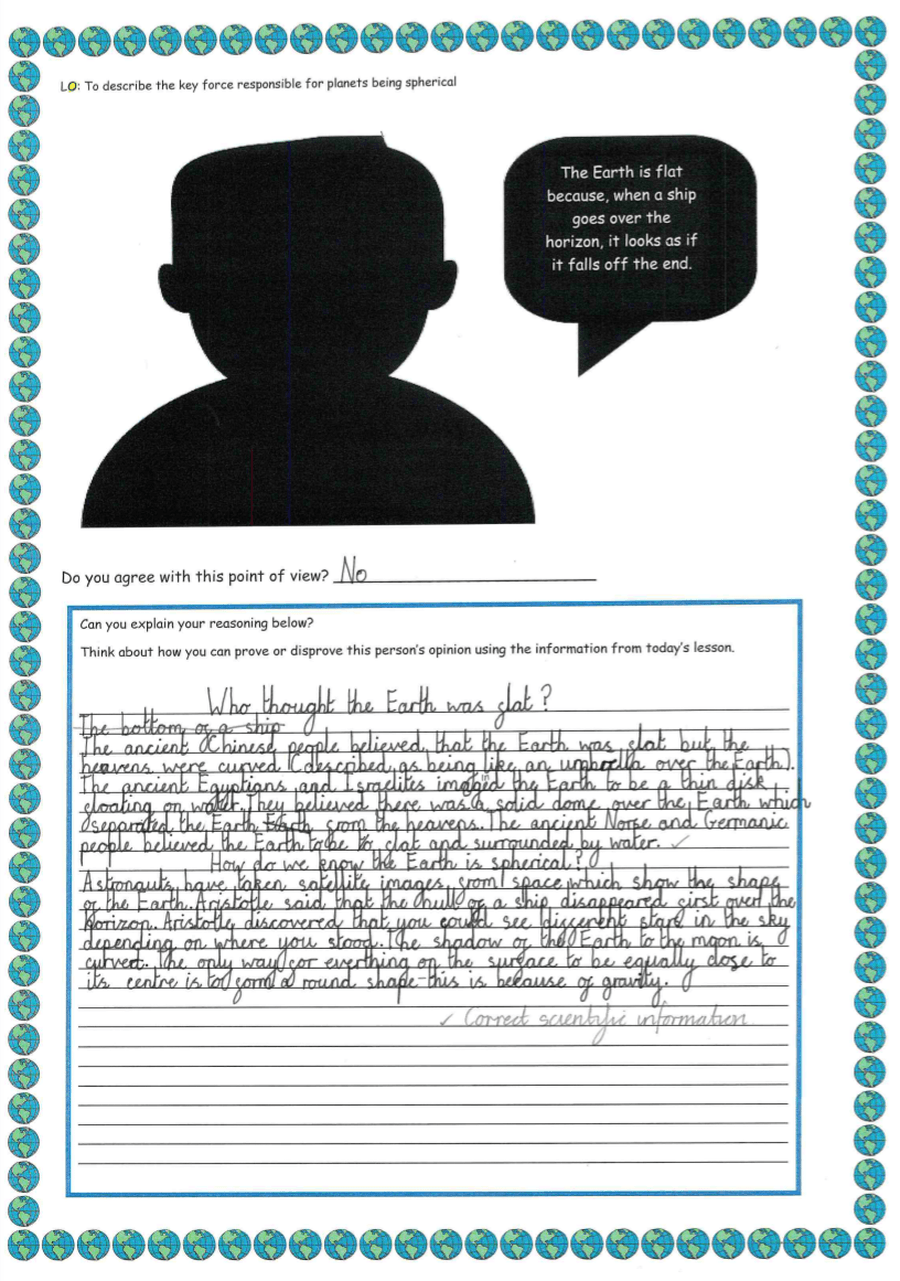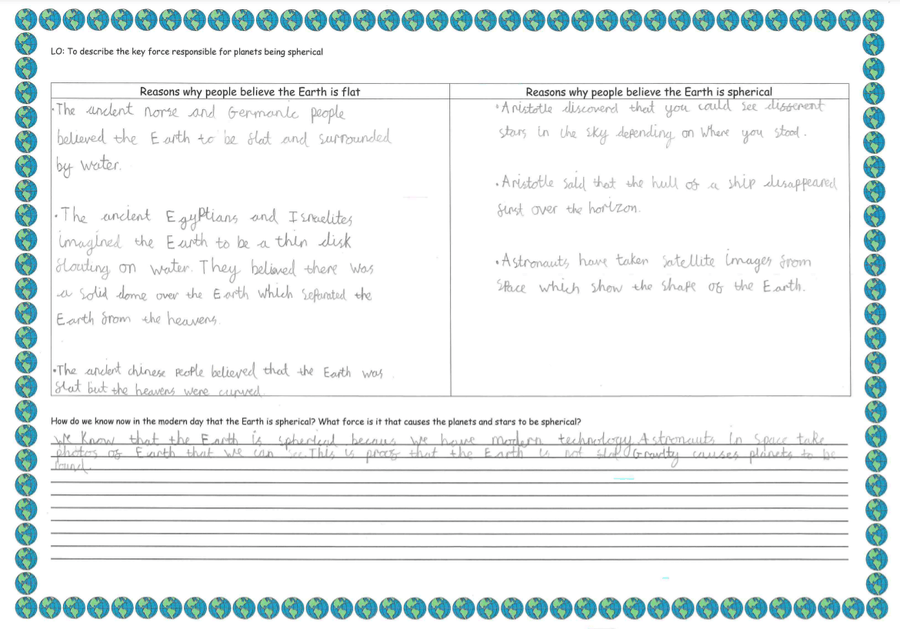 Year 5 learned to recognise and name the phases of the Moon. We recognised that the moon does not change shape but the amount of it that we see varies depending on the moon's position in relation to the sun. We were fascinated to learn that the moon does not produce light. Did you know that we use the sun's light as it reflects off the surface of the moon to see it from Earth?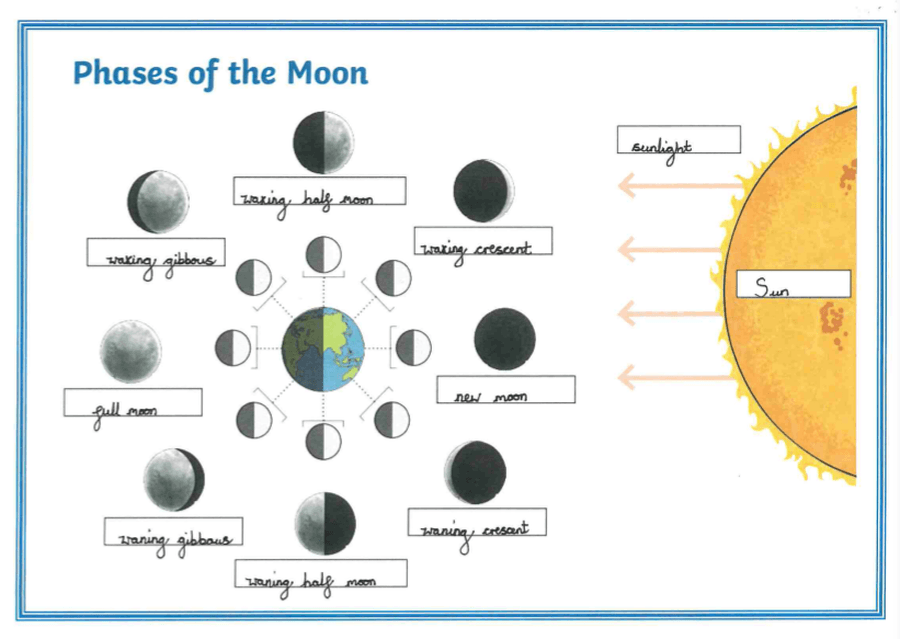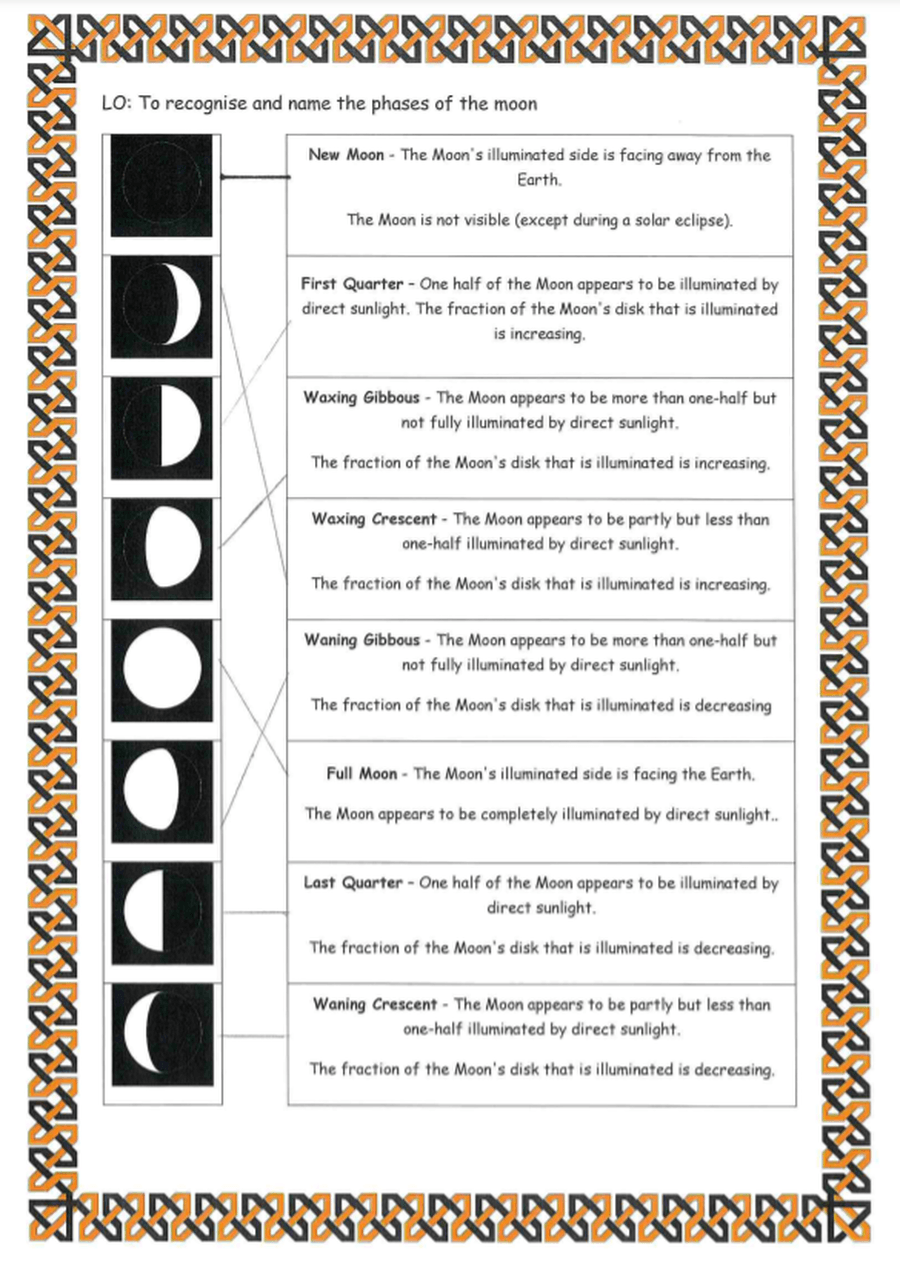 Children used the idea of the Earth's rotation to explain day and night and the apparent movement of the sun across the sky.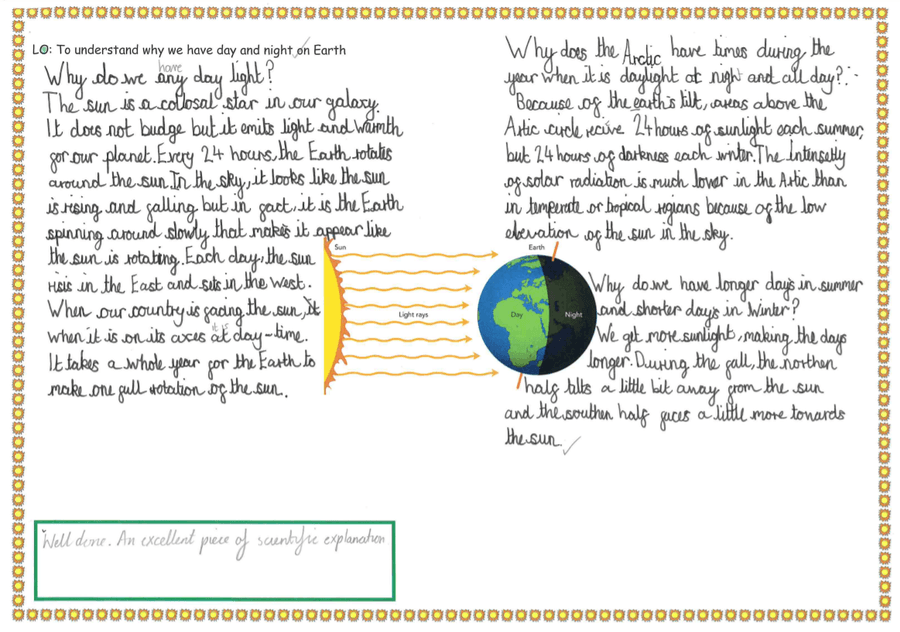 In their scientific study of forces, Year 5 used newton meters to measure forces. Children investigated that the bigger the force applied, the longer the spring stretches and the higher the reading is.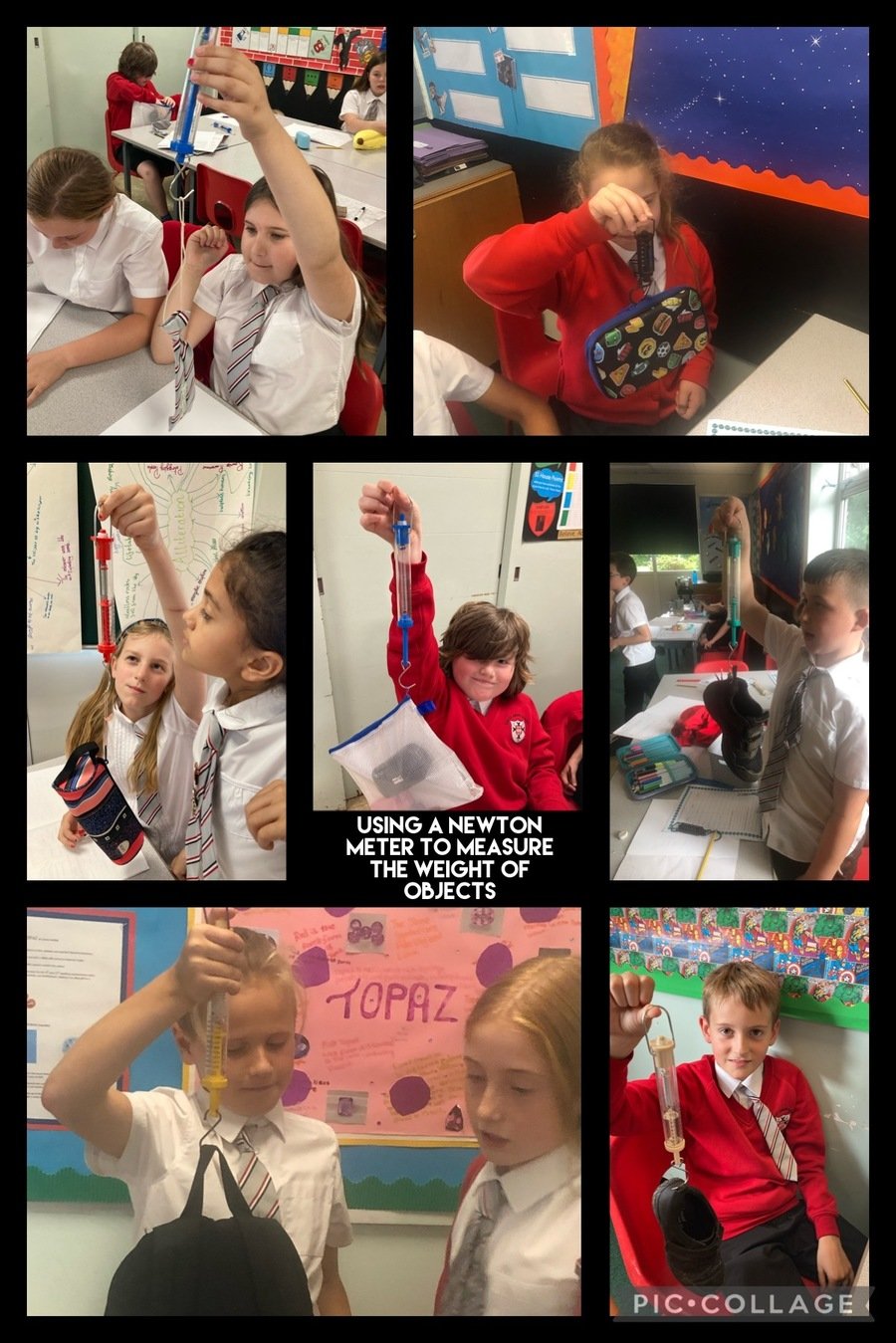 Our Home Learning is Out of This World!
Miss Wright and Miss Hull have been blown away by the effort and creativity that has been shown by the children in Year 5. We have seen examples of baking, tie-dying, constructing, calculating and building as Year 5 ventured out on their space exploration. Some children chose to present their learning in very exciting and creative ways from a television news broadcast to rapping facts about the planets. Fantastic work Year 5!
Year 5 baked biscuits and buns to represent the different planets in our Solar System. We are sure you would agree that the results were stellar!
There were so many amazing activities to choose from! We developed our ICT use by using Microsoft Word and PowerPoint and using search engines to locate information about astronauts, planets and life in outer space! Some of us were inspired to go to museums and saw artefacts that have actually already been to space. Amazing!