Art
In Art and Design we aim to ensure that all pupils:
produce creative work, exploring their ideas and recording their experiences

become proficient in drawing, painting, sculpture and other art, craft and design techniques

evaluate and analyse creative works using the language of art, craft and design

know about the great artists, craft makers and designers, and understand the historical and cultural development of their art forms
As well as class based Art and Design work linked to our creative learning projects, we also offer extra-curricular art clubs which are offered to all year groups through the academic year.
Click on the first picture below to view our gallery of art work.
During their 'Scrumdiddlyumptious' project Year 3 studied the art work of Giuseppe Arcimboldo. Children then created their own fruit and vegetable themed sketches and paintings.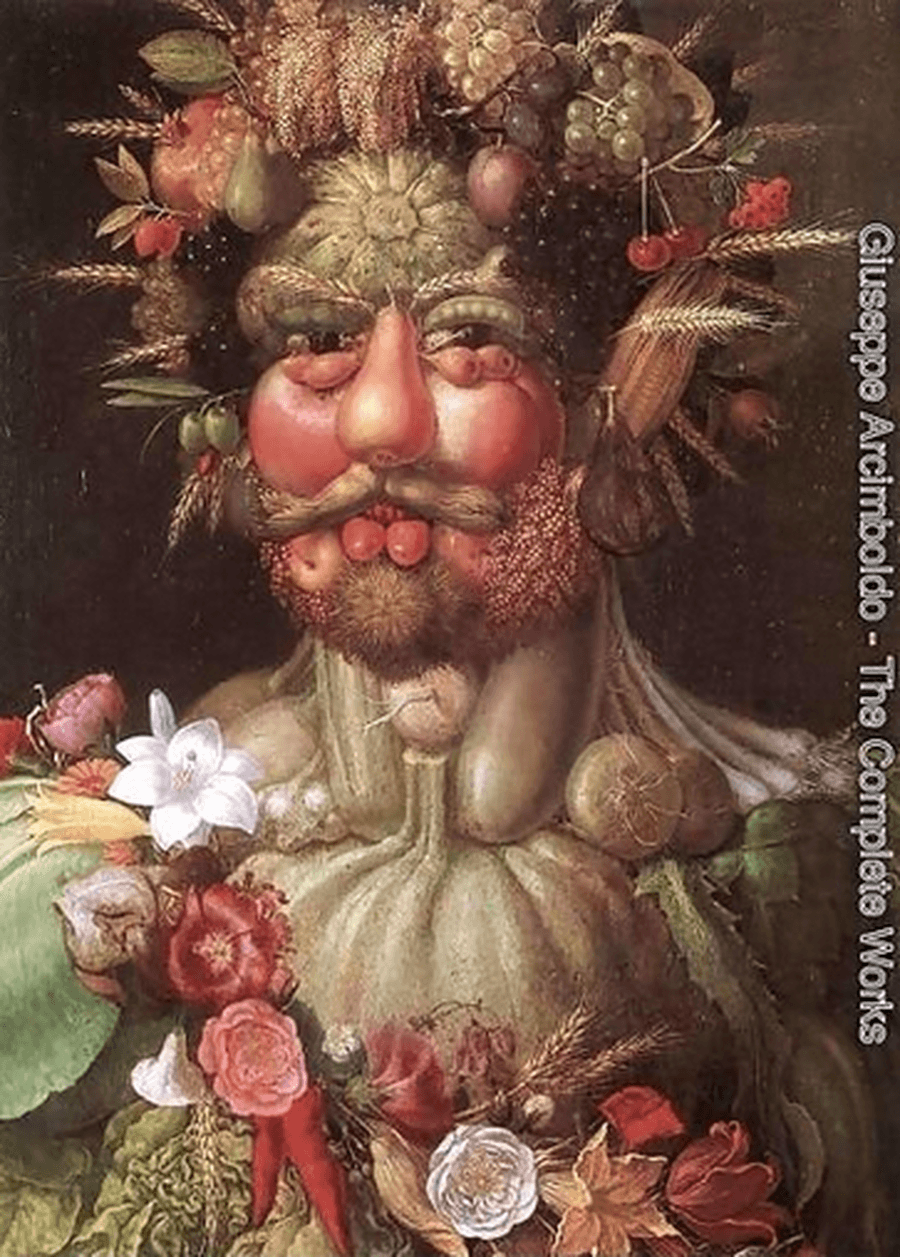 Allegra used fabrics and collage to create 'Rusty the Autumn Man'. Wonderful creative work Allegra!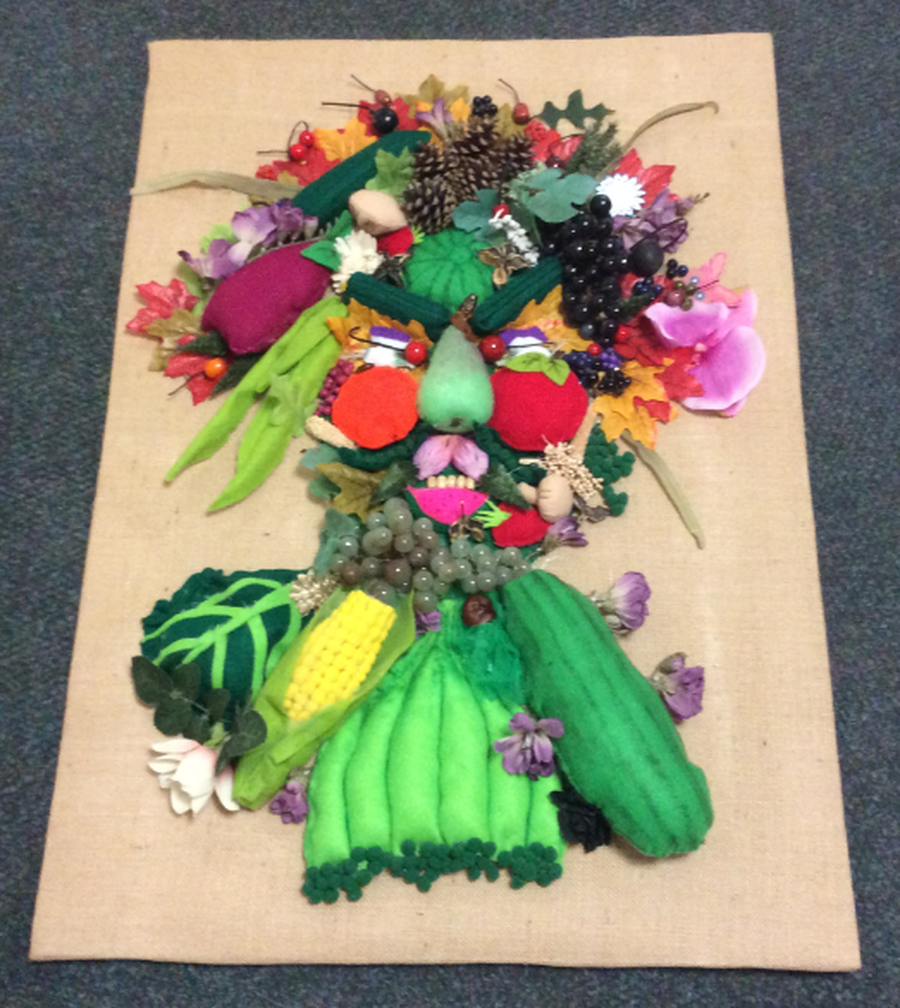 As part of their work on 'Predators' Year 3 created pastel drawings of birds of prey.
Please see our slide show selection of pastel drawings below.
Please see our slide show selection below of art pieces on the theme of 'Predator' by Year 3.
'The Eye of a Dragon' - Year 3 blended pastels to create these striking dragon eyes. Very creative work, Year 3!
Year 3 opened their art gallery for parents and relatives to enjoy viewing their creative work.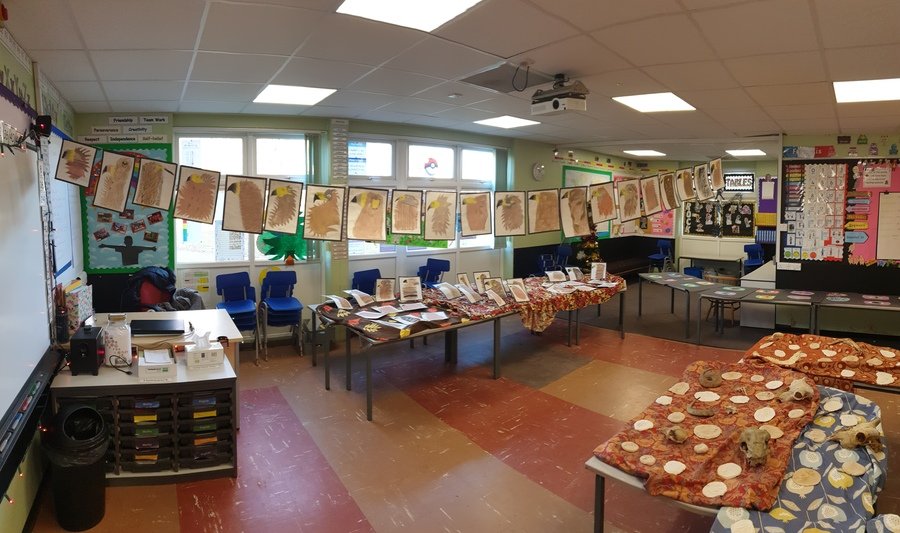 As part of their project on Ancient Greece, 'Gods and Mortals', the children in Year 3 created their own vases, building up papier mache over a balloon structure, before painting and decorating their vases, making their patterns and pictures look as authentic as possible.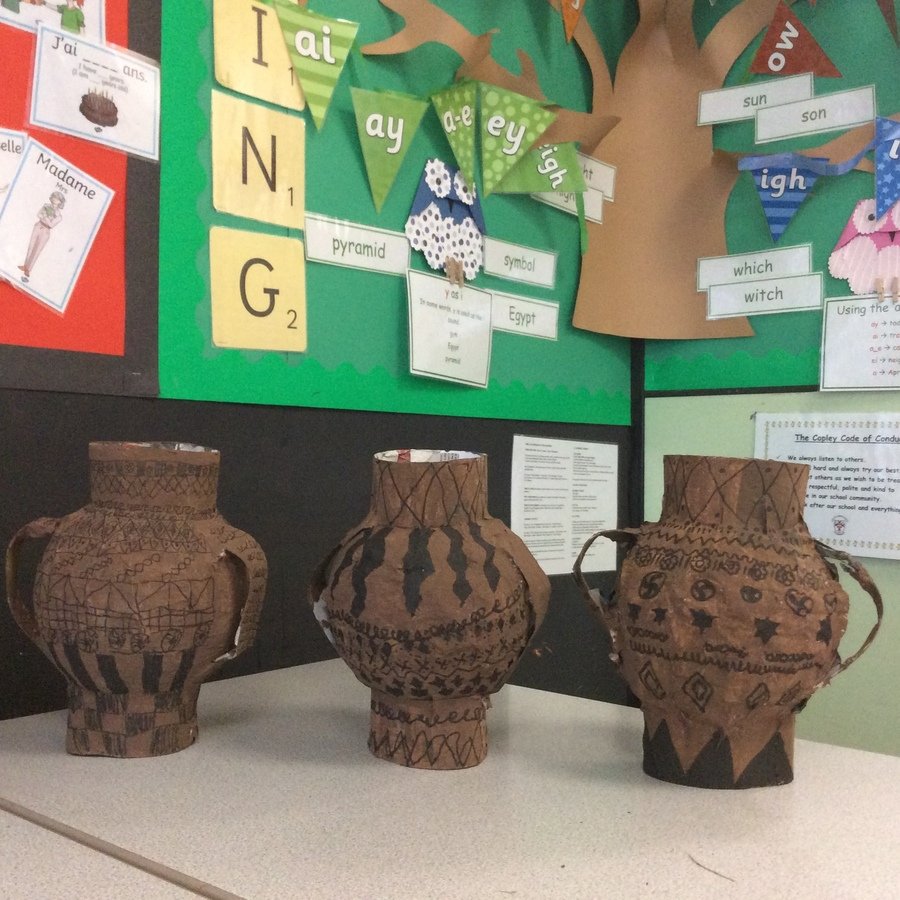 Year 3 children experimented with blending pastels and chalks as they created 'Iron Man' drawings based on their class text 'The Iron Man' during their 'Mighty Metals' project.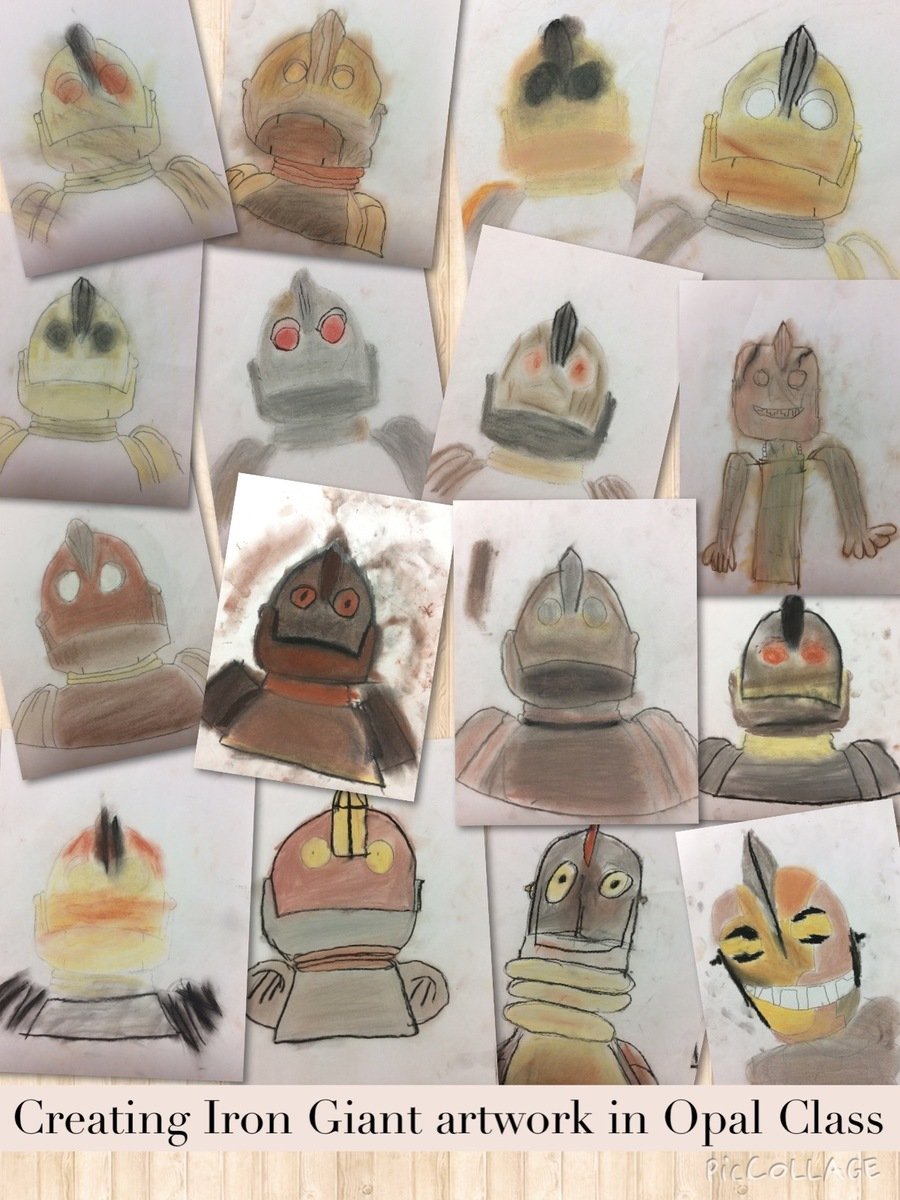 Year 4 paintings of Boudicca reflect their research as part of their project 'I am Warrior' on the Romans.
As part of their history study of the Romans, children designed and created their own mosaic tiles. Lovely work Year 4!
In their PSHCE lesson Year 4 discussed 'The Scream' by Edvard Munch. Children considered the emotions of the figure in the foreground and why he might be screaming. This led to discussion of anxiety, fears and phobias and ways in which we can cope with these.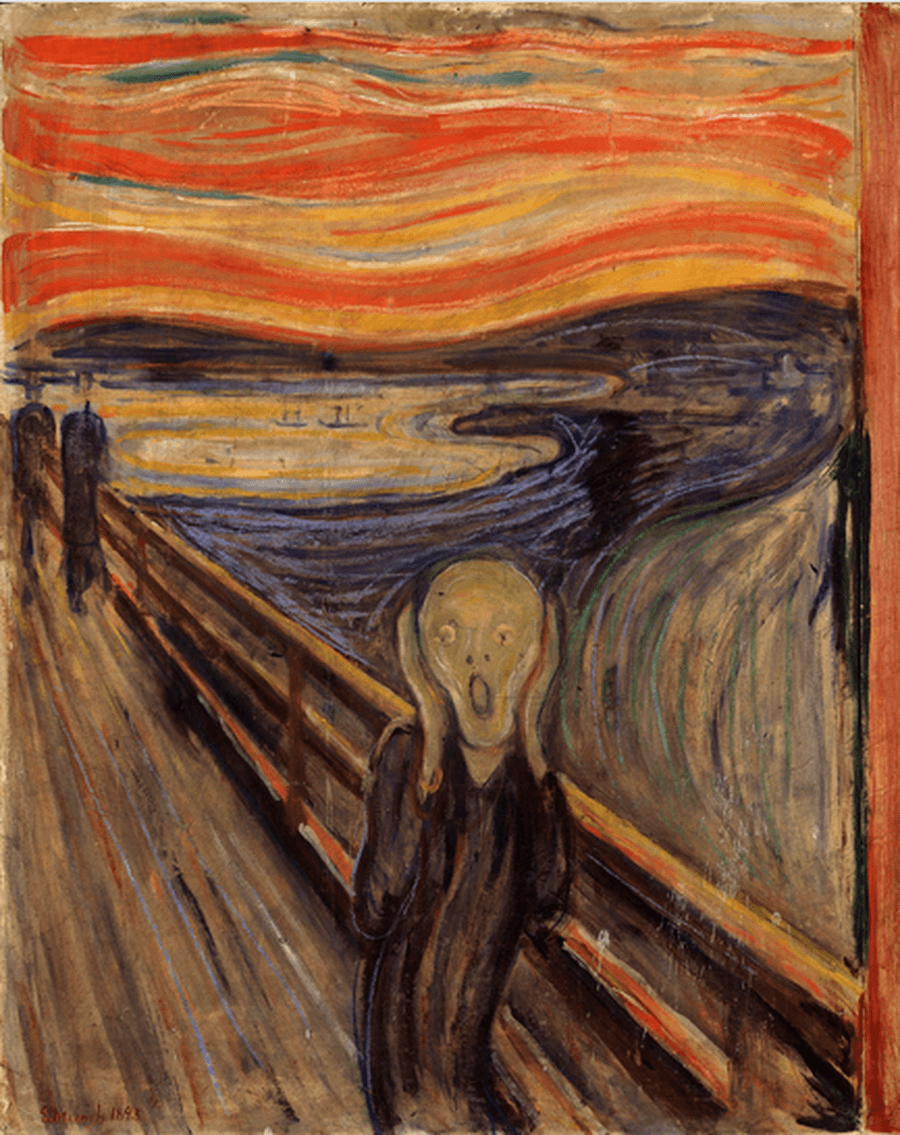 As part of their 'Pharaohs' creative learning project, children in Year 5 designed and made canopic jars using papier mache and lots of gold paint.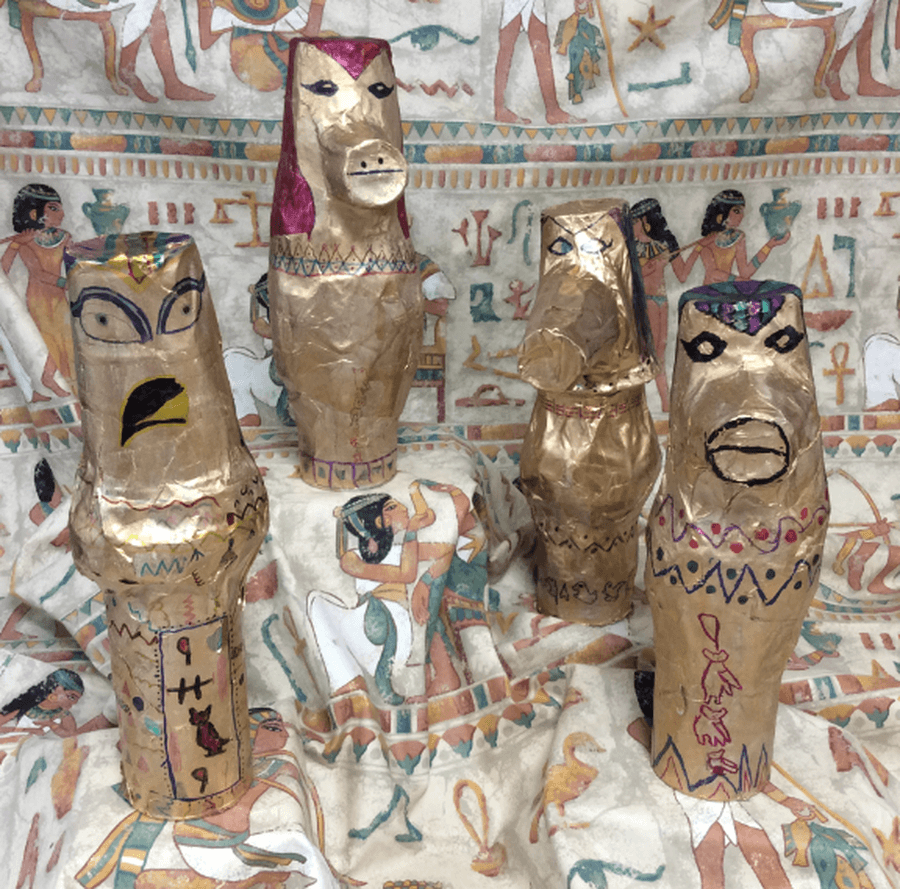 During their 'Time Traveller' project Year 5 children enjoyed developing design criteria to inform the creation of their innovative and functional clocks inspired by time phrases such as 'time is precious' and 'time flies', including selecting from and using a range of tools to cut, shape and join materials.
Can you work out the time phrase that has inspired the creation of each clock?
Please click on the first image below to browse through the photos.
Year 5 learned how to create Andy Warhol-style, pop art portraits from a photo using a Photoshop application.
During their 'Beast Creator' project Year 5 used graded sketching pencils to create drawings of mini-beasts.
During their 'Child's War' project Year 6 created paintings of the Blitz.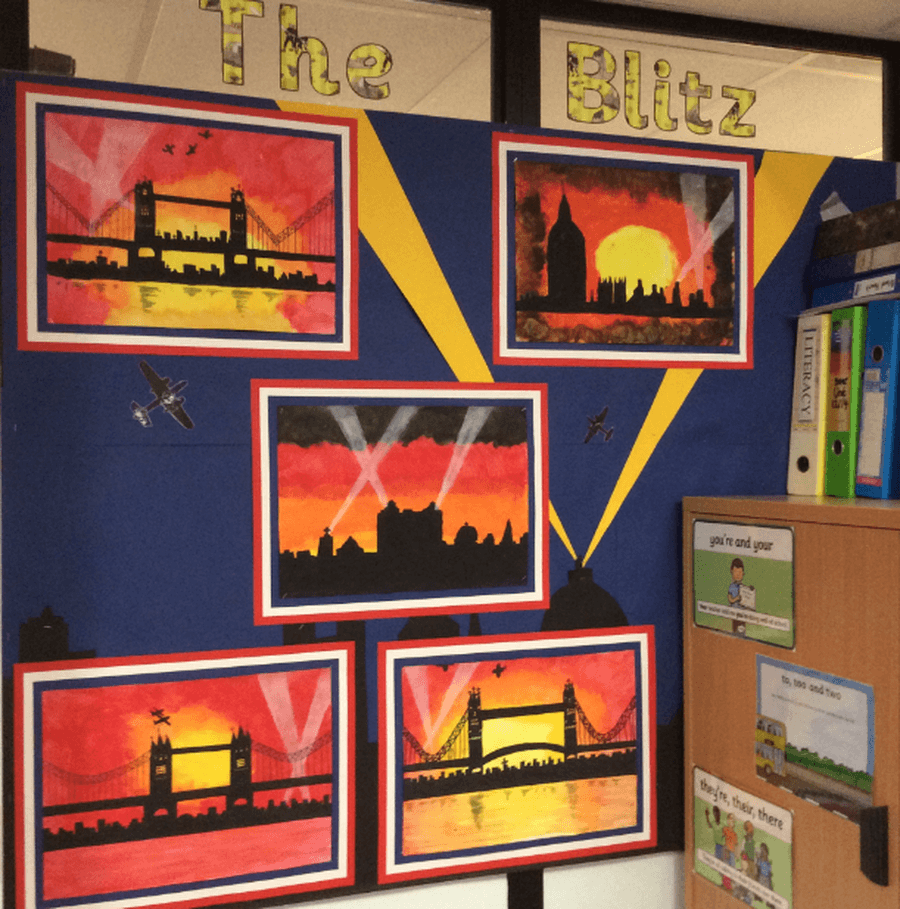 In Year 6, as part of their 'ID' project, children carefully observed photographs of famous people and then sketched the matching half of their portrait. The results are fabulous!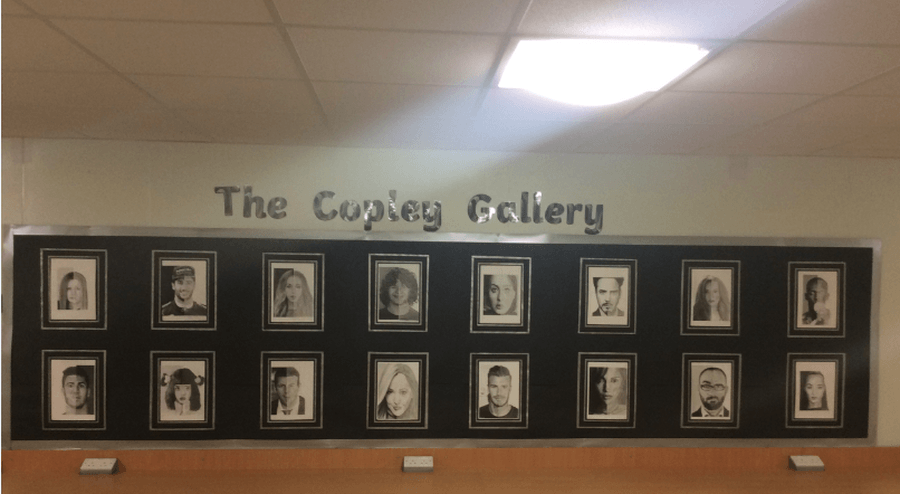 Year 6 art - oils on canvas
We have displayed our art work in Sprotbrough Library.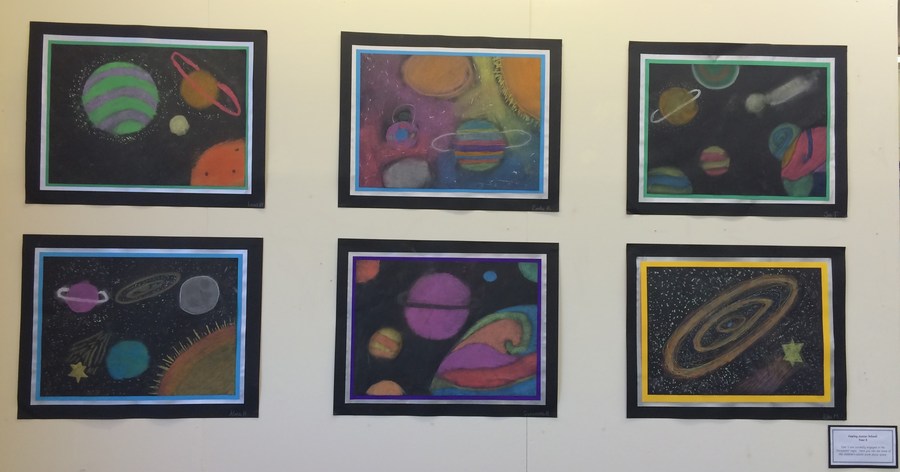 Each year we enter the Don Valley Arts Festival. In 2016 children at Copley Junior School were successful in being placed 1st, 2nd, 3rd and 4th in the category for 9-15 years! In 2017 Emelia D was placed 2nd for her age category. In 2018 Isabelle S was placed 2nd for her age category and a selected number of our children's art pieces were chosen to be presented in the exhibition. In 2019 Lacey O was placed 1st in the age category 8 years and under and Gracie D was placed 2nd in the 9-13 years category. Parents and relatives were able to view all the entries as they were exhibited at Sir Thomas Wharton School over one weekend.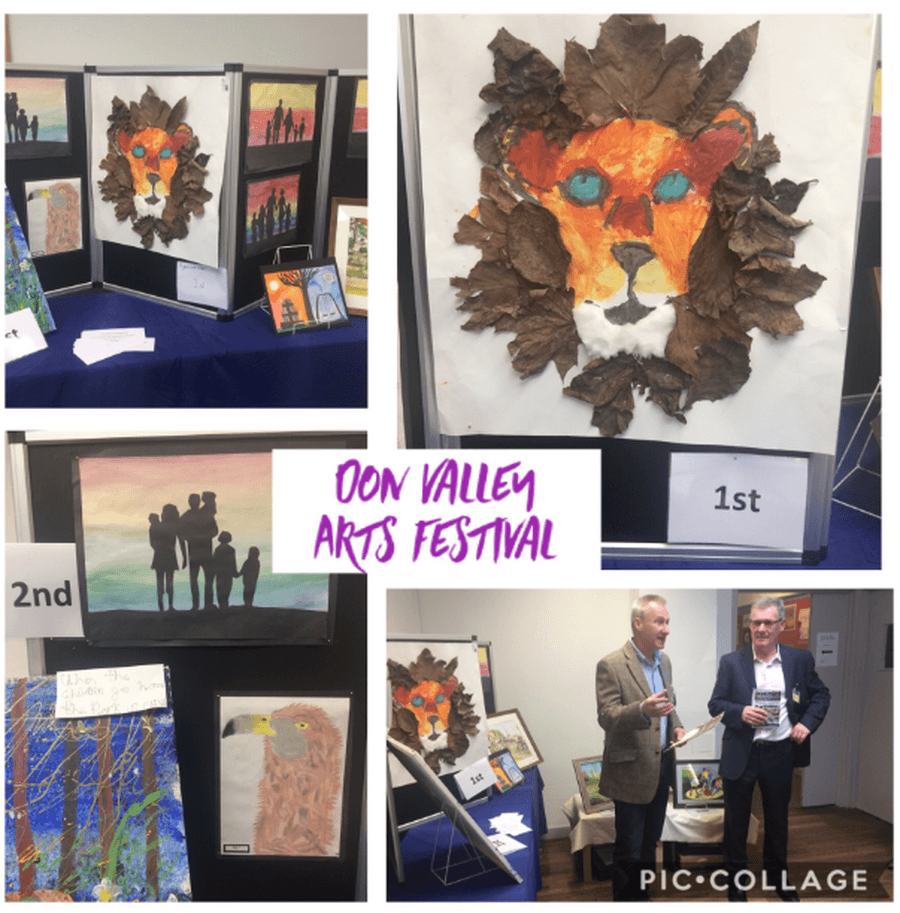 Please click on each featured piece of art work below to move through the carousel.
Miss Passant leads our very popular extra-curricular Art Club. Children undertake fun activitities to develop their skills using a range of media, including water colours and oil pastels.
Create Club – Create Club is run by Mrs Lyons, who runs her Create Club Company, providing workshops for schools and community groups. The children make a creative 'Around the World' product each week to bring home as follows: Cave paintings with charcoal and mud; Aboriginal art; African bead making; Indian rice mandalas; Japanese printing and origami; Marvellous Mayan masks; Russian Faberge egg.
Craft Club - Children make a variety of craft products at this club, including badges, dream catchers, hedgehog keyrings, finger puppets and themed crafts.