Reading School
We have invested over £10 000 in our range of book band books and independent reading books. Children in all year groups are surveyed regarding their favourite authors and genres. The views of the children greatly influence our choice of books, in order to maximise children's enthusiasm for reading.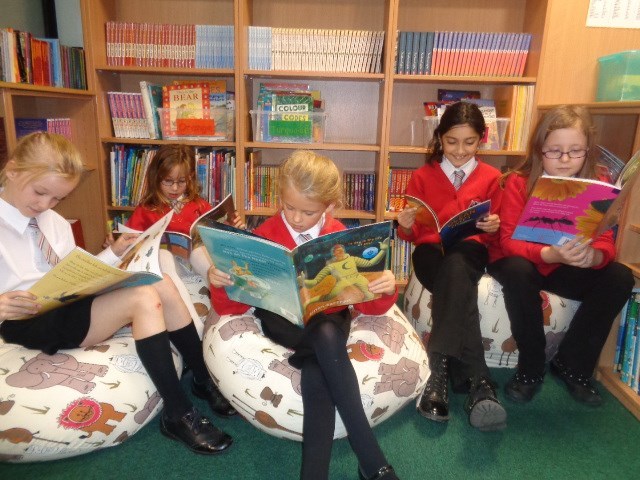 Spotlight On Reading

We hope you enjoy reading this edition of our 'Spotlight On' series, designed to shine a spotlight on our approach to teaching and learning in a particular curriculum area. We chose Reading for this publication in the series. Please click on the 'full screen icon' towards the bottom right of the item below. Use the left and right arrows to browse through the publication.
Recommended Reading Lists
Our Parent Forum suggested that we formulate a recommended reading list for each year group. We consulted with the children as we selected titles for the recommended reading list for each year group and we were supported by our book supplier Peters. We chose fiction books and also non-fiction titles related to the projects being studied. We have purchased many of the book titles on each reading list and these are available on the year group book shelves. The recommended reading list for the next year group is shared each year with parents/carers. The recommended reading lists are available to download below:

Year 3 Recommended Reading List
Year 4 Recommended Reading List
Year 5 Recommended Reading List
Copley's Reading Scheme
To support children to develop reading fluency and comprehension, we use a structured reading scheme. This is based on the national book band scheme but has been personalised and tailored to our needs as we work with our book supplier to provide an engaging range of reading scheme books, together with 'real' books and non-fiction texts at each level. At our most recent parent workshop on our teaching of reading and writing, a parent asked for the progression through the book bands to be shared, so please find this below. Children who are reading book band books are encouraged to take an independent reading book home also, so they have the full choice of reading books available to the year group. Once children are secure with their reading fluency and comprehension at Sapphire level, they choose reading books entirely from our wide range of independent reading books.
Book Band levels:
Yellow

Blue
Green
Orange
Turquoise
Purple
Gold
White
Lime
Brown
Silver
Sapphire
New books for Gold, White and Lime levels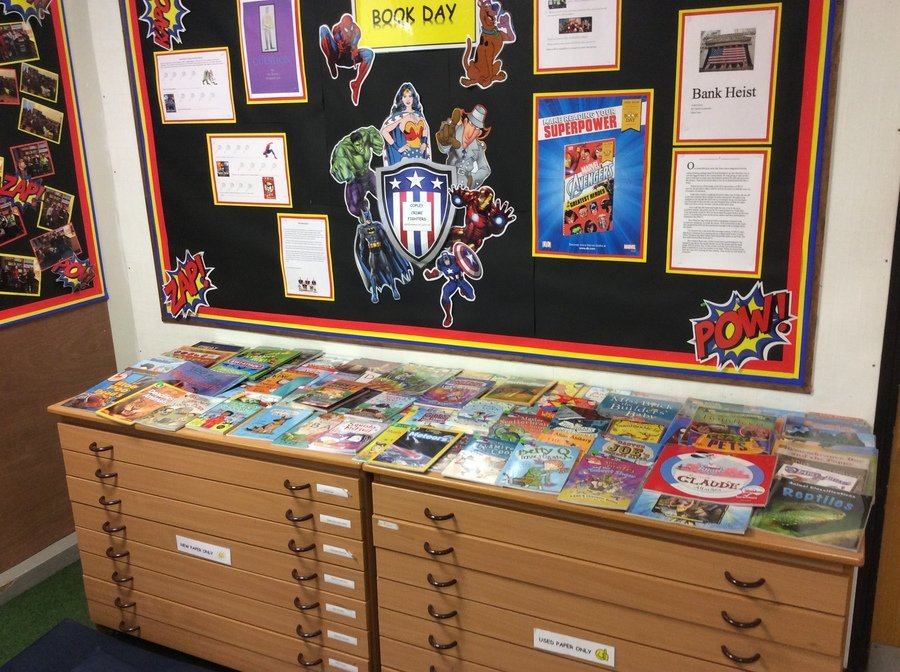 Themed Reading Collections
Each year we ask the children to help us choose a themed reading collection, through voting in each class. We then display the 70 chosen titles on our chosen theme centrally for children to read and return. We insert a comment slip inside the book jacket so children can enjoy reading the comments about the book from previous readers. Children sign the books in and out and there is always a real buzz about our reading collections. So far, we have had reading collections for 'Magic', 'Crime-Fighters', 'All Creatures Great and Small' and 'Award Winners'. In 2020 we chose 'Award Winners' in order to extend children's reading with titles that have won awards e.g. Carnegie Children's Medal, Waterstone's Children's Book Prize etc. I wonder what will be the theme for our 2021 reading collection?
Our 'All Creatures Great and Small' reading collection saw 343 'reads' in four weeks!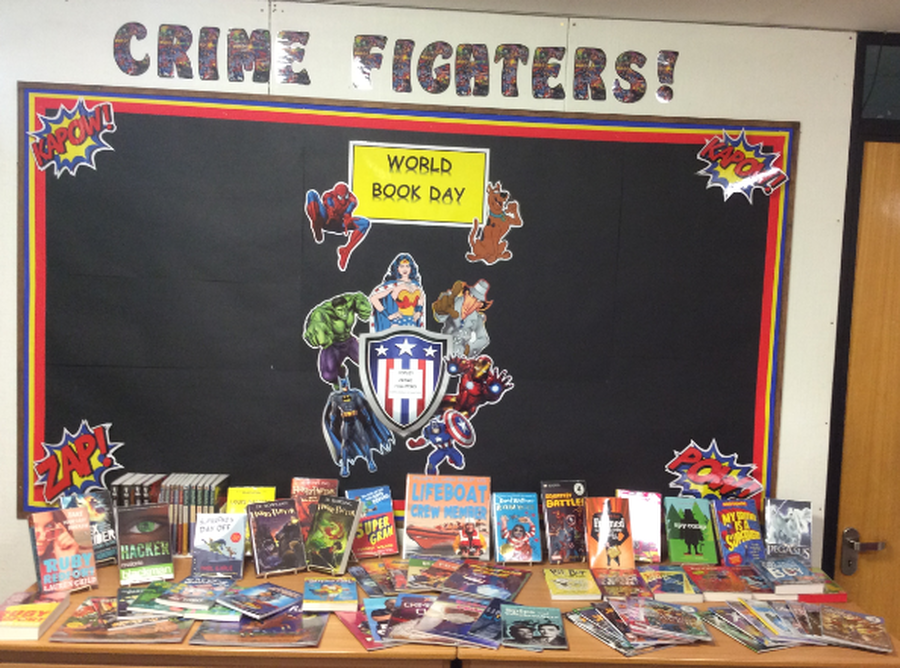 Annual Reading Challenge
On World Book Day we launch our annual Reading Challenge. We ask parents to help us record the time that children spend reading at home. We award certificates for 5 hours and 10 hours of reading. A small prize is also awarded to each child who achieves the Ten Hour Reading Challenge. Well done to all the children who completed the challenge in the summer term 2020.
Book Swap
Our Parent Forum suggested a 'book swap' event and it was so popular the book swap has become an annual feature of our World Book Day celebrations. In 2020 a lovely range of 152 titles was brought in and children thoroughly enjoyed browsing the titles in order to choose their new book to take home.

Boggledy Book Fair
We love visits from the Boggledy Book Fair! The Book Fair is full of well-priced titles at £1, £2 or £3 and all children are invited to select one of the free World Book Day titles too. The children thoroughly enjoy browsing and choosing. Thanks to your support, on 12th March 2020 we were able to choose 56 lovely new titles to add to our classroom bookshelves.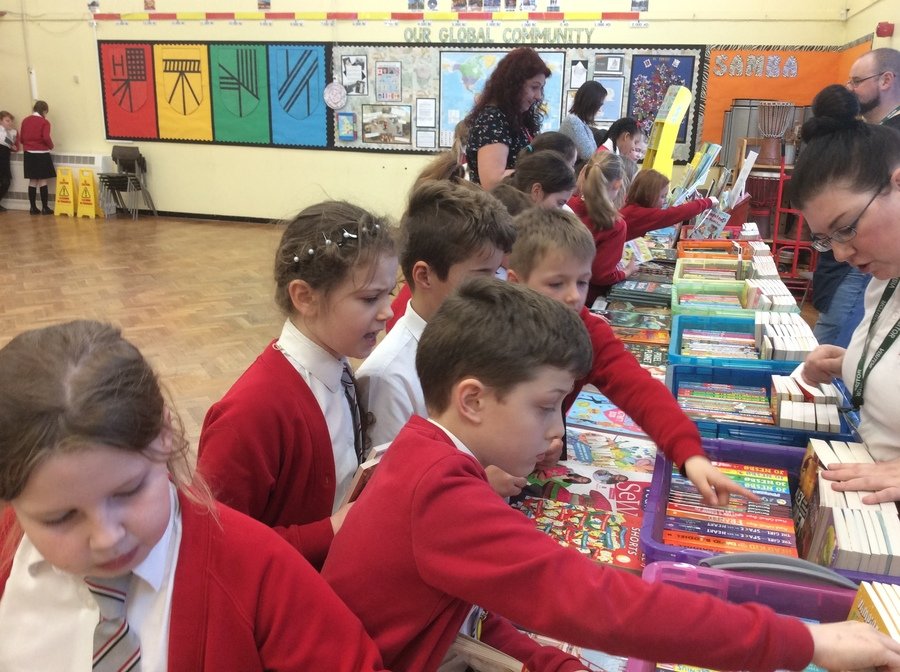 'Curl Up with a Good Book'
Well done to all the children who took part in our 'Curl Up with a Good Book' theme during the summer term 2020. It was great to see so many children enjoying their reading at home and completing their Ten Hour Reading Challenge at the same time.
Extreme Reading Challenge
So many children and staff took on our extreme reading challenge to read in an interesting or unusual place! We have had the most fantastic range of photographs displayed around the school, together with the title of the book being read so as to recommend the book to others. We have children reading books in a wheelbarrow, a dustbin, hanging upside down from an exercise bar and the list goes on! Many children demonstrated clever ICT skills, so that they appear to be reading in the Royal Box with the Royal Family, reading on a cloud, even reading in space etc.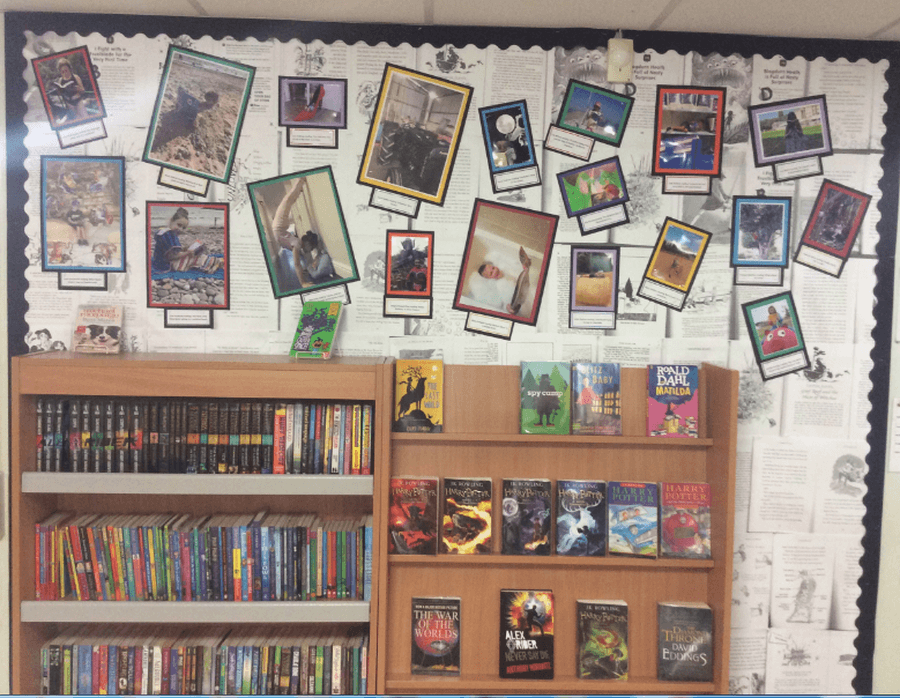 Reading Celebration Days
We are keen to promote interest and engagement in reading - it is such an enjoyable hobby in its own right and supports children's learning across the curriculum. We always take part in reading celebration days, such as Roald Dahl Day and World Book Day. Click on the links below to view the pages for these enjoyable events.
Young Shakespeare Visit
Each year our children in Year 5 and 6 have the fantastic experience of engaging in 'theatre in the round' with the Young Shakespeare Company. We organise this so that by the time children leave Copley they have had live theatre experience of two Shakespeare plays.
The Young Shakespeare Company visits provide a wonderful first experience of Shakespeare. Their performances of 'Macbeth' and 'Romeo and Juliet' have been, quite simply, electrifying and the children were completely absorbed.
At points children were actively involved in the performance and afterwards there was opportunity to ask the very talented actors questions about the plot and the motivation of characters etc.
'Romeo and Juliet' 2019-2020

Please click on the first photograph below to view the gallery of photos.
'Macbeth' 2018-2019
Please click on the first photograph below to view the gallery of photos.
Reading Reward Assemblies
At Copley Junior School we want to celebrate regular reading at home. If children read at home (and have their reading diary signed by an adult!) at least four times a week they receive a raffle ticket. By the end of each half term we hope that children will have a number of raffle tickets in the draw, as they have read at home at least four times a week on a regular basis.
In our half termly Reading Award Assembly raffle tickets are drawn from each class and the lucky winners can come and choose a brand new book from a wide range of titles. We hope that lots of children in each class will be successful in the Reading Reward Assembly draw over the six opportunities in the school year.
Competitions
We organise regular competitions to provide further opportunities for writing.
'The Magic Box'
We received many highly creative and descriptive entries for our poetry writing competition on the theme of 'The Magic Box' by Kit Wright. Click on the links below to read the winning entries:

Joshua L page 1 Joshua L page 2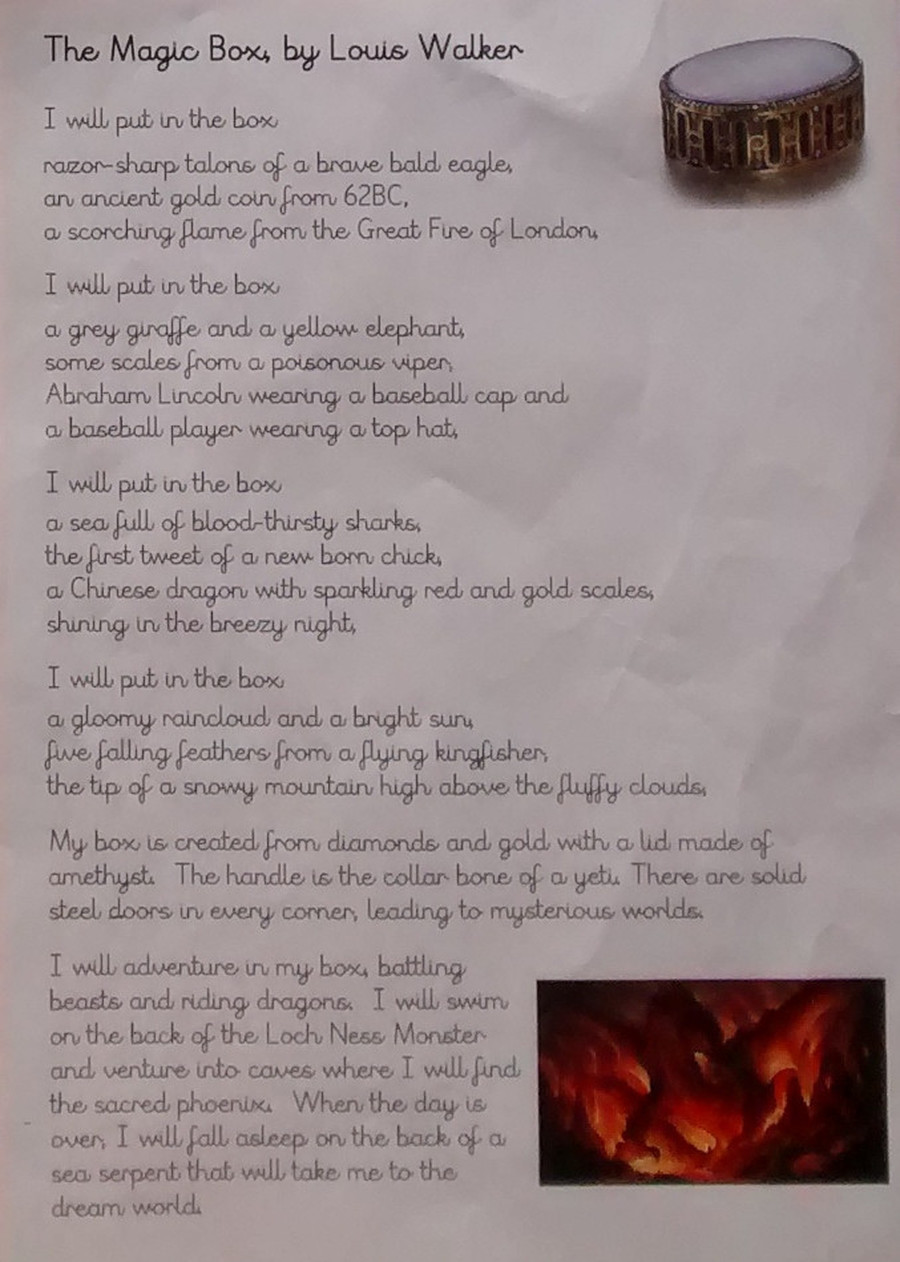 'Award Winners'
In 2020 children were asked to nominate a book for the 'Copley Book Award'. Their task was to persuade the reader that their chosen book deserved to be a Copley award-winner by producing a piece of writing explaining why the book is so brilliant. Well done to our 2020 winner - Allegra P-P.
Annual Summer Doncaster Library Reading Challenge
In 2020 the theme of the Doncaster Library Challenge was 'The Silly Squad'. This year it was all about funny books, happiness and having a laugh! The Silly Squad is a team of animal friends who love to go on adventures and get stuck into all different kinds of funny books. Children could join the Silly Squad on a new adventure by setting their own personal reading challenge to complete over the summer. A new online platform helped children keep track of their books, reviews, and the rewards that can be unlocked along the way. As always, there were lots of brilliant book suggestions to get children started, and tips on how to keep reading over the summer. The website provides heaps of super silly activities, quizzes, videos, games, and more to keep you entertained at home! Well done to all the children who took part in the 2020 Doncaster Library Reading Challenge.

Well done to Alexa H - challenge one of the Doncaster Reading Challenge 2020 completed and a lovely walk around the village too!
Book Review Corner
Wondering what to read next? Stuck for ideas? Then keep visiting this page, where book reviews and recommendations will appear. If you read one of the recommended titles, let us know your thoughts and we'll add your comments to the page...
Staff Book Reviews
All the adults at Copley Junior have written a short book review for one of their favourite books. Click on the images below to find out more about these fantastic books - we hope you enjoy reading them as much as we have!
You can also download our Staff Book Reviews by downloading the document below:
Pupil Book Reviews
Read a great book and want others to enjoy it too? Complete a book review and upload it to your Seesaw account and it could be included in our book review selection below!
Useful Websites
Our Parent Forum asked us to provide links to useful websites, so here is our pick of some of the best. If you have any good recommendations, please let us know.
Oxford Owl Reading
Oxford Owl Reading has 250 free eBooks (particularly suitable for children in Years 3-4) for you to share with your child as well as simple ideas, top tips, activities and games to help your child with their reading at home.
Click on the link below to find out more and to sign up for the free reading resources.
https://www.oxfordowl.co.uk/for-home/reading-owl/reading
Reading Rockets
Reading Rockets provides information about how to teach reading and suggests recommended summer reading lists, award winning titles etc. Click on the link below to find out more.
http://www.readingrockets.org/teaching
Book Trust
This is a great website! Whether you are looking for the Book Trust's 100 best children's titles, the most popular children's books, recommended books for 7-year-olds, books for 11-year-olds, or just information on children's books, this is the place for you. One useful section (called 'Book Finder') allows you to enter the reading age you are interested in (e.g. 9-12 years) and then the theme of books that interests you (e.g. historical, funny, sport, adventure/fantasy, multicultural/world fiction etc.) It then offers you a selection of book titles that hopefully will encourage you to read one of them! Click on the link below to find out more.
http://www.booktrust.org.uk/books/children
National Literacy Trust
This website offers downloadable activities for different ages, recommended reading book titles etc. Click on the link below to find out more.
Great Books Guide
Every year The Book Trust produces its 'Great Books Guide'. All of the books in this document have been recommended to children and they are grouped according to age. We hope you find this helpful when choosing what great books to read next. We will post the '2020 Great Books Guide' when it is published.
Join our Book Review group! Complete the book review sheet below, or ask your teacher for a copy, and you can post a book review of your favourite book.