Maths Curriculum
Welcome to our Maths pages!
Please visit the Maths Calculation Policy page to find out how mathematics is taught across the school, which calculation methods are used and how you can support your child with their learning at home. This page provides links to our Calculation Policies for Addition, Subtraction, Multiplication and Division, the PowerPoints from our most recent parent curriculum presentations and videos demonstrating the methods taught, narrated by our wonderful pupils.

To read our Curriculum Intent, Implementation and Impact Statement for Maths, please click here.
Maths Curriculum Overview
Please find below our maths curriculum overview. This sets out the National Curriculum Programmes of Study for each year group in maths.
Why do we teach maths?
Maths equips pupils with a uniquely powerful set of tools to understand and change the world. These tools include logical reasoning, problem solving skills and the ability to think in abstract ways.
Maths is important and essential in everyday life. It is integral to all aspects of life and with this in mind we endeavour to ensure that pupils develop a healthy and enthusiastic attitude towards maths that will stay with them.
Our aim is all pupils should:
Have a sense of the size of a number and where it fits into the number system

Know by heart number facts such as number bonds, multiplication tables, doubles and halves

Use what they know by heart to figure out numbers mentally

Calculate accurately and efficiently, both mentally and in written form, drawing on a range of calculation strategies

Recognise when it is appropriate to use a calculator and be able to do so effectively

Make sense of number problems , including non routine problems, and recognise the operations needed to solve them

Explain their methods and reasoning using correct mathematical terms

Judge whether their answers are reasonable and have strategies for checking these

Suggest suitable units for measuring and make sensible estimates of measurements

Explain and make predictions from the numbers in graphs, diagrams, charts and tables

Develop spatial awareness and an understanding of the properties of 2D and 3D shapes.

How do we teach maths?
Pupils are provided with a variety of opportunities to develop and extend their mathematical skills. The structure of lessons will vary depending on the objectives being taught, and the needs of the pupils, but key components of lessons include: mental/oral starters, a main teaching activity, independent activities and a plenary session. The teaching of maths at Copley Junior School provides opportunities for:
Group work

Paired work

Individual work

Whole class teaching, use of equipment, resources and ICT

Regular practice of times tables using Times Tables Rock Stars
Pupils engage in
The development of mental strategies

Written methods

Practical work

Investigative work

Problem solving

Mathematical discussion

Consolidation of basic skills and number facts
At Copley Junior School we recognise the importance of establishing a secure foundation in mental calculation and recall of number facts before standard written methods are introduced. We use mathematical vocabulary when planning to help determine the appropriate terminology to use in our teaching and children are expected to use this in their verbal and written explanations.
How you can improve your maths
Complete your home learning tasks - both written tasks and online maths tasks

Practise your times tables using 'Times Tables Rock Stars'

Practise telling the time, using analogue and digital clocks

Use the computer, there are lots of great websites!
Maths across the Curriculum
'Scrumdiddlyumptious' Enterprise Event
Thank you to all the parents, relatives and governors who came to the opening of the Year 3 Scrumdiddlyumptious cafe. This was Year 3's enterprise event for the year. Children sold their fruit salad bowls, smoothies, flavoured flatbreads, decorated biscuits and buns, considering their costs and profit margins. Next children worked out their profits before they had the fun of deciding how to spend these!
'Predator'
As part of their science project on 'Predator', Year 3 used careful measuring and understanding of scale to create these life size creatures. Amazing work, Year 3!
'I am Warrior'
As part of their history project on Romans, children found out about Roman numerals and then worked out problems using them.
'Potions' Enterprise Event
Each year group takes part in an enterprise event every year in order to develop their maths skills of counting money and calculating profit margins.
Year 4 children worked very hard in their company teams to make a range of bath products including bath salts, lip balms and body oils, beautiful packaging and very persuasive leaflets and posters as part of their 'Potions' project. We certainly have some budding entrepreneurs and persuasive sales people in Year 4. Following the express event, children were busy counting the money and working out their costs and profits - of £400!
The enterprise event gave the children opportunity to carry out real life money problems, including running costs and profits.
Eco Council 'Switch Off Fortnight'
Our Eco Council took part in 'Switch Off Fortnight' to see if we could save energy. Before the start of the initiative, the Year 5 eco-councillors conducted a survey in school every day to find out how many laptops and interactive whiteboards were left on during lunchtime when they were not being used and also how many of the school's lights were on 'Eco', 'Eco+' or 'Max' mode. The Green Team then went around the whole school and put up signs with our energy saving mascot (Mr Energy Saver) to remind people to turn off laptops, interactive whiteboards and lights. During Switch Off Fortnight, the Year 5 eco-councillors repeated their survey for two weeks to see if our signs and reminders would help us reduce the amount of electricity we use in school.
Following our 'Switch Off Fortnight', children in Year 5 created graphs and used Excel spreadsheets to present further graphs to analyse and show the impact of our drive to save energy. We achieved our aim of reducing energy use over the two weeks, so well done everyone and remember to keep switching off interactive whiteboards, lights and laptops when they are not in use!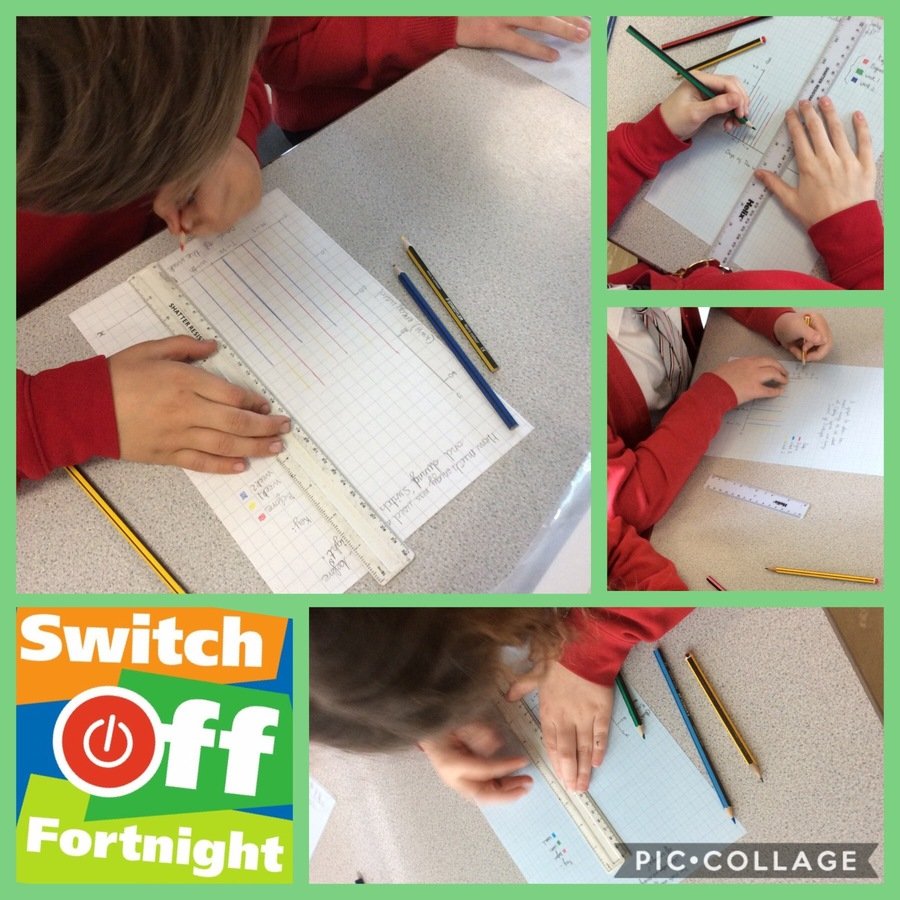 'Time Traveller'
As part of their history project, 'Time Traveller', Year 5 children compared life expectancy in different countries and chose how to present their information in graphs.
During their 'Time Traveller' project children in Year 5 learned about different time zones and used these to calculate intervals of time.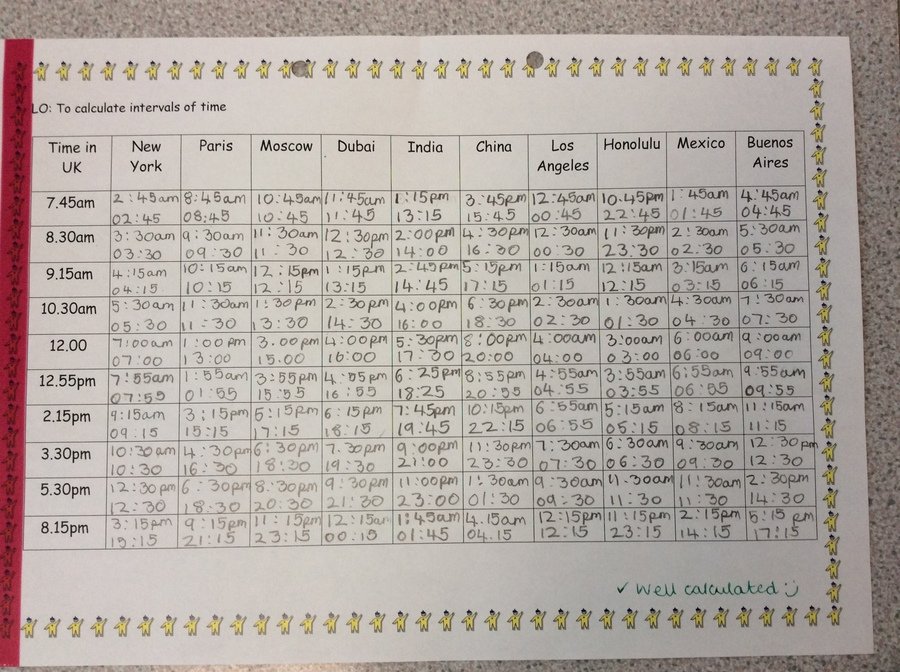 Link with St Joseph in Carquefou - As part of our Year 5 teachers' visit to St Joseph in Carquefou and our shared curriculum focus study with our French penfriends, children at Copley and St Joseph compared what they like to eat - the results are below!
What do we like to eat - Qu'aimons-nous manger?
'Stargazers'
In the science investigation below, Year 5 investigated which material would be the most effective for creating an astronaut's space suit, using data loggers to measure temperature and a graph tool to present their results.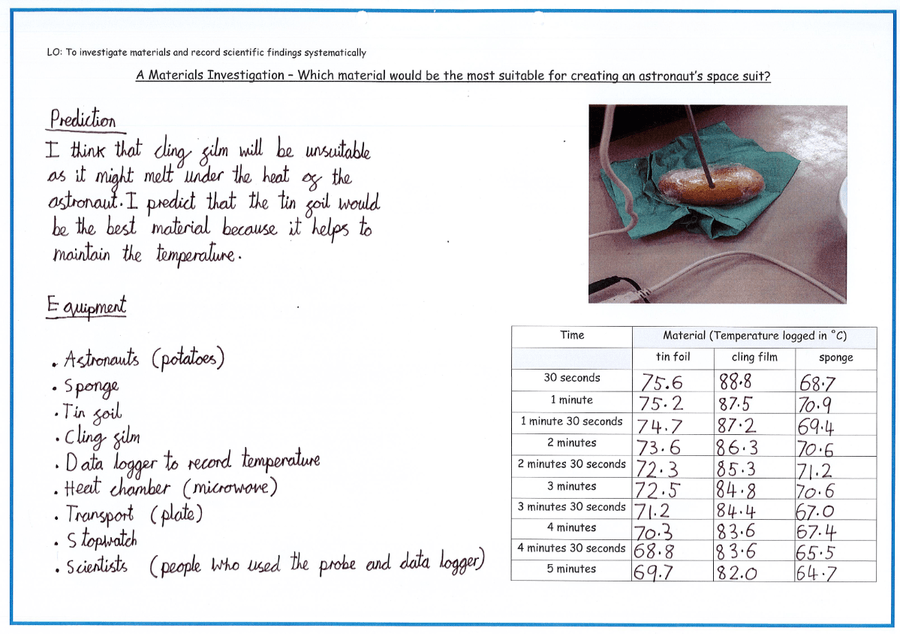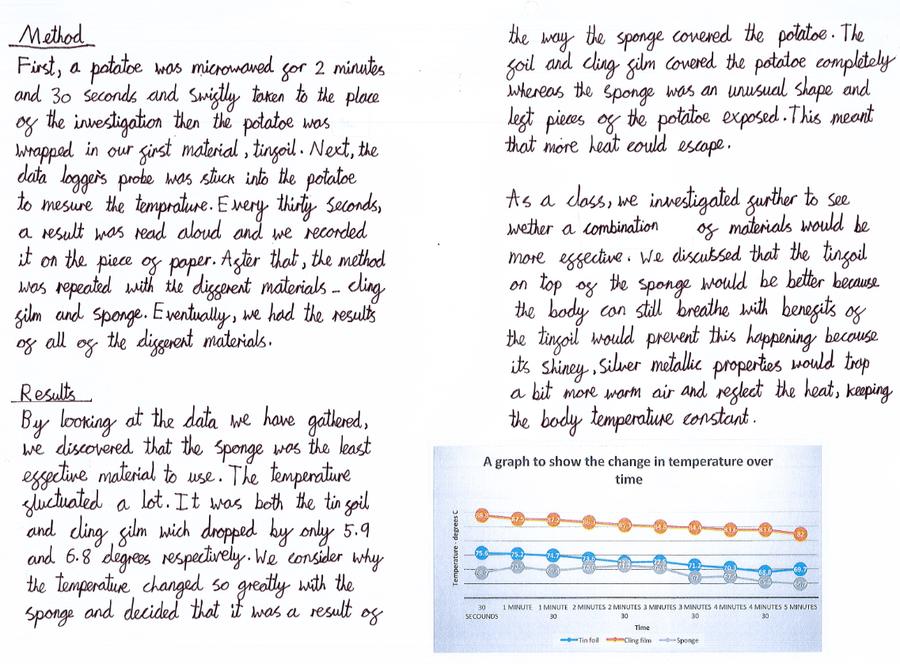 Year 5 tackled the challenge of drawing the planets in the solar system to scale!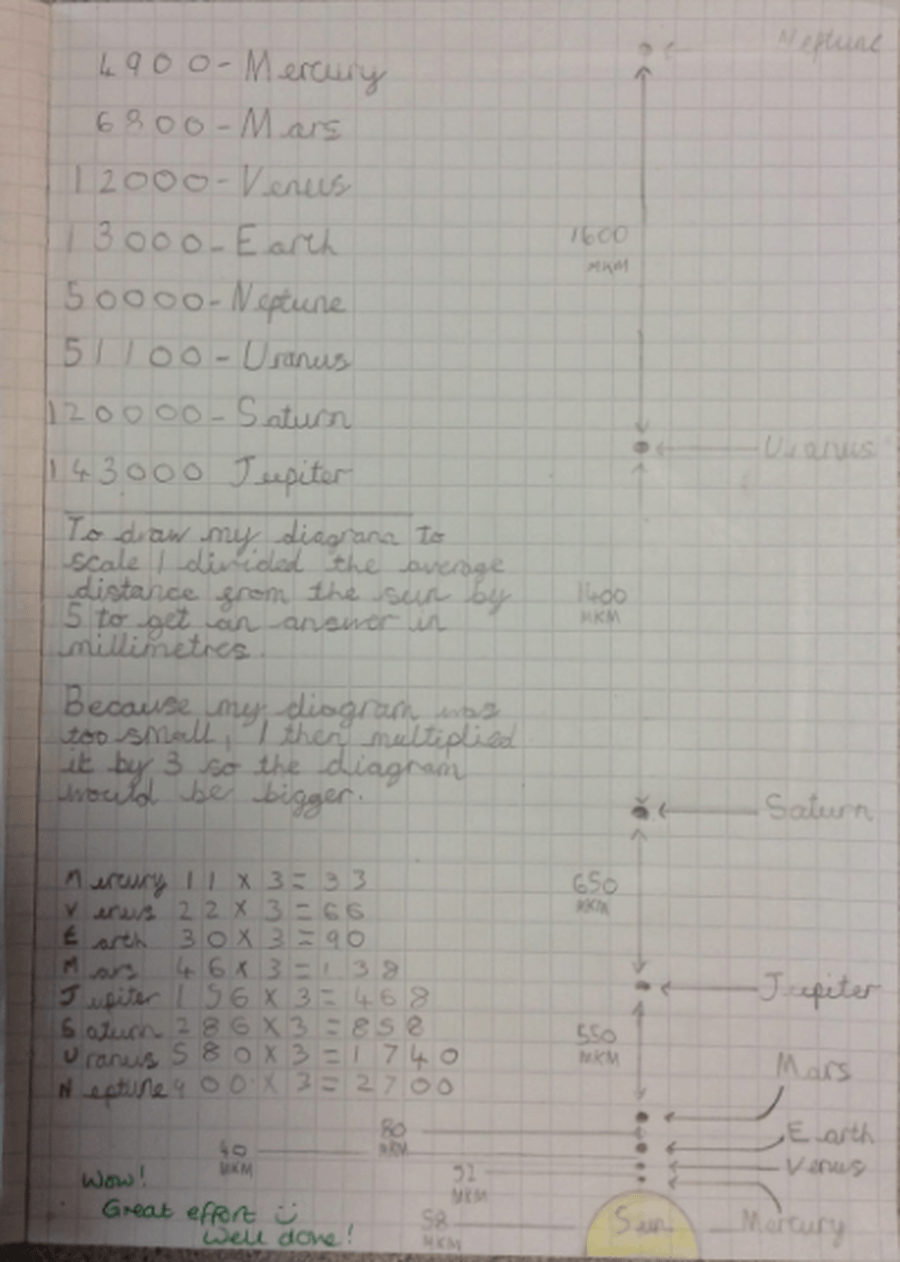 'Beast Creator'
Year 5 planned an investigation to find out how many worms are living in our school field! After deciding what observations to make, the children gathered and recorded their results and drew conclusions from their data and observations.
We used iPads to help us to develop accuracy in estimating angles.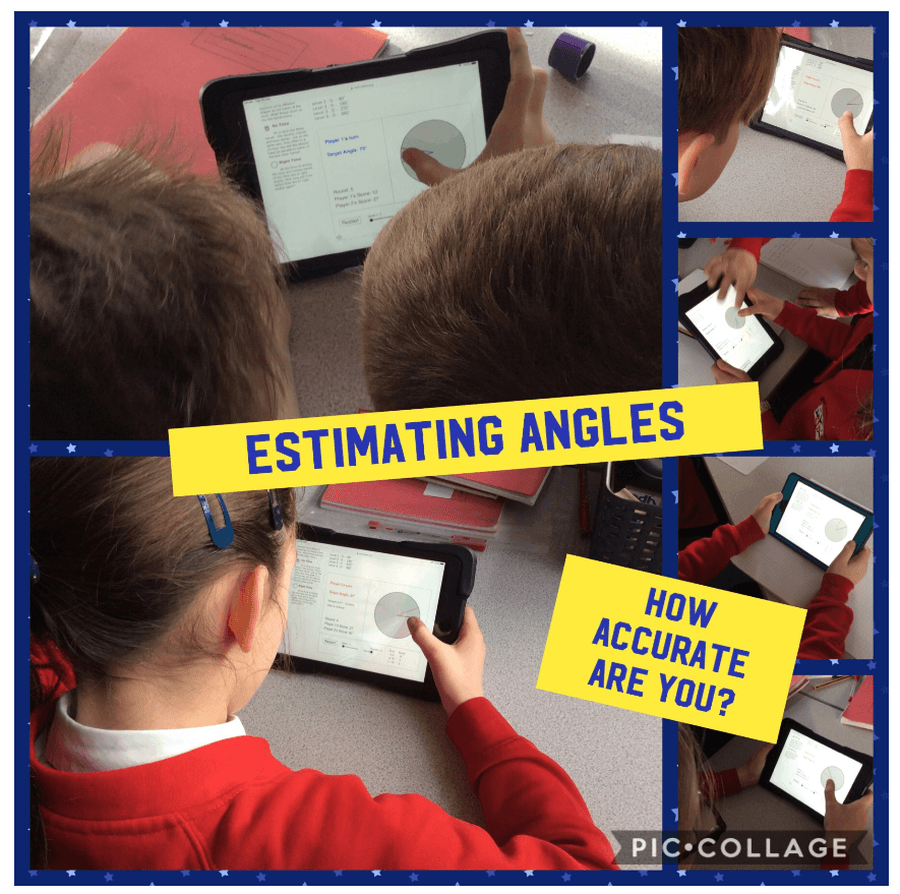 Year 5 maths orienteering - learning about decimals is so much fun!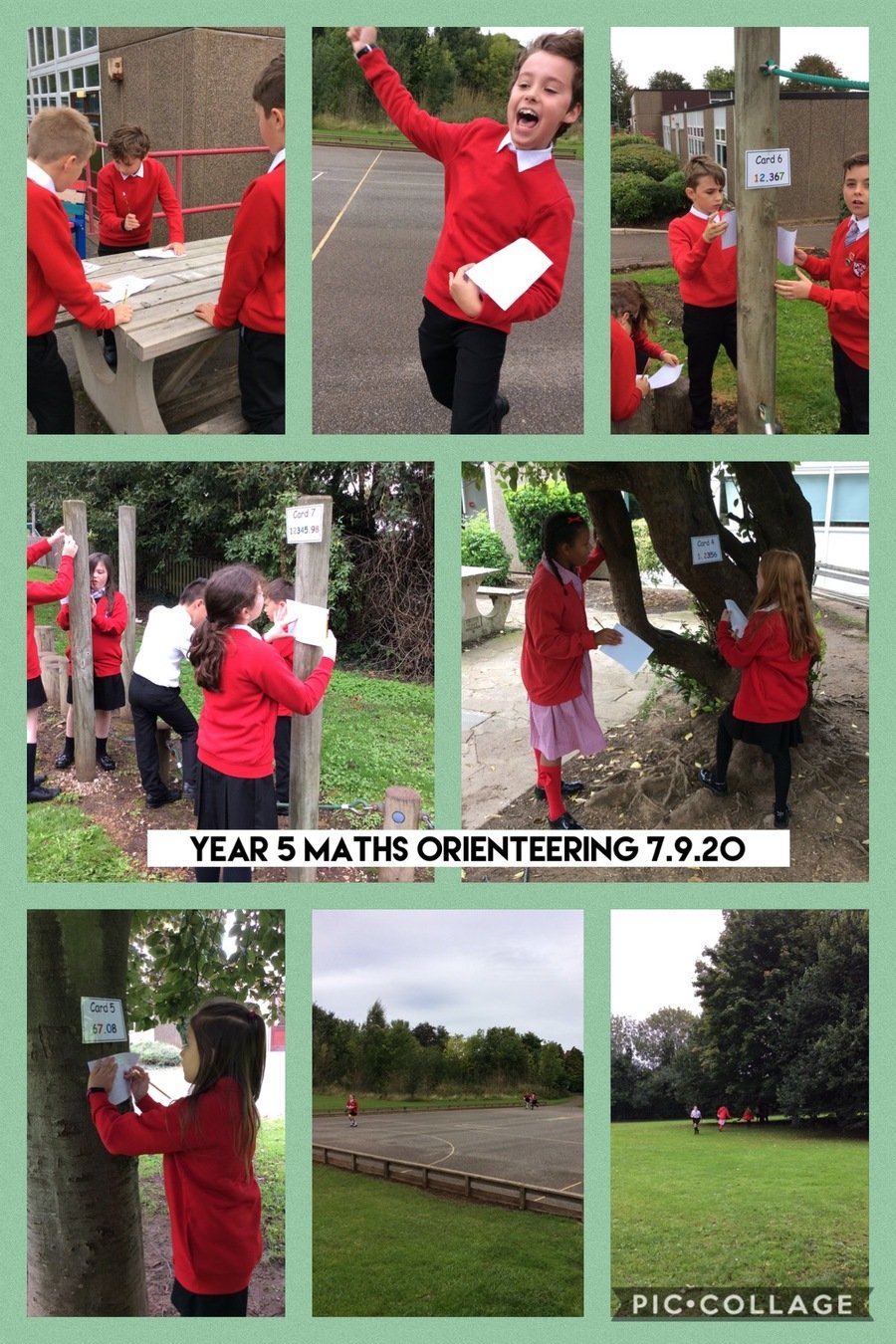 'A Child's War'
Year 6 used their investigative maths skills to take on the challenge of solving a World War 2 Transposition Cipher.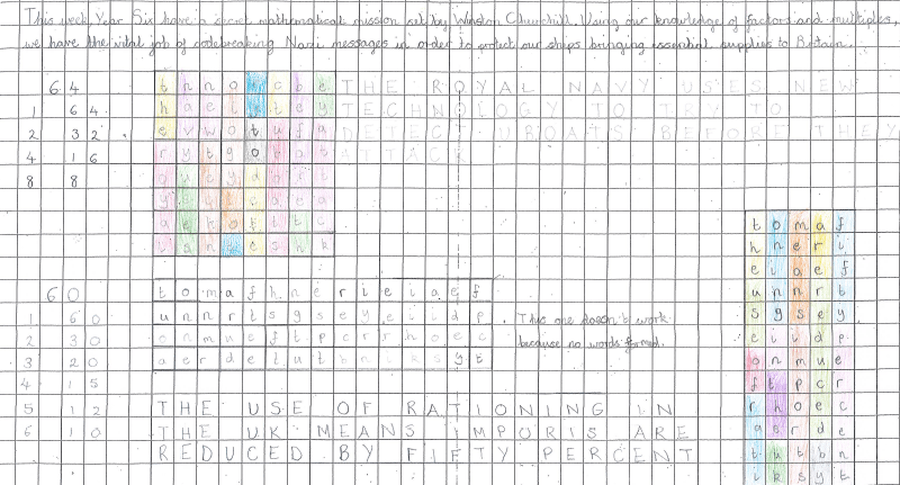 Ratio
Year 6 made great progress in learning about ratio in their maths lessons. After tackling many graded problems, it was time for practical work mixing delicious fruity cocktails to the ratios detailed in the recipe, before a well deserved sampling session.
'ID' Project
As part of their science study of identity in their project 'ID', Year 6 identified, grouped and classified environmental and inherited traits, set up their own enquiry and chose the most effective method of recording data to present their results.
Whole School Maths Investigations
Whole school maths investigation weeks provide another focus for using and applying maths skills in different contexts.
'Magic Squares' Maths Investigations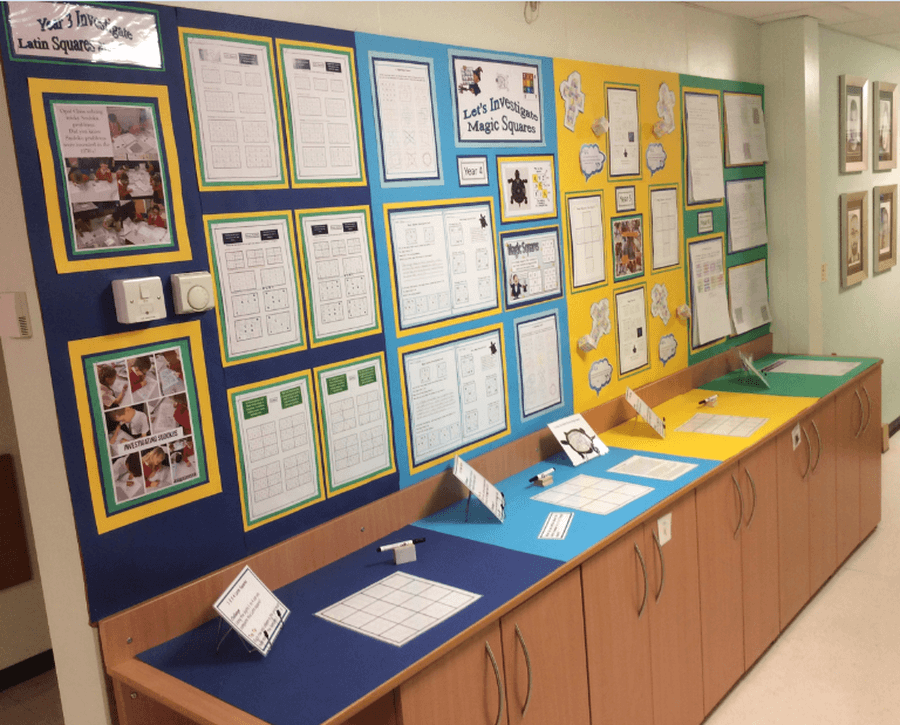 During our 'Magic Squares' work, each year group worked on maths challenges on this theme, with progression through school in the complexity of the problem solving skills and knowledge required to crack the puzzles.
Year 3 investigated sudokus.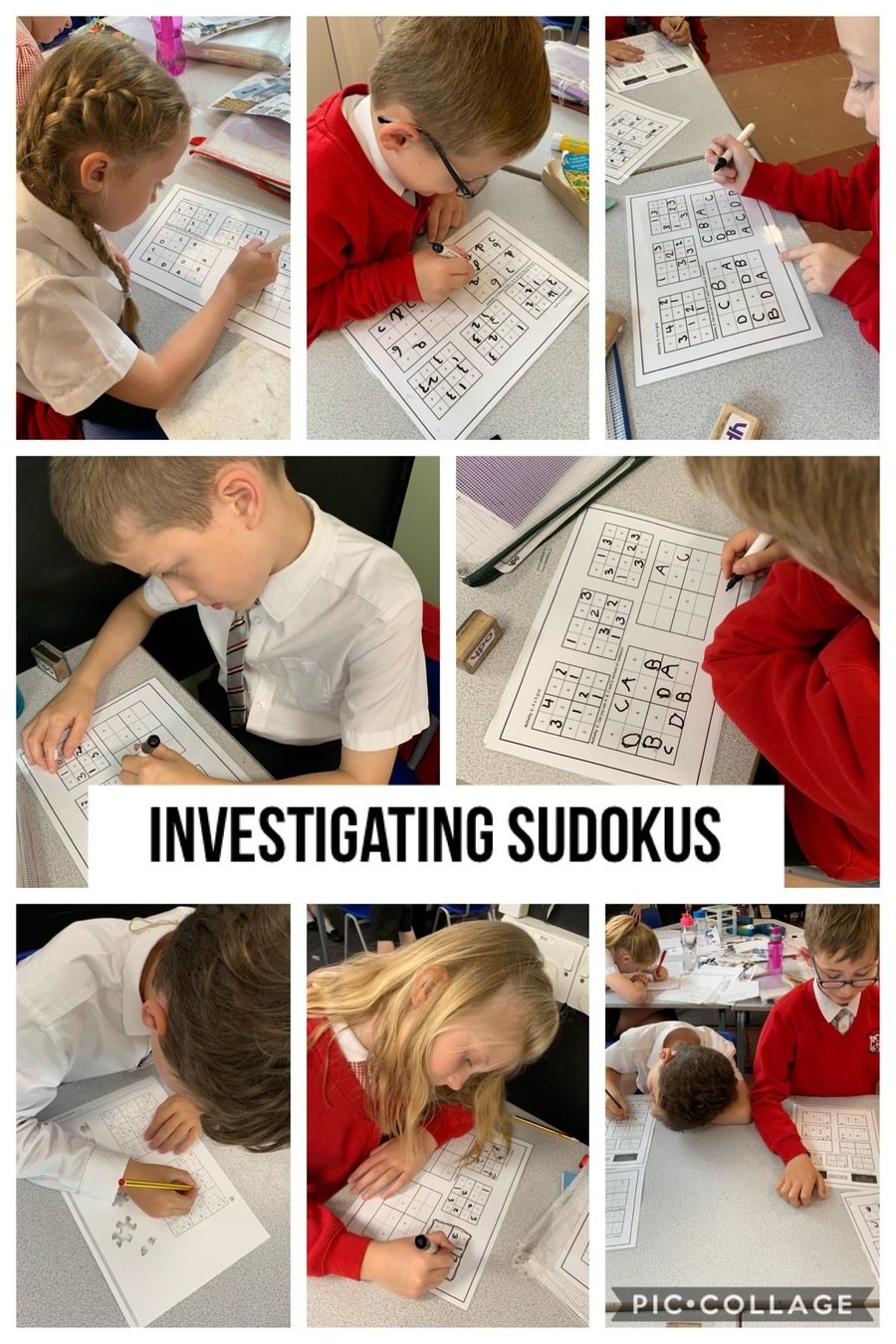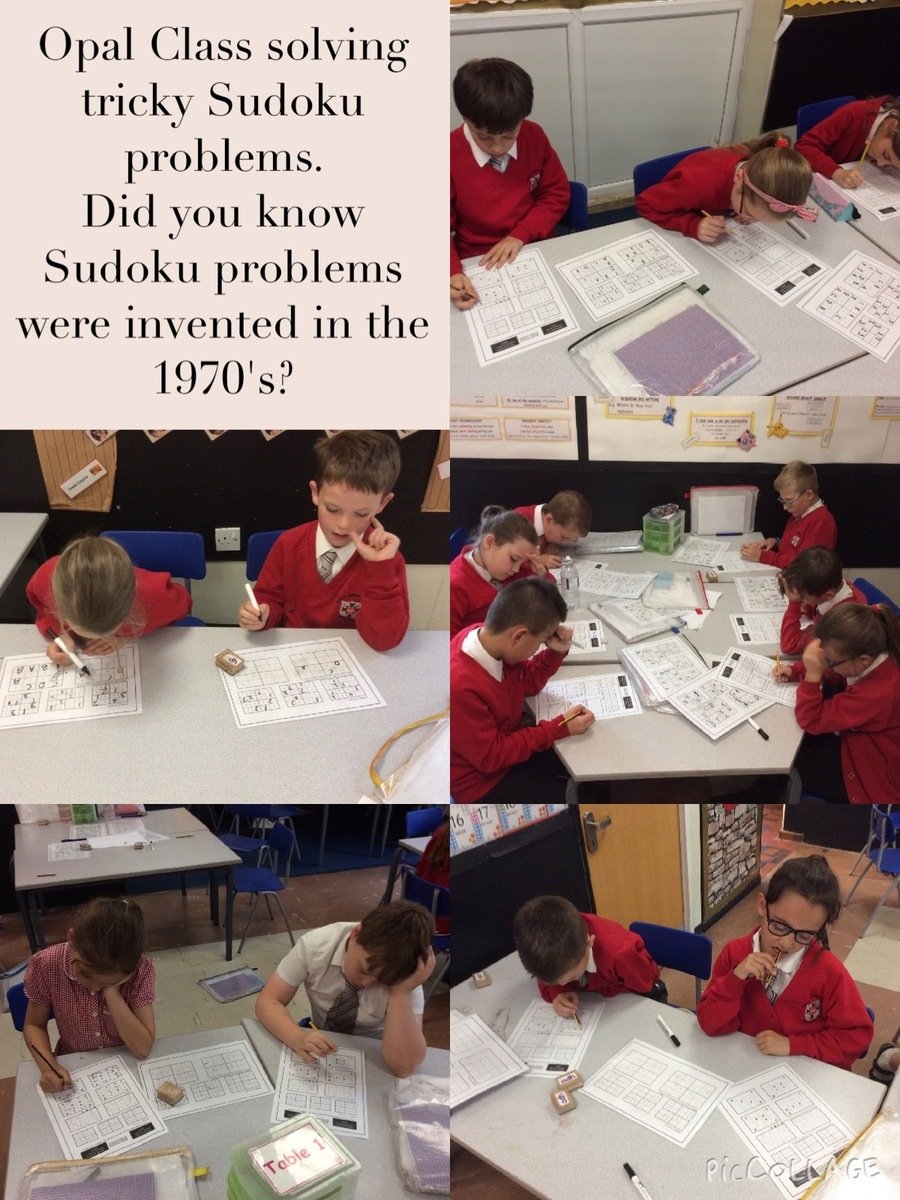 Year 5 investigated magic squares.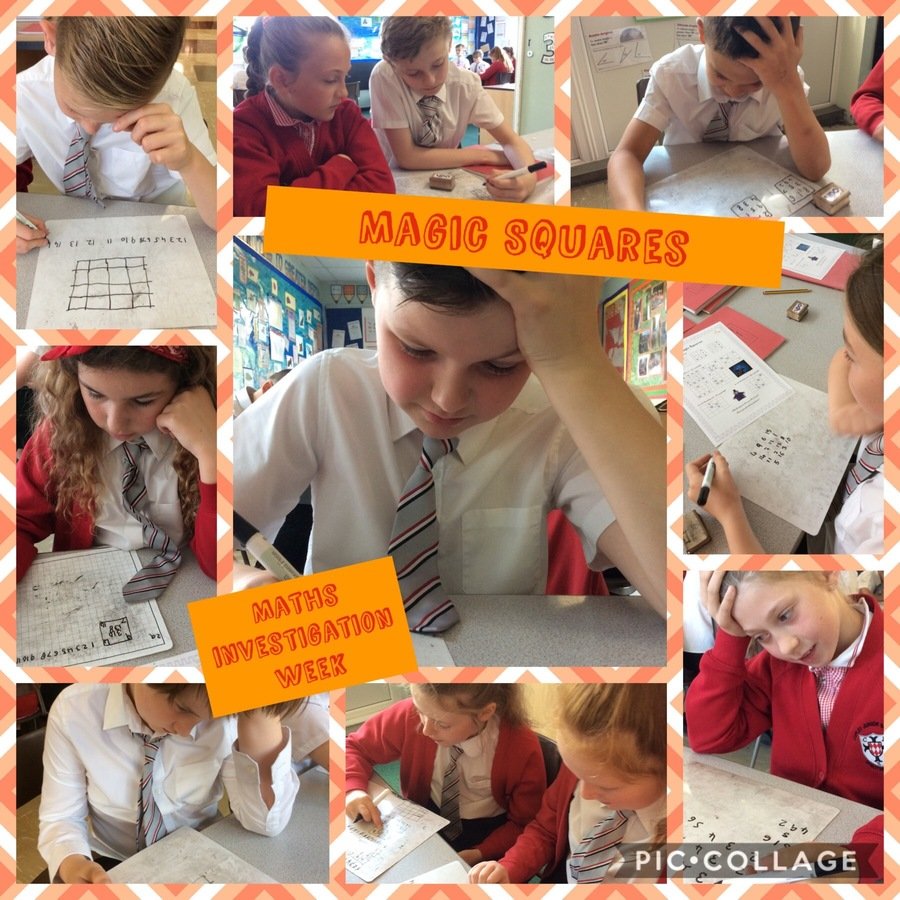 Year 6 investigated domino puzzles.
Smarties Investigation Week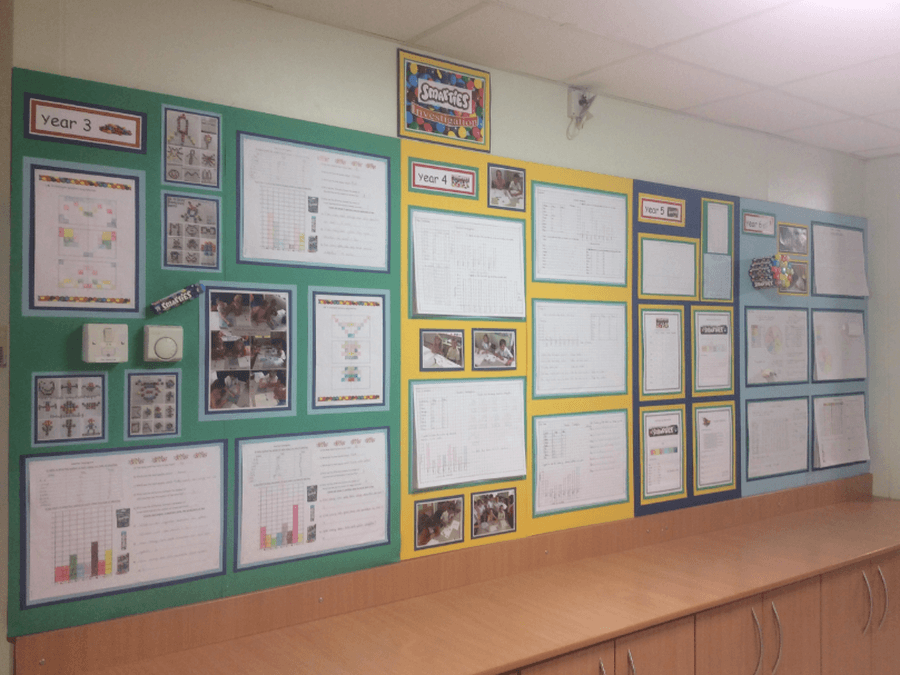 Our involvement in Times Tables Rock Stars has had fantastic impact in engaging children to learn their times tables and division facts. To find out more information and to see details of our annual 'Rock Wrangle' please click here.
We hold regular parent presentations to share our approach to the teaching of maths. Pictured below are photos from our maths parent curriculum workshop for multiplication. We shared our updated maths calculation policy for multiplication, the maths videos we have created to showcase all the methods taught and our wonderful pupils demonstrated these. Thank you to the 62 parents/carers who attended the workshops and thank you to Mr Booler, our maths governor, who joined us. As always, the parent evaluaton feedback is shared on the 'Parent View' page of the website.
What Our Pupils Say
Here are some of the children's most recent reflections on their learning:
"Maths is my best subject because it's challenging." Thomas

"I have definitely improved on my recall of times table facts for the 6, 7 and 8 times tables and now feel confident when completing Times Table Rock Stars." Eve

"My favourite subject this year was maths – I loved all aspects of it!" Gracie

"In maths, I have made good progress and now feel confident when working with fractions." Eric

"I have tried my best to improve my recall of times table facts to help me spot patterns in maths." Isabella

"My favourite subjects this year have been PE, computing and maths because I love all aspects of sports and problem solving." Evie

"In maths, I am proud of all my work and especially enjoyed adding fractions." Amelia J

"I think I showed good 'team work' at Robinwood and 'creativity' in lessons – particularly maths with the challenges. I have improved most in maths. I love it when I get on to Miss Wright's challenges. I like to see how many I can do." Luke

"I have most improved in maths because I have developed my confidence with written methods and like trying to get on to challenges." Eva

"I have shown most improvement in maths. I really enjoy pushing myself to get on to challenges. Emelia

"My favourite subject has been maths because I have liked learning all the new things." Francesca

"My favourite subject has been maths because I like challenging myself." Luke

"My favourite subject has been maths because I have learned new ways to figure out sums." William

"My favourite subject is maths. I have improved on it because I hardly knew what decimals were and now I am great at them." Joseph M

"My favourite subject is maths – it makes me feel like a wizard." Sienna

"This year I have enjoyed working on the maths investigations because I have challenged myself to complete more challenging calculations. Last year, I struggled with my confidence but now I believe in myself." Scarlett

"I have enjoyed Year 6 because I have loved every maths lesson. It is very exciting for me." Summer