House Leaders
House Leaders 2019-2020
Our House leaders wrote superb letters of application and short listed candidates were then interviewed by Mrs Crayton, Head teacher, and last year's House Captains. Well done to the House Leader teams of 2019-2020!
Hodgkin
House Captain - Emma H

Vice Captain - Isaac H

Ambassador - Hannah H

Einstein
House Captain - Stanley S

Vice Captain - Eliza W

Ambassadors - Esme S and Lily H

Hawking
House Captain - Gracie D

Vice Captain - Chloe C

Ambassadors - Eve C and Annabelle R

Darwin
House Captain - Eric B

Vice Captain - Evie L

Ambassador - Amelia D and Evie H

House Leader Christmas Competitions 2018

The House leaders did a great job organising competitions for their House members and the winners were delighted with their prizes.
Hodgkin – Design a Christmas Gingerbread Person

Einstein – Reindeer Treasure Hunt

Hawking - Guess the Name of the Reindeer
Darwin – Robin Treasure Hunt

House Leader Easter Competitions 2019

The CSA kindly funded prizes for the House Leader Easter Competitions:
Hodgkin – Easter Treasure Trail and Hunt

Einstein – Easter Egg Hunt

Hawking - Pin the Bow Tie on the Easter Chick
Darwin – Easter Treasure Hunt

Well done to our super-organised House leaders, who enjoyed planning and leading Easter competitions for all the children to enter. The children were all very keen to take part and, thanks to the CSA, we had many prizes to award.
House Points
Weekly House points awarded to the children are collected each Friday by the House Leaders. We keep a running total each week and at the end of each half term the total number of House points for each House is displayed in the hall. The House Point Trophy is awarded each half term to the winning House. The House Captain ties their colour ribbons to the House trophy and it is displayed in our trophy cabinet.
House Leader Applications
Are you considering applying for the role of House Captain, Vice-Captain or Ambassador? Please see below for further details.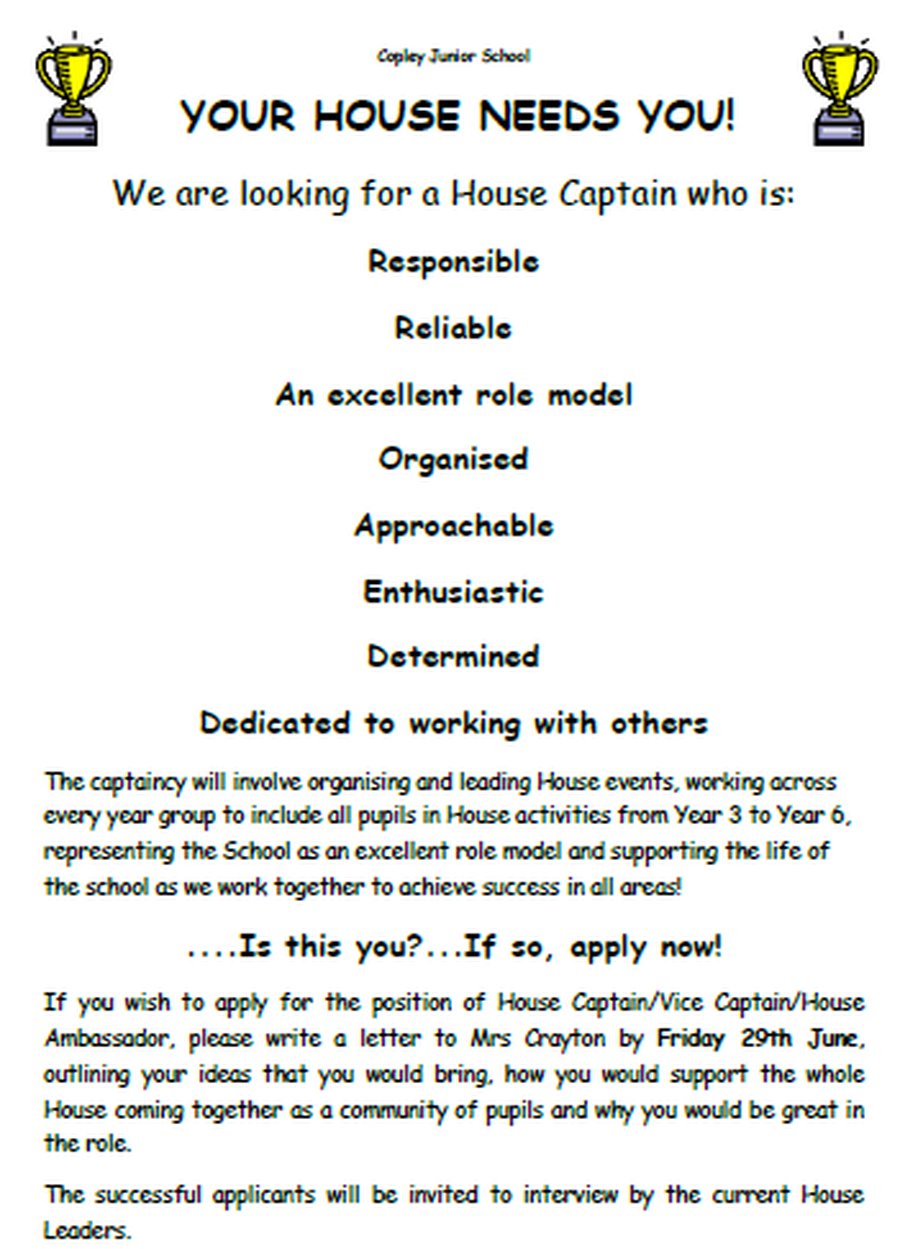 Please find below some of the excellent applications from our House Leaders. I am sure you will agree that they have done a brilliant job!