House Leaders
House Leaders 2019-2020
Our House leaders wrote superb letters of application and short listed candidates were then interviewed by Mrs Crayton, Head teacher, and last year's House Captains. Well done to the House Leader teams of 2019-2020!
Hodgkin
House Captain - Emma H

Vice Captain - Isaac H

Ambassador - Hannah H

Einstein
House Captain - Stanley S

Vice Captain - Eliza W

Ambassadors - Esme S and Lily H

Hawking
House Captain - Gracie D

Vice Captain - Chloe C

Ambassadors - Eve C and Annabelle R

Darwin
House Captain - Eric B

Vice Captain - Evie L

Ambassador - Amelia D and Evie H

House Leader Assemblies - Positive Behaviour, Code of Conduct and Learner Values

Well done to Einstein, Darwin, Hawking and Hodgkin House Leaders who worked independently to plan, prepare and lead assemblies for the children in their House to promote positive behaviour, the Copley Code of Conduct and our Learner Values.
Einstein House Assembly - prepared and led by Stanley, Eliza, Esme and Lily
Darwin House Assembly - prepared and led by Eric, Evie L, Amelia and Evie H
Hawking House Assembly - prepared and led by Gracie, Chloe, Eve and Annabelle
Hodgkin House Assembly - prepared and led by Esme, Isaac and Hannah
House Leader Christmas Competitions 2019

The House leaders did a great job organising competitions for their House members and the winners were delighted with their prizes.
Hodgkin – Pin the nose on Rudolph

Einstein – Guess the name of the Christmas Mouse

Hawking - Christmas themed Treasure Hunt
Darwin – Reindeer Treasure Hunt
House Leader Election Campaigns
To help children learn about the importance of democracy and how an election process works, our House Leaders established their own political parties, to campaign for the issues important to them. Election posters appeared around school and then in assembly each House presented their manifesto, before all children in school had the opportunity to vote in a secret ballot.
Well done to the Eco Democrats, with their agenda for environmental change, as they were elected as the preferred party in our Copley elections!
House Leader Easter Competitions 2019

The CSA kindly funded prizes for the House Leader Easter Competitions:
Hodgkin – Easter Treasure Trail and Hunt

Einstein – Easter Egg Hunt

Hawking - Pin the Bow Tie on the Easter Chick
Darwin – Easter Treasure Hunt

Well done to our super-organised House leaders, who enjoyed planning and leading Easter competitions for all the children to enter. The children were all very keen to take part and, thanks to the CSA, we had many prizes to award.
Charity Support
This year our fantastic Year 6 House Leaders decided that they would like to choose a charity to support and then lead their own fundraising initiative.
Bluebell Wood Children's Hospice Appeal led by Darwin House
Darwin House leaders, after much discussion, decided to support Bluebell Wood Children's Hospice. Children were invited to bring in 20p to guess the name of our Halloween Bear. Well done to our winner, with his Halloween bear (named Sponge Bob!). Darwin House leaders are delighted to have raised £66.20 for a local charity which does such a wonderful job caring for children and young adults whose lives are just too short, and their families.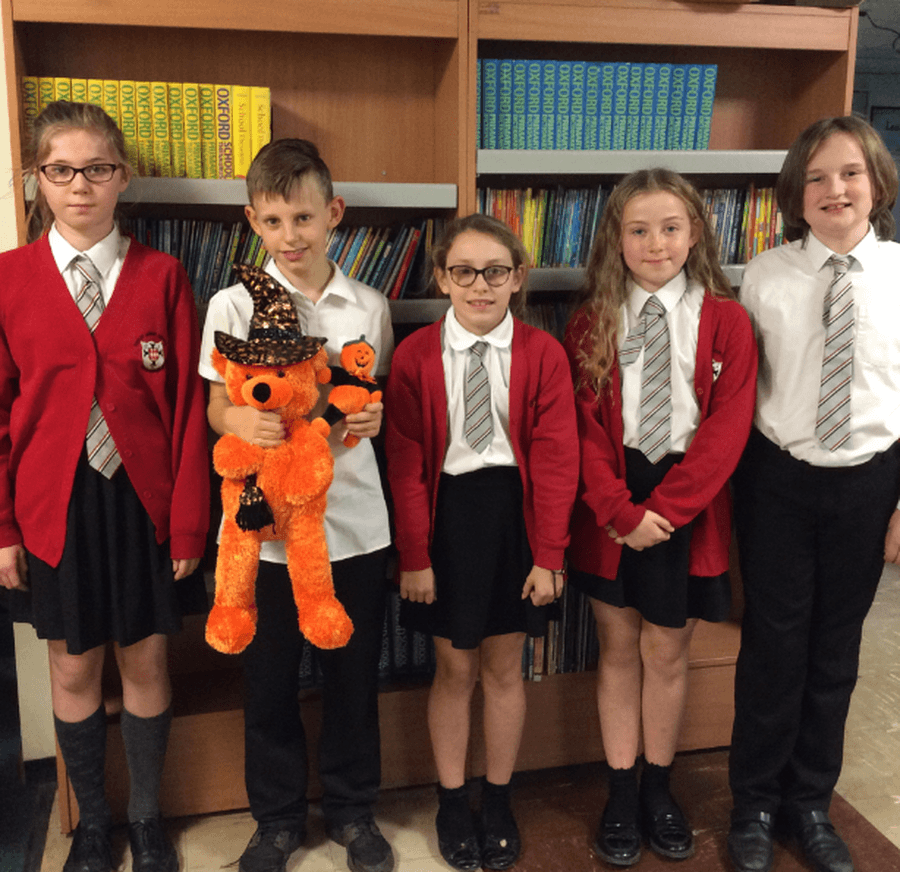 Coming Soon - Hodgkin House Charity Appeal for Diabetes UK and Information about Type 1 Diabetes
To find out more about type 1 diabetes, please watch a short video by clicking here.
House Points
Weekly House points awarded to the children are collected each Friday by the House Leaders. We keep a running total each week and at the end of each half term the total number of House points for each House is displayed in the hall. The House Point Trophy is awarded each half term to the winning House. The House Captain ties their colour ribbons to the House trophy and it is displayed in our trophy cabinet.
House Leader Applications
Are you considering applying for the role of House Captain, Vice-Captain or Ambassador? Please see below for further details.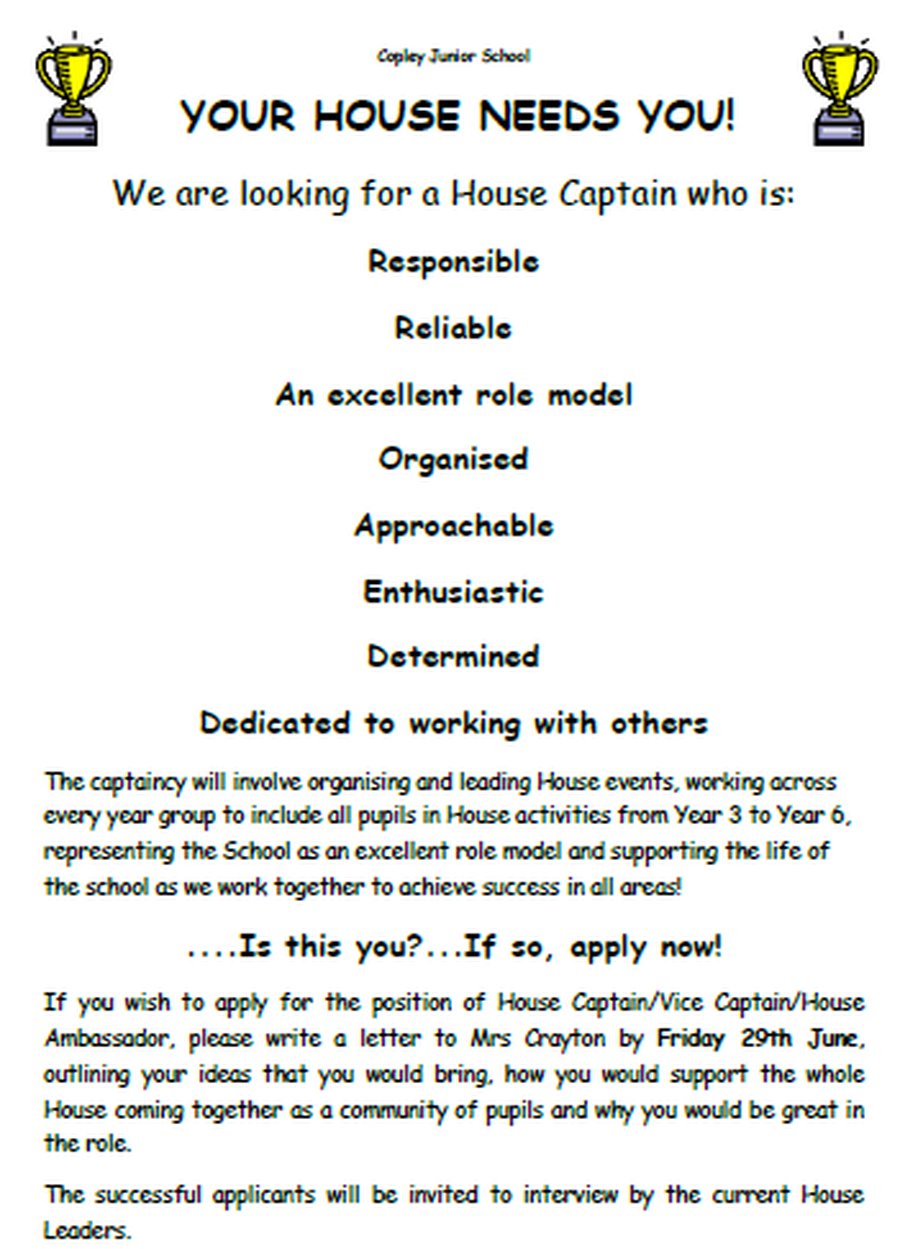 Please find below some of the excellent applications from our House Leaders. I am sure you will agree that they have done a brilliant job!