British Values
'Believe, Achieve, Succeed' underpins the Vision Statement of Copley Junior School.
At Copley Junior School we are committed to the academic, personal, social, moral and emotional development of all our pupils. Our school is a safe, caring, stimulating learning environment where the effort and achievement of every single child is celebrated and valued. In working closely with pupils, parents and the wider community, our staffing team encourages children to develop into confident and compassionate young people with a strong sense of belonging. All pupils experience a relevant, vibrant and broad curriculum that supports and challenges them to reach their full potential. We aim to nurture motivated learners who have the self belief and independence to achieve excellence and succeed.
Copley Junior School Values and British Values
At Copley Junior School we ensure that through our school vision, values, rules, curriculum and teaching we promote tolerance and respect for all cultures, faiths and lifestyles.
We have a duty to prepare our children for life in modern Britain and to keep them safe. We value the importance of the current Ofsted guidance that through their provision of Social, Moral, Spiritual and Cultural education, "schools should:
enable students to develop their self-knowledge, self-esteem and self-confidence;

enable students to distinguish right from wrong and to respect the civil and criminal law of England;

encourage students to accept responsibility for their behaviour, show initiative, and to understand how they can contribute positively to the lives of those living and working in the locality of the school and to society more widely;

enable students to acquire a broad general knowledge of and respect for public institutions and services in England;

further tolerance and harmony between different cultural traditions by enabling students to acquire an appreciation of and respect for their own and other cultures;

encourage respect for other people; and

encourage respect for democracy and support for participation in the democratic processes, including respect for the basis on which the law is made and applied in England." (Promoting fundamental British values as part of SMSC in schools, November 2014)
To read our 'Promoting British Values' Policy, please click here.
Please find below our 2021-2022 British Values Statement. This provides an overview of our coverage of British Values and the planned impact will have.
Spiritual, Moral, Social and Cutural Development
To find more information about how we promote fundamental British Values as part of SMSC, please visit our 'SMSC' page by clicking here.

The Prevent Strategy
All schools (as well as other organisations) have a duty to safeguard children from radicalisation and extremism. This means we have a responsibility to protect children from extremist and violent views the same way we protect them from other dangers e.g. drugs.
The Prevent strategy is not just about discussing extremism itself, which may not be appropriate for younger children. It is also about teaching children values such as tolerance and mutual respect. The school will make sure any discussions are suitable for the age and maturity of the children involved.
To read a parents' pamphlet about the Prevent strategy, please click here.
The 'Educate Against Hate' website provides useful guidance and resources. To visit this site, please click here.
Examples of how we promote British Values at Copley Junior School
Visit by Mr Ed Miliband, MP
Democracy is a fundamental British Value so we were delighted to welcome Mr Ed Miliband, our democratically elected local MP, as he visited school on Friday 13th March to meet with our democratically elected School Council! He was very interested to find out about all the fantastic work we do at Copley and he was very impressed by the lovely displays of children's work across school. Following his tour, led by the School Council, Mr Miliband spent time with the School Council, who took the opportunity to ask questions about his work as an MP. The children in the School Council led a high quality question and answer session! Mr Miliband was very kind in the time he gave to answering their questions and he was most impressed with our wonderful children in the School Council.
A selection of the children's questions:
What do you think is the best thing about Great Britain? Kalis N

Why did you want to become an MP? George C
How do you become an MP? Olivia T
What is the best part about being an MP? Holly N
What does your day look like as an MP? Tillieann L
What is your biggest achievement as an MP? Olivia W
What is the biggest challenge you have faced as an MP? Emilia K
What is your funniest memory as an MP? Poppy W
Which primary school did you attend? Eliza W

Were you ever part of a School Council? Amelia D
Did you always want to be an MP? Martin S
If you could improve one thing for our local community, what would it be? Isobel L
What do you think is the most important thing to do to help protect the environment? Gracie G
What was your favourite subject at school? Nieve P
What school subjects have helped you in your role as an MP? Billy K
Which famous person have you enjoyed meeting the most? Fynn H
What is the biggest challenge facing the country today? Eddie H
Have you visited a school in Sprotbrough before? Harry D
'Junior Make Your Mark'
Well done to our Year 6 School Councillors, Thomas, Isabelle S, Isabelle H and Mia, as they did such a good job representing our school in a Teams meeting with Miss Enwright from Doncaster Council. Doncaster has great commitment to making Doncaster the most child friendly borough. Our Year 6 Councillors were asked for their views about Doncaster's priorities for improvement and the children gave their views with great maturity and confidence. The views from our children will help to identify key priorities for a survey that all Doncaster pupils will be asked to complete so that children's views shape the future for Doncaster.
Meeting with the Office of the Children's Commissioner
Following their successful Teams meeting with the Local Authority, our school was invited to take part in an online meeting with the Office of the Children's Commissioner. The meeting gave our children opportunity to share their views about the positives of our local area and what further improvements could be made and provided valuable information to the Office of the Children's Commissioner. Once again, children gave their considered views with great maturity.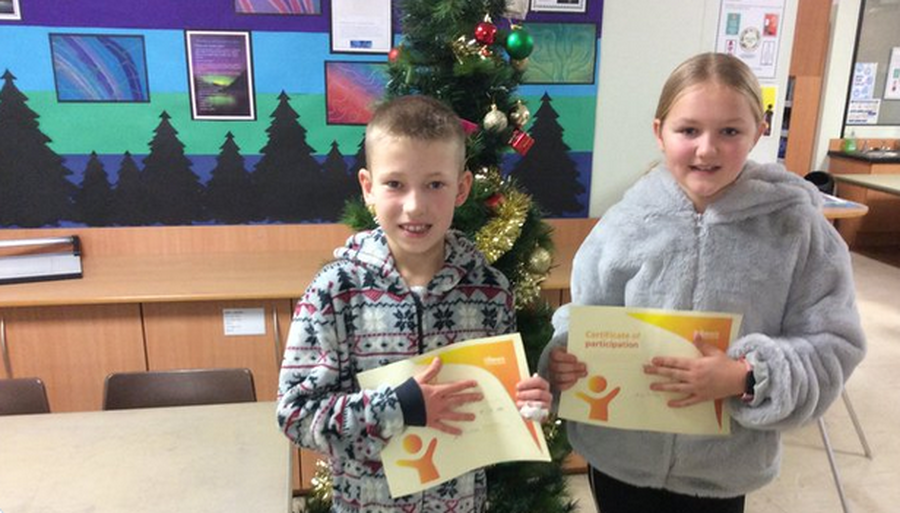 Remembrance Day
Each year children and all members of our school community have opportunity to buy a poppy and support the charity appeal for the British Legion. At 11am on the 11th November we observe the two minute silence as part of a whole school assembly.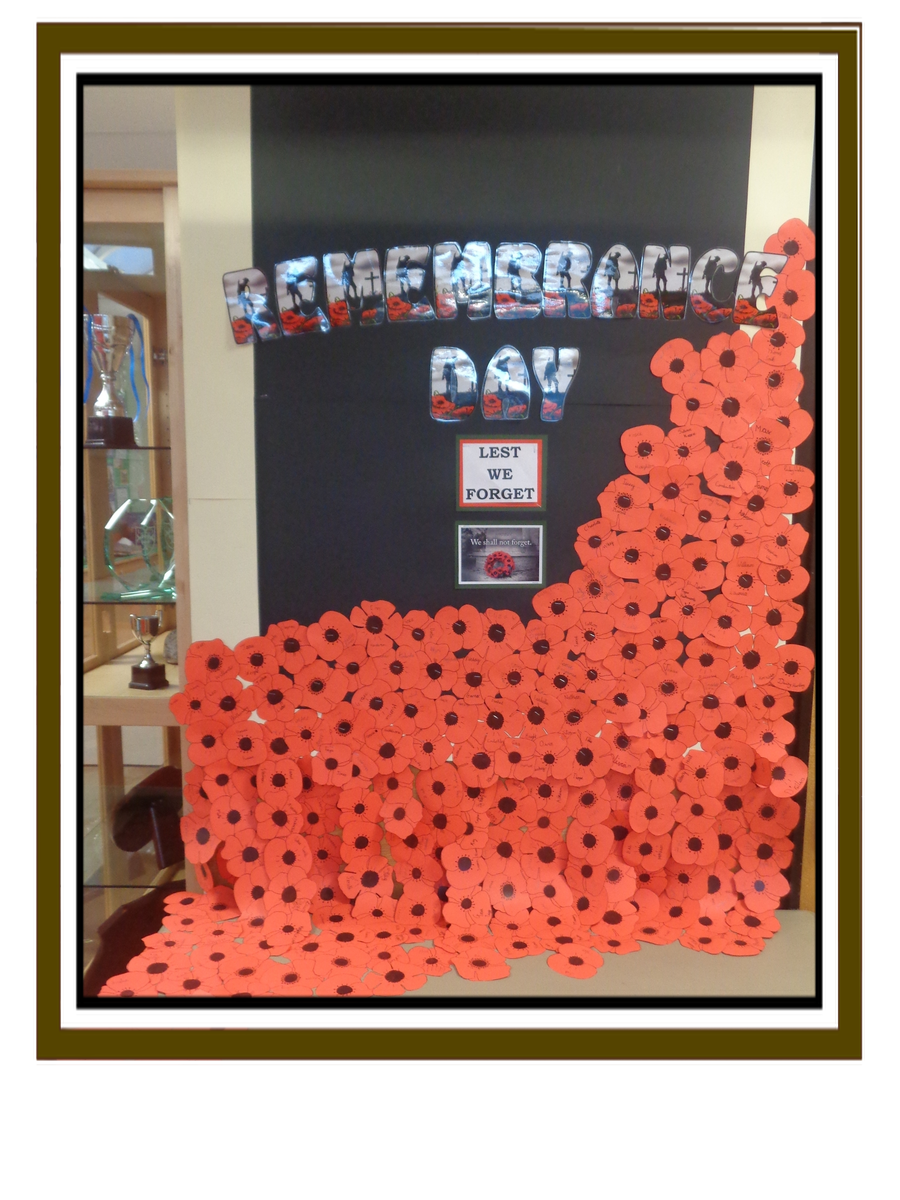 Every child in school contributed to our Remembrance Day display by writing on a poppy. Children's poetry and writing also contributed to our display.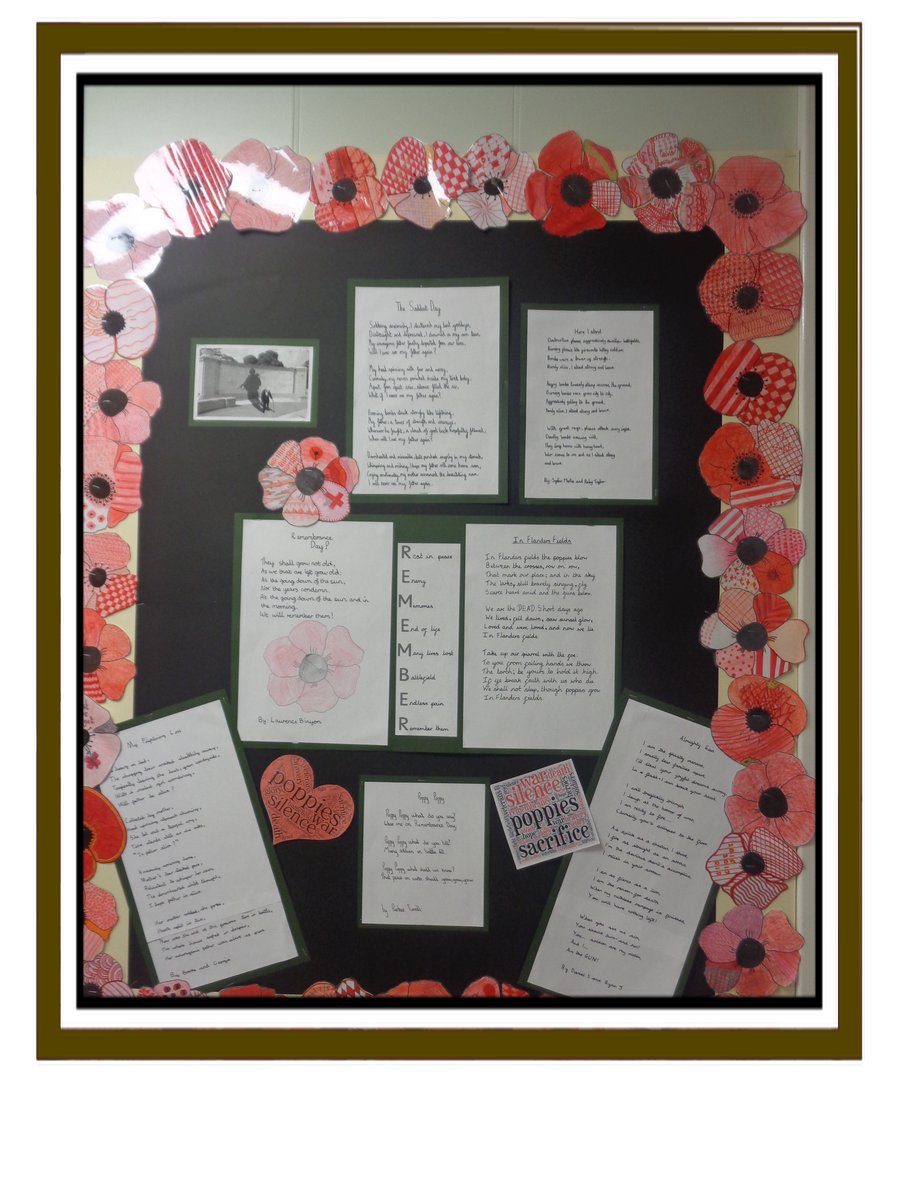 Our Year 5 children got creative, using strips from recycled plastic bags to create Remembrance Day poppies on our school fence. Our School Council created a Remembrance Day assembly for all the classes and sold poppies to raise funds for the British Legion charity.

House Leader Election Campaigns
To help children learn about the importance of democracy and how an election process works, our House Leaders established their own political parties, to campaign for the issues important to them. Election posters appeared around school and then in assembly each House presented their manifesto, before all children in school had the opportunity to vote in a secret ballot.
Well done to the Eco Democrats, with their agenda for environmental change, as they were elected as the preferred party in our Copley elections!
Junior Civic Mayor for Doncaster
A number of our pupils applied for the prestigious role of Junior Civic Mayor for Doncaster and we were very impressed with their thoughtful letters of application and their ideas about they would like to improve the lives of young people in Doncaster. One of our pupils was selected for the final 10 selection process out of the many hundreds of applications received.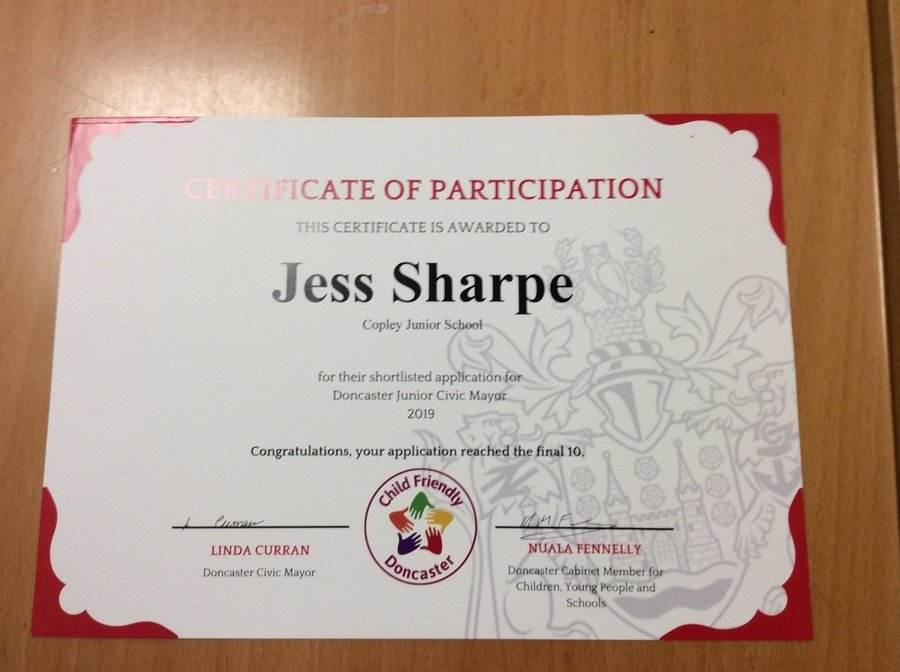 Year 6 - 'A Child's War'
Our Year 6 pupils study what life was like during World War II during their creative learning project 'A Child's War'. The children have worked in pairs to create poetry on the theme of war and evacuation and we have shared some of the poems below.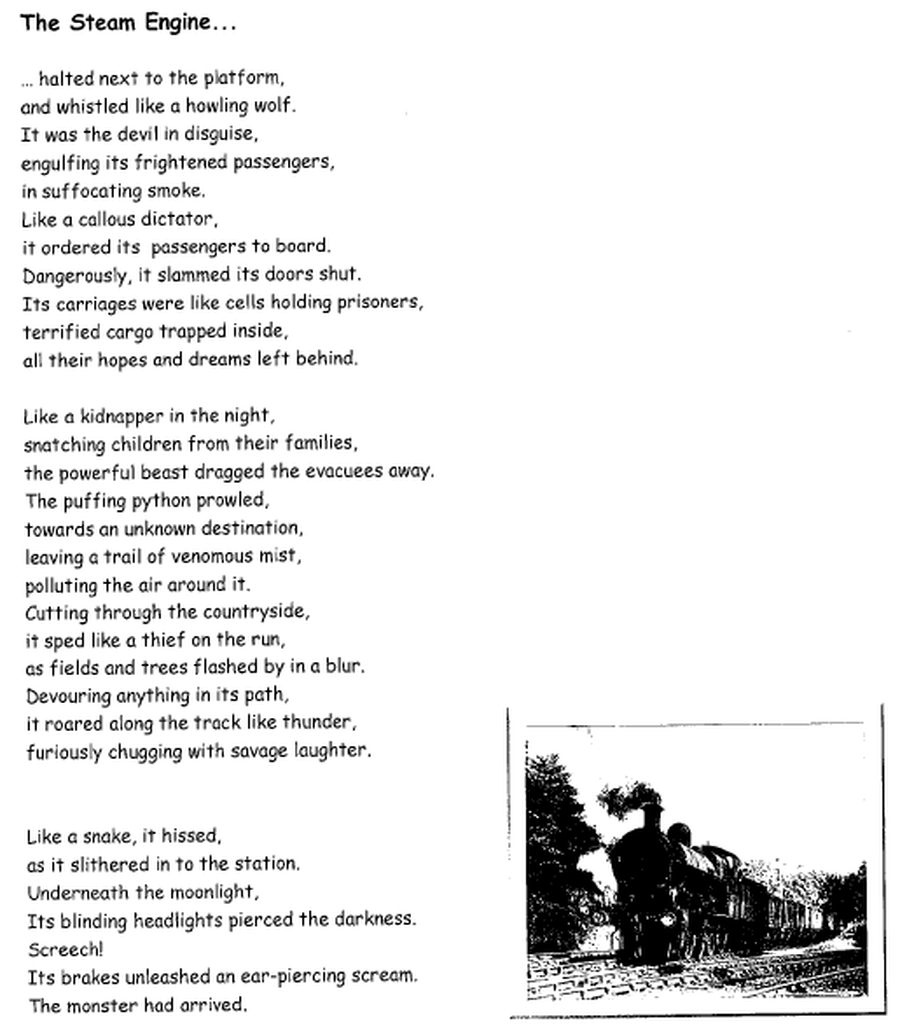 Remembrance Day
Children in the School Council prepared and led our assembly for Remembrance Day.
The School Council placed remembrance pebbles around the school grounds. If children found a remembrance pebble, they could take a moment to think about all the people in the armed forces and their families. Once children had had their moment with the pebble, they could choose to either leave the pebble for another child to find so they could have a moment to remember, or they could keep the pebble.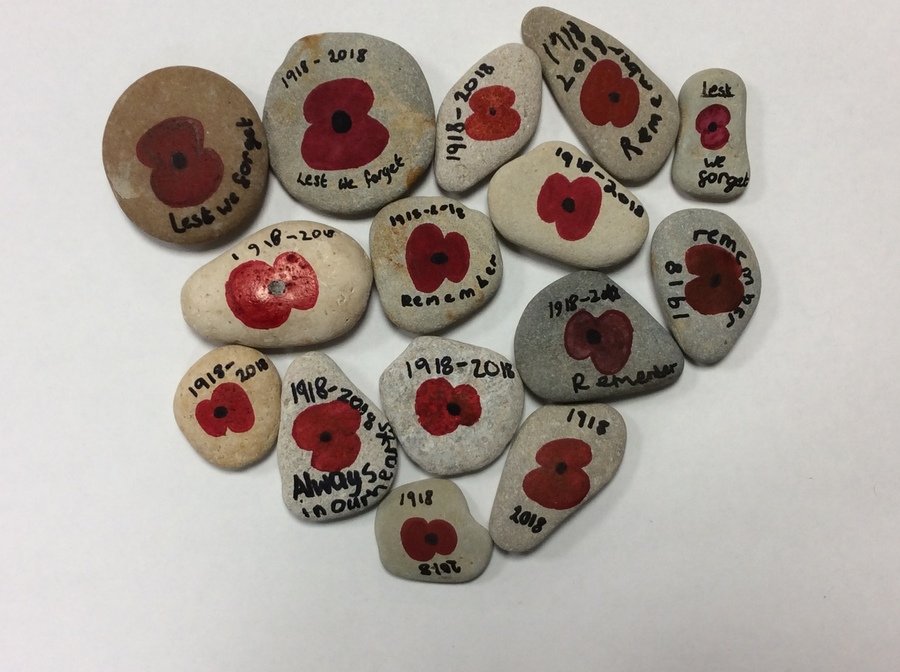 Year 3 - Ancient Greece
As part of their study of Ancient Greece our Year 3 children learn about the start of democracy in the early 500s BC.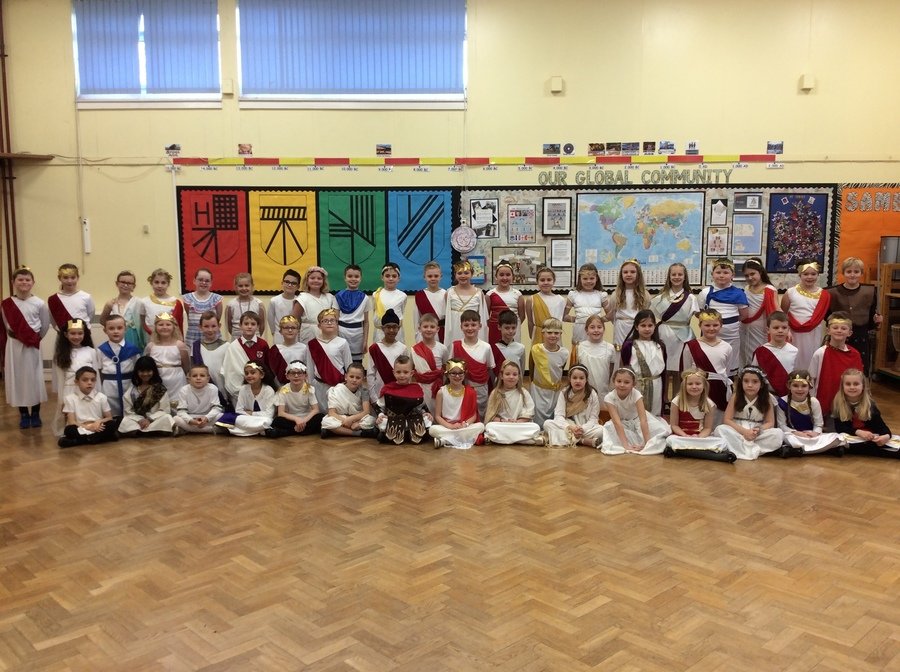 Year 4 - 'Road Trip USA'
Fantastic research about the life and legacy of Rosa Parks, inspired by our learning project 'Road Trip USA'. What super work!
Year 6 - 'Crucial Crew'
Our annual Year 6 'Crucial Crew' visit enables our Year 6 pupils to work with South Yorkshire Police to learn more about the rule of law and the rights and responsibilities of people in society. This included taking on the roles in a courtroom scenario and visiting a prison cell.

Links with our local PCSO
Our two local PCSOs (Police Community Support Officers) are valued visitors to the school. In their assembly below they talked to all the children in school about the consequences of anti-social behaviour, being safe online and sensible, safe behaviour around Bonfire Night.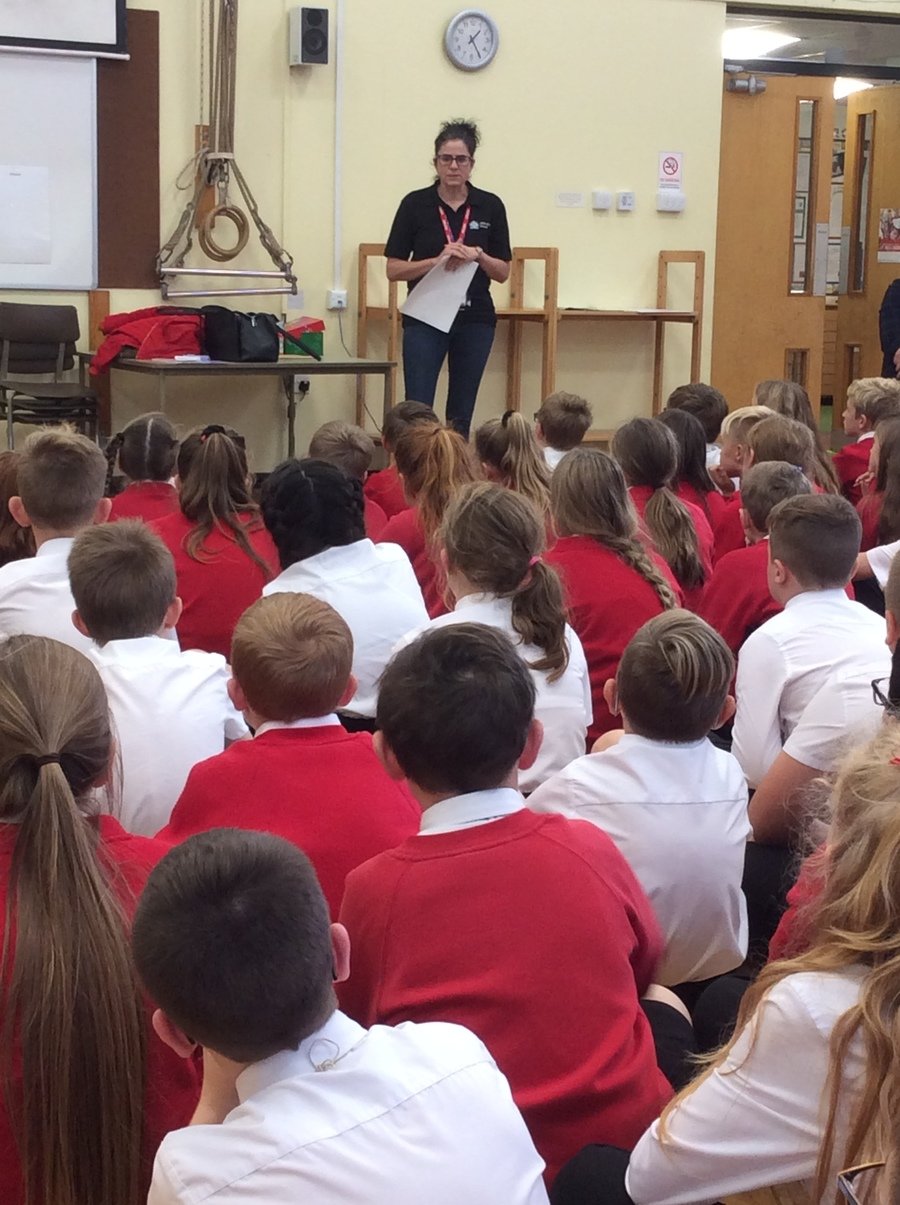 House Leader Assemblies - British Values
Our House Leaders have prepared PowerPoints to explain how British Values are taught at Copley Junior and they have enjoyed sharing these in our whole school assemblies.
House Leader Assemblies - Positive Behaviour, Code of Conduct and Learner Values

Well done to Einstein, Darwin, Hawking and Hodgkin House Leaders who worked independently to plan, prepare and lead assemblies for the children in their House to promote positive behaviour, the Copley Code of Conduct and our Learner Values.
The PowerPoint from Einstein House is shared below. To view all the House Leader assemblies, please visit the House Leader page by clicking here.
Celebrating The Queen's 90th Birthday
We had a lovely day in school to celebrate The Queen's 90th birthday. Children dressed smartly for a Garden Party and our kitchen team prepared a delicious picnic bag for each child. Unfortunately the great British weather defeated our plan to have a street party picnic lunch outside, but it did not spoil the atmosphere inside the school hall! Thank you to the CSA who funded a commemorative coin for each child to mark this historic occasion. We had a huge number of creative designs for our competition to design a birthday card for Her Majesty. Pictured below is one of our two winners, whose cards were posted to Buckingham Palace. We were delighted to receive a card and letter from Buckingham Palace thanking the children for their cards.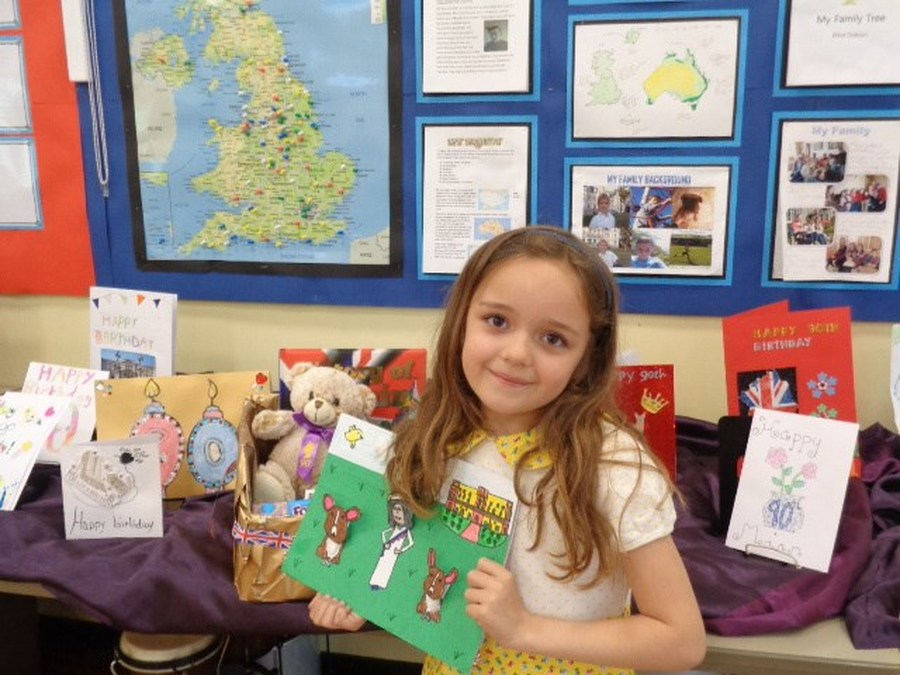 In our R.E. lessons we learn about different religions, their beliefs, places of worship and festivals.
Year 4 - Sikhism
In Year 4, Harpinder visits every year to help us learn about the Sikh faith. In the gallery of photographs below, children learned about the 5Ks and what is special about a Sikh wedding.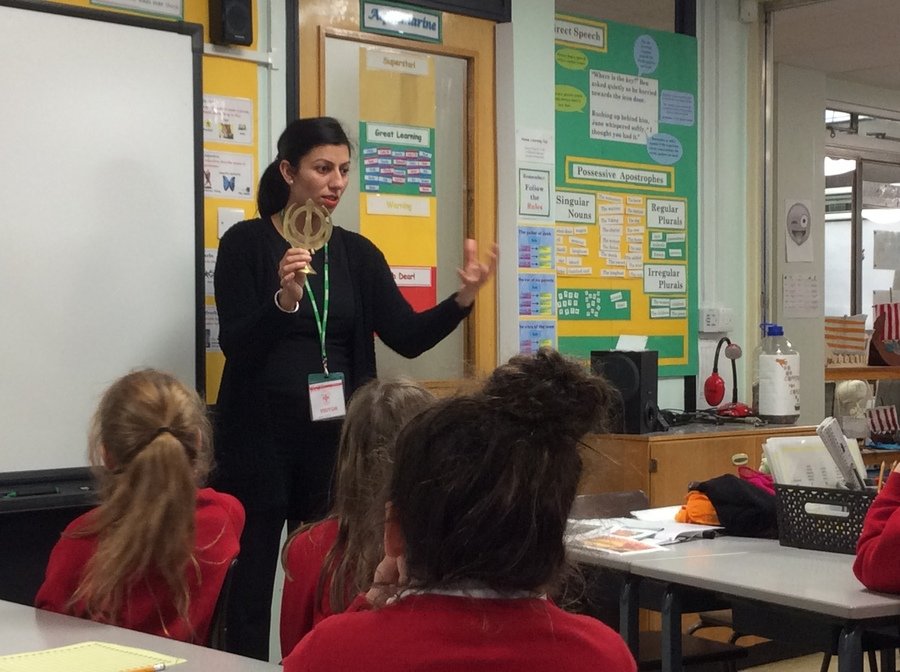 Visit to the Sikh Gurdwara
Year 4 were warmly welcomed to the Sikh Gurdwara in Doncaster. Children learned so much from their visit and children were praised by the Sikh faith leaders for their interest and the huge amount of knowledge they already had. Following our visit to the prayer hall, where the book of Sikh scripture, the Guru Granth Sahib is kept, children enjoyed the 'Langar'. The community kitchen in a Gurdwara is where a free meal is served to all visitors. We learned the free meal is always vegetarian so it is suitable for all visitors. At Langar, all people eat a meal as equals.
The video clip below shows the Kirtan - the singing of hymns from the Guru Granth Sahib.
Imam Omar Visits Year 5
Year 5 have been learning about the key beliefs of Islam and the impact these beliefs have on the life of a Muslim. We were delighted that Imam Omar was able to visit to help us learn more about the five pillars of Islam, the importance of the pilgrimage to Hajj and the key features of Ramadan and the festival of Eid al-Fitr. We were very impressed with the children's thoughtful questions, so many thanks to Imam Omar.
Our Global Community - Whole School Home Learning Project

In order to learn more about the diversity within our school community, we set children across school the challenge of finding out more about their family tree. We hoped to make the children aware of their identity within our local community, the national community and the wider world around us. We asked children to find out about their family background including finding out if anyone from their family was born in another part of the UK or another country, and if they had lived anywhere else but the Doncaster area. The quality of work produced by the children is wonderful! Children shared their work in class and located the counties and countries involved. The children's fantastic work will be celebrated in a new central display in school to allow us all to learn more about each other and celebrate the diversity in our identities.
We found that, within our school community, we have many links to the wider world. Our families have links to many countries, including: Mauritius, Lithuania, the Ukraine, Scotland, Bhusawal in India, Canada, Lushun Province in China, Guyana, the Philippines, Kerala in India, Ireland, Thailand, Hyderabad in India, California, Karachi in Pakistan, Vietnam, Belgium, Wales, Iran, Australia, Budapest in Hungary, New Zealand, Germany, Bosnia, the Falklands Islands and Spain!
Displays of our work on British Values and our link with St Joseph in Carquefou
To find out more about our link with St Joseph School in Carquefou and our work to develop links with international study across the curriculum, please click here.